We actually get a lot of edging, cutting in, and trim-painting questions so we figured we'd share our secret… this amazing little short handled 2″ angled brush: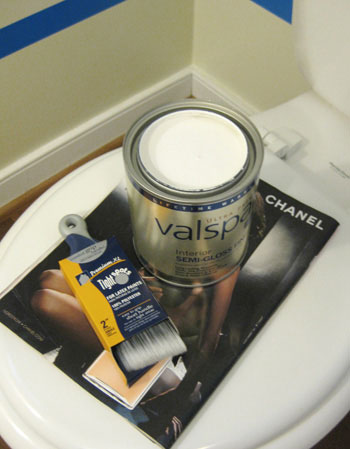 Whipping it out to clean up the baseboards and paint a crisp line where the walls meet the ceilings in our recent bathroom striping project reminded us just how stellar this little guy really is. Things were so smooth and fabulous that I ended up touching up nearly every baseboard in the house while I was at it. It's kind of addicting when things are so easy.
It's also our favorite tool for edging anywhere around a room. You can see it in action below:
So here's the scoop: it's available at Duron and Sherwin-Williams stores and it's called the Premium XL Tight Spots 2″ Angle Short Handle Brush (with comfort grip- ooh la la). I should also clarify that we don't work for Duron or Sherwin Williams, nor are they paying us to write about this magical little brush, we've just tried a ton of products and approaches to cutting in, edging, and painting trim and this baby is by far the easiest to control. In short: the short handled easy-grip design makes staying in the lines like loving Nate Berkus (read: super easy).
Before we discovered this miracle worker we tried painter's tape (time consuming and not as crisp) and cutting in by hand with a regular angled brush (better but still a bit nerve-wracking and not at all error-proof). Enter this lifesaver, stage left. Rooms that once would have taken a full day to paint the baseboards, trim around the windows and crown molding with tongue-sticking-out-intensity can now be completed in less than two hours (and my tongue remains in my mouth). Really. It's awesome. And it's only… wait for it… $4.99.
Life is good.
Update: They now sell an extremely similar brush on Amazon (we've personally bought it and it works just as well), so here's an affiliate link for anyone who can't track down the original one we mentioned above.