Can you believe it's been three weeks since our last tour update? But even though you haven't heard much about it, we've been on the road (and in the air) quite a lot lately. It took us nearly to the end of our book tour, but we finally made it all the way to the other side of the United States. So let's dive right in with our recap of our stops in all three west coast states. #warningitslong
We started off in Tacoma, Washington at the Tacoma Home & Garden Show on Friday, January 25th. The people running the show did a great job getting the word out that we'd be there, even scoring this local newspaper article that featured an awesome / hilarious illustration of us which I just had to throw in. We think I look pretty spot on, but Sherry is a little Courteney Cox-ish. And clearly Burger wins.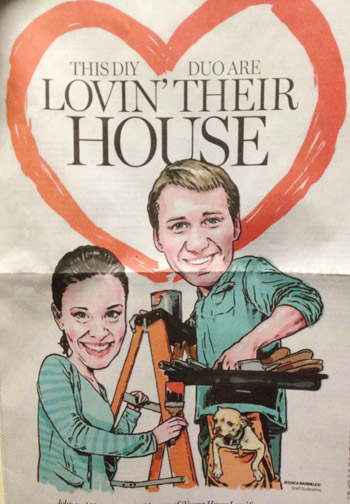 The Home Show was being held at the Tacoma Dome which is this big arena that also hosts concerts and sporting events. We even learned that Lady Gaga had performed there the previous week so we spent a few minutes walking around the backstage areas saying things like "Lady Gaga used this bathroom! Probably." and striking in a Gaga pose or two. Ok, that was all Sherry.
But the Dome looked quite different than a Gaga concert when we were there. Much like our trip to the Portland Home & Garden Show last year, the place was decked out in vendor booths and awesome gardens displays built just for the few days of the show. I was particularly mesmerized by this water feature. Isn't it convincingly outside-looking for being inside a big industrial dome?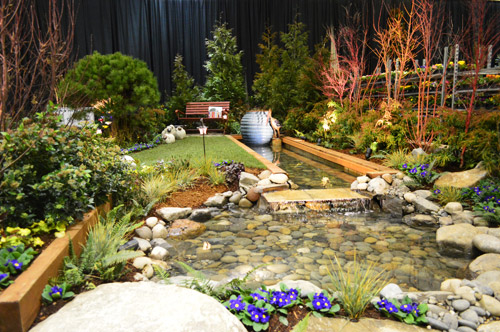 Our favorite section was an area called "The Vintage Market" which was basically a flea market / antique mall set up right amidst all the usual home show fare. Amongst other things, we really liked this vintage classroom map of the United States. It was $50 and the only thing that stopped us from buying it was figuring out how to get it home.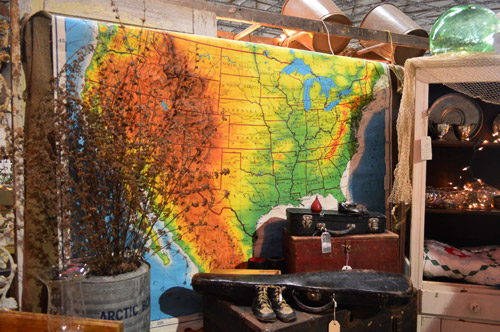 Sherry also was obsessed with these old metal, powder blue chairs while I was oooh-ing over a bunch of the vintage letters at various booths. It was probably good that we couldn't fit anything into our carry-on, otherwise we probably could've done some damage to our bank account.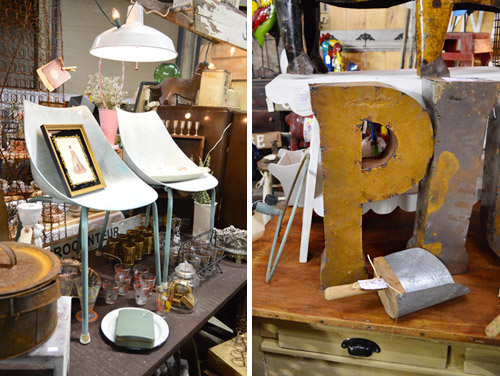 After some press stuff and a private meet-and-greet with Ali and her family (which you can read about on Ali's blog) it was time for the main event: a presentation and book signing. They even let us give a 10-minute warning announcement across the PA system. Apologies to anyone who had to hear it – it was our first time speaking to an entire dome full of people and I'm sure we yelled more than we meant to. I also remember it starting with an extremely smooth: "Hello? Is anyone listening?" Nice, right?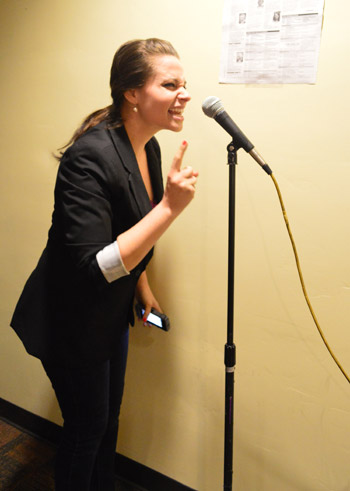 The stage for the presentation was pretty sweet and made us feel much more legit than we really are. We were even miked!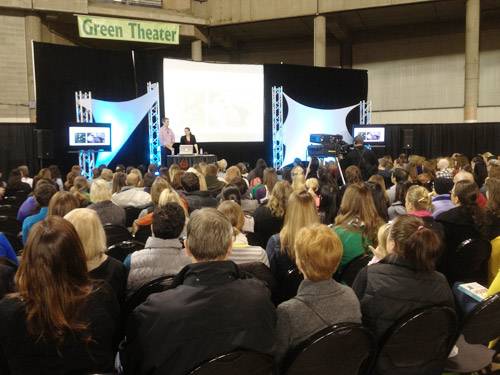 It was pretty awesome looking out at your smiling faces (and various baby strollers).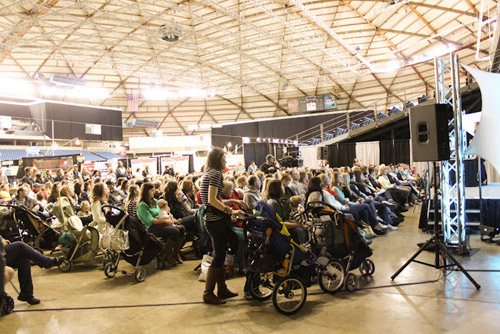 Following the talk and a short Q&A session, it was book signing time. In addition to books, there were requests to sign fun items too – like a sexy gold spray painted rhino (I think the only rhino Sherry could like more than a white rhino is a gold one). And I got my first ever plunger-signing request. Before you try to interpret the meaning behind me signing a toilet tool, let me explain that there was a booth nearby that was giving them away – so I think it was just coincidentally a home-related item. I hope it was, at least, because I think I signed three by the end of the day.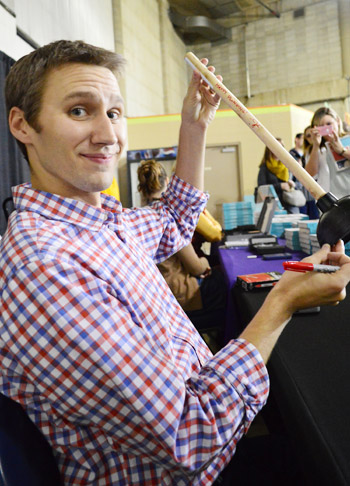 Tacoma also knocked our socks off with the thoughtfulness of its residents. Reina and Tina of hello, cupcake couldn't make the signing but sent over a dozen personalized cupcakes. They were delicious – and we earned points with the home show crew for sharing. Although it was a bit strange inviting people to take a bite of your own face (Sherry ate Clara and I ate Burger because we missed them the most).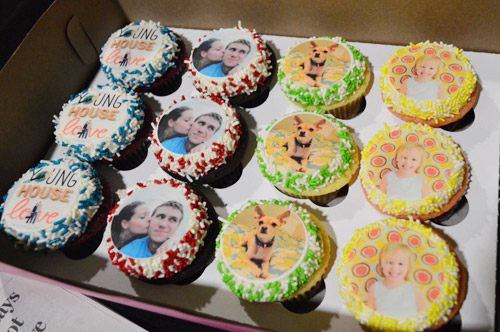 Sherry also received her first pair of gifted underwear, which had me cry-laughing. Andrea picked them out for Sherry because of the gold lettering (Jersey represent!) and the "Young" reference, but also because "if Sherry's underwear situation is anything like her bra situation – the girl needs 'em."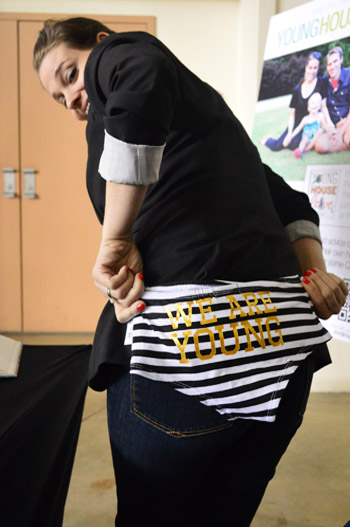 In addition to getting our first undergarment in Tacoma, this was also the site of my first baby dental exam – courtesy of baby Ruby who was so mesmerized by my mouth that she had to get a feel. Her mom Jennifer is very apologetic on her blog about it, but I must say that I wasn't fazed in the least (despite what my face says below). How could you have anything but love for that little lady?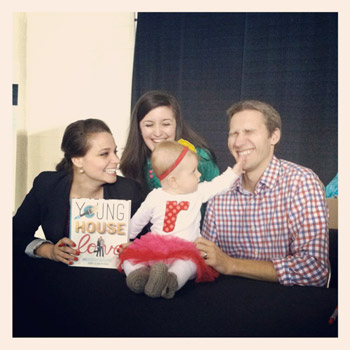 When the signing wrapped up around 4pm we were ready to call it a day (we had been there since 9am), but first I made Sherry take a spin in weird contraption. I just thought it looked funny, but I actually had trouble getting her to get out once she experienced it. It was basically a dry hot tub / steam free sauna that, if you're really curious, is explained in more detail on their website.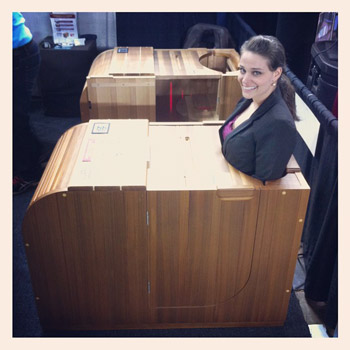 The next morning we hit the road for Portland. Since the drive is only a little over two hours, we opted to rent a car instead of go through the whole airport rigmarole. We like road trips so it was much more our style. Heck, if had the time and energy I probably would've been happy to drive to every stop on this tour.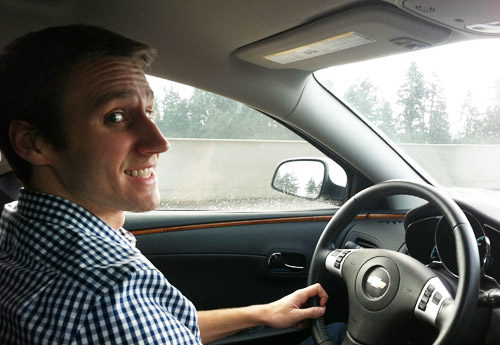 Once in Portland, we headed to Rejuvenation for our signing. It was our first time at the store ever, because during last year's visit we actually got lost trying to locate it. So we were really glad to get to experience it this time around because in addition to all of their new production lighting, furniture, and accessories (which is how I always think of them), they also had another half of the store that was filled with architectural salvage. I could've spent hours browsing there, but again the whole getting-items-home (plus the gotta-go-start-a-book-signing thing too) cut our shopping adventure short.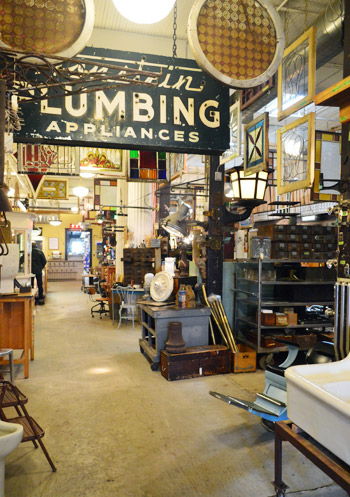 We started the signing with a quick talk from this "stage" at the bottom of the stairs. I hope no one who came was disappointed when they realized we weren't selling snacks like the sign above our heads indicated. If you're curious as to what we talked about, you can watch a video of the one we did in Austin earlier this month.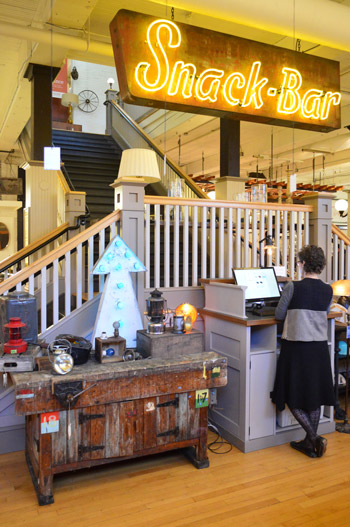 As the signing started, we were again greeted by some amazing personalized cupcakes (this time from Lindsay at Undercover Cupcake). I ate the Burger after the signing and he was incredible.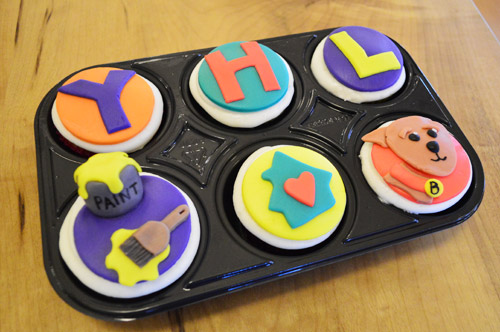 In the "unusual items signed" category for Portland, we can't forget Ellen's request to sign the inside of her black blazer in honor of Sherry's book signing "uniform" (Sherry changes her earrings, shoes, and the shirt under her blazer, but she has rocked the same blazer the entire time, which I appreciate to no end because there's not a giant "what should I wear?" debate before each of these 22 events).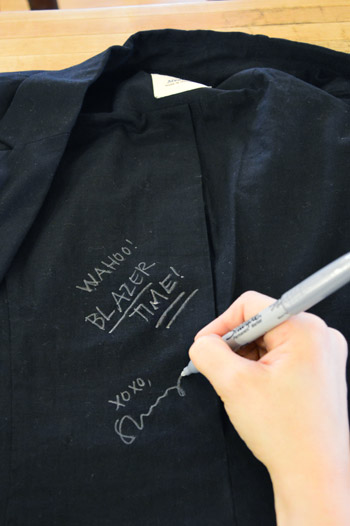 Someone also requested that we sign their book in the form of speech bubbles over our pictures. Sherry wrote something normal (with lots of exclamation points) and I wrote something obnoxious. I wasn't actually hungry, but I just figured that's something I think a lot. So, in short, I was going for accuracy.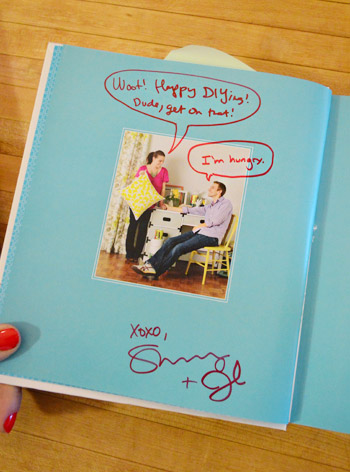 These signings are also great because we get to put a lot of faces to comment-names. We also get to see familiar faces, like Katy who we met in Portland last year. At that meet-and-greet she broke the mold by asking us to pose with her laying on a nearby model-home bed so we had high hopes for her photo concept this time around. She delivered by suggesting we do a cheesy 80's sitcom pose. She's playing the role of the wacky neighbor.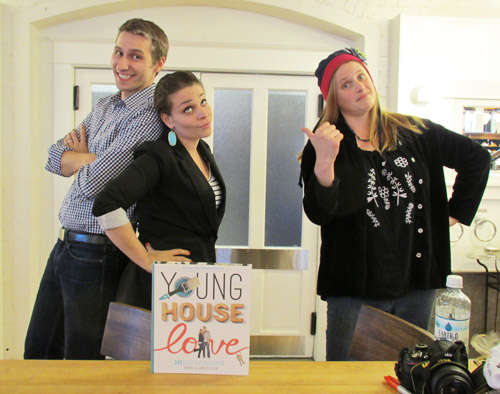 We love when folks, like Katy, come up and say "let's take a funny picture." And since we're running out of weird facial expressions to break out, we've started doing extremely strange off-the-cuff things. Like this. Sherry swapped places with Amy so that she and Ben looked like excited fans. I love how much Ben committed to the role. Amy even did the Sherry head-tilt.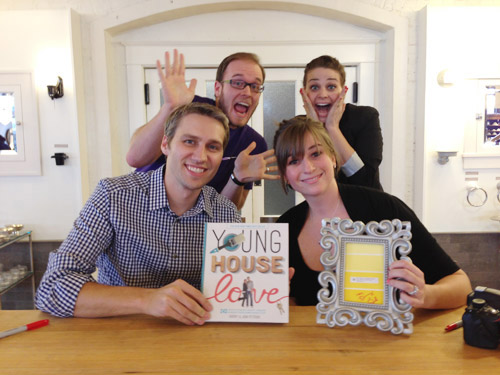 We also got a great engagement story out of the visit. Veronica's now-fiancé had originally scheduled a weekend getaway the day of our signing in order to propose to her. But when he learned how much she wanted to come to the signing and a business trip got moved, he rescheduled the engagement plan for a few weeks earlier so that Veronica could get her ring and her book signed. Sounds like she snagged a good one.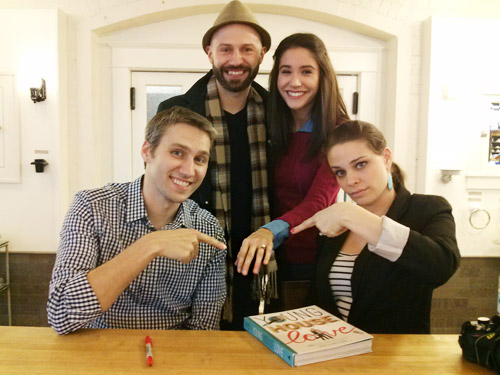 The signing actually wrapped up a couple of hours before we needed to leave for the airport, so we were excited to take in a couple more Portland sights that afternoon. So excited that I wasn't paying attention while chatting with someone and closing the trunk of our rental car… with the keys in it. Yup. So instead of enjoying PDX, we spent 90 minutes waiting for the rental car company's roadside assistance to come rescue us.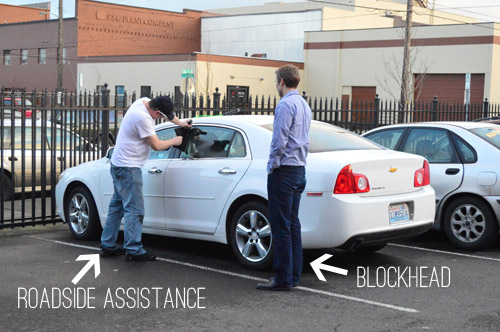 I'm glad we had been in Portland last year so at least we didn't feel cheated out of learning about the city (for anyone visiting, you have to check out Pine State Biscuits, Por Que No, and Salt & Straw – all of which we loved last year). In fact, Portland is the only city on this tour that where we didn't spend the night (well, it happened in DC too, but that's local-ish). Since we drove from Washington that morning and flew out that night to Northern California, we actually managed to visit three west coast states in a matter of 12 hours. And that's not just a layover situation, we actually had breakfast in Washington, drove to Oregon for the signing and most of the day, and then flew to California that night to check into the hotel and sleep there.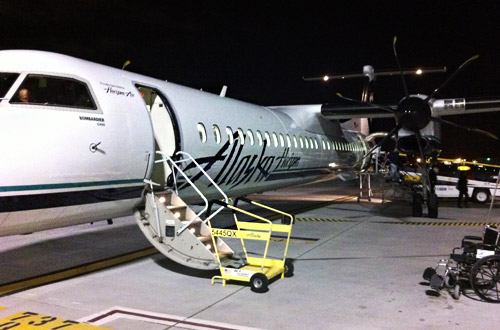 After getting some much needed rest in our hotel in Palo Alto, we were up bright and early to spend some time with my Aunt Liz before our book signing. She lives in nearby San Jose so she and her friend Joan came down to hang out for a bit. For the sake of my other aunts, I should note that Liz made the sign.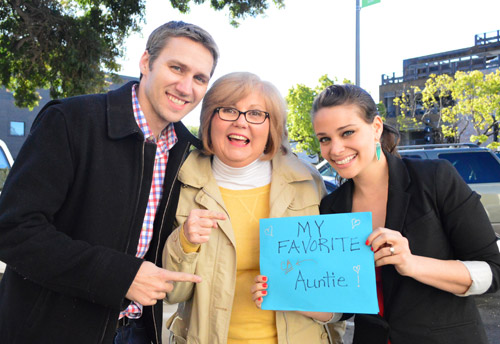 And if anyone saw people cut the line and sneak a picture in before the event started, it was my friend Jamie and his fiancée Ashley who live in Berkeley. You may recall Jamie from this uber-thoughtful gift that he gave Clara last year, so now you know why he got special privileges.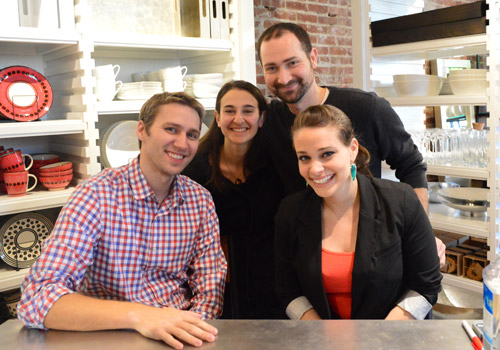 When the signing doors opened for real, we were first greeted by these lovely ladies who had driven up from Los Angeles that morning and – if that didn't prove their dedication enough – had also DIYed these awesome homemade shirts. How cool is that house with the heart in the middle? Sherry wanted one.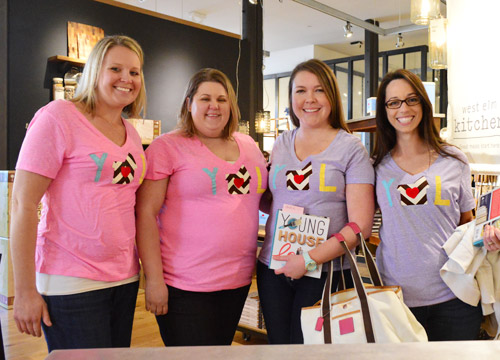 We also met Emily (left) and her friends Abigail and Jillian who brought some of their finds from completing the Macklemore Challenge earlier that weekend. You can read more about them on Emily's blog.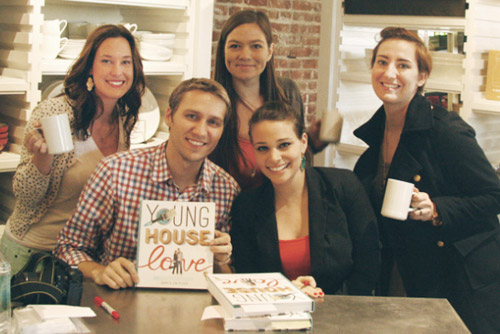 Tasneem and her husband Asif (who, by the way, drove 300 miles from LA even though it was his birthday) arrived with a white ceramic dog for us to help us cope with the still fresh loss of this guy. I think our matching faces say it all.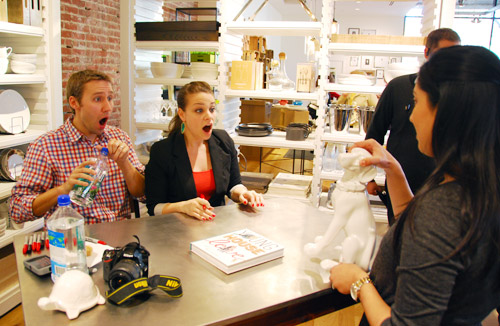 And how cool is this? Akiyo makes these stuffed penguin toys and she made one for Clara that's dressed in a Burger costume! It's not ceramic, but it ranks way up there with one of my favorite animals in the house.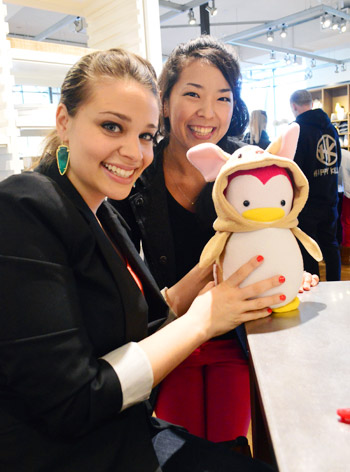 Palo Alto was also fun because we had our first canine visitors. I wish I had the mental capacity to remember their names now, but regardless – they were enough to soothe the missing-Burger ache we always have on these trips.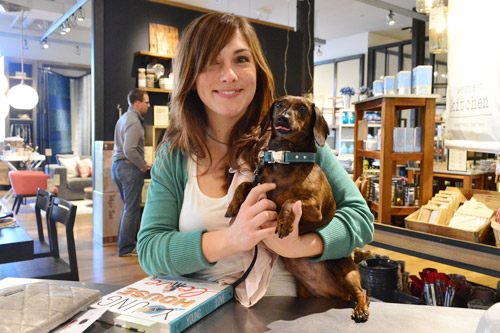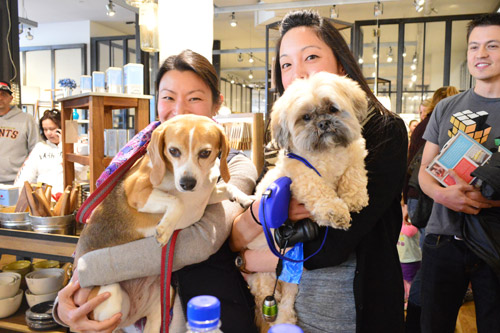 After the signing wrapped up, we met up briefly with our friends Matt and Kristin who have made several appearances on our blog (here's one of 'em) thanks to their stylish place in Charlotte, NC. Last year they actually moved to San Francisco, hence our meet up on the other side of the country.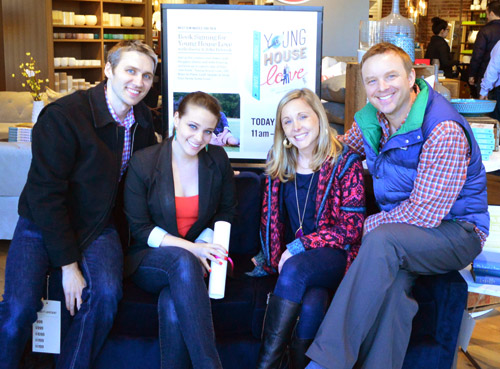 We went out to lunch with them (Oren's Hummus was awesome!) and caught up on the life they're loving out there in the Bay Area. Oh yeah, and they even drove us to a street nearby with a very special name.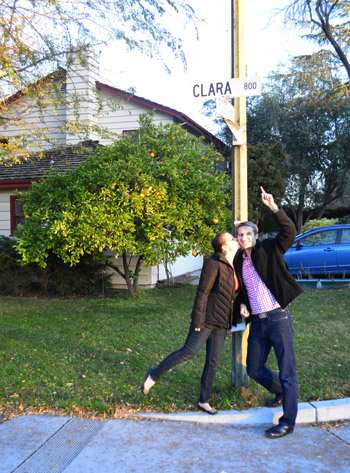 We then spent the night back in our hotel and got up crazy early (4am) for our flight back to our side of the States. It's one of those days where you wished the time zones worked the other way, since despite leaving at sunrise, we didn't get home until sunset in Virginia.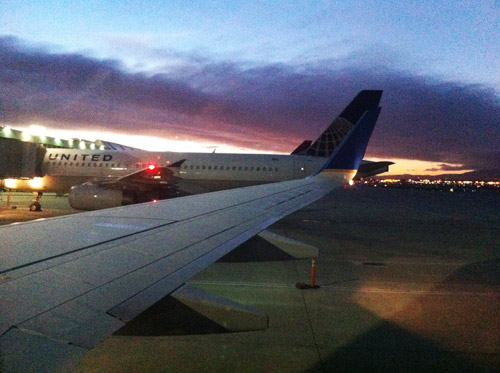 But we're so so glad we got to spend some time on the Pacific Coast with a bunch of you guys. I'm sorry we didn't get scheduled elsewhere in California, but hopefully an LA stop will happen someday for some fun event. And if that happens, we'd better get to meet a celebrity or else I'll feel cheated. Someone get Matt Damon on the phone!
Psst- If you want to read about some of our previous book tour stops, you can check a round-up of them here.