Greetings again from Panera (there's no internet at home yet – so we stop in, get hot chocolate, and slap together a post or two for you guys whenever we have a spare moment thanks to their free WiFi). We know you're anxiously awaiting interior shots of our new house all empty and move in ready from yesterday (can't believe it's really ours!). So here they are. I ran around quickly, which resulted in some less than perfect shots (our friends and family were outside in the snow waiting to start bringing things in so I made it snappy and didn't have a chance to record a video so that'll have to come later). But anyway, this is the blank slate that we can't wait to start having fun with. Paneling? Check. A yellow and beige bathroom? Check. Dark wood trim? Check. Many different floor choices? Check. Brick that we're dying to paint? Check. Off-centered windows? Check. Small box-like rooms? Check. Walls to knock down? Check. A sink in the master bedroom? Check.
In other words, we're insanely excited to get in there and start making our new house feel like it's really ours. Which usually doesn't happen until the paint brushes and the hammers come out. And we have to send a huge shout out to the former owners for allowing us to be the lucky new residents of their pride and joy. They even hosted a party to welcome us to the neighborhood a few weeks back and listened with excitement as we mentioned what colors we wanted to paint things and what walls we couldn't wait to knock down. It has been an absolute pleasure to buy their house.
But enough jibber jabber. You guys are all probably all thinking "just get to the pictures" (if you haven't skipped this intro entirely and scrolled down already) so here they are. Oh and check out this post for a floor plan description that will probably make a lot more sense of the flow, some of our future plans, etc.
Here's the exterior in that blanket of surprise snow courtesy of mother nature: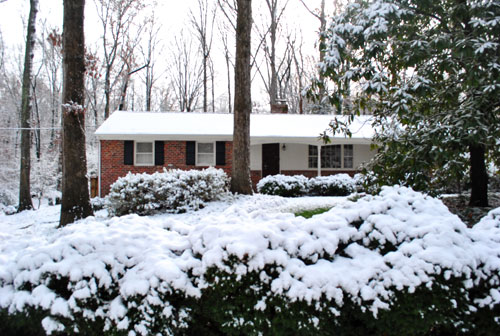 And here's the room that has us at hello. It's actually a formal living room with a dining room behind those built-ins, but we'll be converting the formal living room part into an entryway/dining room with a huge opening on the left wall that leads into the large eat-in kitchen. And that back room that was once the dining room will become our home office thanks to the addition of some pretty french doors.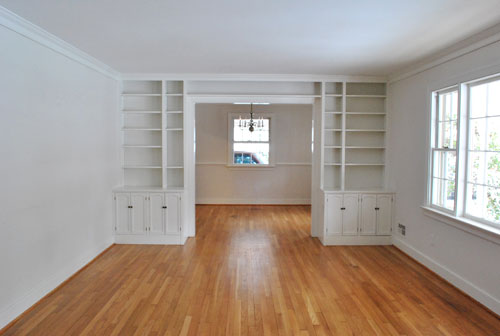 Here's a look from the other direction back at the door.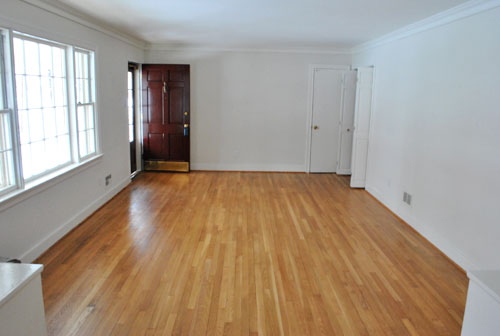 And here's the long eat-in kitchen we mentioned. Lots of paneling to paint! We're also planning to paint the cabinets (not sure what color or colors yet) and add a giant island. The opening to the new dining room in the front of the house will be on the right wall in the picture below. We're hoping to get at least a 5′ pass through so it feels really airy and inviting.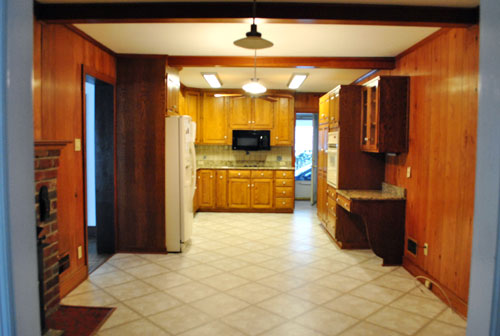 Here it is from the other direction. Another thing we loved about this house from the get go were the wide doorways that it already had. You know we're suckers for the whole open flow thing.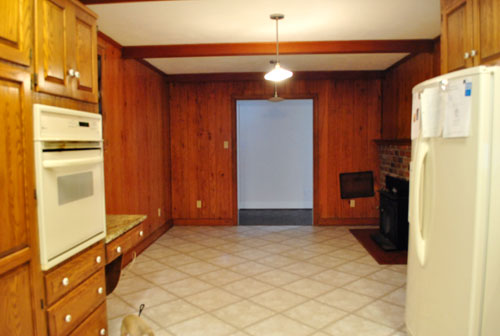 Here's another one of those nice wide doorways that leads down the hall (this was taken with my back to the master bedroom facing the front door). Burger likie.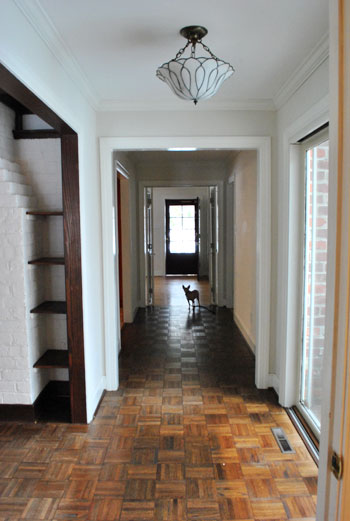 Here's the room where we'll do all of our living (when we're not in the kitchen, since everyone seems to end up there anyway). We realized we never used our formal living room nearly as much as our family room in the old house, so we longed for a bigger all-in-one room to gather (that could accommodate a lot of our large family and a sectional along with some other larger furnishings) instead of having two smaller sitting rooms that were half as functional.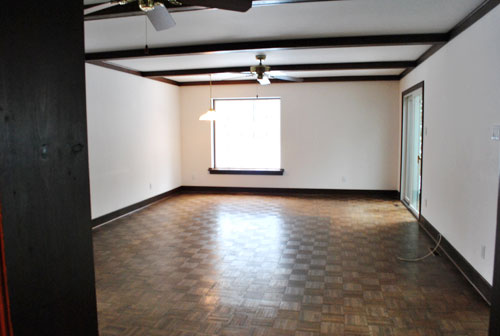 We love that it feels airy and spacious thanks to the generous size and the awesome sliding doors (one leads out onto a raised patio and one leads out into the sunroom).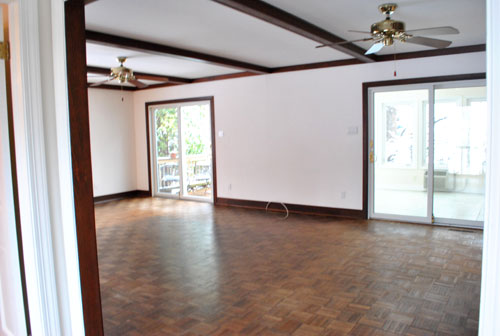 Here's the view looking towards the kitchen with your back to that big square window in the picture that's two images up. We're planning to make that fireplace a double-sided one so we can enjoy it from the kitchen and from the living room- and we also want to widen that doorway to make the kitchen feel even more connected to both rooms that are on either side of it.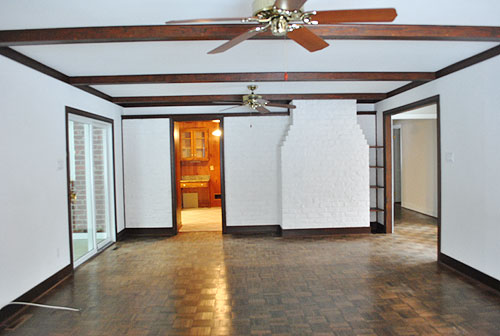 Here's the sunroom that was added on a while later. The challenge here will be making it feel more integrated with the rest of the house since it feels so modern and new when compared to the rest of the house, most of which was built half a century before.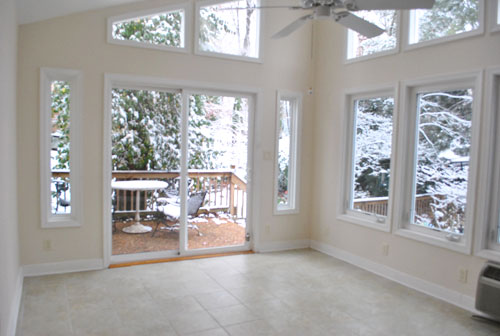 The other side of the sunroom has an off centered window and some dark brick that we can't wait to transform.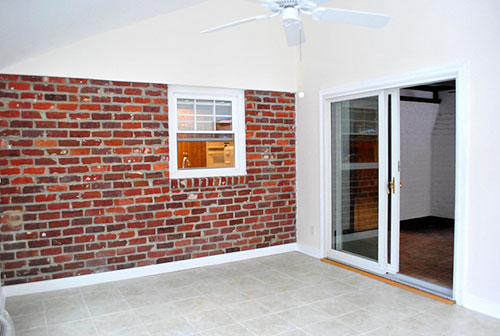 Here's the master bedroom. It's a really generously sized room, and the reclaimed pine floors (with super wide-planks!) are pretty special, so we can't wait to show them some love.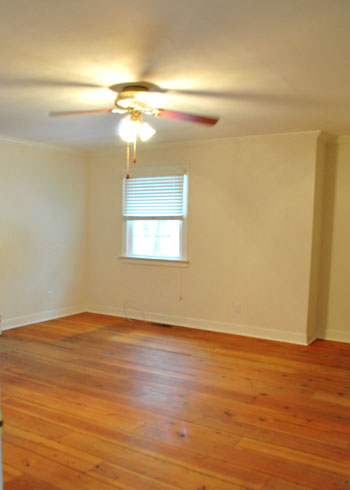 Here's the sink in the far side of the room (with a shower and a toilet in a room to the right and a walk-in closet to the left). It'll definitely be a challenge to make that sink feel integrated since it's visible from the bed (romantic!) but we have lots of ideas when it comes to getting 'er done.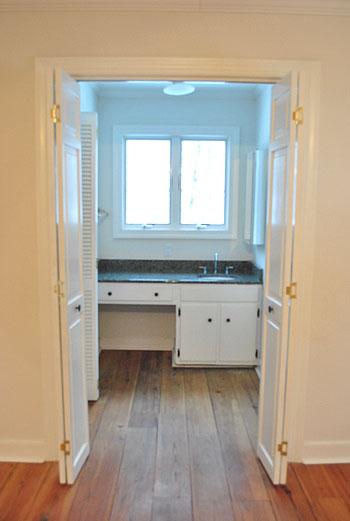 Here's the hall bath that's back near the other three bedrooms. We love that it's so similar to the original full bath in our old house (and the tile is luckily in much better shape).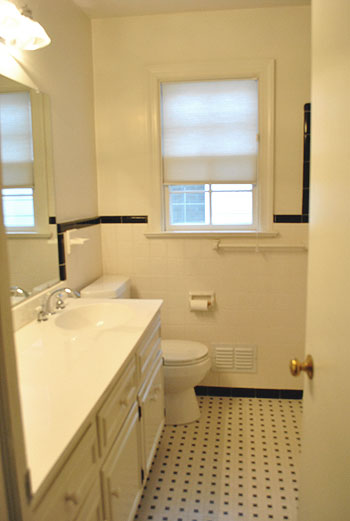 Here's Clara's new nursery (it's almost exactly the same size as her old one):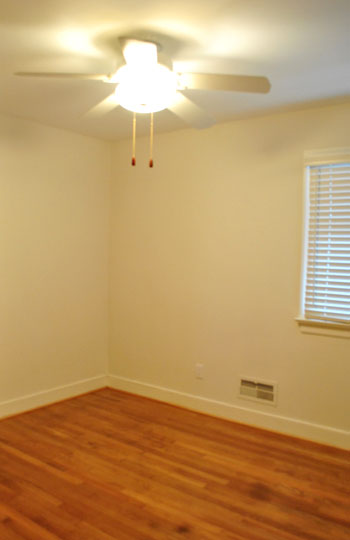 And here's the middle bedroom that we're calling the playroom (it'll become another kids bedroom when our clan grows someday):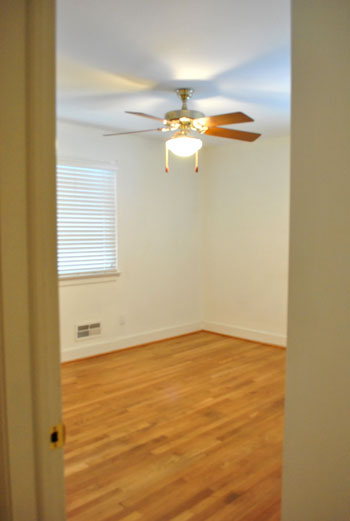 Here's the guest bedroom that we can't wait to offer up to family and friends stopping through. Of course we need a bed first…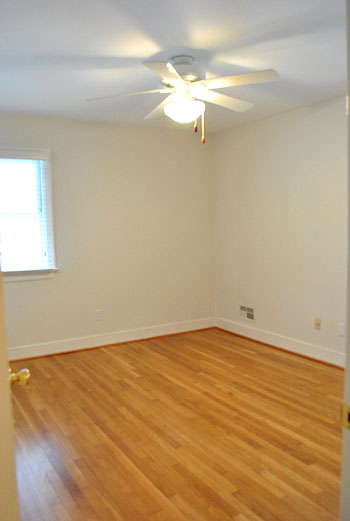 And here's they funny little yellow-beige bathroom suite (that room used to be the master before they added the new one along with that spacious living room behind the kitchen, so it has its own bathroom).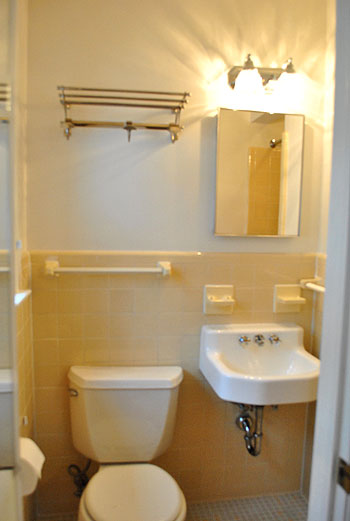 Can't wait to redo this baby.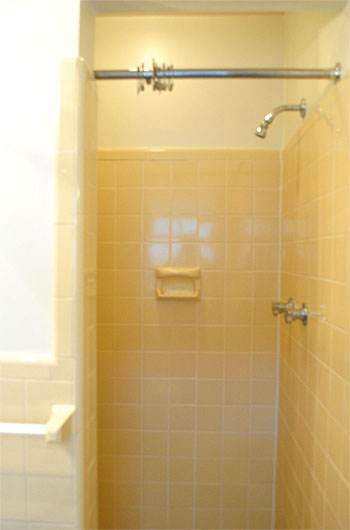 And here's the little laundry room that we want to pack with storage and function to create a mini mudroom as well.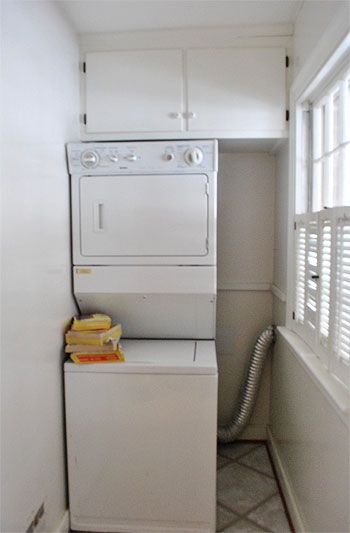 We love the lines of the back of the house (and hope to upgrade the exterior up front someday to match…).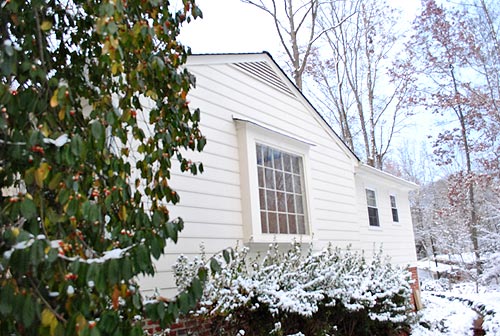 Doesn't the snow make our backyard look so charming? We're in love.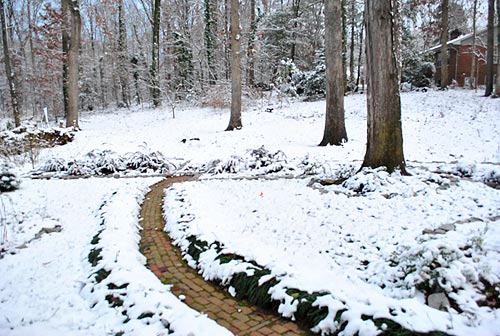 So there it is. It was totally love at first sight for us. And we're still so thankful for our buyers agent who convinced us to go look at the house (we snubbed our nose at it because it had a carport, and later learned that the owners were offering a full credit to pay for the conversion from carport to garage so it wouldn't cost us a dime). Seriously, it makes us crazy to think that we might have missed out on this beauty because we were anti carport. But the (real estate) world works in mysterious ways.
Anyway, we hope you guys enjoy the first of many pics of our new place. Please bear with us when it comes to questions (since we don't have internet access, and want to spend more time at the new house than Panera, we might not be able to answer a ton of new house q's). You have our word that we'll share more details about what will go where and what projects we want to take on as things unfold. We're all about the whole real-time blog-as-we-go thing. Especially since we have so many new projects to tackle! Thankfully we have nothing but time (at least 4.5 years, since that's how long the last house took us) to settle in and share every detail with you guys. You know we're chronic over-sharers, so don't worry about us sparing any detail. Stay tuned for diary-like updates as we tackle transformations both big and small. Until then, come on in and make yourself comfy in our new home! So glad to have you guys along for the ride.
Psst- You can check out our new BabyCenter post all about Clara's new room here.