You know this little online diary of ours is all about keeping you posted on the little stuff along with the big (and the bad and the ugly along with the good). So file this under small but good. Remember our little petunia-fied mailbox? Well, it went from this in June…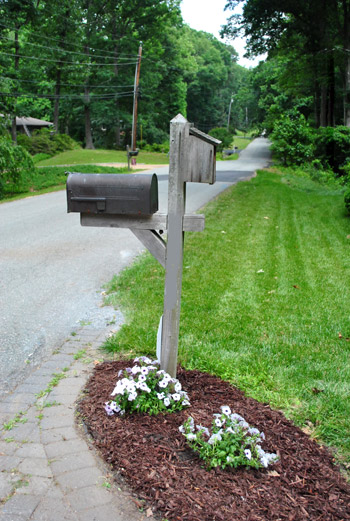 …to this in August…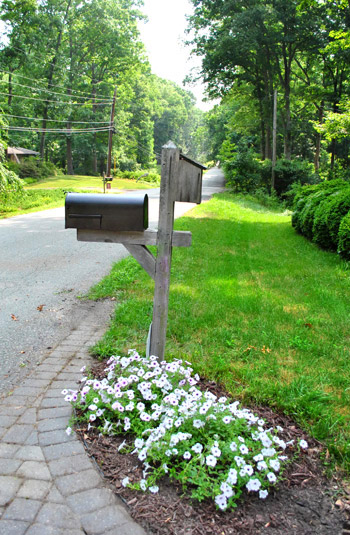 …to this in October: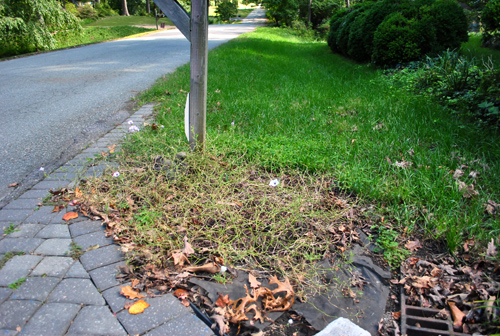 Womp- womppppp.
The petunias were annuals so they weren't gonna last forever. And between rain washing out a lot of the mulch and the flowers thinning to a scraggly looking vine mess… yeah, it was ugly. But wait, we'll get to the "good" in a minute.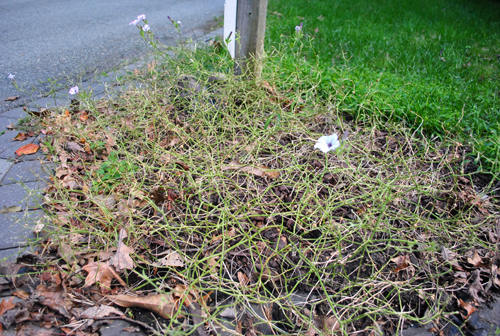 Fortunately I was able to pull them out with virtually no effort. Note: Some of these pics were taken before we removed/transplanted a bunch of bushes here – you'll see why we waited to post about this a few photos down)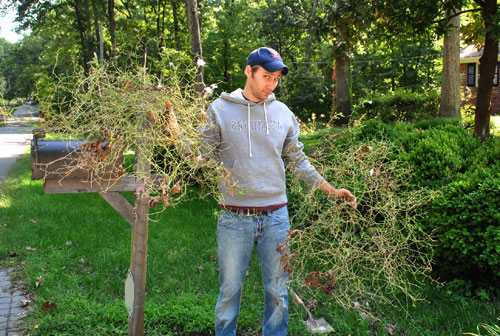 We had actually just received a Home Depot coupon in the mail for "Buy 2 Mums, Get 1 Free" (we signed up for some free garden club a few years back so we get random coupons every once in a while). Sadly we didn't get that coupon before purchasing our porch mums a few weeks back, but oh well – we decided to put it to good use in another place. The mailbox o' tumbleweeds. So $14 later we had three sunny yellow mums out front. And yes, Sir Squirrel is chilling out right in the middle of them (more on him here).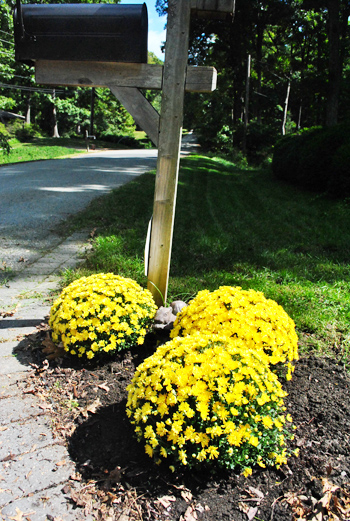 Even though the mums are perennials, we're so happy with how the petunias filled in the space over the summer that we'll probably plop some of those back in come springtime (and just transplant these guys so we can enjoy them somewhere else). But we're loving the autumn look for now.
What weren't we loving? The washing out problem that we'd been battling after every big rain. See the weed blocking fabric that's completely exposed next to the drainage grate on the right? In the words of my wife: reeeeal claaaassy.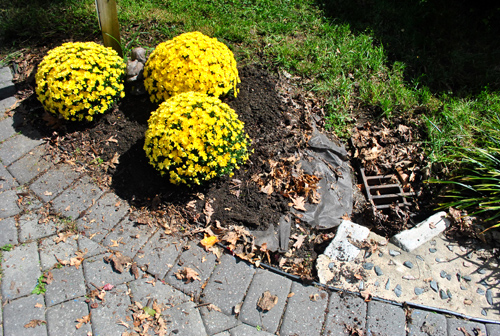 The drain worked well most of the time, but heavy rains overload it and, well, you get the idea. So I borrowed some stones leftover from the patio project (they used to line those rows of liriope that we removed here) to build a little stacked stone wall beside the mum-bed. Things are looking up, right?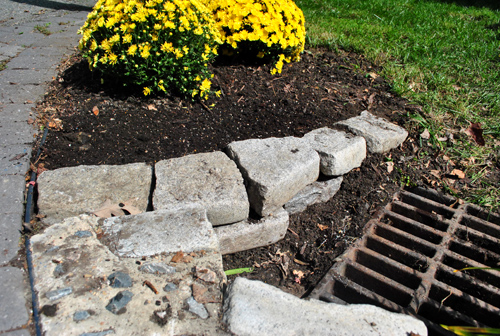 We have since had two big rains (we waited to post about it to be sure it wasn't an epic fail) and we're happy to report that it kept the water from whisking away the dirt with it. So… victory!
It doesn't look half bad if you ask me. Although of course those mums could use some filling in, sort of like our petunias back when we planted those. Heck, now that we have the little stacked stone wall, maybe we'll add more plants to really fill it up come spring. And hopefully we'll straighten and paint the wooden mailbox post then too.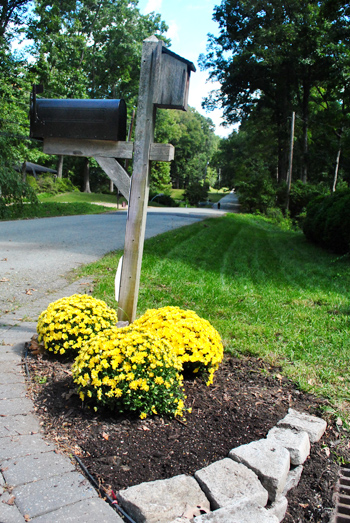 Did anyone else do any quick outdoor updates for fall? Were they mum related? Or stone related? Or ceramic squirrel related?
Oh and Sherry promised more pics of the feather wreath that some of you noticed from afar on the door in this post, so here we go. It's just an old black feather wreath from JoAnn (picked up after last Halloween on super clearance- maybe it was $8?). Sherry lazily placed it over the door knocker (didn't even bother hanging it) and called it a day. That's my girl.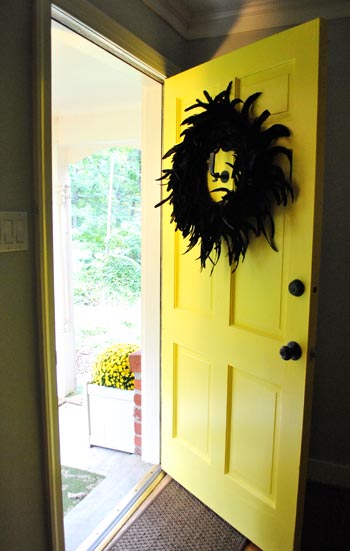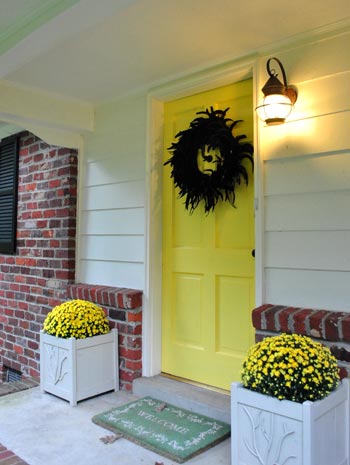 Sherry also meant to toss the three remaining black spiders that we had (from this post) into the yellow mums for more black-on-yellow action before snapping these pics but completely forgot. But she was sure to do that before those cute little trick or treaters came a-knocking yesterday evening. The ones who noticed seemed to love spiders as much as Clara (more on that here). So yeah. Good times going on at the mailbox and the front door. Although we could definitely use a new doormat (or at least a new stenciled paint job over our current one). How about you?
Psst- You can check out how we painted our front door yellow here and ORBed the handle & doorknocker here.