***This giveaway is now closed – see who won below!***
After clocking 10,000 entries under 24 hours, we're already back to crown a random winner of the SINGER One sewing machine. The lucky person is… Angela (who says she's a 1 on the sewing skills scale: "I can sew a straight line, but only if someone threads the machine for me first"). Congrats!
I've never touched a sewing machine in my life, but I've heard Sherry's passionate muttering from the next room while using hers. Which is why anything labeled "Our easiest to use machine!" sounds compelling. And we're so (sew?) excited that Singer is helping us give away a SINGER One – a feature-packed sewing machine that retails for nearly $500 – to one lucky reader! Something about an Automatic Needle Threader and OneTouch stitch selection sounds "approachable." Plus the 24-available stitch patterns makes me believe you could fake your way into some pretty fancy stuff. Oh, and did we mention that Singer will ship this puppy anywhere in the world?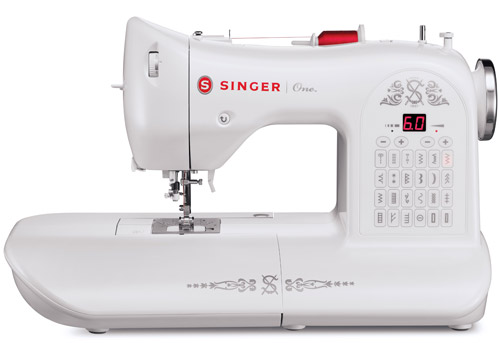 PRIZE: A SINGER One sewing machine (a $499 value!)
TO ENTER: Comment on this post with the words "SEW ME!" and tell us…
BONUS QUESTION: …where do you rank yourself on the sewing skills continuum? Are you a 1 like me (I couldn't sew my way out of a bag)? A self-proclaimed 3 like Sherry (who could probably make "a wonky bag")? Or are you more like a 10 (who could not only sew a bag from scratch, but do so blindfolded)?
GIVEAWAY CLOSES: Wednesday, Dec 12th at 8pm EST or at 10,000 entries (whichever comes first)
NUMBER OF WINNERS: One
PRIZE SHIPS: This giveaway is available worldwide (we always beg every vendor to ship internationally but some companies are not legally able to vend things beyond the US – more on that here).
USUAL STUFF: One entry per e-mail address is permitted. The winner will be selected using random.org and announced on Thursday as an update to this post. That's right, come right back here on Thursday for the announcement of our winner. Good luck…
***COMMENT ISSUES? If you're trying to enter but keep getting a "duplicate comment" warning, click here to see how to solve it!
Note: We aren't paid or perked for hosting these giveaways, we just do 'em to thank you awesome folks for stopping in. See our Giveaway FAQ page for more info. Pics courtesy of SINGER.