Ok, so maybe our messy garage wasn't disastrous enough for you people, but we did discover several new species of spiders in there… and Sherry was "attacked" by a mouse in the cleaning process (it ran over her feet- yes, both of them- but her shrieking made it seem much more vicious). No matter the scale of our mess, it was very satisfying to spend an hour on Saturday morning just purging, sweeping and rearranging for a totally cleared out and organized end product. In case you were wondering what the process looked like, here's a fun little time lapse video that we made of our big garage clean-up (you can watch it below or over here on YouTube):
As for how we shot the time lapse, it was just a simple set-up using our newly refurbished MacBook's built-in iSight camera and a downloadable program called Gawker. Then, thanks to the slope of our driveway, we just put the computer on a box (of which we had plenty) and hit record. The whole thing looked like this: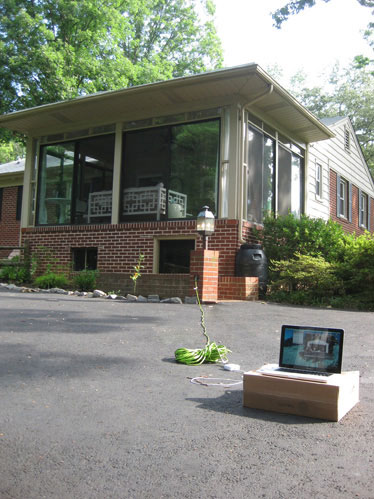 But back to tackling the garage. It was pretty much just a simple cleaning effort this time around. We share your dreams of someday implementing a few stellar organization systems (nothing excites us like a wall of built in cabinetry and a tool-riddled peg board) but we realized during last year's clean-up that we just don't have enough stuff to warrant anything major yet. Maybe once we've got kids and have accumulated all sorts of frisbees, basketballs, and camping gear we'll find ourselves excitedly installing an intricate shelving or cabinetry system. But for now we were just be happy to rid our bike seats of cobwebs and put an end to the cardboard box convention that took place where our car could have otherwise been living.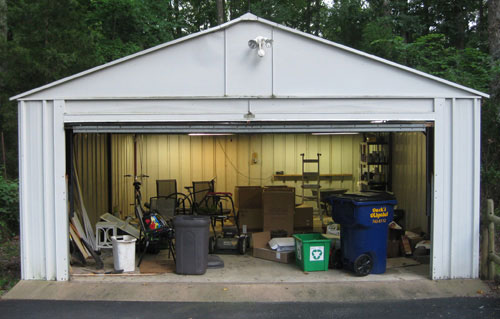 As you may have noticed on the video, we used the tried & true process of moving everything out and creating three groups: 1) trash, 2) recycle/donate and 3) keep. Then once the garage was empty we broke out the brooms to sweep out all the leaves and remove all the remaining cobwebs. Afterwards the "keep" stuff got moved back in (with a more orderly & intentional arrangement this time – garden tools with garden tools, paint with paint, etc). Storing like objects together always makes it easier to find things and creates zones like "paints & stains" (which are housed on the tall tiered shelf) and "rakes & shovels" (which now hang together in a row on wall hooks).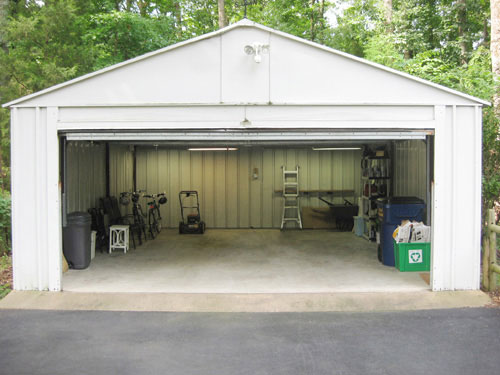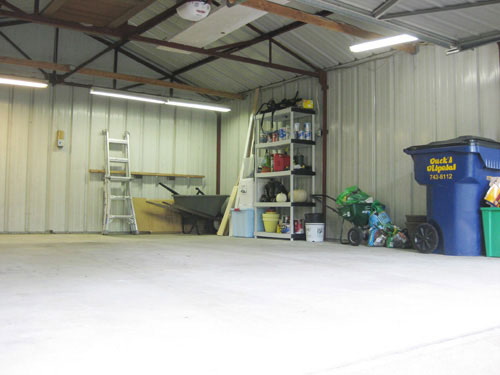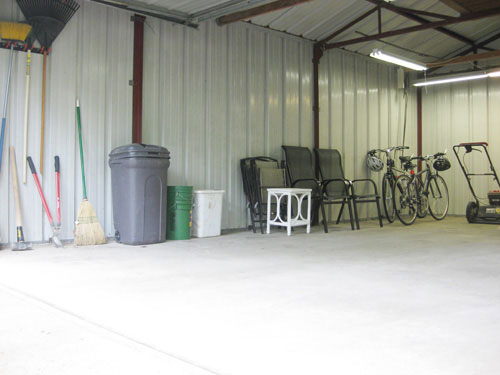 Hopefully we'll keep the garage looking this way for a while, but then again, we probably said that last year so only time will tell. It seems that our weakness lies in the fact that we're not always perfect about cleaning up the remnants of past projects. In fact, the clean-up process was a bit of a walk down memory lane. Just check out some of the "artifacts" that we rediscovered on Saturday morning: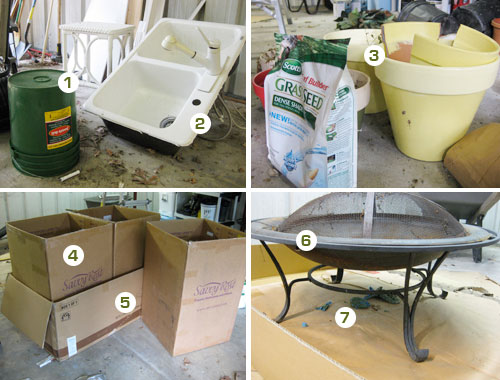 Two catering buckets that The Nest's photo crew ordered (now used for carwashing)
A cast iron sink from our old kitchen, which we finally Freecycled yesterday
Painted pots from an R Home photoshoot, one of which I clumsily kicked over
Boxes from our recent mattress delivery…
… nesting in a box from our new patio lounge chairs
An old metal firepit that got rusty and was replaced by our new DIY stone firepit
Sticky scraps of balloon from our failed string lantern project for the front porch
But enough about our clean-up, we're eager to hear more about YOUR weekend projects. We've already received a few great before and (much tidier) afters by email, so we'd love if everyone could share links to their pics in the comment section of this post so that we can all marvel at the weekend projects that were accomplished (photos can be uploaded to photo sharing sites like flickr, kodak and shuttefly and linked to for all to see). Thanks again for tackling this project with us! We'll have to do it again sometime…
Time lapse video music courtesy of MoOt.