Who has two thumbs and scored a fun new crisscross pillow for $2.63? This girl.
A recent trip to Bed Bath & Beyond ended in one of my best scores to date. Digging through the discount pillow bin yielded this beauty that was marked down by 50% and then marked down again, this time by 75% off the sale price. Yup, for just $2.50 plus thirteen cents of tax, this crazy beautiful lattice pillow came home with me. Look how happy it is on the bed with its other pillow friends: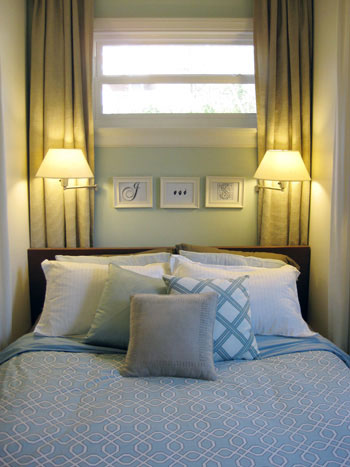 A lot of people ask us how to mix patterns and prints, and this new pillow conveniently demonstrates a few of our favorite pattern mixing tips. First of all, you want one of the prints or patterns to be a larger scale, more bold pattern (the pillow) while the other pattern is smaller in scale and a bit more subtle (the duvet cover). It's usually a good idea for the smaller sized item to be the more bold piece (ex: a subtle small-scale patterned armchair paired with a graphic large-scale patterned pillow). Although we've seen some majorly dramatic rooms with large geometric or floral patterns in the curtains or even on the walls that knock our socks off, so it can go either way.
The other thing to keep in mind when you're mixing and matching would be to try to keep the patterns or prints in the same color family. Thanks to the similar tone found in both the duvet cover and the pillow they don't seem to be fighting each other and can peacefully coexist in our peaceful master bedroom. Here's the close up. Isn't she a beaut?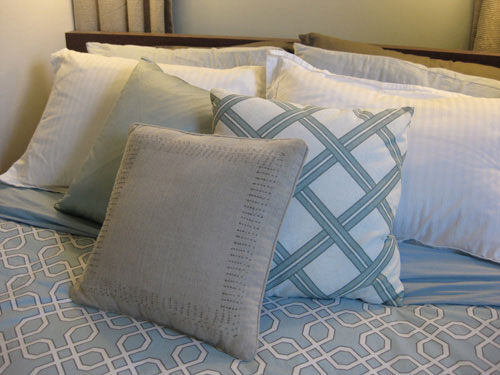 And here's my receipt. Gotta love a cheap thrill every now and then.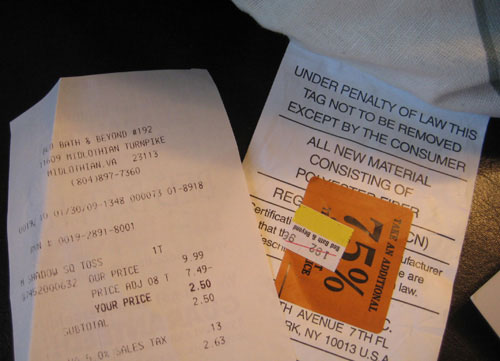 Especially one that makes the cashier do a double take. She couldn't believe the price. And I couldn't believe my luck. Here's to major markdowns and digging through those clearance bins! Happy hunting…