And now for a post about saving money. Because the loot we save on food = more money to spend on paint & projects. I figured since I recently divulged my 2011 goal to figure out coupons and save more money this year, I should share a little coupon-related update for anyone else who's as desperate to turn paper clippings into dolla dolla bills as I am. So here it is:
I saved $53 at the grocery store!!! Coupons really do work!!!!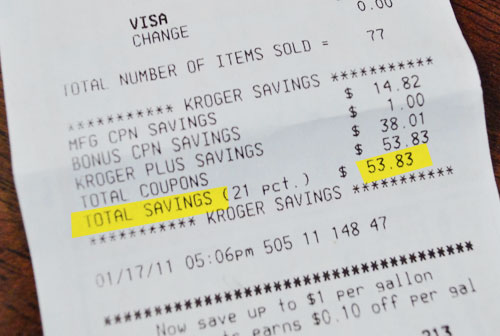 Pardon all the shouting. I'm just really excited. I am definitely far from an "expert" on the subject (I just started trying to navigate the crazy coupon world a few weeks back) but here's what I learned in the simplest of terms. Because I was a coupon dummy. Still kind of am. So I need things to be explained to me slowly. Preferably with lots of pictures and in a soothing and nurturing tone. Yup, I'm high maintenance like that.
Tip Numero Uno: You save the most money when your store (we shop at Kroger) matches coupons (ours does up to 50 cents) and when you can use a manufacturer's coupon (like the ones you find in the paper or online) combined with store coupons or sales. For example, if Kroger has organic milk marked down by $1 and I have a manufacturers coupon for 50 cents off and Kroger matches that, a gallon of organic milk that's normally $3 will only be $1 (because I'd score $2.00 off thanks to the store's $1 off sale and the matched fifty cent coupon).
Not bad right? That stuff really adds up when you're shopping for a fair amount of things (which has always been the way John & I do it, we usually do one major shopping trip every 2-3 weeks). It keeps us from spending a lot of money on impulse buys (which would occur more frequently and cost us more money if we hit the store more often for smaller trips). But I'm rambling. Back to more of my novice coupon tips.
Tip Numero Dos: If you use coupons for things you don't eat (or just get stuff because it's on sale) you're still losing money, wasting time, and giving up valuable space in your house that could better be used to store other things. So even if that bag of chips is 40 cents, if you don't normally buy chips but get all crazy at the idea of big savings you're on a slippery coupon slope. My big rule is that I only clip (or print) coupons for things that our family already eats or would like to try. We prefer organic produce and organic dairy along with basics like pasta, bread, cereal, granola, etc. It's not always as easy to find coupons for those things, but they do exist! And thanks to Kroger (where we have a Kroger savings card, which also offers occasional discounts on those items when you scan the card at the register) we've been able to save a substantial amount of money. Our last trip was our best savings ever (did I mentioned we saved $53?!!!!! oh I did. sorry, I'm just excited).
Along with picking up the Sunday paper for the bevy of coupons hiding inside (along with a Kroger weekly sale flier), here are some of the online stops that I make to find coupons that I can print or even load directly onto my Kroger card (how Minority Report is that?!).
This is my favorite coupon site. I click the Kroger tab and the Target tab to see what's going on (they have other stores in case you're not a Kroger person)
This is where I go within that site to load things onto my Kroger card
I also check out this site for printable coupons
And this one
And this one
This site is nice because it has links to a few of my favorites (some of them already listed above) in one spot
I also drop by this site just to see what's going on there
And this one
And this one
And this one
Resist the urge to get overwhelmed though! I probably get 90% of my coupons from the top four bullets above, so there's no need to go crazy and bookmark a million sites like I did. I just had to experiment with a bunch of them to find my favorites (aka: those top four).
Other than those two tips above, there really isn't one big trick that helped me save tons of money. I just clipped coupons on and off for two weeks (just for things we actually need/use/eat), wrote our shopping list carefully (being sure to note how many of each item we needed for the maximum savings) and even loaded some coupons onto my Kroger card online before going into the store (thanks to this site). We spent around $160 for 2-3 weeks worth of groceries for John, Clara, and I (we walked out with over nine giant reusable bags full of stuff, and according to the receipt we purchased 77 items). And we saved $53! And that was on things like two four-packs of organic baby yogurt for Clara, two half-gallons of organic milk, organic eggs, organic produce like bananas & avocados & and peppers, and basics like whole wheat bread, wheat pasta, granola bars, cereal (and goodies like dark chocolate and ice cream). It felt so good! Here are a few more specific examples of exactly how our coupons combined with an in-store sale to save us the most money:
We got two YoBaby Organic Yogurt 4-Packs, which were originally selling for $2.69 (which calculates to a total of $5.38). But Kroger had them marked down for 60 cents off each one (bringing each one down to $2.09) and then we had a "buy one 4-pack, get the second one free" coupon from the manufacturer, which made our total for both 4-packs just $2.09 (for a savings of $3.29).
We got an 8 oz bag of Gorton's grilled shrimp that was originally $5.99. But Kroger was having a special $3 off promotion so it was only $2.99. And we had a manufacturers coupon for $1 off which means that our bag of shrimp cost just $1.99 (for a savings of $4).
We got a box of FiberOne Granola Bars that were originally $2.49. But Kroger had them on sale for $1.50 off (which made the box just 99 cents) and we had loaded a FiberOne e-coupon onto our Kroger card (thanks to this site) for 50 cents off, so we paid just 49 cents for the box of FiberOne granola bars.
Of course these are our best buys that we're highlighting, so not everything that we purchased was that discounted. Not even close. So don't get down on yourself if you save 20 cents here and 50 cents there. It all adds up! Just be sure you're buying things that you actually like and eat, not just things that are on sale.
Oh and a few more couponing 101 tips that I picked up are:
Just because something is 10/$10 doesn't mean you have to buy ten items (it's usually just labeled that way to get you to buy more).
Resist the urge to buy the largest size of things that are on sale- often you save the highest percentage when you use a $1.00 off coupon on the $2.00 cereal box, not the supersized $4 one (this was the hardest principle for me to grasp at first since my instinct was that buying something huge saved me more money). Of course if the larger one is substantially less money per ounce and you have a use for a large amount of something, it could be worth the upgrade- but I was surprised how often I noticed them listed as the same price per ounce.
Coupons are allegedly cyclical, meaning that most coupon pros claim that every six weeks the same items go on sale again. This theoretically means that if you have space to stock up on your favorite cereal when it's on sale, you only have to buy enough to last you six weeks, and then the sale should pop up again (of course this isn't to suggest that you should have a six week stockpile of every item, but it does reinforce the idea that you never have to buy 100 of something that's "an amazing deal" because it'll most likely be a great deal again in a little over a month).
Oh and here's how I keep things organized. I have a clear plastic sleeve where I toss all of my coupons as I clip them throughout the 2-3 week span between major shopping trips, then before we go to Kroger I take out all the ones I won't be using so it's only full of coupons I'll be "spending" and I slip my detailed shopping list in there with them (that way I know how many of something or what sized box I need to get to use my coupon without thumbing through all of them). When I get to the register I hand over my Kroger card for them to scan (for all uploaded discounts) and then I hand over my paper coupons as well. So far it seems to work.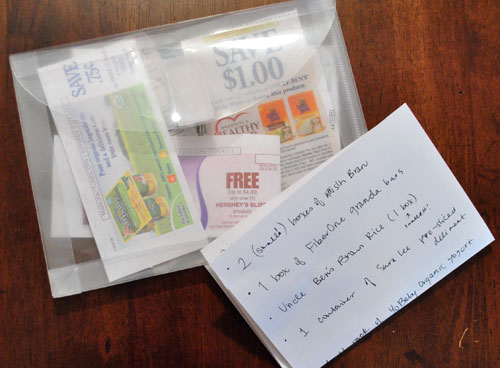 So that's my coupon update for ya. Happy snipping to one and all. And all you varsity coupon peeps better share your tips! I know I still have lots to learn!
Psst- All kids toys are not created equal. Check out what Clara got that looks so good we never want to tuck it out of sight (unlike 99% of her other toys).