Every year we publicly proclaim a few of our resolutions in the hope that it'll light a fire under our arse (arses?) and help us "get there." So without further ado (except for this gratuitous Clara picture) here they are…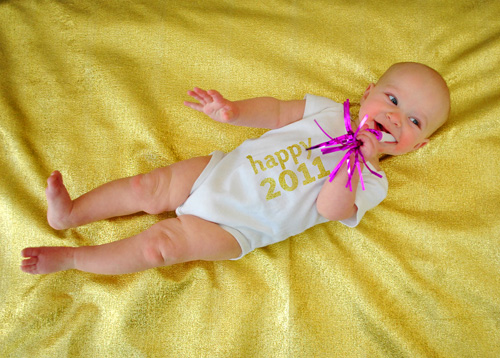 Resolution #1. To be more bold with our decorating & renovating choices. We want to embrace color and contrast and just have fun without worrying that we'll mess up. Mistakes are always when we learn the most about a project or our style, so we're going to welcome them with open arms. And we hope to do our best to resist always going with the "safest" decisions in favor of taking a few chances and diving in with both feet. Wait that doesn't make sense. Jumping in with both feet? How about cannonballing? Sounds good to us. It probably means there will also be the occasional belly flop, but we're ok with that too.
Resolution #2. To find balance. We're going to try our darndest not to fall into the trap of putting all of our time, money, and energy into the house to the point that we have no life, no savings, and Clara is trapped in our casa for her entire childhood. We'd love to remember to plan family trips (we haven't been on a big vacation since our honeymoon three and a half years ago other than some low key road trips and family beach weeks) and just take time to enjoy visits to the park and the zoo and the occasional meal out. Since the internet is 24/7, sometimes it's hard to resist working nights, weekends, and even on vacation so we hope to get a handle on that. Now that we have a wee one, some healthy family-friendly balance seems like a good idea.
Resolution #3. To save more money. We're already pretty frugal (ok, we're total tightwads) as you can see here, but we'd like to learn more ways to squirrel away cash for a rainy day (or retirement, or the college fund…). For example, we have no idea how to coupon. But now we'd like to learn the act of couponing (but by no means will we take it as far as the people on that TLC special). Yesterday we gave it a whirl and ended up saving $19 at the grocery store. Not bad for two people who had no idea what they were doing. So we're ready to learn more. From virtually loading our Kroger card with online coupons to buying the Sunday paper for the insert and even printing out online coupons when they're something we actually buy, we'll give it a try. And we'll share how it goes if we happen to get the hang of it.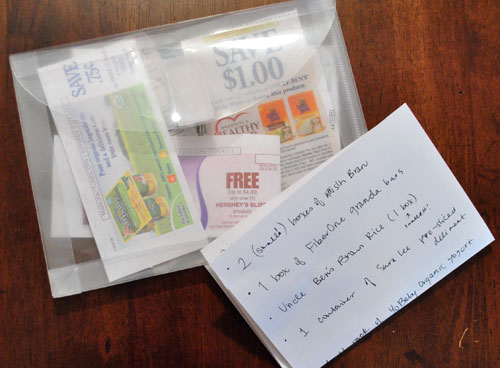 Resolution #4. To take the people-pleasing thing down a notch. As we mentioned during our blogiversary, "after three years we've learned that it's impossible to please 100% of the people 100% of the time." Gone are the days when we could write about whatever was happening at our house without someone (usually in the nicest way possible) telling us what to change. Like that we should post less or more, do bigger or smaller projects, share more or less family stuff, do more or fewer mood boards, etc. Basically, if we listened to everyone who told us how to alter YHL for the better, we'd pretty much have to scrap everything. And we might be crazy, but we like how we blog! It has gotten us to where we are today. Over two million hits a month is crazy (ok, mind-blowingly insane) to us.
We actually really enjoy sharing real-time diary-style entries about what's going on as it occurs (the good, the bad, the ugly, and the average day-in-the-life stuff) along with whatever inspires us – just like we did back in 2007 when this whole adventure started. One week we might be flying along and the next week we may be as slow as molasses – but hey, that's real life (with real budget constraints, snafus, & timeline challenges). There's always HGTV for those 30 minute makeovers, so we're all about the stuff in the middle. In the end, we know that as our blog continues to grow and evolve, some people will like it less while others may enjoy it more. Which is completely ok.
Resolution #5. To teach Clara a few key home improvement and decorating terms. Like "phillips head screwdriver." And "cohesive." Can you image how cute a toddler who says things like "keep it cohesive" would be?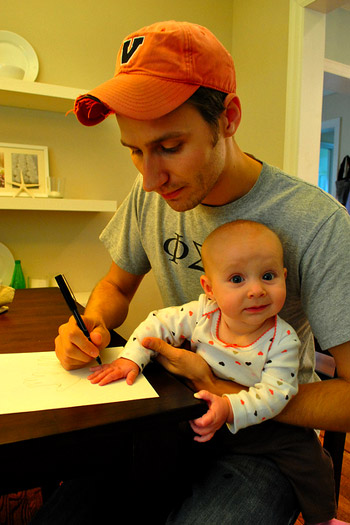 Or is that just my sick fantasy? My dad taught me the word "dehydrated" when I was a tiny tot and I'd walk around saying "I'm dehydrated" instead of requesting water or juice like the other kids in daycare. So dramatic. And I can just picture Clara pointing around the room and saying "drywall," "hardwoods," and "baseboard" instead of "wall" and "floor." Could be funny…
Pssst- Check out our weekly photo project featuring the beanette here.
Pssssst- Peep one more (kid related) resolution over on BabyCenter. Any good faux curse suggestions?