In the midst of hanging our bedroom curtains last week, I snapped some pics of a little trick I use to control the mess of drilling holes into our walls (in this case to make room for curtain rod anchors). Some of you probably already do this, but I figured I'd pass it along to those who might not be in the know since we only joined the tape trick club about a year ago. And not many people think cleaning up drywall or plaster dust scattered below their work area is a fun way to pass the time. Including me. Anyway, the trick is crazy simple and looks a little something like this: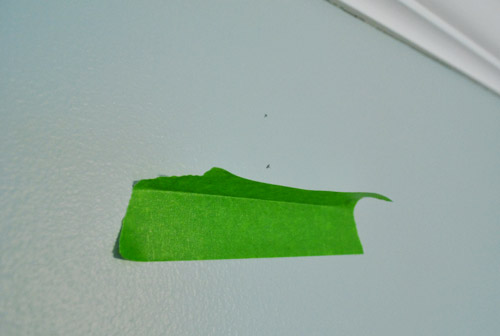 It's just a piece of painter's tape folded in half and stuck like a tiny temporary shelf below my "drill here" marks on the wall (I recently heard someone recommend doing the same thing with a post-it note, in case those are handier in your house). Either way, when your drill spits out a pile of dust, it gets caught neatly on the little tape "shelf" below. Which is better than landing all over the floor and whatever objects you didn't bother to move below. See?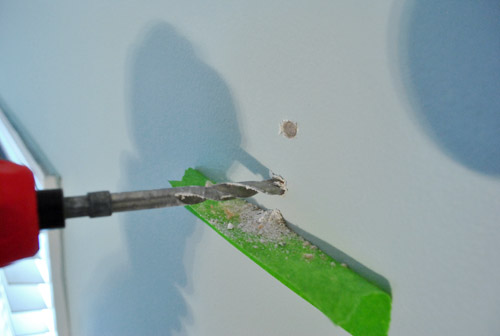 I debated switching to the post-it technique for a larger "shelf" surface, but decided to stick with tape (pun intended) because its sticky-all-around surface holds onto the dust more tightly (I'm klutzy enough that I'd probably dump all of the dust sitting on the non-sticky part of a post-it right onto the floor while removing it- but tape holds onto that stuff pretty well).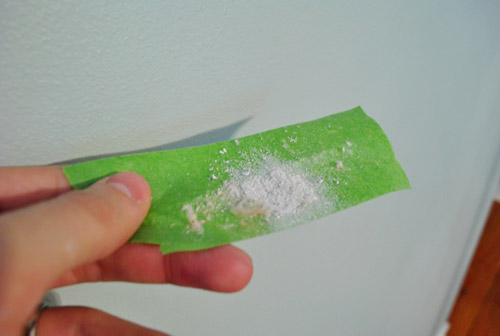 Plus I'm not gonna lie. My favorite part is wrapping up all the tape-trapped dust into a little burrito so I'm confident that the mess is permanently contained until I toss the little packet o' dust in the trash.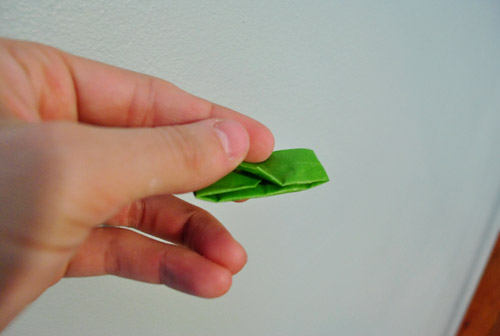 There ya have it. Easy, right? I'm sure I'm not the only one to use some deviation of this method when it comes to avoiding clean-up, so feel free to share any alternate techniques for dealing with drill dust. Or any other quick tricks that you've used to make your projects easier, faster, or less messy. Speaking of messy- Sherry took on quite an unusual project today. Details soon.
Pssst- Best spam comment to date (well, maybe besides this one) left by some jumbled url under the name BuyLinks: "Man if I ever saw two raccoons fighting over a blog it'd be this one. Nicely done my friend." Awesome.