Here it is, the post we promised all about cutting the cable cord (and how much we're saving as a result). As self-proclaimed TV enthusiasts, we've been known to collapse on the couch after some good painting/organizing/spackling and kick back with some tube. So in all of the hubbub about cutting the cable cord in recent years, we never really considered ourselves strong candidates – especially because so many of the channels Sherry likes (Bravo, Bravo, and also Bravo) weren't always easy to get outside of a traditional cable package.
But after some recent frustrations with our cable provider, and an ever-growing bill (which went from $99 to $169 the last 4 years!) we became even more determined to make it happen. It turned into a long and winding process, but we recently landed on a solution that has had only minor impacts on our viewing habits and BIG returns for our wallets – saving us around $950 a year (we'll get to the detailed math in a minute). So here's how we did it.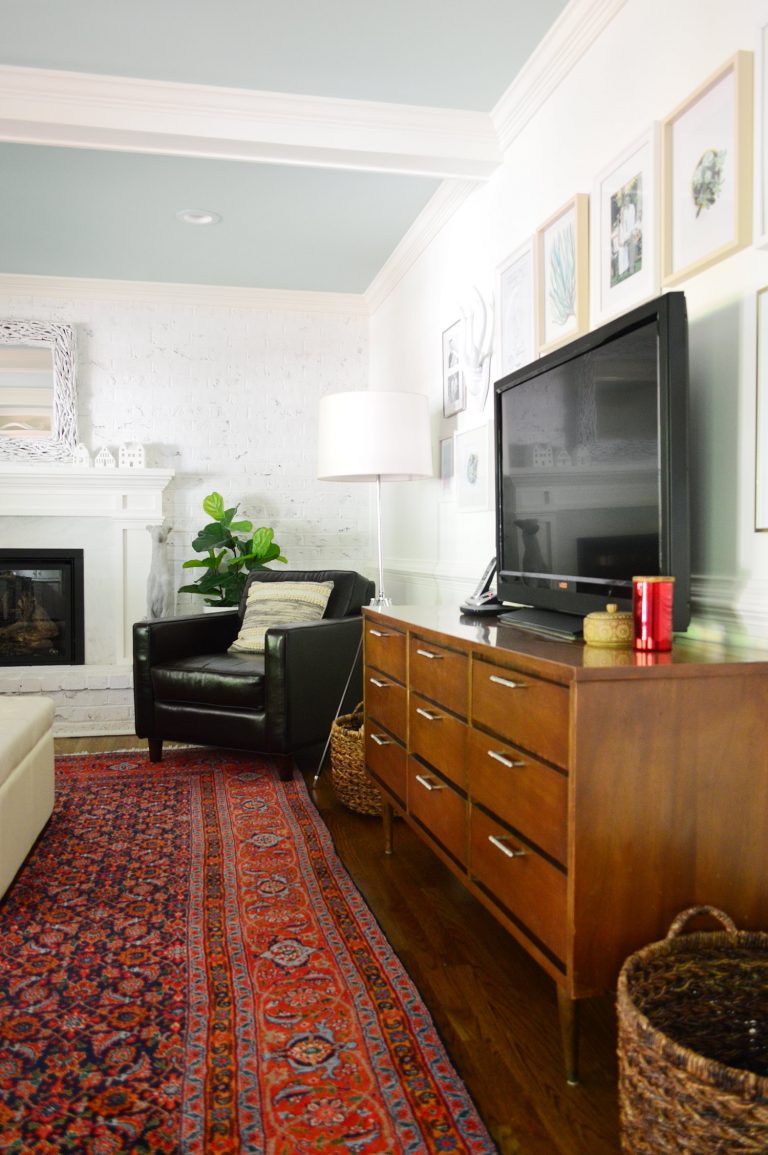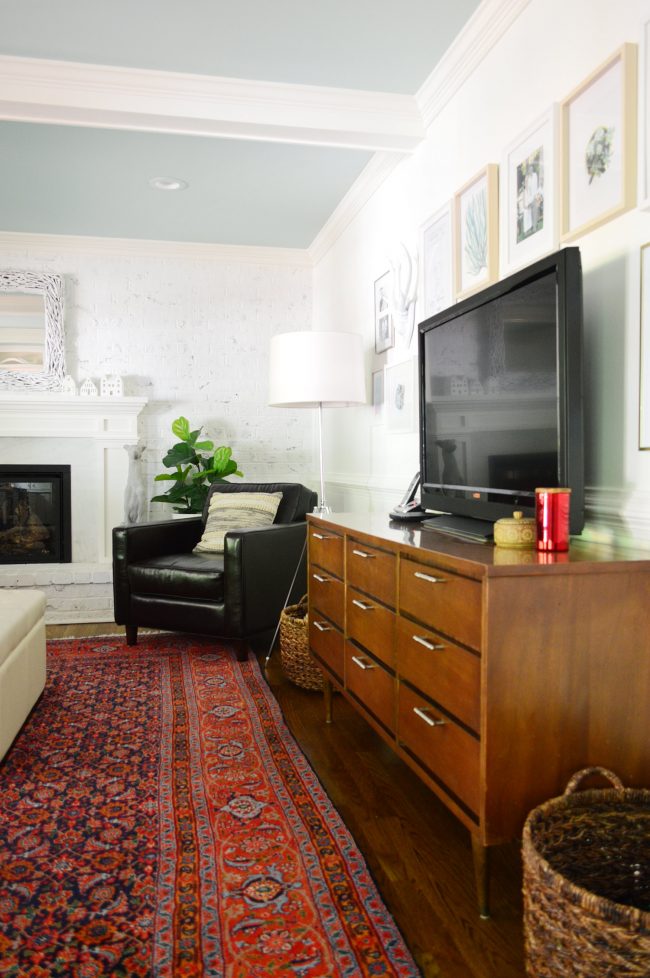 The Situation
First, you should know where we were starting from – both our cable set-up and our channel needs. We'd been on a Verizon Fios bundle for nearly seven years, meaning we had our cable, internet, and landline phone packaged together. We had been lured in by those $99/year deals they offer new customers and had even convinced them to renew it for us a couple of times past the initial period at that lower rate. But for the last year, our monthly bill was just pennies shy of the $170 mark. That didn't include premium channels like HBO, but it did cover extras like their DVR service and an extra DVR box for our upstairs bonus room.
Although I'm slightly embarrassed to admit this, our viewing habits have narrowed quite a bit over the years. On any given day, you'd probably find these four things on our DVR:
Anything on Bravo, which is Sherry's soup du jour every jour (I'm exaggerating here… but not by a lot)
Competition/reality shows like The Bachelor, Survivor, Shark Tank etc.
Primetime dramas like The Walking Dead, This Is Us, Scandal, etc.
Kids movies we had taped off of Freeform, FX, Disney, or some other channel that randomly airs them
What's missing from that list is a lot of the random live TV we would watch here and there (like just turning on HGTV and The Discovery Channel randomly) as well as, and more significantly, Netflix. We're not daytime TV watchers. We're not big sports watchers. We're not even big sitcom, singing competition, or nightly news people. So we actually thought: hey, we've got simple needs – this should be easy! Instead, we hit a few snags… as illustrated below with the help of some Real Housewives.
Hurdle #1: We Needed A Home Phone
The obvious answer to getting our bill down was to cut the home phone. Because, well, it is 2017. But cell service can be spotty in our little suburban pocket and since our alarm system couldn't get a reliable signal on their cell network, a landline felt like a necessity. We tried hunting down a cheaper landline phone option but that wasn't showing much savings either (the constant theme is that people overcharge for these things a la carte, so you stick to the bundle like glue instead).
Hurdle #2: Unbundling Isn't That Much Cheaper
We initially called Verizon asking them to quote a phone + Intenet combo without cable. We thought removing a third of the bundle would remove at least a third of the cost. NOPE. We got varying quotes depending on who we talked to (yes, this took multiple calls) but it was looking like dropping cable would only save us around $20-$30/month. But once we added a cable replacement service like Hulu – most of which ran $10-$30 – we'd wouldn't be saving very much, if anything at all.
Hurdle #3: Bravo
Given how Housewives-heavy our household has become thanks to my other half, the Bravo channel was a must-have for any new TV service. But popular cable alternatives like Hulu, Amazon, and Apple don't offer it as part of any subscription services. You could watch some seasons after they aired and/or pay for them a la carte, but that wasn't ideal. And happy wife, happy life amiright? Plus those options would probably end up being more expensive in the end. Why was Andy Cohen making this so hard?
This is pretty much where we were when we first mentioned our efforts on our podcast back in March (Episode #41). But thanks to some of your suggestions, additional research on our end, and one very helpful Verizon representative – this is where we ended up:
Cable Solution: Roku + Playstation Vue
Update: We have since switched to Sling. The provided service is nearly identical, but Playstation Vue had raised their prices $10 since originally publishing this post. We were able to find a somewhat comparable Sling plan for $15 less than the new price.
We purchased two Roku 4 boxes to replace our two Verizon cable boxes. Roku is pretty much just that – a box. It is not a monthly service or a cable provider, so it comes with just a one-time fee ($90). Its competitors are things like Amazon Fire, Google's Chromecast, or Apple TV. At their core, they all do the same thing: deliver streaming content (like Netflix) from your Internet connection to your television screen.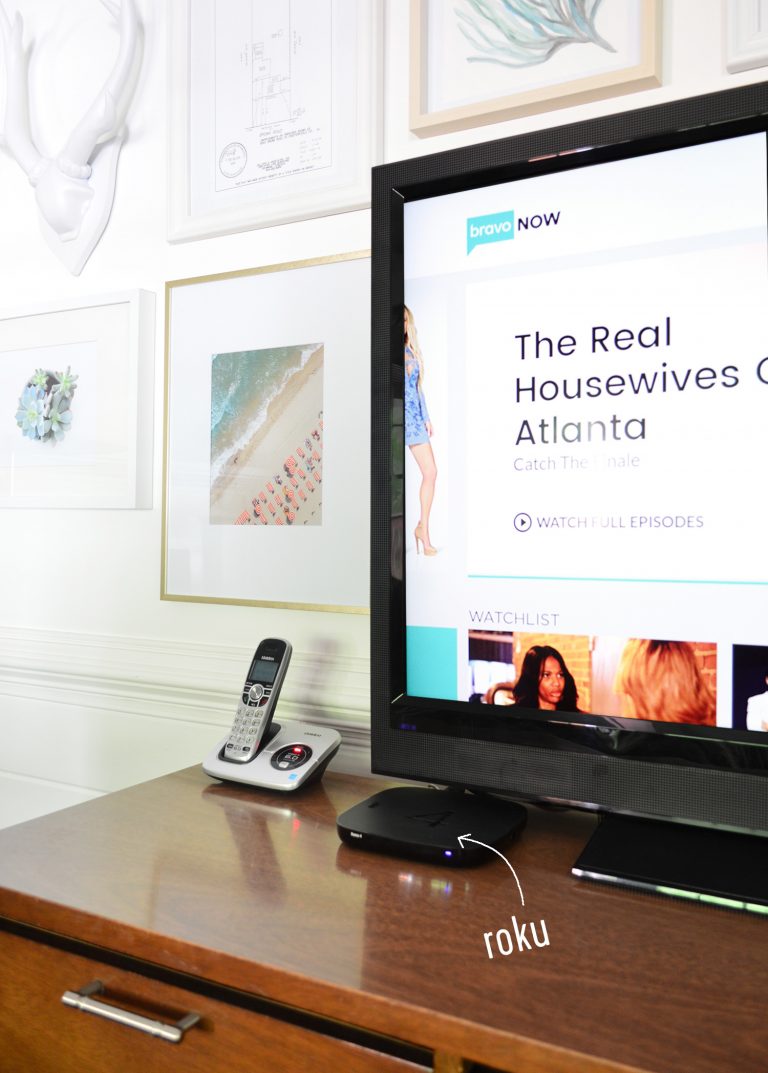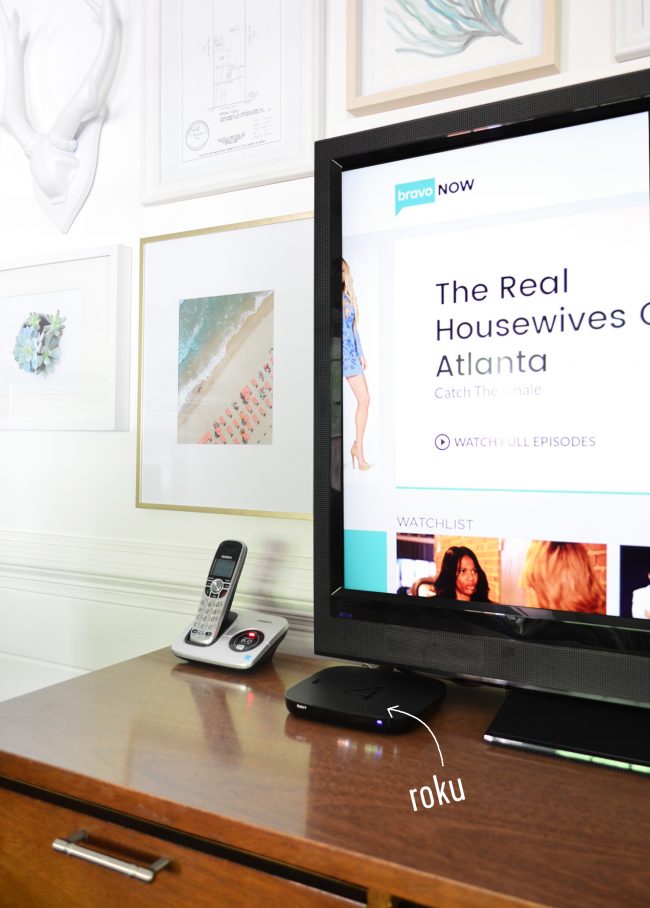 We chose Roku over the others partly because (as noted in articles like this one) its interface is said to be a little smoother and less complicated. Also, because it's not made by a company who also sells content, it's more impartial about what you're streaming (it's not always driving you to get your shows from Amazon or iTunes).
Update: We also have moved our living room TV and Roku box to our beach house, and replaced the system with a 55-inch Roku TCL TV, which has the Roku function built right in. It doesn't require an additional box or remote, and we've been extremely happy with the sound and picture quality. If you go this route you just have ONE GLORIOUS CORD that you plug into the wall (it's the tv power cord) and that's it!! No wires and boxes everywhere cluttering things up!
We initially just used our Roku to stream Netflix. And before we canceled our Verizon bundle, we dipped into the streaming channel waters by adding some to our Roku home screen, which you can see below. Some of this content is free – like PBS Kids – but most requires you to login with your cable provider ID in order to access their content. So if we nixed Verizon, we'd no longer have a valid ID (in other words, we'd lose access to all of this streaming content). But then we found Playstation Vue.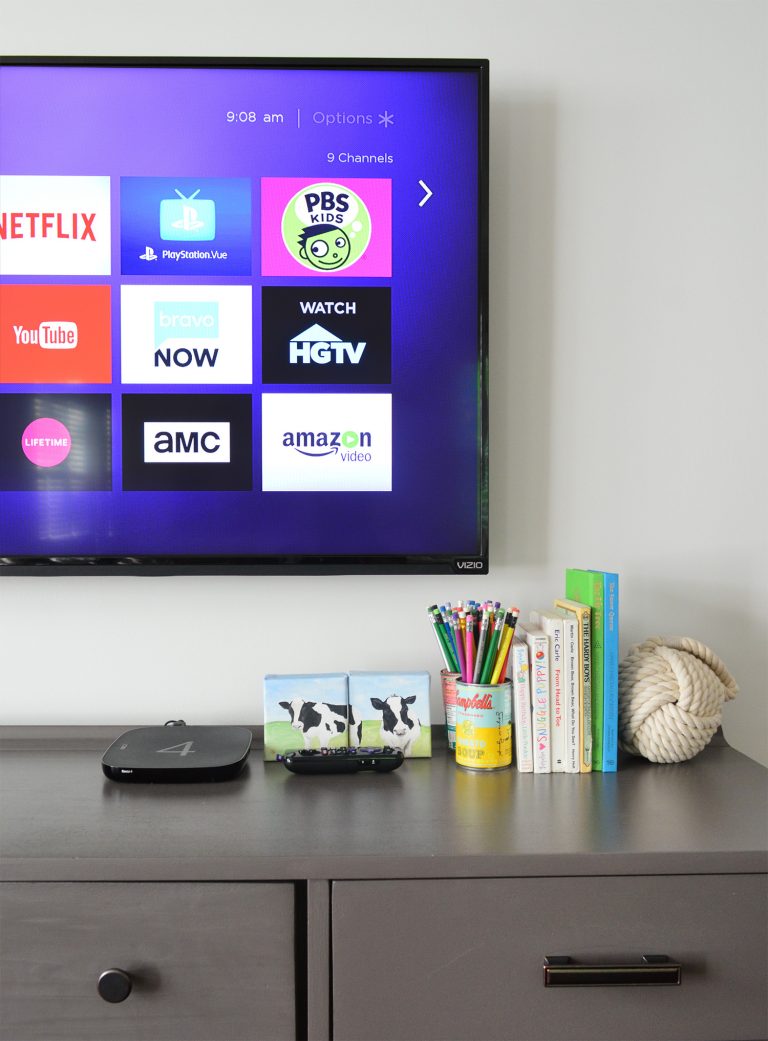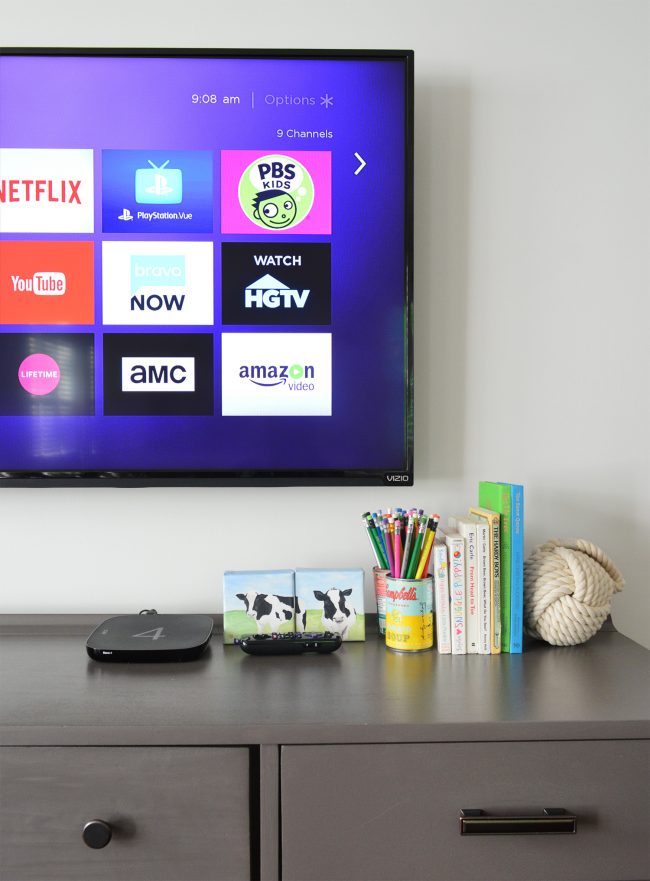 Playstation Vue may sound like a video game console, but it's actually a streaming cable service. So for $29.99 a month (via their most basic package, Access Slim) we could stream 45 channels of live TV (including Bravo!) and also access those channels' on demand content as well. It's similar to the Sling TV service that several people recommended to us, but we ended up trying the PS Vue free trial first so we were more comfortable with it. Sling does have slightly different (and cheaper) packages, so you may be able to save more depending on your channel needs, but Playstation Vue has been a great fit for us.
It did take some getting used to because this system is much more like finding a show on Netflix vs. regular cable. Or if you're used to finding stuff through an On Demand menu, this should feel familiar. There is a "Your Shows" list you can build within Playstation Vue to help "collect" new episodes of your regular shows all in one place, but we haven't gotten into the habit of using it yet. Instead, we've actually found that we don't rely on the Playstation Vue interface a whole lot – but use our account credentials to access Bravo or HGTV's own streaming channels from our home screen, just like we did before our Verizon account expired. Generally, we find it takes fewer clicks to get to what we want, and the channels' own interfaces can be a bit easier to navigate.
Phone Solution: Ooma
This was probably the best suggestion we got from you guys – so THANK YOU! Ooma delivers your calls through your Internet connection, not a traditional landline. We had heard of similar services before (like Vonage) but all of their prices seemed to be on par with our landline options. Ooma, on the other hand, offers FREE unlimited nationwide calls and only charges you taxes and fees (which is $5.06 for us each month). And it works with the same cordless phone we've had in our living room for the last three years. Doesn't feel like a change at all, except for all the money we're saving.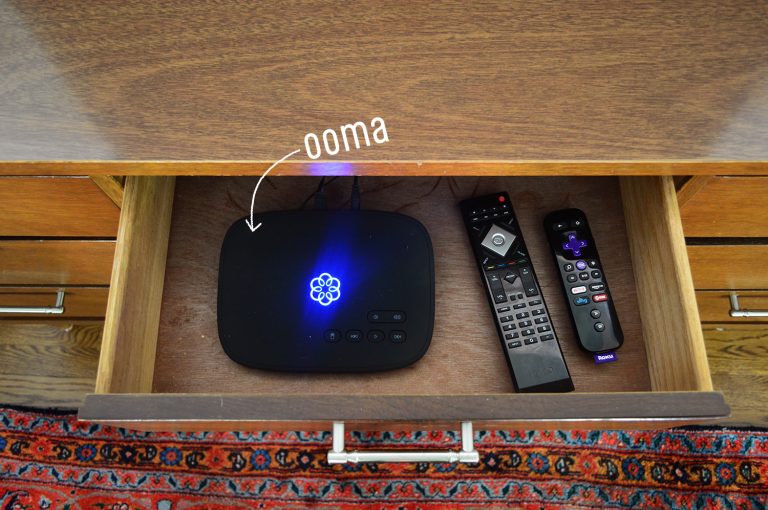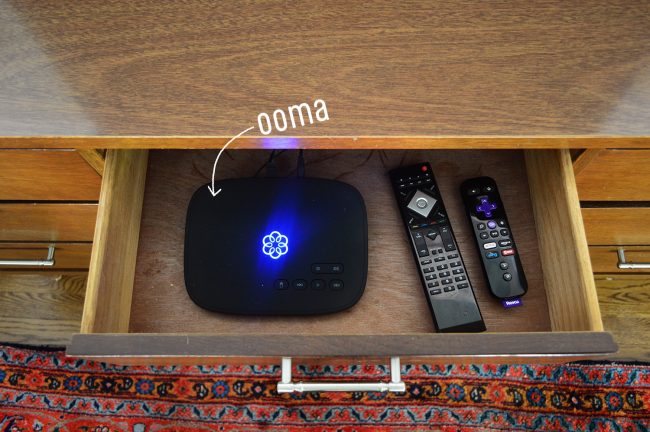 Like with cable, it did require some upfront equipment. We got our Ooma Telo box for $80. It plugs into our modem and then to our home phone. Ours lives in the drawer under our TV where our cable box used to reside. Had we been a bit more patient we could've ported over our old phone number, but we just wanted to get things done. So now you can call us at 804-243… just kidding. :)
We also hunted down a new home alarm system that was able to establish a reliable cell signal, so it wasn't a problem to ditch the landline after all. Phew!
Internet Solution: Verizon Fios
With those two other parts of the bundle taken care of, our final task was just to get our internet cost low enough to see noticeable savings. This is where Sherry "The Negotiator" Petersik comes into play. At this point, she'd probably spent around two hours across multiple calls to Verizon and their only local competitor (Comcast) trying to figure out the best options. It was definitely an exercise in frustration until she figured out the best way to get the lowest price was to already have a specific quote from the competitor. In this case, she was quoted "a new low introductory rate" for 75 Mbps internet from Comcast to the tune of $59, which was the same speed we were already getting from Verizon.
So with that in hand, she called Verizon and got the NICEST woman who seemed determined to keep our business. So when Sherry told her that specific quote from Comcast for a specific Internet speed, having that comparative quote was THE KEY. Sherry just sweetly said that if Verizon could match it (or beat it), we'd happily extend our contract. The woman said they definitely didn't want to lose us, and got us a rate of $54/month for two years, with an option to renew it for another two at that same rate. That, my friends, is what made all of this trouble finally worth it.
The Savings
So for your sake and ours, let's lay out how this all adds up. Remember, our old monthly cable bill came in at $169/month before (not including Netflix, which has stayed the same so I didn't include it below). When we rattled off the numbers on the podcast this week, we left off some .99s on a couple of prices, so the math here is corrected:
Television (Playstation Vue): $29.99
Phone (Ooma): $5.06
Internet (Verizon): $54.99
New Monthly Total: $90.04
Monthly Savings: About $78.96
Annual Savings: About $947.52
Of course, if I want to rain on my own parade a bit, I should remind myself (and you) of some of the up front equipment costs that went into this. Yours may be less or more, depending on your needs (how many TVs you have, if you need a home phone, etc).
So yeah, that cuts into nearly a third of our first year's savings (#sadtrombone), but the other way to look at is: in less than four months we'll have saved enough on our monthly bill to negate all of the equipment charges completely! And then moving forward every dollar we save can be spent on something a lot more fun. No more equipment fees and no more crazy big cable / phone / internet bills. Seems like a pretty good deal when we look at it that way.
**Our wi-fi strength wasn't great in our bonus room since it was the complete opposite corner of the house, so we had trouble getting a clear picture on the Roku. This device just plugged into an outlet upstairs and totally did the trick!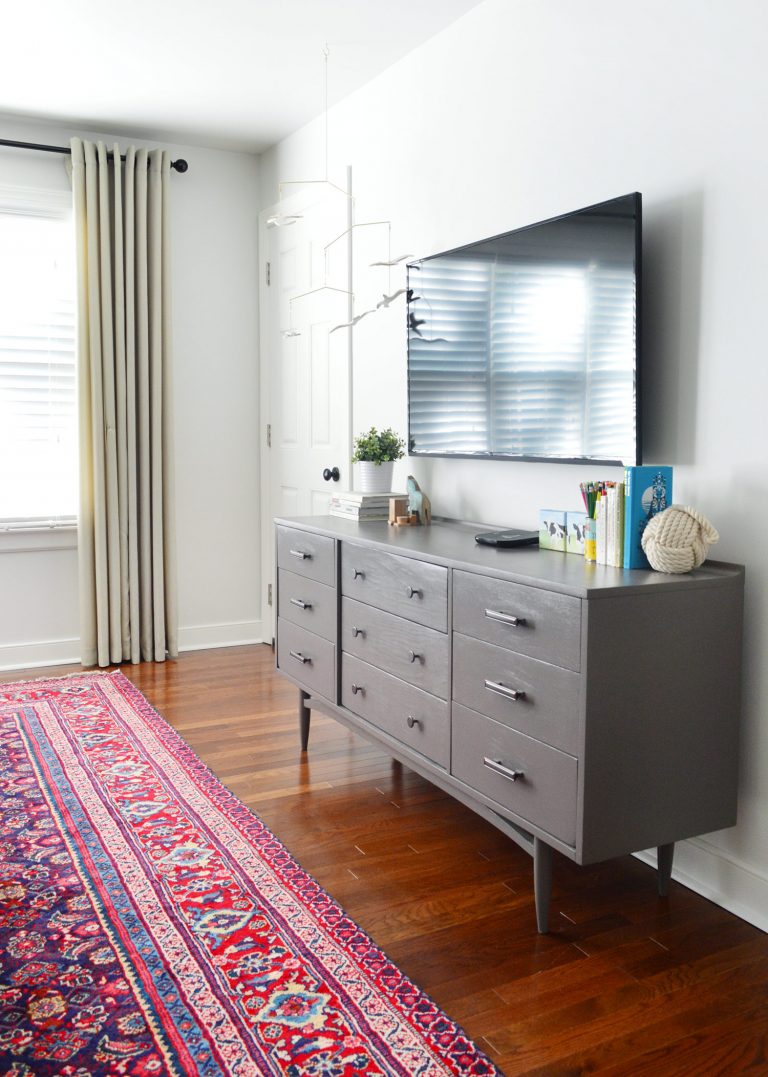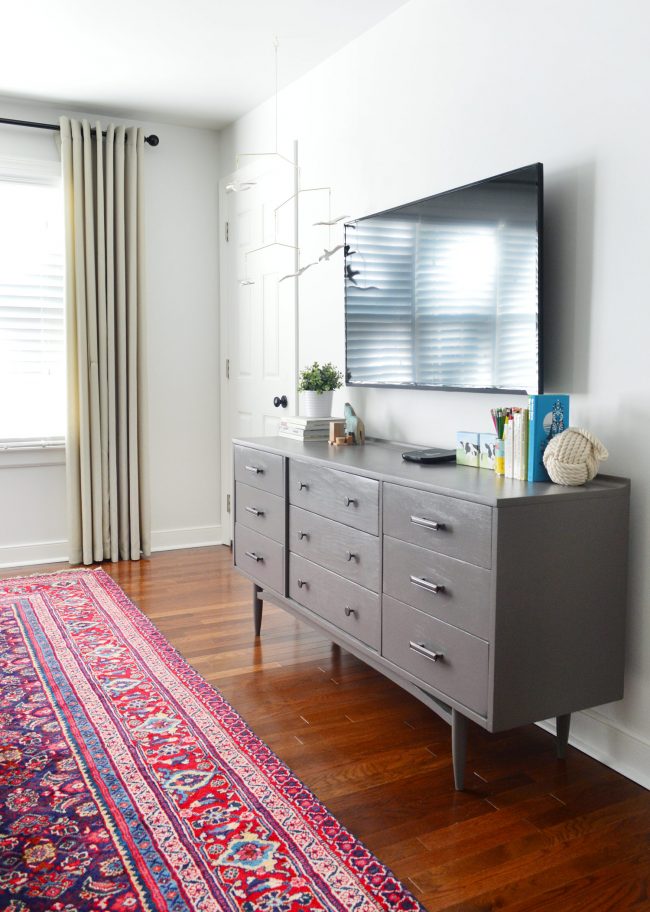 The Other Pro
Besides the savings, the other side-benefit has been the shift in our viewing habits. And by shift, I mean lessening. Some might not want to hear that cutting the cable could make you stop watching your regular shows, but for us it has been a welcome change. We mentioned on our podcast that relying on a DVR made it so easy to record shows that our queue often grew into what felt like a GIANT to-do list. With a click of a button we could see alllllll the shows that built up, and – as dumb as it sounds – we almost felt stressed when we were "falling behind." It's like TV FOMO when you're reminded of all the catfights and renovation reveals you're missing out on.
Now there's not a singular list of our unwatched shows building up somewhere, so we put a bit more thought into what we want to watch. That moment of pause (and the couple of extra clicks to find it) has made us a little choosier about what we take time to tune into. There's definitely a faster way to get to some of the programs we're watching (like creating a "Your Shows" list on Roku – which functions like a DVR), but the extra work has made us realize how much we were watching out of habit or just wanting to "check it off" of our DVR list, not because we actually wanted to watch it.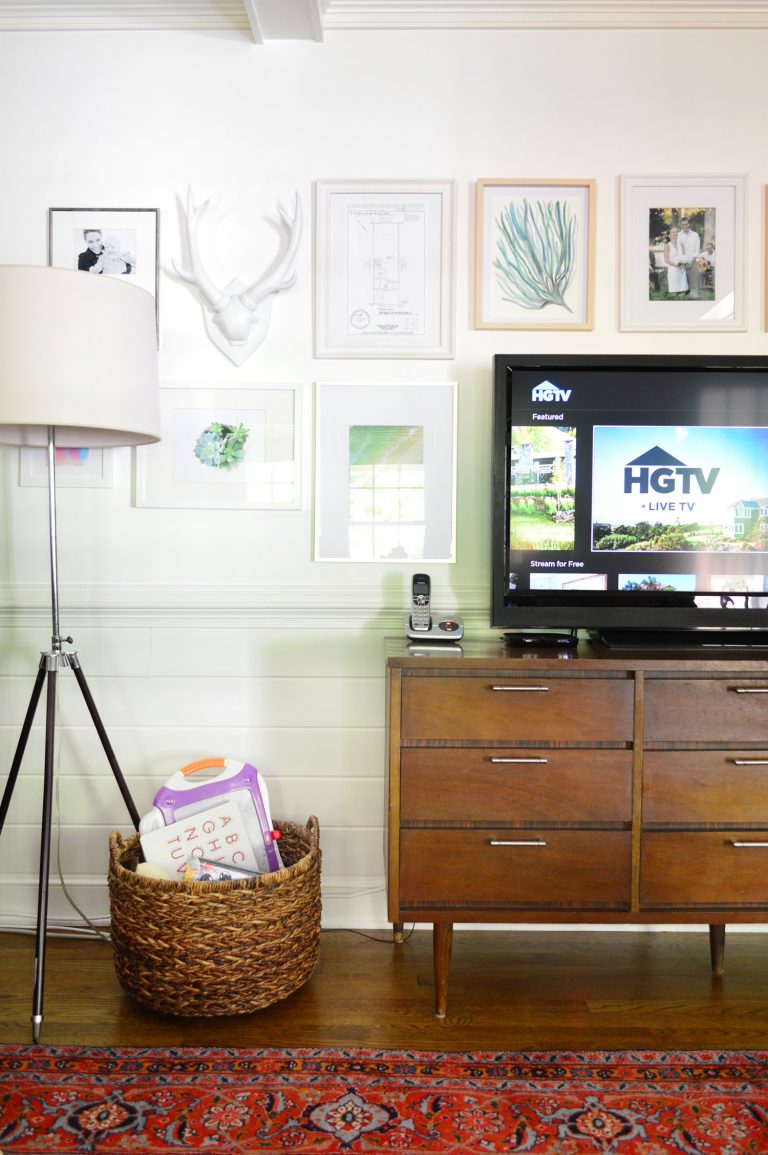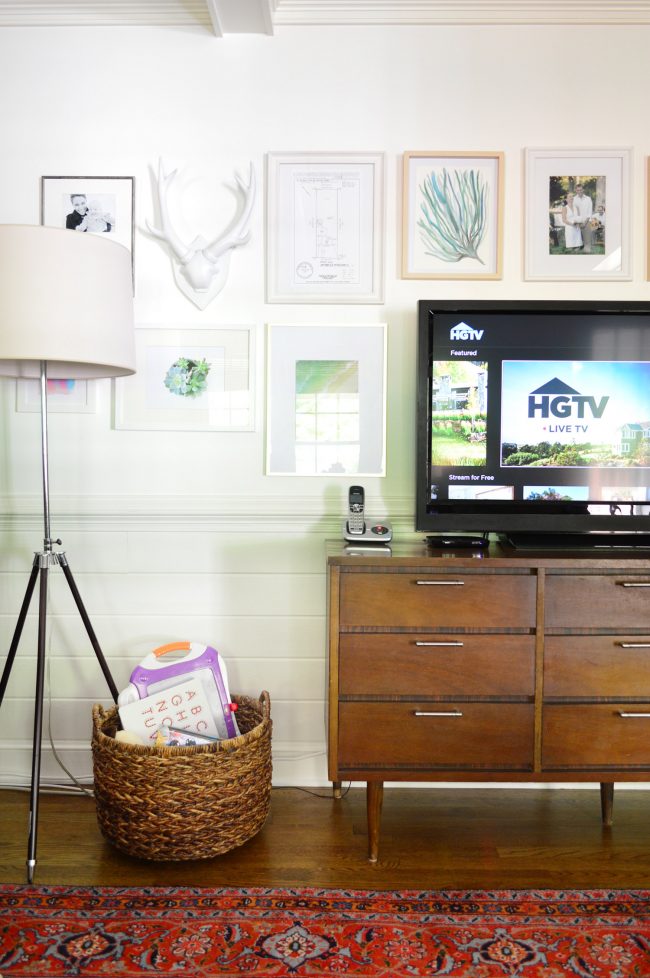 Now, The Cons
As I mentioned, it did take a bit of adjustment to get used to the new system. No longer than a day or two (I think it helped that we were already accustomed to Netflix and On Demand viewing) but I'm still kinda dreading explaining it to our parents the next time they babysit. Not that it's that much more difficult, it's just different than your regular cable interface.
The Roku players also don't have an infrared receiver port, so we can't use our much-loved IR-cords to keep boxes hidden away like we used to do with our cable box. Fortunately, the Roku is pretty small and slim, so it's not the end of the world to have it out for all to see. Update: Turns out the Roku is controlled by Wifi, so it can be tucked into a drawer or hidden without issue!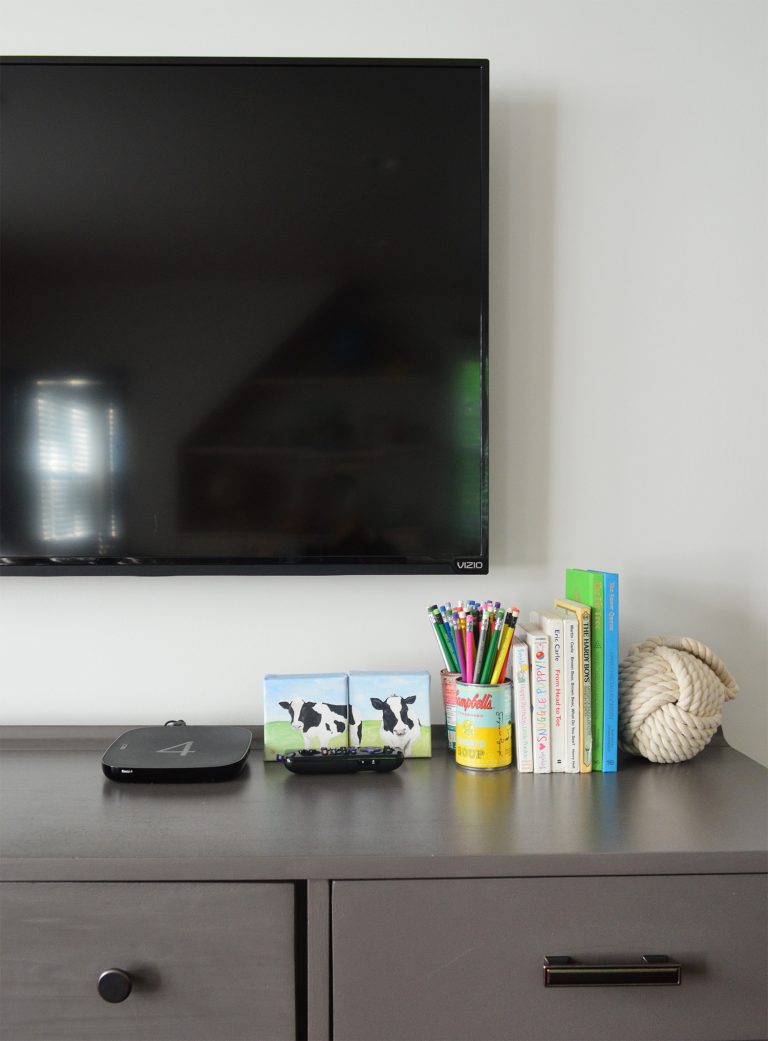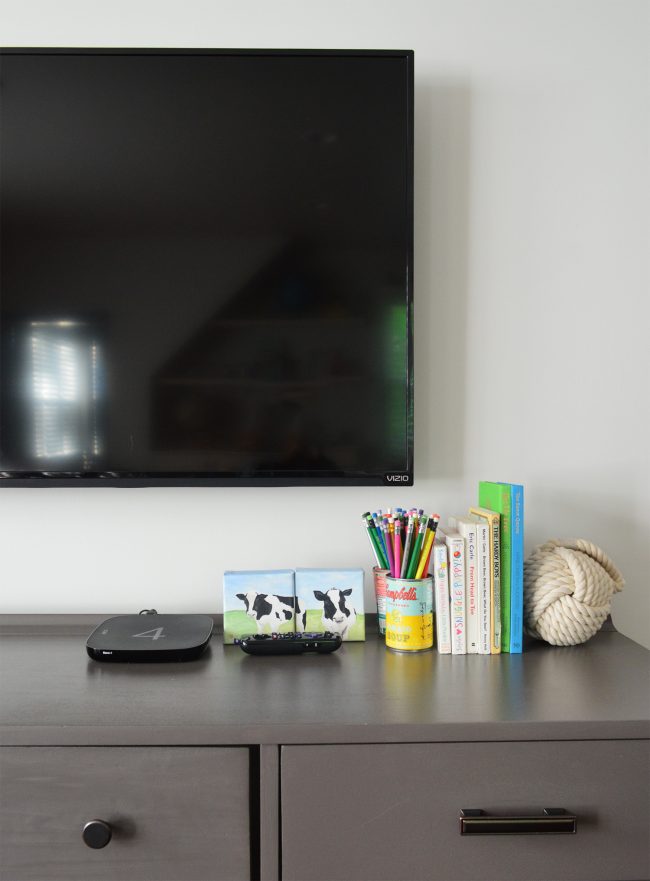 Commercials are also back in our lives to some extent. We used to skip through them on our DVR, but a lot of the streaming content outside of Playstation Vue doesn't allow that (when we access shows through the Bravo Now channel, for instance). At least most channels tell you how long they'll be ("content will resume in 60 seconds") so we sometimes use it as an invitation to go do something for that long and just come back. You know, like get a snack in the kitchen, put whatever is in the washer into the dryer, turn on the tea kettle, or let the dog out. If we wanted to truly eliminate commercials again, we hear that if we use the "Your Shows" feature through Roku, it can essentially act exactly like a DVR and tape things that we can later play (and fast forward through the commercials). So if commercials bum us out enough, we'll probably switch to that viewing method. Update: We switched to this method and it's just like a DVR. It "catches" all of our shows and enables us to fast-forward through commercials just like we used to with cable.
Last, but not least in the con column, is CBS. Specifically, the show Survivor. You can even call it my Housewives. I recently fell back in love with it a couple of years ago after losing track of it post-college. CBS has its own standalone streaming service (called "CBS All Access"), which means it's not available through ANY of the other providers. It's $7/month for a commercial-interrupted version but it seems like a lot for just one show. I purchased the remainder of this current season on Amazon, but it may be getting voted off of our television island for good next season. If I can't quite seem to snuff out my heart's torch for it, it could cost $25 for a season's pass on Amazon a couple times a year. But yeah, that seems like a lot. Update: Apparently CBS is available to Playstation Vue customers in certain regions, just not ours… yet. But I hear it's coming!
The Verdict
Obviously, we're excited to have found a solution after all that work. And while the annual savings may not seem all that life changing – it certainly could cover a pretty nice family vacation in a few years' time. It also just feels good to have unshackled ourselves from the bundle. As people who increasingly felt "under the thumb" of two giant competitors, both of which felt like they were driving these rates up, up, up (and who sometimes felt like they cared more about getting new customers than keeping old ones) it is so mentally rewarding to be bundle-free!
And apart from our Internet contract with Verizon, none of these other services trap you into anything – so we could cancel at any time if our needs change or if we want to try something new. So if this upcoming YouTube TV thing might be a better fit or a lower price, we can always bounce over and try that. And who knows, maybe in a few years we'll get tired of watching TV altogether and decide to go completely television free. BAHAHAHA – who am I kidding. That'll probably never happen.
P.S. Looking for some other ways to save money? Here's a bunch of other things we've tried.
*This post contains affiliate links*