Ok, so today our house looks like this. So – spontaneous decision! – while we get settled and find our underwear, this week is going to be moving week! Turns out you guys still wanted to hear a whole lot about the sale of our current house. So let's do the dang thing. Here's what we plan to cover in honor of Spontaneous Moving Week: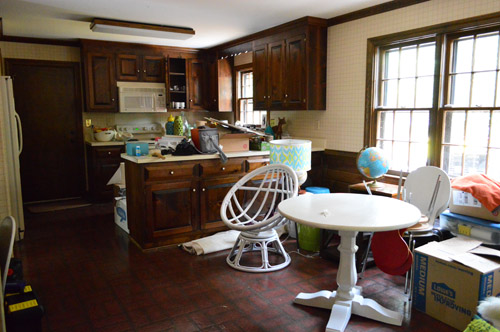 How we staged/sold our house (including a glance at our real estate flyer, a list of what we changed before showings, etc)
What we made when we sold our house vs. what we put in- budget breakdown included!
Empty house pics (dude, it's trippy to see your house all echoey and vacant, but it's pretty awesome closure too)
Moving day photos of our new house (we love having this Day One post from our last house to look back on)
A house hunting post about a few other homes we casually checked out (sort of like these that we did last time)
Other stuff that I'm forgetting right now because our house looks like this: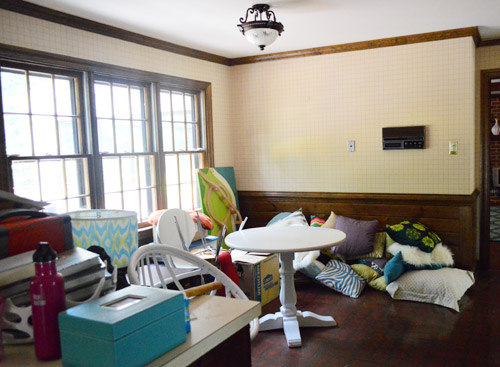 So onto the first bullet! We got a lot of questions like this:
"Did you stage your current home to sell it? I'd be interested to hear if you've made any small changes/put things in storage in order to make it seem less personal to potential buyers."

"Would you be willing to share your For Sale flyer (obviously without any too-personal details like price and address)?
So here's the little double sided flier we made in Photoshop (minus the address, price, and our contact info). Just click the image below to see it larger.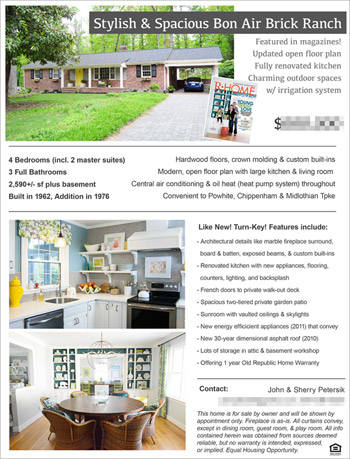 And here's the back (again, just click it to see it bigger).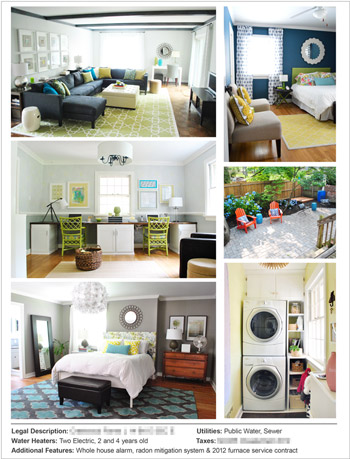 Turns out we're not really staging rule followers in the traditional "neutralize and de-personalize" sense. The whole repaint-rooms-so-they're-all-neutral-and-remove-all-personal-photos-from-the-wall approach isn't really something we subscribe to since we sold our first house by owner without doing that, and it seemed to work out for us again this time around.
So when we were showing our house to potential buyers our frame hallway was still very much intact. We think it's helpful to show off how cozy and personal a home can be. Chances are that it could "speak" to a prospective buyer more than a stark and stripped down house might anyway.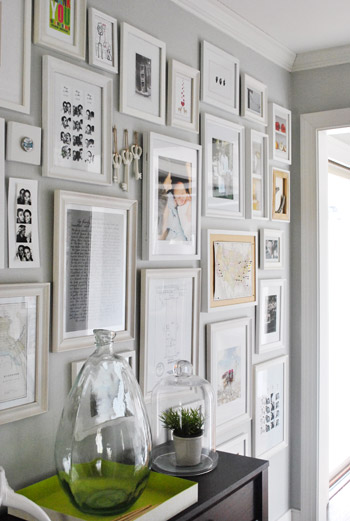 But that doesn't mean we didn't do anything at all before a showing. Instead of taking things away, we mostly focused on making things look their best. Here's our list:
We over-seeded the lawn a few weeks prior and let the rain do its thing to help the grass look fresh and green.
We mulched the garden beds and planted a few annuals (it definitely ups curb appeal and sends a "this house is cared for" vibe)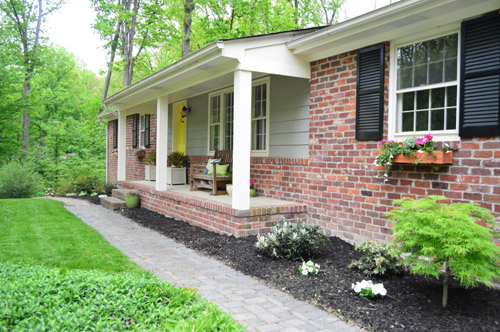 We organized closets, the attic, the basement (basically any nook people could peek into should look functional and not stuffed-to-the-gills)
We wiped down counters in the kitchen and bathrooms and quickly polished the faucets with some Mrs. Meyers so they looked and smelled clean
We rolled up the rug in the cooking part of the kitchen and stashed it at the new house, just to show off the cork flooring a bit more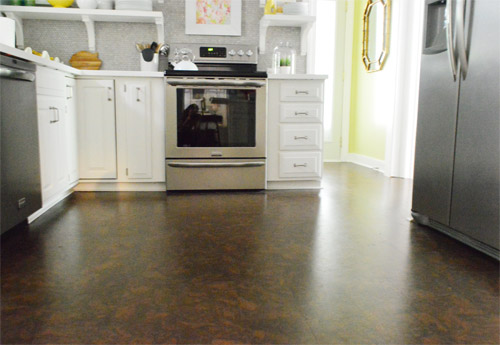 We mowed the grass and used a leaf blower on the driveway, patio, and deck to clear off any errant pollen/twigs/leaves/acorns
We touched up any paint that was scuffed in doorways, baseboards, etc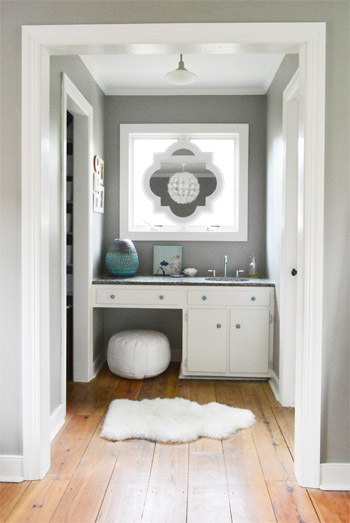 We also tucked Burger's food and water away since it's stored in our walk-in closet and we realized that might be weird for non-dog-folks who were trying to feel at home.
We removed Clara's bath toys along with her potty seat and sink stool from the hall bathroom so people without kids didn't just see it as a "kids bathroom" (we left her other toys in baskets in the living room, nursery, and playroom since those seemed easy enough to see past)
We removed the bath mats in every bathroom to make them seem more spacious and show off the tile (matted stepped-on-with-shoes bath mats aren't always that pretty, which tends to happen during showings).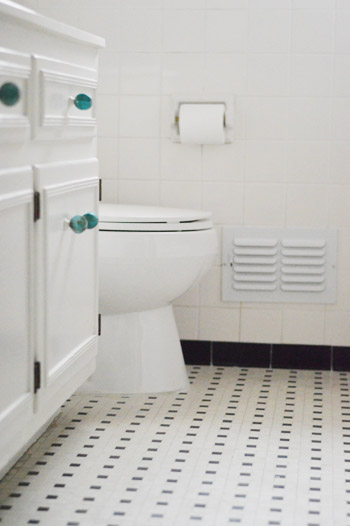 We vacuumed, dusted, and generally cleaned things up (this included following Clara around for the last half-hour before the showing and singing the clean up song about a million times while we dumped stuff into bins and baskets)
I took a damp rag with a bit of mild soap (Mrs Meyers) and scrubbed the front door, which was still glossy and yellow, but had a haze of pollen. It really made a difference and only took five minutes!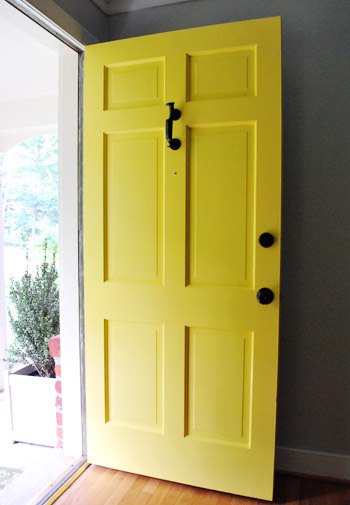 We left the separate entry basement door unlocked during showings so people could easily check out that space without trekking down there and then finding themselves locked out
We put a little note on the microwave cabinet in the kitchen and said "there's a vented microwave in here!" so people knew where to look
We tossed a runner on the table on the deck along with a few cups (even though the furniture came with us, adding some color and that sit-right-down vibe couldn't hurt)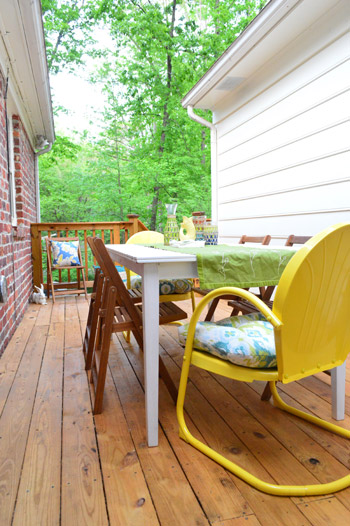 Most of those items just had to be done once before the first showing, and then keeping them up for the following ones wasn't too bad. Sure, getting a toddler and a dog out of the house on time before each one was a little hectic, but we feel really lucky to have only had three showings this time around (we had 14 last time!). What do you guys do when your house is on the market? Any other tips for folks who are about to list?