Is it weird that John read my headline in passing and used it as an opportunity for a comedic performance? A few "room-crisping" suggestions from him? 1) Flambé it. 2) Put crunchy noodles on the floor. 3) Starch it.
Funny guy. Anyway, here are seven super affordable and easy ways to freshen up any space. They might seem simple and straightforward, but it's amazing what a difference these little tweaks can really make. So if you don't have the energy (or the money) for a full scale room makeover, these might be just the thing to give you a new look in a snap.
1. Paint your trim with crisp white semi-gloss paint. Whether you're repainting dingy trim or converting it from a wood tone, there's nothing like sleek white trim to make a space feel dimensional, polished, and fresh- even a hallway! Think of your window, door, and baseboard trim as giant picture frames that can really showcase an area- and we all know that sometimes it's the frames that make the art.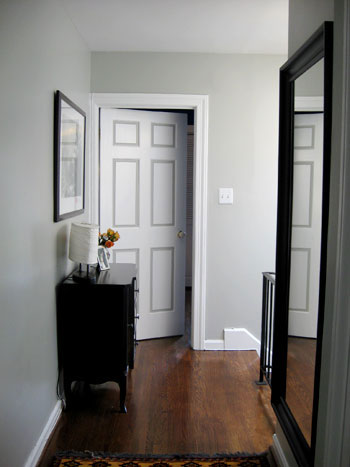 2. Introduce new outlet covers and wall switchplates. Sometimes you inherit them in pretty bad condition (they could be painted over, faded or dated in color, or even wallpapered- eeks!). So switching out your covers for crisp clean white ones- or even stainless steel beauties if that fits your decor- can instantly make the whole house read as updated and oh so current. Bonus points for painting out the trim on your doors for even more architectural interest!
3. Paint a dingy and dark fireplace glossy white. Yup, more white paint is on the agenda here- but just look at how crisp and lovely it can look. And here's a handy tutorial.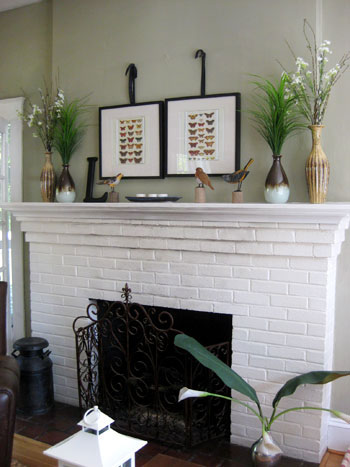 4. Hang breezy white floor to ceiling curtains. Ok, ok, so they don't even have to be white- but if you have a flat looking neutral room with a tan sofa and a beige carpet, hanging long billowy white curtains (along with repainting your trim and switching out your outlet covers) will transform your room in ways that you almost won't believe. And if your color scheme calls for off-white or linen colored curtains instead, as long as you hang them high and wide to frame the view, your room will instantly feel more airy and inviting.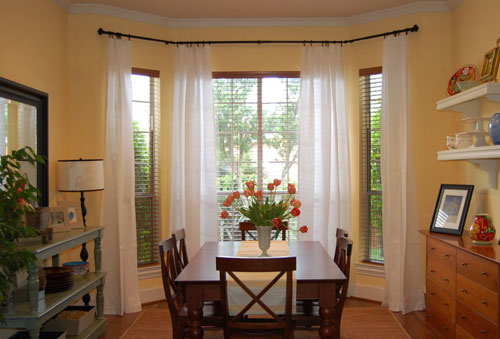 5. Grab three to five punchy new pillows. Sure, safe neutral pillows are nice, but nothing pops like a bit of saturation in the form of plush pillows that really invite you in. And thanks to places like TJ Maxx, Marshall's, Home Goods, Target, and Etsy you can grab pillows for around $6-$12 each. That means thirty beans is all it takes to give your seating area a totally fresh look. If you have a flat looking neutral room like we described above, there really are limitless options for accent colors (turquoise, steel blue, eggplant, amber, cinnamon, celadon, ruby, raspberry, peony pink, persimmon, lemon yellow, lime, etc).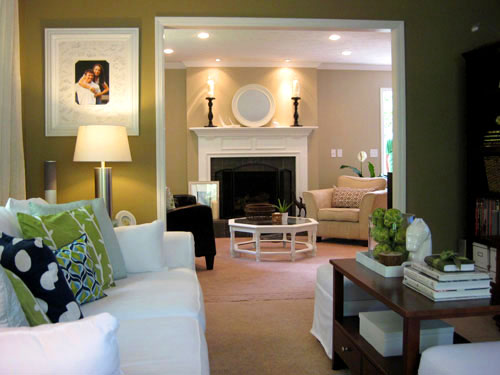 6. Bring in baskets. They're such an easy way to wrangle things and create a much more polished and organized vibe- even when it comes to kid clutter.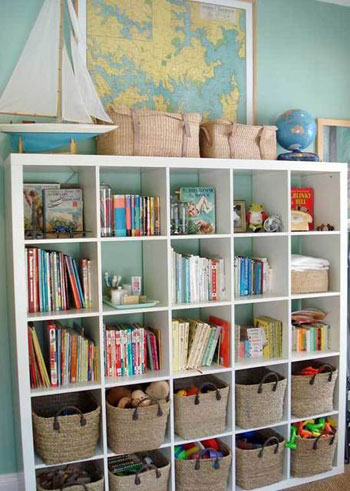 7. Add one more dash of saturated color. You can spotlight a bright piece of art above the mantel or you can get an old mirror on Freecycle or Craigslist and spray paint it the same punchy tone that you introduced to your sofa with those new pillows (lime? raspberry? turquoise? celadon?). Heck, even grabbing a cheap thrift store lamp and spray painting the base or recovering the shade in that playful tone will have the same effect without draining your wallet.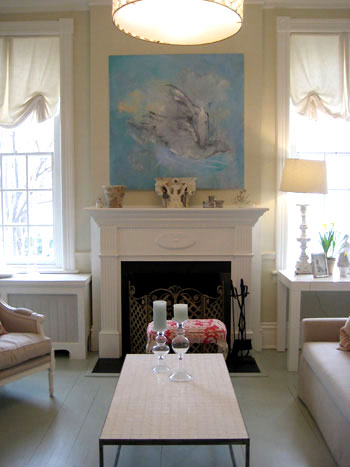 So there you have seven quick and easy ways that you can make a room feel current and fresh (for everyone from potential home buyers to yourself). But we're positive that we left something out. What small tweaks have you guys tried on for size when it comes to breathing new life into a stale or ho-hum space? Spill it.
All images (except for the curtain pic) from fun and fabulous House Crashings of yore.