Not since our discovery of The Kurv has a product wooed us to this degree. Ladies and gentleman, may we present to you, Envirosax:

We probably should mention that we do not work for Envirosax nor are we getting paid by them to write this be-still-my-beating-heart review. We just can't get enough of them and had to share the chic little reusable fabric bags that wormed their way into our lives and changed them for the better.

We've always been fans of reusable shopping bags, but some of the crunchy plastic-y felt-ish boxy ones left a lot to be desired. Of course we preferred them to paper or plastic, but they made me feel… well, a bit frumpy. I mean picture me struggling to tote my three different mismatched bags into the store and blushing when I get to the register with the tangle of intertwined green and brown and gray bags (after accidentally dropping at least one in the parking lot on the way in). Ugh. Enter my always fashionable BFF stage left, who swung through town for some quick shopping. And what chic little rolled up bag did she pull out of her purse at the register? Why an Envirosax tote of course. It was smaller than a cell phone and unsnapped to create a large and lovely reusable bag that had me positively green with envy (and embarrassment as I tried desperately to wrangle my gaggle of bags).
Before I could even squeak out "where'd you get that" she said "envirosax.com, I can't go to the store without ten people coming up to me to ask where they're from- and they're so easy to use because you can pop a few of them into your purse so you never forget to bring them." I was sold before she even opened her mouth. Everything from the wider straps to the sleek fabric and the punchy print had me at hello, and the fact that they could be rolled so tightly and tossed into any purse (unlike my armload of reusable bags) ensured that I'd never find myself at the cash register muttering about how I forgot mine again. Because every time we forget our reusable bags we're contributing to this problem:
Approx. 380 billion plastic bags are used in the United States every year. That's more than 1,200 bags per US resident, per year.
Americans consume more than 10 billion paper bags per year. Approximately 14 million trees are cut down every year for paper bag production.
The United Nations Environment Programme estimates that there are 46,000 pieces of plastic litter floating in every square mile of ocean.
Eeks! Let's all make a difference and look cute doing it.
And at $8.50 a pop they're a steal when you think about how long you'll have them, how many plastic bags they'll save and how convenient they are since they slip right into your purse (never to be forgotten in the car/house again!). They actually list the measurements on the site and they're pretty darn amazing. Rolled up these things clock in at 4″ by 1.5″ (about the size of a cell phone) and they unroll to a glorious 19.5″ x 16.5″ full size- plus they can each hold up to 44lbs! And the fact that they come in oh so many fun styles makes shopping for them just as fun as shopping with them. They have chic black patterned bags for the sophisticated crowd:

And masculine dude bags for the guys who don't want colorful girly ones:

And punchy bohemian bags for the hippie in all of us (plus these babies are 25% off):

Of course they also have solid colored bags (for those who like to keep it simple), kid bags (you bet our youngsters will tote these babies around someday), five pack sets (that really come in handy for larger families who do more bulk shopping), and even organic bags (these lovelies are a bit pricier at $24.95 but they're made exclusively from organic bamboo):

I'm sure you're wondering which ones we picked after such a wide selection of eye candy. True to form we went gaga for the blues and the greens. Since John and I always go shopping together he let me get two fun ones instead of a dude bag for him- but if you're a more-than-one-car household and aren't always attached at the hip you might wanna snag one that you guy will feel proud to carry. Although my gentlemanly hubs still offers to carry ours when they're heavy- thanks babe!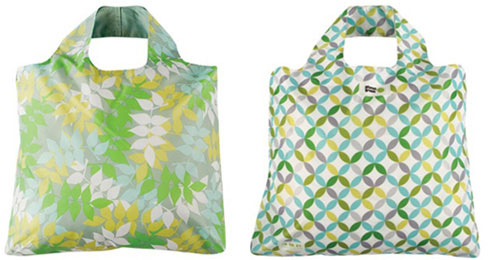 And now I will get off my Envirosax soapbox and hit up the grocery store for bag complements- er, to spread awareness… there have to be some locals out there that we can convert!
Images and scary plastic bag facts courtesy of Envirosax.