It may seem counterintuitive (don't most people want to add a deck?!), but ous is just not pulling its weight anymore. So you can find out why we think tearing it down is the way to go – and what the heck we want to put in its place on this week's episode. We also talk with Manhattan Nest's Daniel Kanter about which design trends are getting tired – and why newer homes shouldn't be approached in the same way as their older counterparts. Plus I get mushy over my favorite saw, Sherry considers the trip of a lifetime, and we both can't stop talking about a talking fish.
You can download this episode from Apple Podcasts, Google Play, Stitcher, and TuneIn Radio – or listen to it below! Then use this page to check out any links, notes, or photos we referenced. Note: If you're reading in a feed reader, you might have to click through to the post to see the player.
What's New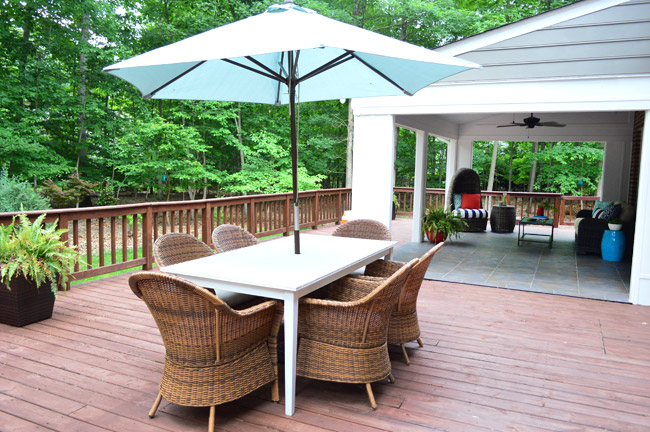 That picture above is about 3 years old, which is sorta when our back deck area peaked. We had stripped and re-stained it the prior summer, and had just finished the sunroom area.
You can also see what we mean about the railings really "jailing" in you in from the rest of the yard. From the kitchen windows we can barely see grass.
We're a bit behind in getting everything tidied up for summer, so I'll just treat you to these shots to demonstrate the deck's sad decline.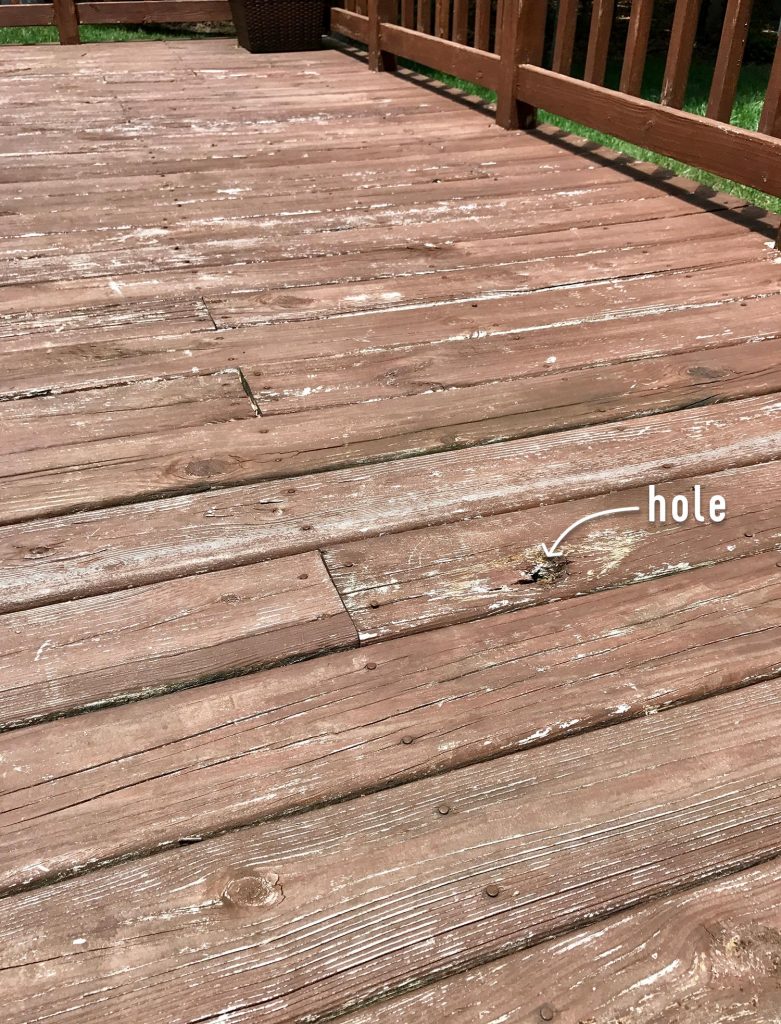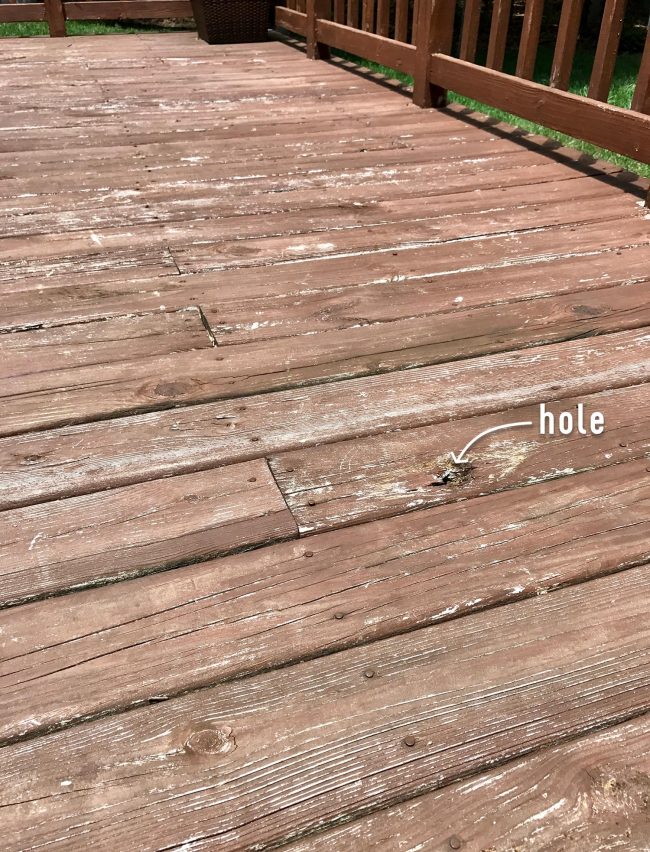 Quick Tip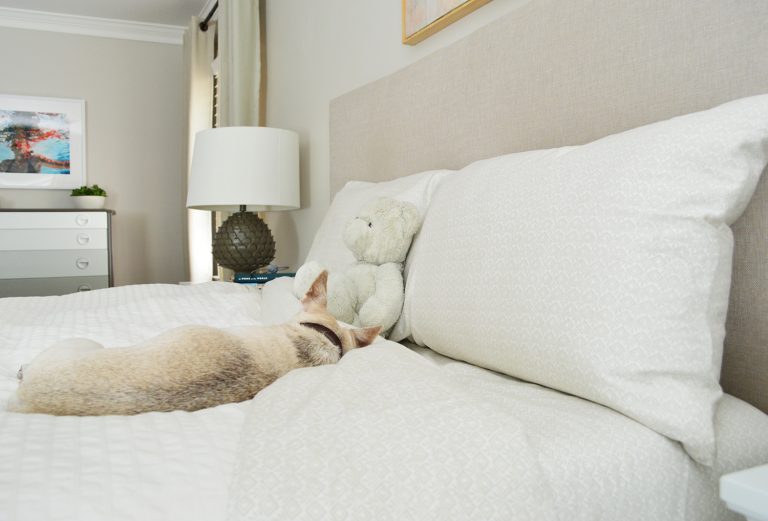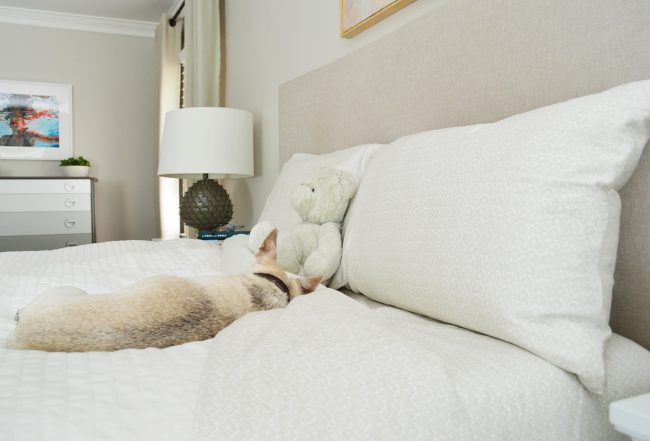 Shown above (along with Burger and Bearger) are the sheets that we bought twice over since we liked how they fit our thick mattress (and stayed on!). Our pattern of choice is "Beachcomber", which is nice and subtle, but they come in a ton of others too.
If you wanna grab yourself a more traditional boxspring cover, there are some nice options at places like West Elm or Wayfair.
And don't forget the bedskirt pins!
What's Not
Here's the inforgraphic on ForRent.com about decorating fads through the years that sucked Sherry in.
We were responsible for 2 of the millions of Nest thermostats sold, and you can read all about how we installed them here. We still love ours and are so glad we splurged on them (there's nothing better than turning the air on from bed if you're hot).
Oh, and if you had forgotten what a Big Mouth Billy Bass looked like… you're welcome.
Manhattan Nest
We're Digging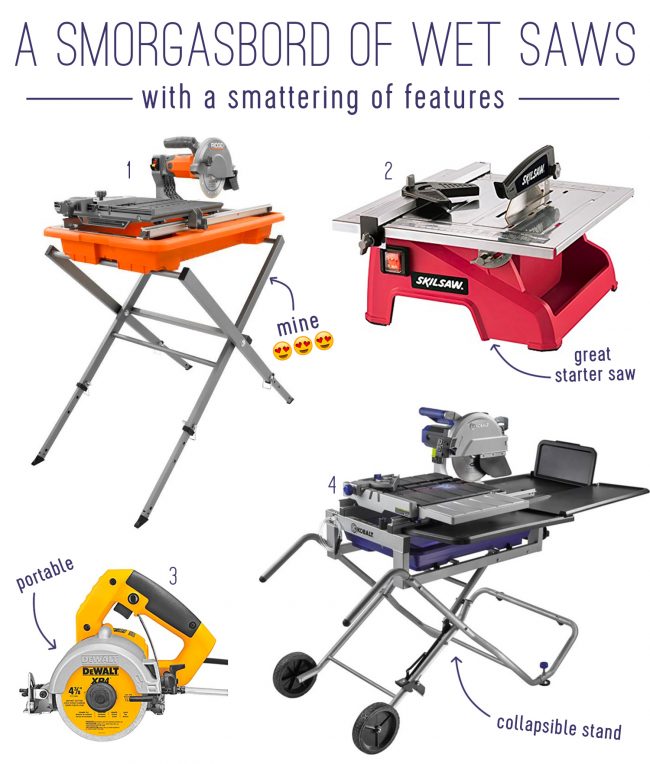 Yes, my love of wet saws endures. The recent backsplash project in my aunt's kitchen rekindled the flame, so above are some links to mine and a few others you might want to consider if you've got a tile project (or ten) in your future.

Ridgid 7″ Wet Saw with Stand, $297 – This is ours, and we love the sliding cutting tray, stand, and laser sight.
Skil 7″ Wet Saw, $83 – This is similar to the starter saw we used for years. It'll get the job done, but the low price makes it pretty basic in terms of features.
DeWalt 4 3/8″ Masonry Saw, $128, – This portable saw is smaller and would work great for larger tiles, but requires a steadier hand.
Kobalt 10″ Wet Saw with Stand, $499 – The higher price on this puppy gets you features like a larger blade, a collapsible stand, a bigger work surface, and a spray guard.

Here's Tsh Oxenreider's At Home In The World, which has given us the travel bug. You can also follow her on her blog, The Art of Simple, and her podcast, The Simple Show.
And if you haven't already, please PLEASE take a couple of minutes to fill out our podcast listener survey. It will be a big help in getting a sense of who you guys are and what you like, so we can serve up more of that in year #2!


If you're looking for something we've dug in a past episode, but don't remember which show notes to click into, here's a master list of everything we've been digging from all of our past episodes.
And lastly, a big thank you to Modsy for sponsoring this episode. Visit Modsy.com/YHL to see our home office reimagined as a modern living room (their computer renderings are crazy realistic – and it's so helpful to see everything to scale). Don't forget to use code YHL20 to get 20% off your first Modsy room.
Thanks for listening, guys!
*This post contains affiliate links*