I'm thinking we should post pictures of blue ceilings more often on Instagram, at least judging by the reaction we got to this pic from the Homearama Showhouse on Monday. Then again, it may have just been thanks to Sherry's dancing girl emojis.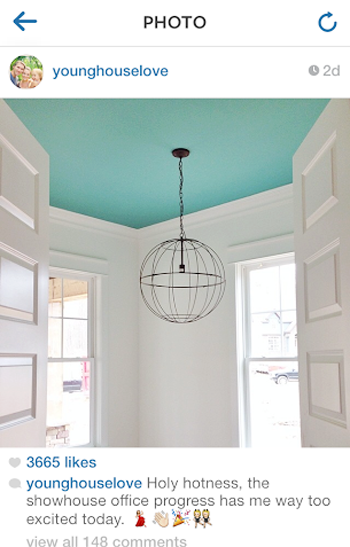 As those high-steppin' cartoon ladies indicated, we're pretty psyched about how things are shaping up over there. The bold "Skydive" color that we chose for the office ceiling (by Benjamin Moore) came out better than we imagined, and we even got to use one of our favorite lights that we designed last year. But although there has been TONS of progress since our last update two weeks ago, it's unfortunately not the kind that makes showing the rest of that room any more exciting. Once you look down it's still pretty empty.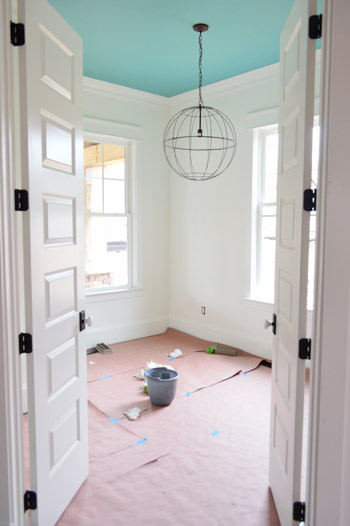 Emptiness aside – the hardwood floors have all been sanded and stained/sealed (hence being covered for protection), most of the house's painting is done, most of the lights and cabinets are installed, and even little details like doorknobs are getting checked off the list. Since we fell hard for the look of a backplate in our own house, we went that route as sort of a nod to what we've enjoyed here, but upgraded them with white porcelain knobs. Here's a close up for you, and you can see two of them together in a more panned out shot of the doors above.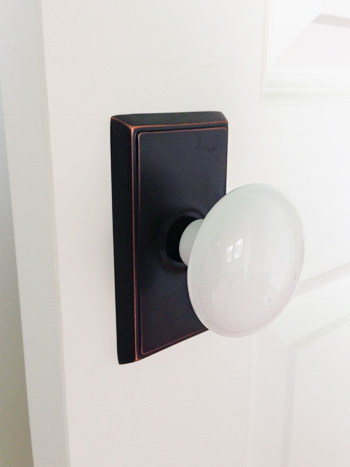 The glass pocket doors that lead to the dining room have also been installed. They still need to be painted, along with the front door, but we're loving them. Especially that transom window at the top. Oh to have 10 foot ceilings…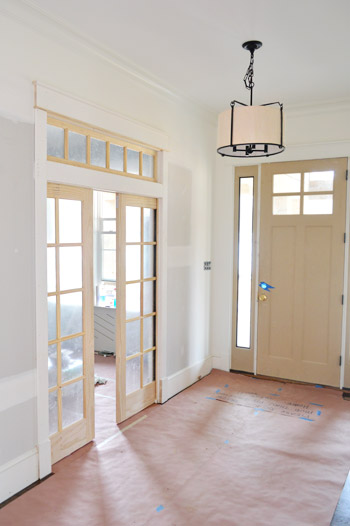 Don't mind the height or crookedness of any light fixtures. We walked through the house a while back to pinpoint all the lighting locations we'd need – not only for fixtures and sconces, but for can lights as well – so those junction boxes all had to be installed ahead of time (and we had to select all of our lights beforehand, so we could determine their placement). Now that the electrician has put everything in, it's exciting to see things in place – but we still have to adjust them once the furniture is in (for example, our dining chandelier will hang a lot lower – it's just lifted for now so people don't walk into it).
As for fixture sources, the Loft Shade Chandelier is hanging in the foyer and the light in the dining room shot below is the Industrial Modern Island Chandelier, both generously donated by Shades of Light. We're also excited to see the dark color on the walls (it's Kendall Charcoal by Benjamin Moore) above the wainscoting we shared two weeks back. Although each room is only around 5-10% complete (they still need furniture, art, window treatments, and accessories – most of which we have selected, but some of which are still on our eight-page shopping list), it's a lot easier to visualize things now that there are actually painted walls and light fixtures to reference.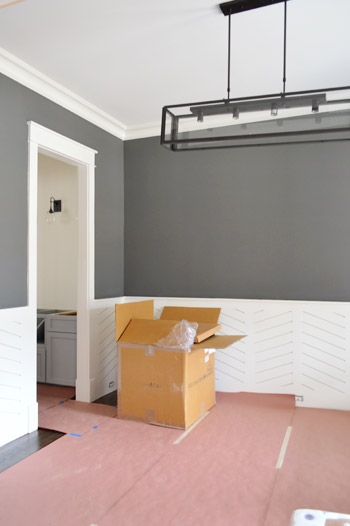 The living room and kitchen are open to each other, and they're both staying white (which will allow us to add a lot of color with furnishings, art, & accessories), but we also added a Hale Navy (by Benjamin Moore) accent wall to the fireplace, which is mostly complete. That same navy color will be on the kitchen island across the room, so we can't wait for the space to come together more. You can also see a hint of the dark Jacobean floor color on the edge of the stairs in this photo.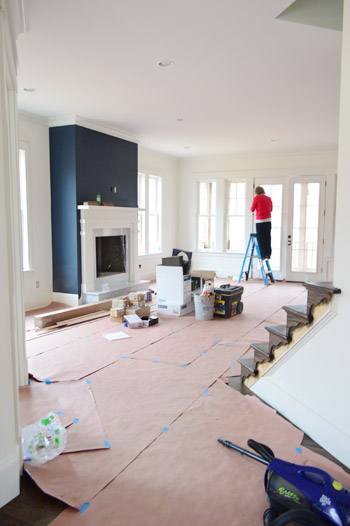 We really like the white painted mantel and marble surround against that dark navy fireplace column. It's a gas fireplace but the cool herringbone brick pattern in the back makes it feel little old and weathered. Our builder had it wired for a TV above the mantel, but for the show we'll be hanging art there instead of one of those fake model-home flatscreens – and it just might be an oil painting of Burger The Wonder Dog.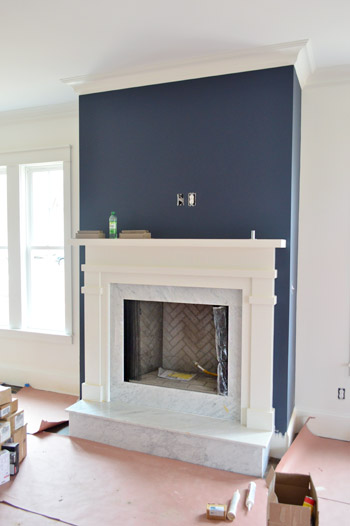 The kitchen cabinets are installed, and shocker-for-us: none of them are white – although the ones in this picture aren't really their final color. Everything's still in a pretty unfinished state (some of the doors and drawers are missing, there are no counters or appliances, the backsplash still needs to be installed, etc) but we couldn't resist sharing a shot of one of two lights that hang over the giant kitchen island. We're really trying to step out of our comfort zone and take risks to keep the show fun – and we thought these Accordion Chandeliers, which were also donated by Shades of Light, fit the bill. They look kind of crazy right now, but we have a plan. At least we think we do.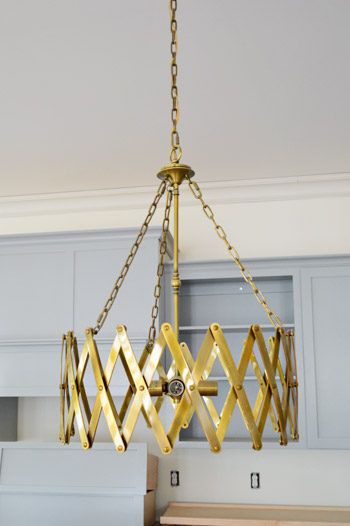 They're the very first fixtures that we selected for the house back in December, so it's kind of a mindfreak to finally see them in place. The island below them is also Hale Navy (a nod to that fireplace on the other side of the room) so we can't wait to see how they look when things come together more.
Upstairs is seeing similar progress. Many of the lights are in (there are three of these Glass Jug Pendants in the hallway), and the glass pocket doors were installed on the playroom / reading room / library. Meanwhile the stairs are still a death trap thanks to their lack of a railing. It's a miracle I haven't fallen over that yet while trying to take a picture. And I basically put a security detail around ol' preggers every time she even looks in its direction.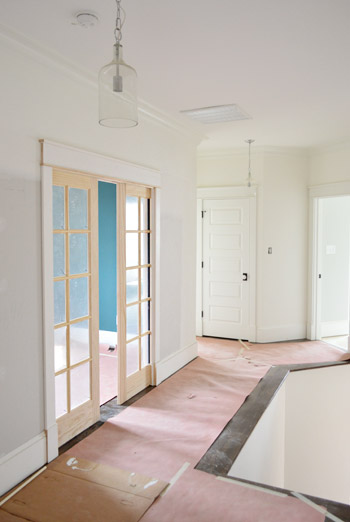 The jack-and-jill shared bathroom between the kids' rooms is shaping up nicely. Nearly everything is in except for the faucet, sink, and mirror. They were preparing to install the counters as we left to get Clara at preschool – so we can't wait to see those in place. The main color in this room is in the vanity, which we had the cabinet company paint Courtyard Green (this is the one we matched to a side table that we saw in Target).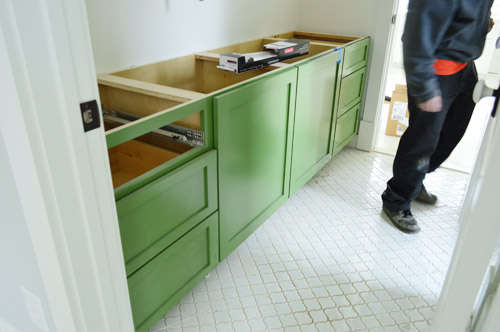 It's not a great shot of the floor, especially because it's dirty at the moment, but they're white lantern tiles from the builder's local supplier, Mosaic Tile (with gray grout so it's more kid-friendly over time).
The last update we have for you guys is an area that we're calling "The Atrium." It's a little spot between the closet (to the left) and the bathroom (to the right). We've ordered a big leaning mirror for that wall (which is painted Stonington Gray by Ben Moore), so that will go right under the Driftwood Pendant that we purchased. We loved it so much in person that we were almost tempted to get one for our nursery at home, but we worry it won't give off enough light for a whole room (it just needs to illuminate that small nook in the showhouse).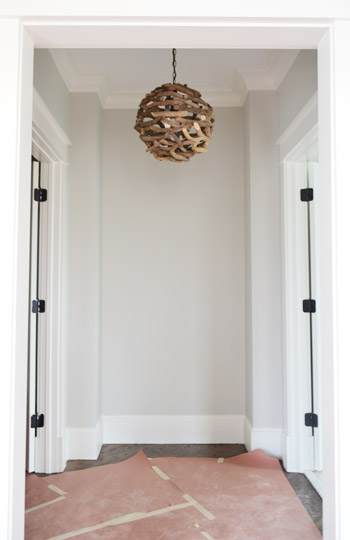 The most exciting thing to report is that builder John and his crew are fast at work trying to wrap everything up in the next few weeks so that we can start moving furniture in before our early April deadline (the house is supposed to be finished so it can be photographed for press for the show during the first week of April – and of course we have our own mid-April due date to work around for finishing touches). We're simultaneously thrilled and terrified to be moving from the construction phase to the furnish & accessorize phase. Just hopefully not in that way that makes anyone go into labor…
Psst – Wanna see the finished showhouse? Click here for Our Full Showhouse Tour, which includes final pictures of every room, the floor plan, budget info, a video walk-through, and shoppable showhouse furniture & accessories.