We have another awesome reader redesign to share with you guys. This one comes from Stacie, whom you all know as the owner of this swanky new bedroom inspired by the custom moodboard we whipped up back in May. But it seems her bedroom was just the start. Here's her inspiring I-ripped-the-door-off-my-linen-closet story for all of you to enjoy:
So, once again I have been inspired by you (and Lesley and Jeff). Taking the linen closet doors off in my boys' bathroom was the best move. Although I did have my work cut out for me! I don't have pics of the doors on, but imagine big white plywood doors that would NEVER stay closed properly, and the mess behind them was always showing.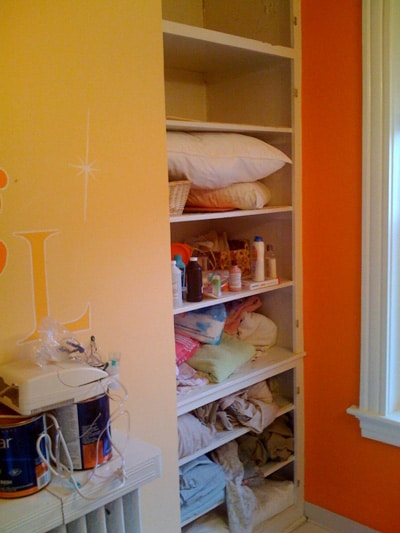 I had to remove contact paper, which was held down with almost 100 thumbtacks. Those were fun to pry out. Who puts thumbtacks in contact paper anyways?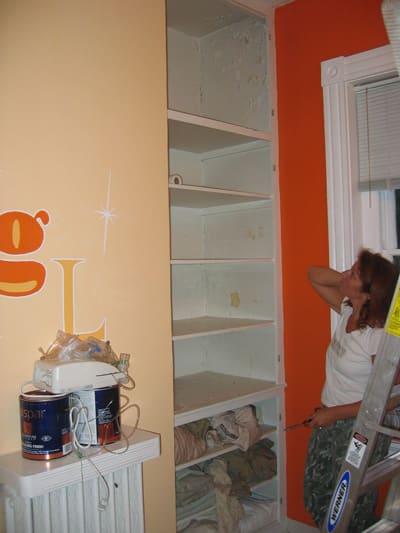 Some scraping, spackling and a gallon of paint later and here's the new closet. I LOVE IT! I think it still looks totally cool and friendly enough for the kids.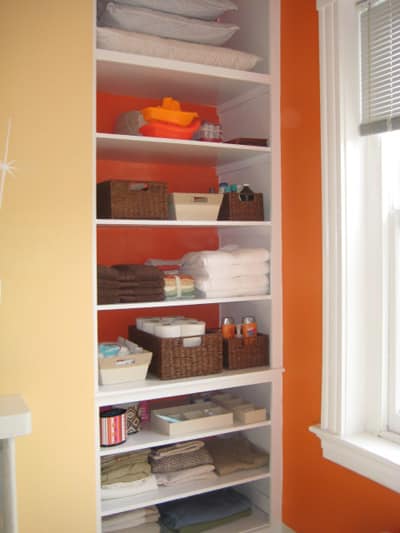 PS: This is the perfect reason to purge your linen closet . I had SEVEN sets of sheets I NEVER used. Thanks again John and Sherry.
No, thank you for sharing more of your stellar before & after projects, Stacie. We love the way the natural brown and cream baskets play off the bright and fun wall color. Oh, and bonus points for managing to coordinate even the plastic toy boats. Nicely done. Be sure to keep those before & after project pics coming. And that goes for all of you now, ya hear?