When it comes to your home, there are some things that cost a lot of money with little visual reward (rewiring the house, replacing the pipes, etc). And then there are some things that cost next to nothing and produce majorly momentous results. And you wonder why no one ever tells you about THOSE projects so you can swank up your house without breaking a sweat (or the bank).
Ladies and gentlemen, we're here to spread the word about one of those very projects. This weekend, while at Lowe's (where else would we be?) we noticed that the big lush hanging ferns that are usually around $15-$20 were on sale for $10. Sold!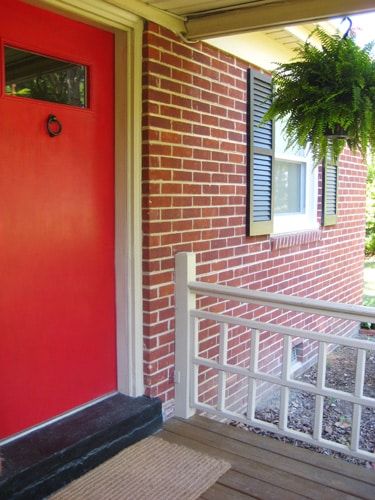 We've always toyed with the idea of adding some ferns to the front porch, but decided it would be awkward to hang one in front of the door. The lightbulb finally went off while we were staring longingly at the fern sale, and we decided to try hanging them on the sides of the porch instead.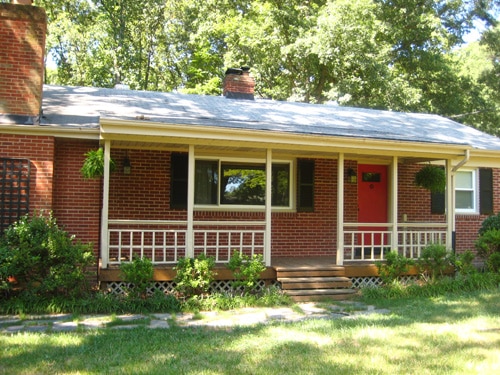 And we love the result. For just $20 we snagged two ferns complete with their own hanging baskets so all we needed were two tiny plant hooks to hold 'em up and we were in business. They definitely add interest and charm to the porch, and we were surprised to notice that they even made our house look a little taller and less squat by drawing the eye up. Which is always a good thing. We even updated our website's header to reflect our newly spruced porch, ferns and all. You likie?
Gotta love fast and fabulous mini-makeovers like these. Do you guys have any of your own that you'd be kind enough to share? If only someone told us about hanging ferns oh two and a half years ago when we moved in. If only…