Yup, we're house crashing again- and this time we're invading the home of a local celebrity of sorts. Lesley is the owner of Clementine, an über cool consignment shop in ever-popular Carytown (a street chock full of unique shops and eateries here in Richmond). And she and her husband Jeff graciously allowed us to snoop around their home and shoot some photos to share with you. Without further ado, their beautiful home.
From the moment we arrived, the yellow door with hand painted house numbers caught our attention. Lesley just printed out the numbers and transfered them onto the door with a pencil rubbing and tracing technique, painted them there with a thin brush, and viola- hand painted house numbers.
Once inside their 1940s home, you're immediately struck by all the charming details – both inherent in the architecture and added by Lesley and Jeff's eclectic decor. Here's their calm blue living room accented with fun pops of color with a french door that leads to a sweet little screened-in sun porch (but more on that later).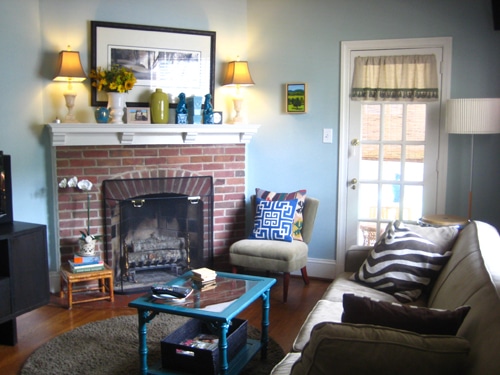 A staircase off of the living room leads you upstairs to the attic which the couple finished themselves, thus turning a would-be storage space into an awesome office (complete with a lounge area and full bathroom). We love the dark beams that Jeff intentionally left exposed throughout the space, their serene and simple second bathroom (again, more on that later) and their quirky art collection. One of our favorite things about Lesley's design sense was her ability to mix vintage art (snagged at thrift stores, estate sales, etc) and display it in unexpected spaces – like a small corner of the attic – without ever feeling cramped.
The vintage details and quirky accessories continued downstairs in the kitchen too, where their original tile countertop is still in great condition. We loved the charm of the wall-mounted faucet and the buddha head to watch over you as you do dishes.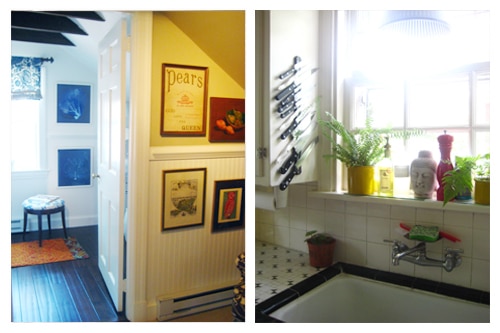 Lesley and Jeff also proved that modest bathrooms can still feel light and airy. Their first-floor bathroom (below, left) features original tile on the floor and walls (subway tile = score) and bore an uncanny resemblance to our own bathroom. Although, I must say, we're severely lacking in the whimsical white deer head department.
The new bathroom in the attic (below, right) is just as charming as the vintage one downstairs, complete with white wainscoting and warm wood floors that extend out into the office space to keep everything feeling seamless. They're still finishing the upstairs shower (which promises to be large and unbelievably awesome) but we took inspiration from something that's easier to make our own: an open linen closet (which has now added a new bathroom project to our list). Stay tuned for that in a week or two.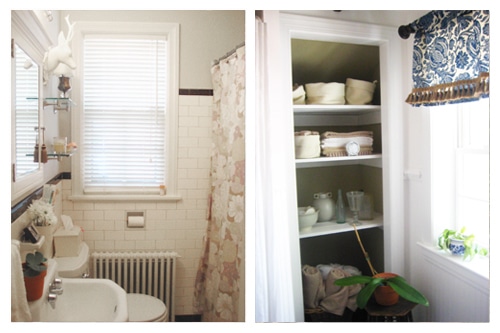 In their bedroom, Lesley and Jeff's amazing color sense and original art collection are again on display. We were constantly impressed by their ability to use unexpected and intricate color combinations with finesse and style. We're often not brave enough to try bold color schemes like this, but Lesley proves they can totally work. We also like how the monogrammed pillows and sleek wall-mounted lamps keep everything feeling super inviting.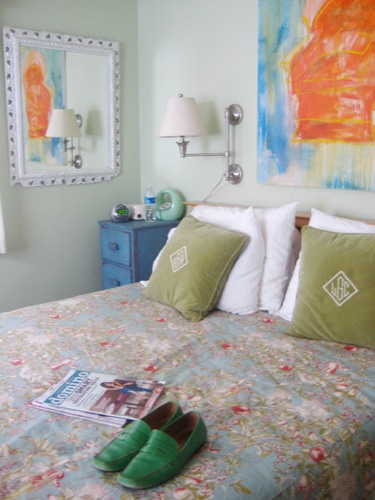 Here are a few more examples of their playful collection of accessories. How cool is this arrangement of old serving trays-turned-art hung above an estate sale chair in the guest bedroom? And their bookcase in the dining room holds everything from the traditional (servingware, books, candles) to the unusual (a skull found in the middle of the desert).
And last but not least – we bring you the aforementioned screened in sun porch. In fact, this room- and the floor specifically- was the original reason for our visit. We heard about Lesley's amazing stenciled concrete floor and needed to see it for ourselves. The stencils are from Sunny's Goodtime Paint, a local paint store that's starting to get national attention (check this month's Domino). Lesley chose this fun repeating medallion and spaced it by eye for a punch of pattern. It looks amazing. And we may just pick up a stencil of our own and try our hand at stenciling our sunroom.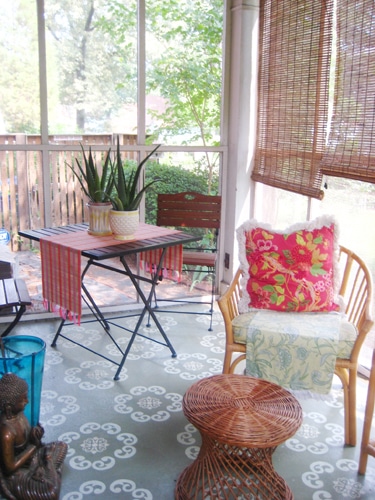 Thanks to Lesley and Jeff for letting us trapse through their home camera in hand. We walked away with tons of inspiration (linen closet, stenciled floor) but we wanna know what you took away from the tour. Feel free to sound off about your favorite details.