We actually got our tree back up a few days ago amidst boxes and general chaos (here it is the first time when we set it up in the old house). We figured we'd never be 100% organized and unpacked before the holidays hit, but taking an hour to get into the spirit in our brand new house for our bean's first Christmas was just what the doctor ordered. We found the perfect spot for our tree in the corner of the living room (right near the sliders that lead out into the sunroom and the doorway that connects to the kitchen).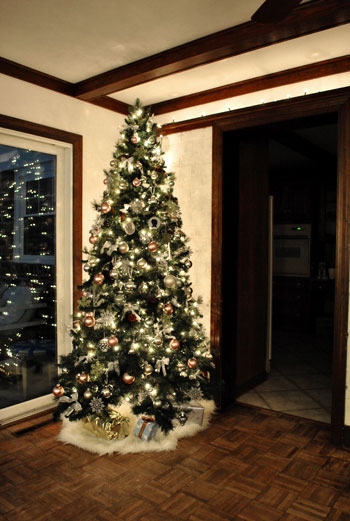 We also hung my beloved Pottery Barn wreath (a gift from John's mom a few years back) on the back of the fireplace in the living room that will someday be double-sided. I just stare at that empty green bookcase and picture a blazing fire…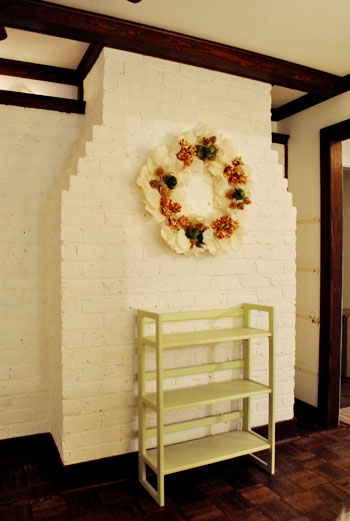 And the other side of the fireplace (which is located in the eat-in part of the kitchen) looks like this: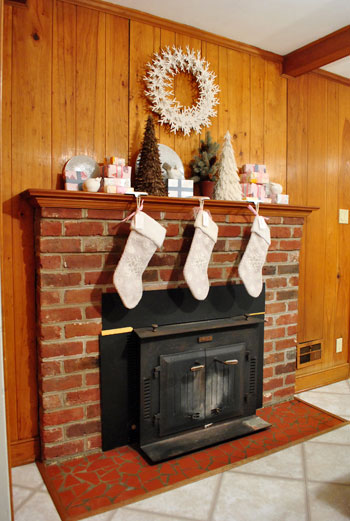 I know, I know – that paneling, dark brick, and red tile is ka-raaaazy. But there's still something sweet about seeing our stockings (John and I share one so Clara and Burger each get their own), my little faux presents, a few feather trees, some ceramic fruit/birds, and our cardboard snowflake wreath up there to keep things festive until we can break out the primer and paint to lighten things up.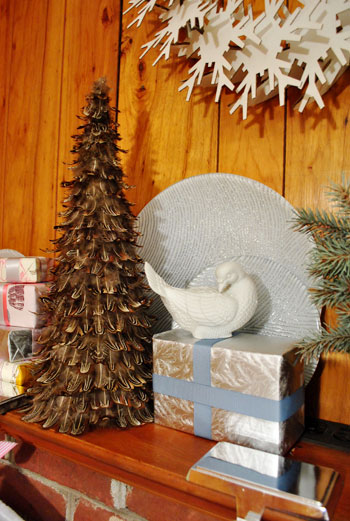 Oh and as I was unpacking I spotted those cute silver zebra-ish plates (from Crate & Barrel a few years back) and decided to stick them up on the mantel as well. Why not- it's a kitchen, right?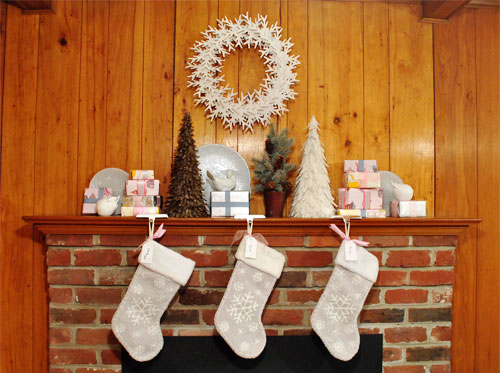 They add a nice little shot of holiday sparkle. So I try to rest my eyes on those little gems (instead of all that paneling- oy!). Can't wait to brighten things up in there. Oh and speaking of painting, we actually tackled Clara's room this weekend. It felt good to be back in our painting clothes! We went in a totally different direction than we did in her last nursery, so we'll have to snap some pictures and share them soon…
Update: You can check out all of our favorite holiday decor finds here – many of which are under $15!