We're reaching the point in our house where we're finally trying to slowly upgrade the "we'll-just-put-this-here- for-now-since-we-just-moved-in" phenomenon that happens when you unpack and just toss things anywhere (yes, we are just getting to this phase after over a year and a half of living here, haha). So we finally decided to address this old mirror that used to hang in our first house's den, which we then popped above our fireplace mantel with a tiny finishing nail the first week we moved in. Why do we need to address it? Because it gotz to go. Why does it gotz to go? Because it's way too small! Comically small. Here's an older shot of it almost straight on. See how weensy he is? Poor guy.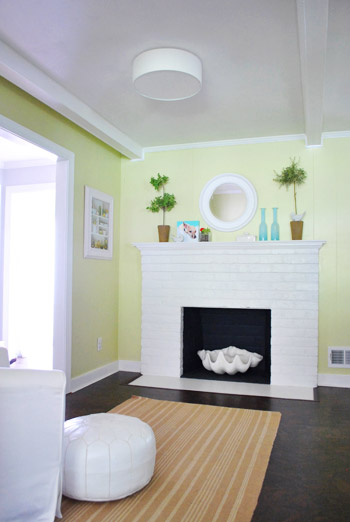 We had always meant to get something bigger and upgrade, but the rest of the kitchen kept us pretty busy and then it was onto some bedroom tweaks and some bathroom upgrades and the deck so our little fireplace mirror dodged getting the boot for a while. Not the real boot (we'll find another spot for him) but just the above-the-fireplace boot because we wanted something bigger to:
reflect more light
make that soothing little zone feel expanded and more defined
bring some of the wood tones from the cork floor up onto the wall
So anyway, long story long, we had passively looked for something at local shops/thrift stores for a while and then I went rogue while John was out getting his deck-ness on and Clara was napping. I tiptoed down the hall into the guest room (which is right near Clara's room so I had to be all stealthy-like) and decided to try the giant mirror that we had randomly leaned above an old dresser in there about a year ago.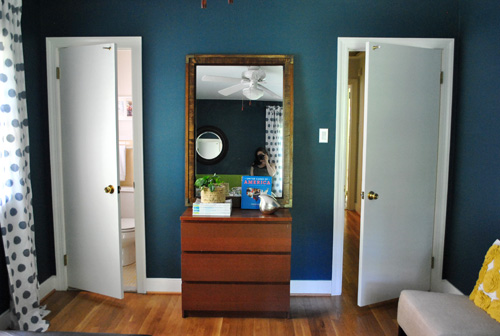 Yup, I dragged that monster into the kitchen, got my buns up on a chair while holding said beast of a mirror, and somehow managed to lean it up on the fireplace mantel to see how I liked it. The whole leaning thing wasn't the best look (it basically leaned so much due to the placement of an outlet on the top of the mantel that it reflected the ceiling which was ugly to the max) but the color and size were actually surprisingly good. So I left it up there to mull and ran back to the office to finish some book stuff and then John came in and said "that looks awesome – let's hang it up."
And then I fainted.
Ok so I didn't really faint but I made a big show out of fake fainting because 1) John is usually very "meh" about new changes (they have to grow on him) and 2) to see some random thing I did while he was off doing other backbreaking work that is sure to lead to more backbreaking work for both of us (hanging a giant heavy mirror into thin wood paneling isn't exactly like tapping in one tiny finishing nail) isn't usually something he's enthusiastic about. But he was.
So after my big fake fainting show (which by the way was not met with the right level of responsive panicking if you ask me, but that could have been due to my bad acting) I stood up and we got down to the business of hanging it. We used four heavy duty 2.5″ screws, two of which we could drive directly into studs (aka: very strong) and two of which we used heavy duty anchors to secure (just for more reinforcement and so it would hang straight and centered since the studs were in odd places and necessitated two other screws to keep things hanging straight).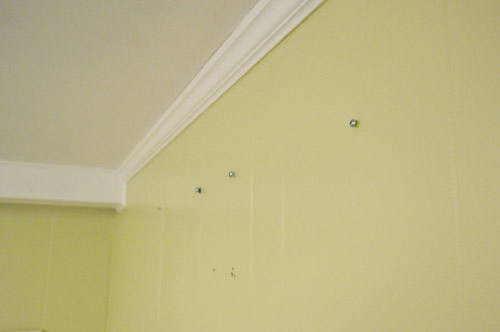 But first we had to move the hanging hardware on the back of the mirror which was screwed into the back of the frame since it used to hang vertically. Since we wanted it to hang horizontally we had to move it to the other side of the frame and then we used heavy duty picture hanging wire between those two metal holders so it could be slipped over all four of the screws that we would put into the wall to hold it up. Oh and don't mind the crazy duct tape on the back. This mirror was a $5 yard sale score a few years back and it came all taped and crazy looking in the back, but the front is significantly less ridiculous looking and it's all very stable regardless of the anti-confidence-inspiring effect of the tape (the thing's not about to fall apart or anything). Thank goodness.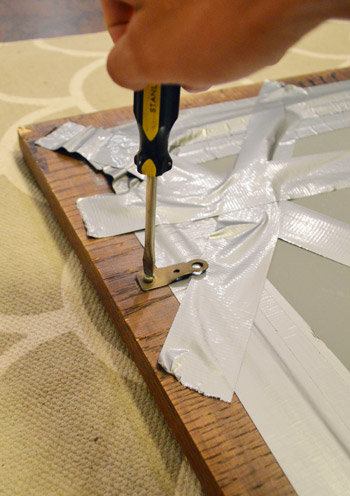 Anyway, so we moved the hanging hardware (reusing the screw that held it into the old vertical placement and transferring it over to a horizontal placement) and then added heavy duty picture hanging wire (the strong kind, not chintzy floral wire or anything).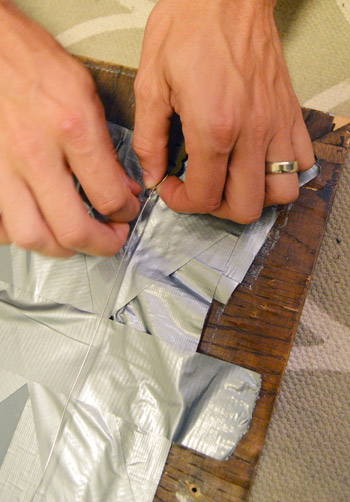 Isn't she a beaut? Just kidding. Seriously, could there be more duct tape in this shot?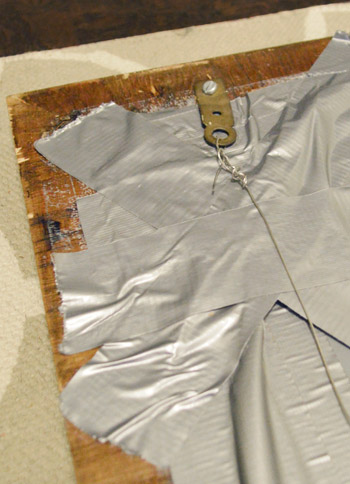 And here's the hubs driving those screws into the stud and anchor set-up I mentioned.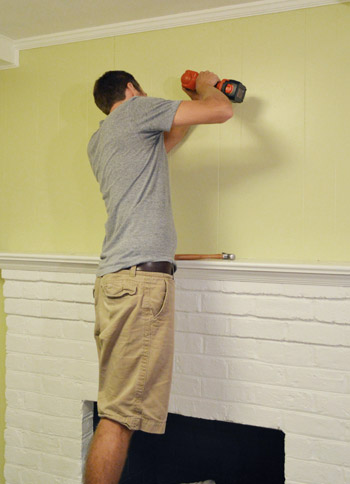 The four-screws-plus-hanging-wire process might sound complicated, but the whole thing probably took us about twenty minutes. So it wasn't fast like hammering in a finishing nail, but it wasn't this crazy long process involving fancy math equations or anything. And the cool thing about adding a hanging wire is that things are a little easier to get up (it just has to catch over the screw heads but it's not maddening like little picture hooks can be when there are multiple nails or screws (getting them all to catch at the same time can make you want to stick a spork in your eye).
The difference of a nice big mirror is crazy. It's a little more orange than the floor so I might stain it a bit more mocha to work more seamlessly with the cork, but just having that giant reflective surface is such a huge upgrade.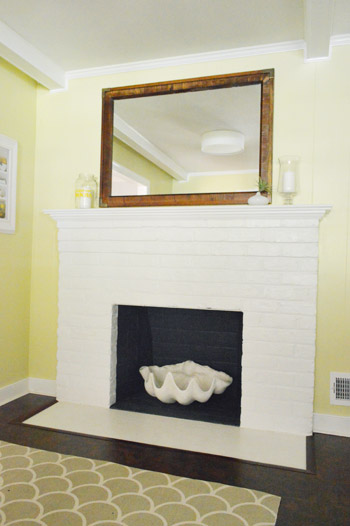 Here it is from further away. The height that it adds is awesome because it balances other tall things in the room like the pantry and even the tile that goes to the ceiling on our wall with open shelves.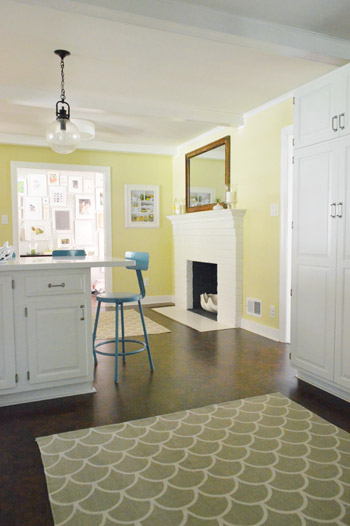 Oh and you'll notice from that picture above that we got another cheap-o Urban Outfitters rug for the cooking area of the kitchen. First we moved our original one from the fireplace zone into the cooking area for a trial run (to make sure we didn't get annoyed by it or drop stuff on it constantly) but since there's about a foot of space around the perimeter (in front of the stove, sink, rest of the counter, etc) we didn't have any issues, so we ordered it and there she blows.
But back to the matter mirror at hand…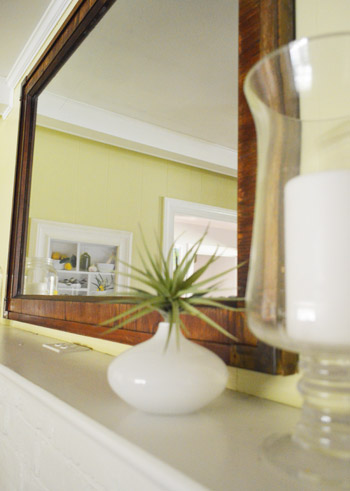 I just tossed some random things up there (like this thrift store find from Atlanta with KB). But since it's so neutral I can basically put anything up there with it – and you know I love to change things around whenever the urge strikes…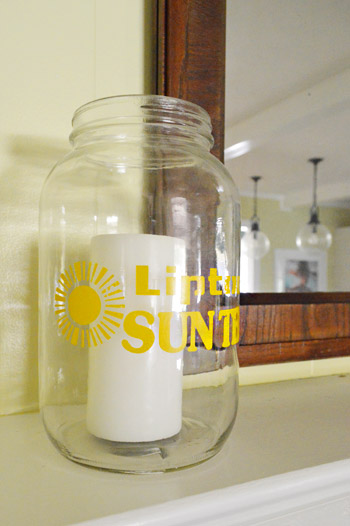 Clara photo bomb.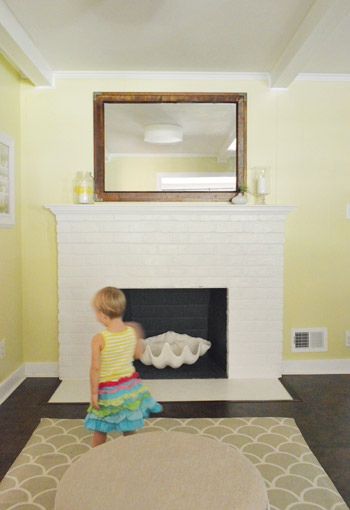 But seriously, just look at the difference from the little guy that we had before and our new guy above: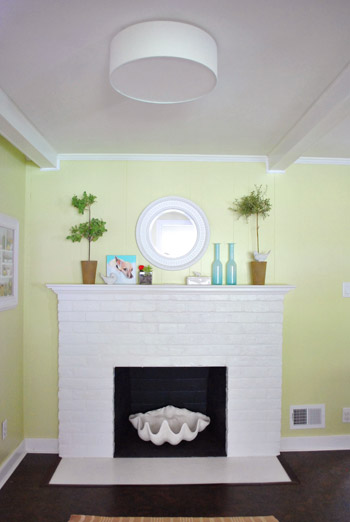 John says this side of the kitchen feels like "one of those homes in the Fan now" which is a downtown neighborhood with amazing architecture and all of this great large-scale character. It's basically his way of saying that the ceiling feels high and it's like one of those fancy rooms with good molding that are over 100 years old. I would simplify the description by just saying that this mirror bounces around approximately ten times more light, makes the room feel bigger and airier, and serves as an amazing focal point all the way from the front door. Sweet. So it's totally one of those under-an-hour changes that just involved something we already owned (which kinda makes us mentally chide ourselves for not figuring it out sooner, but what can ya do). I'm just thankful we didn't end up buying something new. The overall scale and the chunky wood frame are perfect – and the fact that we found it back in 2008 at a yard sale for five bucks is the icing on the cake. Woot!
We still have a few more changes we're planning to make to this zone over time, so stay tuned for those updates as we inch along. In the meantime, are there any new mirror (or old mirror from another room) switches going on at your place? Any toddler photo bombs? Or weird mom-sneaking-around while your kiddo naps and you get a wild hair to redecorate something?