Nope, this isn't a weight loss post. The scale that I'm talking is this too small had-it-so-we-used-it bookshelf that we shoved into the guest room (just days before my mom arrived) a few months back. Talk about teeny tiny: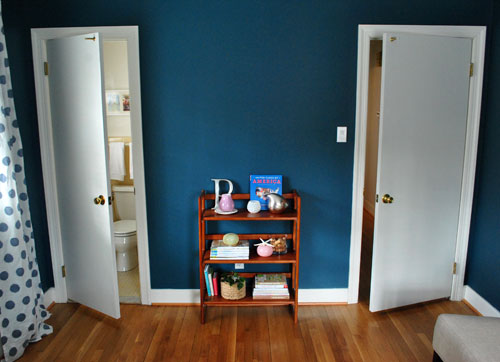 And somehow we forgot to update you guys about a little switcheroo that took place after we got our new (well, very old) dresser for the bedroom from John's dad. So here's a very belated dresser related news flash: we moved our old malm (from Ikea five years ago when we moved to Richmond from NYC) into the guest room. So it looked like this: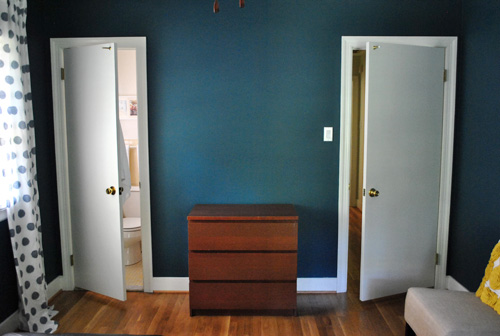 The scale is definitely better. Someday we'd love to get a thrift store dresser or cabinet (our old malm guy has a wonky drawer and more than a few scratches if you look closely enough). But for now it works. Especially because it's in the we-already-had-it-so-it-was-free category.
There it sat looking a little lonely and still a bit bare up top for a while until late last week. Something got into me and I decided to hunt around in our crazy storage room (aka: the future playroom/second kids bedroom) to find the big mirror (scored for $5 at a garage sale a while back) that used to rest above this very dresser in our old guest room (and then in our old sunroom once the guest room turned into our office as well). It was still wrapped in bubble wrap from back when we moved and leaning in the corner of the playroom. Talk about delayed reactions. It has always been a little bit too big for our malm dresser, but since we someday hope to upgrade to a great thrifted dresser (preferably a smidge wider and made from solid wood so it'll really go the distance) we're ok with the 1″ overhang on each side for now (it was like that in our former guest room and sunroom so maybe we're just used to it).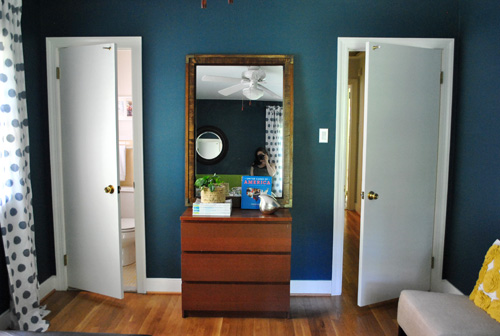 As for baby safety, Clara's never in this room alone (we keep the door closed) and we've slammed the door and tugged on the dresser a bunch to make sure it's not too tippy (thankfully it stays put) but if we ever use the room more with Clara we'll be sure to mount it to the wall (along with the dresser). You know, in the name of maintaining our Captain Careful nicknames.
Oh and of course I added some guests-might-like-it stuff to the top of the dresser too (do you know me at all?). Like a stack of magazines, a book called The United Cakes Of America (who doesn't like reading about the history of cake and looking at so-amazing-you-wanna-lick-the-book iced creations?)…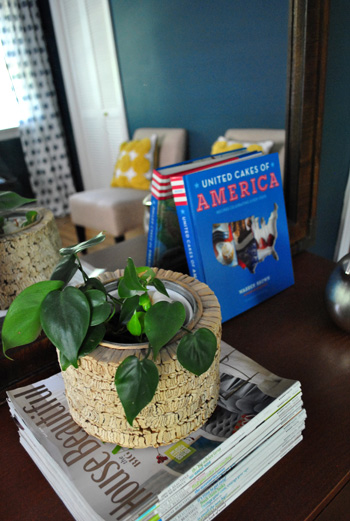 … and our piggy bank (that's really where we drop our change- no idea why it always ends up in the guest room but it was in there in our last house too). So to those who stay with us: look how much we trust you. We must really like you.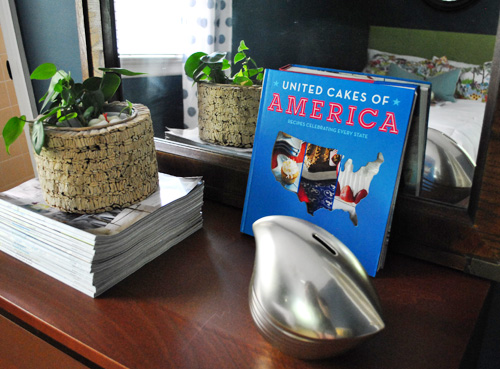 I love that the dresser provides a place for guests to store clothing (and for us to shove things they might need like spare shampoo and towels, which we've stowed away in the top drawer):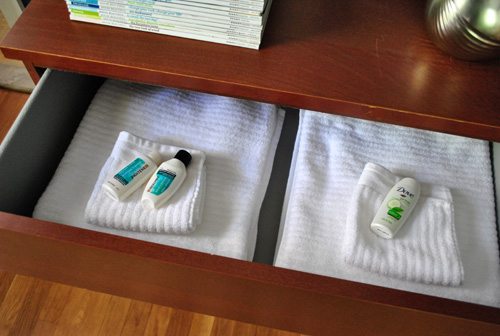 So thanks to inheriting our new dresser from J's parents when they were selling their house, all this guest room tweaking was free. And nothing feels better than spending zero point zero zero dollars.
Have you guys done any furniture rearranging or swapping? Or wrestled with scale issues of your own? How about finding something awesome on the curb or near a dumpster that's perfect for your house and totally free? I love those stories. Even though they never happen to me. Hearing them makes me feel like someday my perfect curbside find will come. Gotta keep the dream alive.