If you have read our blog for the past year or so, there's one thing you know. Goodwill + Katie B + me (+ John with video camera) = all kinds of ridiculousness. This time we literally ran around the store supermarket-sweep-style and tossed things that we thought were cool into our cart.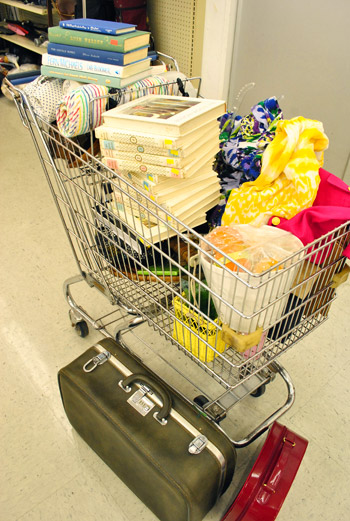 Then in the name of keeping it real, we made a one-take-only video about everything that we found. No cuts. No corrections. John just pressed record and we jabbered on. So much so that we had to break up the video across both of our blogs since we went on (and on). You can check out the first half of it over here and the second half over on Katie's blog. So to answer the obvious question: no, we don't know what our malfunction is. And yes, we get weird pretty much as soon as John presses record. So think of us not as two adults/mothers but as two giddy girls who can't help themselves. Tweens may get hyper over Edward and Jacob, but we're like that for Goodwill.
A few things to note:
People walked by. The intercom blared. But not one employee asked what we were doing or ordered us to stop. Gotta love those friendly Georgians.
Yup, I'm like a foot closer to the ground than Katie. #shortgirlproblems
I made Katie buy two books, so look for a book review from me at around 2:30.
The way Katie says "bone" at 2:32 is hilarious for no reason other than it sounds like "bwone" to me.
There's a good "that's what she said" from yours truly at 4:11.
How do I accidentally say things like "flipping off " when I truly don't intend to (it's like "fart" – it just slips out).
We sincerely apologize to anyone that our collective Napoleon ignorance might offend around five and a half minutes in.
Katie and I laughed about how she reminded people to keep their jewelry box dusted. How's that for random?
It has officially been confirmed. The urn was empty.
I know my colors. No idea why I call the brown dogs on that pink cup blue. Seriously, no idea.
Ok, now head over to Katie's blog to watch the second half of the video to hear us coin incredibly catchy phrases, like "put a basket on it." Update: So sorry to those who can't click over to Katie's blog- it may be down intermittently, but she's working on it!

Oh and for those who can't watch the vid (although it has a lot more items/ideas than these pics we snapped at the last second) here are just a few photos of some of the things we found. First we have this ceramic urn/vase thing, which we decided would look cute in a little vignette on a dresser/buffet/cabinet with this colorful stack of books next to it (Katie took the shiny book jackets off to reveal the soft beach-glass-colored bindings underneath). A few rice bowls on top and a white ceramic owl completed our little make-believe arrangement.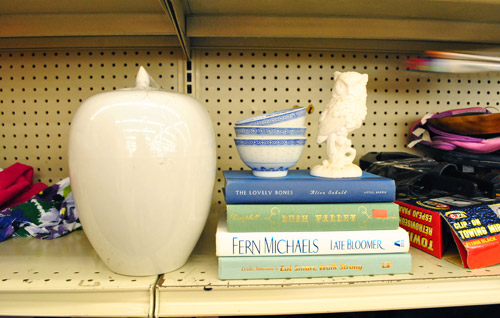 And because the back of that shelf looked less than charming, we held up some fabric (a dress that we thought could be converted into a pillow with a little sewing) to make a backdrop.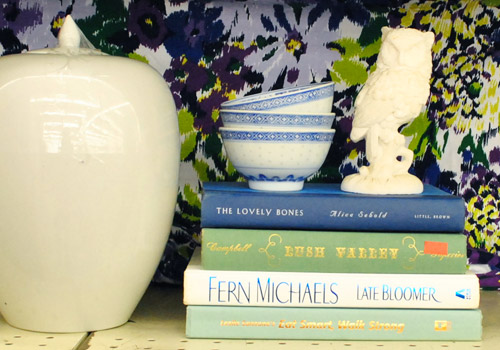 Here's a wide shot to keep it real. Haha. I'd say it looks about 99% less chaotic in the shot above, huh?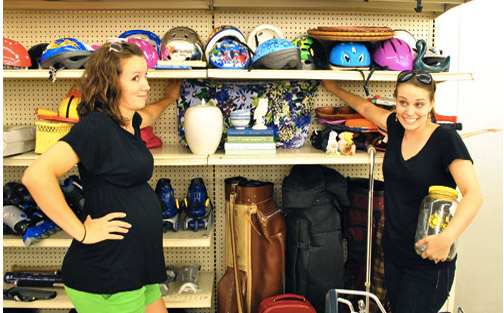 Here's another example of an inexpensive item of clothing that you can use for a house-project. This 99 cent dress could easily be made into a sweet little pillow.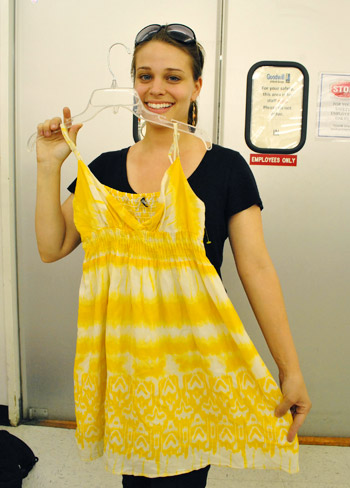 Katie found this gorgeous giant coffee table book for just $2.50. It could be left open on a table to showcase one of the stunning photos inside.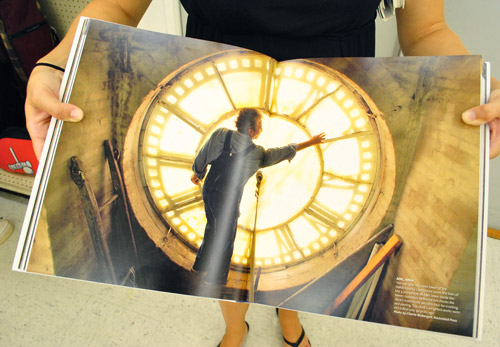 We also had fun poking around in the sporting goods section, where they had an old racket and some colorful croquet mallets. We thought they could be fun hung on a wall in a collection – maybe in a kids room or a den/rec room with frames and other objects among the grouping.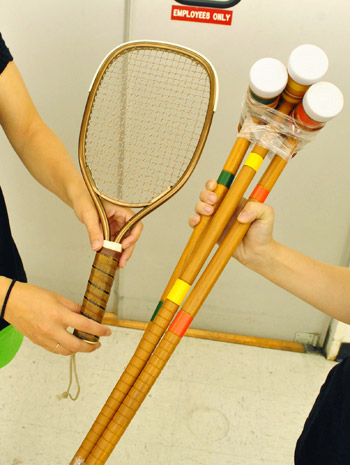 Katie also found this little ceramic Napoleon. He needed a bit of cleaning up, but was in great shape (one of my tips is to put hydrogen peroxide on an old toothbrush and scrub anything that's white & ceramic to brighten it up).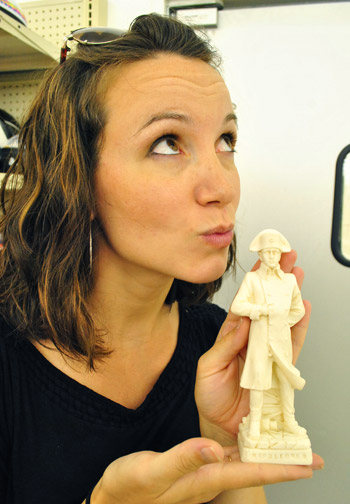 This ornate jewelry box was $2.90, and if the nautical/anchor details aren't your thing, you could always unscrew the glass pane (it easily detaches from the back) and cover it with fabric or decorative paper for a completely new look.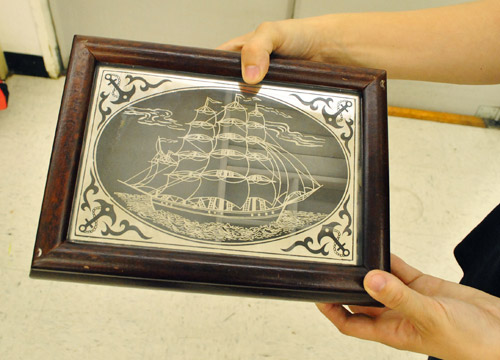 A few more finds were a giant queen sheet with polka dots for $1.91 that could be made into cute little placemats, a runner, pillows, etc. And the wood dish on the left would be nice for serving things like pistachios or using in a craft room to contain buttons, thread, ribbons, and other small odds and ends (change, keys, the list goes on and on).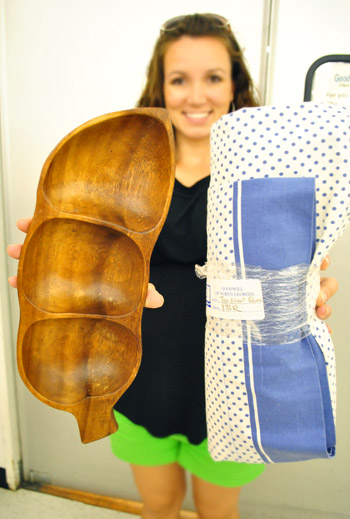 I've had this weird obsession with the idea of collecting little Easter tchotchkes and spraying them each a fun modern color (teal, lime, bright yellow) and putting them on a table or mantel for a modern take on something a little more traditional/campy. In the end, it's still a bunny wearing a hat, but in a solid modern color, it could look pretty fun.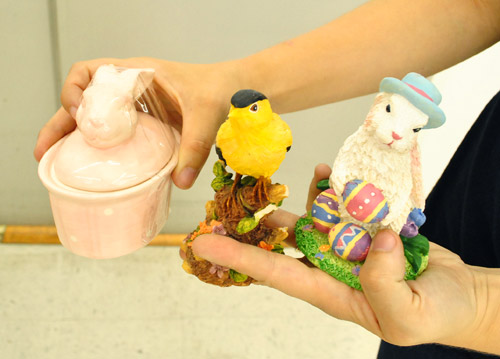 This cheap yellow basket (77 cents, yo) would be great for silverware and napkins that you might bring outside for a patio or picnic scenario – or in a bathroom with hand towels and soaps in it. You could even stick a clear glass vase in it and use it to hold a bouquet of flowers or a bunch of leafy branches.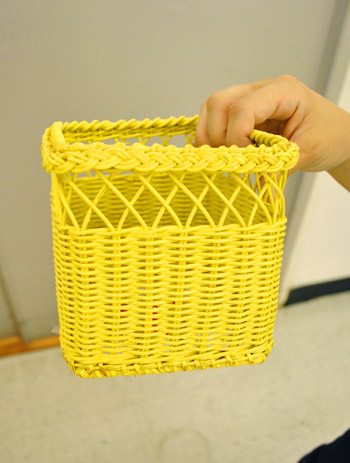 I actually got this guy – a bright green serving dish (for 99 cents) that could work for setting out cheese or snacks for guests (or as a place to put soaps in a bathroom).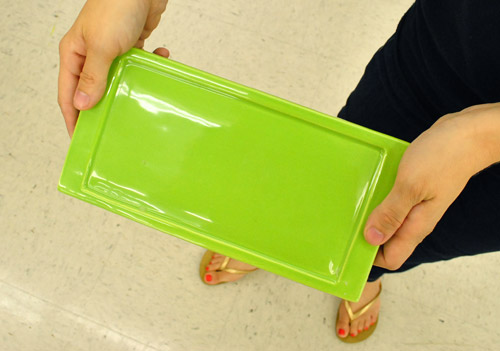 We also dug up a bone-looking (it was really plastic) toothbrush holder that would make a great vase (the holes in the top could serve as a "frog" for keeping those blooms in check – or you could just take off the top and use it as a traditional vase). And this preppy ceramic cup with a pink background and brown repeating dogs was kinda cute (99 cents). Might be fun in a home office with a bunch of pens and pencils inside.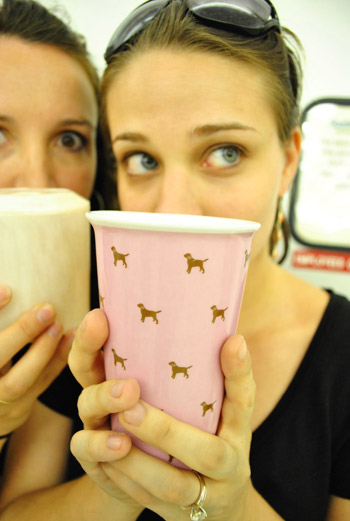 This large metal bowl was two bucks and it was another item I purchased. I thought spraying it a bright color (like red!) could be fun – and you could use it to store almost anything (it might tame a bunch of ribbon that has been sitting in a heap on a shelf in the closet where we keep our gift-wrapping stuff).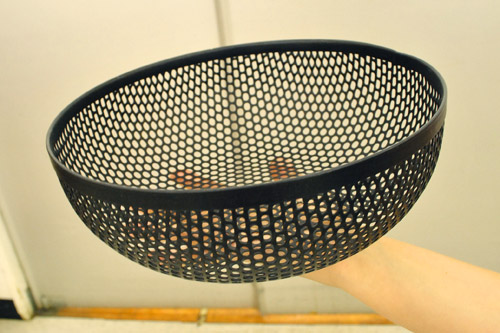 We also thought these lightweight woven trays could make for some awesome wall art. Either kept au naturale and hung on a single nail each, or sprayed a fun color like robin's egg blue or a soft metallic gold.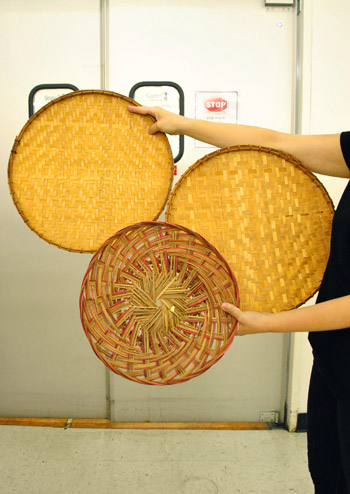 And this giant Crate & Barrel popcorn bowl for $4.94 could make for a fun gift. Just take it home, wash it out, and fill it with popcorn, a soda, and a video or gift card for one.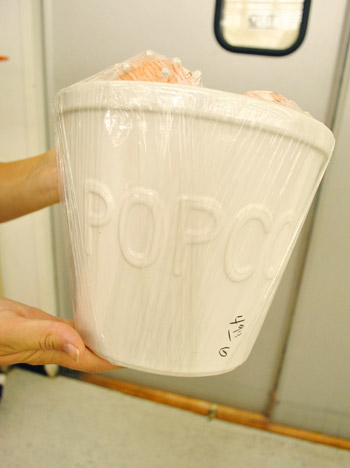 I also got these guys (they were a dollar twenty). I'm a sucker from homemade pottery (ceramics was my favorite class in high school) and the pop of blue in each container totally called my name. I thought the creamer could be a fun makeshift vase for a single bloom and the sugar holder could actually hold sugar cubes (or something we use all the time, like tea bags) on the counter.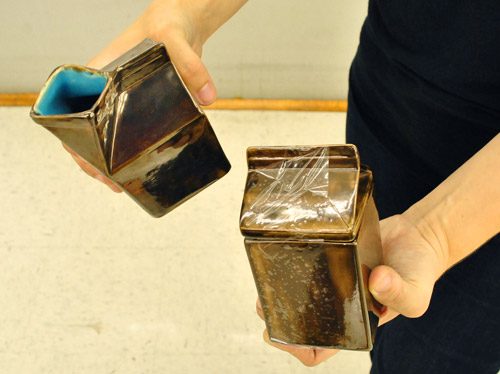 Here are some suitcases that we found – one for $1.91 that could make for awesome storage if it was tucked under a side table or coffee table, and a shiny new $2 one that could look cute in a kids room full of small toys or art supplies (it could even work as a sweet little lunchbox).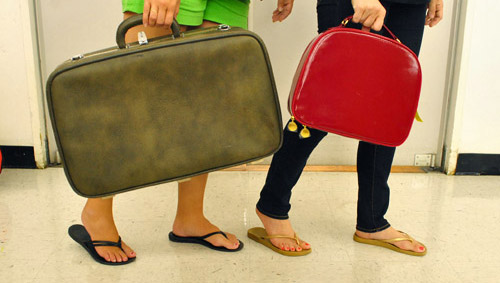 And then there was this. And yes, we bought it for our cousin who went to Georgia Tech. Couldn't. Resist. The. Cheesiness. Upon further reflection, I totally should not have held that Goodwill tissue up to my nose. Although I haven't gotten sick yet, so it probably boosted my immunity tenfold. I'm like a cockroach now. Can't take me down.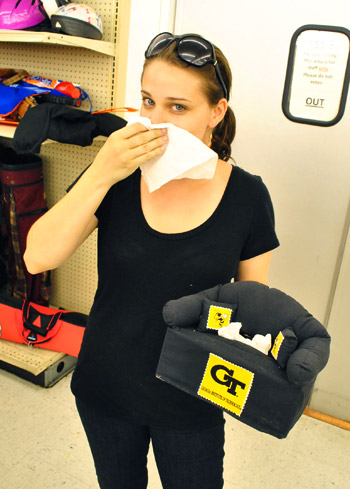 As for what I ended up buying (some of which I called out above) I got:
The lime green cheese tray <–in Vid 1
The giant Lipton Sun Tea glass jar <– in Vid 1
The big metal bowl with "aeration" (can't wait to spray that sucker a bright color) <– in Vid 2
The wood truck for Clara's crayons (stay tuned for a DIY project I've planned with that) <– in Vid 2
The homemade creamer and sugar container with a pop of blue on the inside. We only realized afterwards that the M.M. initials on the bottom must mean it was made by Marshall Mathers. Obviously. <– in Vid 2
While we're on the Goodwill subject, what treasures have you found there or at other places of the like? Any favorite things to find there (for me it's probably cute dishes/bowls/plates and kid stuff that I can adapt for Clara). Come on, it's Thursday morning. Let's gab about thrift store scores.
Psssst- If you're in the mood to watch some other terrible KB + SP = gigglefest videos, here's one, here's another, here's one more, here's another one, and here's another one, here's another one, and here's one more. That's a lot of giggling.