It's been nearly three months since my "Life On Less" post so we figured it was worth doing a quick update (and collecting more great ideas from you guys on how we can all save a buck here and there). You might remember that four months ago we learned I'd be bringing home four fewer benjamins each month, and we're pleased to report – thanks to many of your suggestions – that we've been able to stick to all but one of the money saving tactics I outlined in the previous post: stop buying music on iTunes, cancel my gym membership, watch movies at home and cash in some credit card points. Here's how it all went down:
1. iTunes out, Pandora in: Several of you mentioned Pandora.com in your comments and boy am I grateful. I love it! You just input some of your favorite artists or songs and it builds a custom radio station filled with similar tunes. You can even thumbs-up or thumb-down songs to help Pandora learn your musical tastes over time. It's completely free, though – if you're like me – you might hit your 40 hour monthly limit pretty quickly. But the good news is that it's only $0.99 to get unlimited access (which is a heckova lot cheaper than my old iTunes habit). I'm totally addicted, and I have you guys to blame/thank.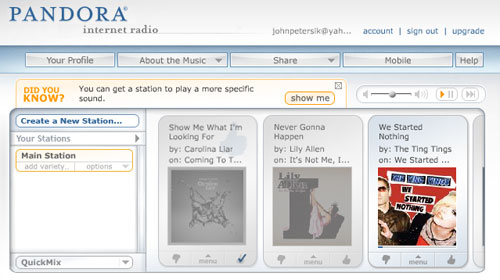 2. Sayonara Netflix, Konnichiwa Redbox: Again, at your recommendation we realized there was a less expensive option than our $15 per month Netflix bill. With Redbox, you can rent movies for a $1/night meaning even two movies per weekend only costs you $8 per month. And we're not even usually that movie crazy. I think we've probably spent $6 total on movie rentals all summer thanks to Redbox. Sure, the movie selection is a bit narrower (note: do NOT rent "Knowing" with Nicholas Cage) but it still gets new releases and keeps us plenty entertained. Plus, we saved so much moolah with Red Box that we splurged on one trip to the theatre. I let Sherry drag me to The Proposal. Does that mean good husband bonus points for life?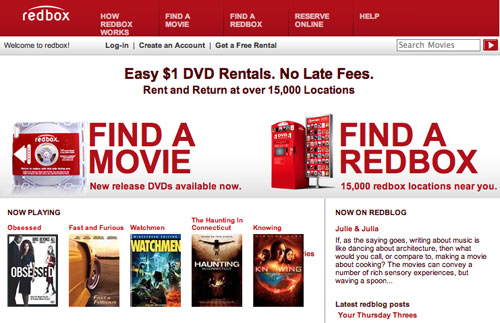 3. Credit Card Points = Cash… and Magazines!: When we cashed in our stored up credit card points back in May for an awesome chunk of change, we suddenly found Bank of America offering us some free magazine subscriptions too. Usually we brush those off, but when the list showed several that Sherry and I routinely peruse at Barnes & Noble we said "sign me up." So while this isn't saving us any money directly, it has meant fewer trips to chill at B&N, which means avoiding the temptation to buy books… and cookies from the cafe. Plus we drop off all of our magazines at a local book store when we're done with them (they offer them for free to their customers) so it's a great way for us to read them without feeling wasteful.
4. Tapping the Brakes on My Gym Membership: Ok, so this is the one I didn't follow through on. After a few weeks off I realized how much a midday workout did for stress release so I caved and kept my membership to the YMCA going. Though my workload has kept lunchtime trips to the gym at a minimum, unfortunately, I guess I'm not strong enough to let this one go. So instead…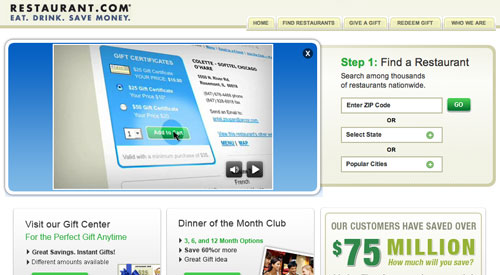 5. Restaurant.com Is Our New BFF: Since we're still amateurs in the kitchen, it's tough for us to give up eating out entirely. But befriending Restaurant.com has certainly made dining out every once in a while much easier on our wallets. They sell a bunch of $25 gift cards for only $10 which means (with a usual minimum purchase of $35) we can save $15 on a meal out. Not bad, but we happened to snag a handful of coupons during a 80% off sale they were having, meaning those precious coupons were only $2! That equals a $23 savings each time we use one! And I recently learned they're doing that promotion again through Aug 13th. Just enter "PORTION" upon checkout to score a $25 restaurant gift card for just two bucks! And there's no waiting for the gift certificates to ship or worrying about them getting lost in the mail- just pay and print them right from your computer. Genius.
So that's our update. What about you all? Did you uncover any new money saving tricks that you can teach the rest of us? Have you been able to stick to your money saving schemes or are you still being a tiny bit "flexible" like me with my gym membership? Our wallets thank you in advance for all the great ideas!
Pssst: To learn more about how we pinch pennies here at Casa Petersik (ex: Sherry gives me haircuts, we brown bag our lunches, we share one car, etc) check out our Save It series (read Part 1 here, Part 2 here, and Part 3 here).