I was watching Sarah Richardson (Sarah 101) the other night (thanks DVR) and she mentioned that at the end of a makeover she has usually used around 10-14 fabric textiles in each room that she does.
And as the title of this post suggests, it totally surprised me. Doesn't that sound like a lot? Of course she's an expert when it comes to layering prints and patterns, but I couldn't imagine a "regular Joe" going into a fabric store and walking out with 10-14 swatches that they were going to combine. But then I realized that she was counting the upholstery fabric on chairs and sofas and headboards along with curtains and a ton of accent pillows. So while vegging in the living room at 11pm while watching that very show, I looked around and counted all of the fabrics going on…
Karl The Sectional's dark gray fabric (he's from Ikea) = 1
The faux leather seat of our desk chair (from Target four years ago) = 2
The curtains (from Ikea in April) = 3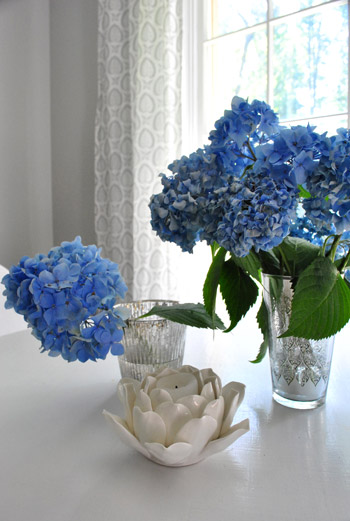 The linen-like fabric on the ottoman (from Marshall's) = 4
The faux sheepskin draped over the ottoman (from Ikea last year) = 5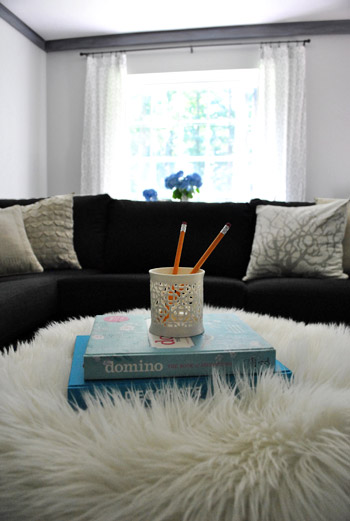 The green zebra pillows (from West Elm about a month ago) = 6
The printed pillows that I tea stained (from this etsy shop) = 7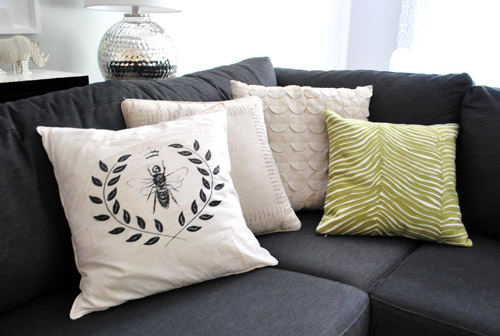 The textured felt pillows (from Crate & Barrel last year) = 8
The branch pillow (from Ikea a while ago) = 9
The faux cow pillow (from Ikea a while ago) = 10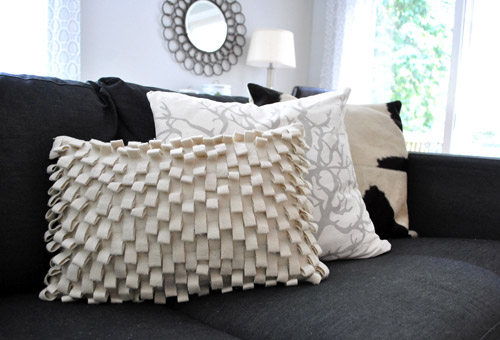 The shag mohair pillow (from Target a few months back) = 11
The soft champagne-y metallic pillows (from Bed Bath & Beyond years ago) = 12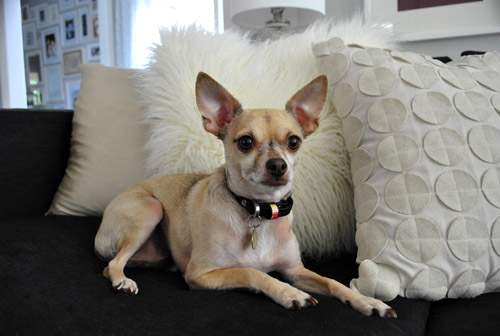 Twelve! Who knew? Granted a lot of those fabrics are more tone on tone/textured than brightly patterned (thanks to the colorful rug and art going on). But it's really interesting to think that we sort of subconsciously mixed all those materials together (although we didn't exactly have things upholstered and tailored for us a la Sarah Richardson).
So it got me wondering how many fabrics you guys have going on in your living space. Is it in that 10-14 range? Way lower? Way higher? For some strange reason I'm dying to know how things stack up at everyone else's house.
Tell me, tell me! Also, doesn't Sarah have awesome blazers and what appears to be very glossy and perfect hair? The woman has style for days.