Ok, so now that we're holding it down at a new URL, we figured you guys may be wondering what those fun features that we mentioned would be coming soon might be. Well, there's lots to look forward to so here's just a smattering of exciting projects and developments coming to Young House Love…
#1. A Young House Love Nursery: If people could get pregnant by popular demand, Sherry and I might just be having octuplets. And since so many of our readers were crossing their fingers that our big announcement would be a baby, we figured it was high time we did a nursery makeover, even if it's not in our house. My sister Emily (check out her amazing casa right here) is due in October and she recruited us months ago to majorly transform her empty bedroom into a nursery for her little one on the way. We are both geeky-excited about it. With a before like this you know it's going to be dramatic: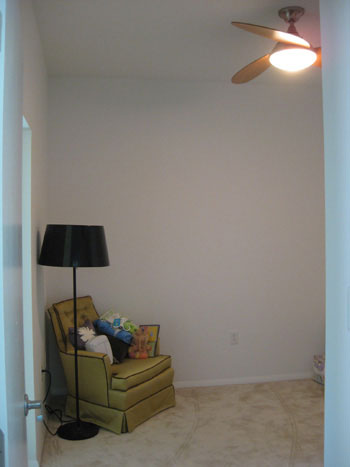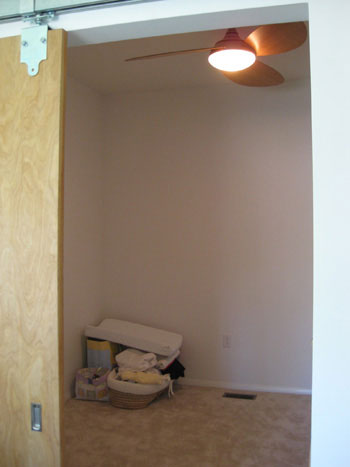 Yes, there's an awesome track door leading into one side of the room (the other side is accessible through a regular doorway) so there are already some pretty amazing features to work with. Is it weird that before pictures actually make our mouth water? It's pavlovian. And as for expanding our little family, it's not in the works yet but it's certainly something we look forward to in the next year or so.
#2. Videos, Baby: We've already ordered some video equipment to make it quick and easy to wax poetic whenever the mood strikes. And we also have a little TV appearance coming up so that should be fun/potentially-embarrassing.
#3. Our House's History: We never knew you guys were so curious about our house's original owners until we started receiving quite a few emails and comments asking if we've ever heard from them. Well guess what? Last week we heard from them. The original owners who lived here for almost forty five years contacted us after coming across our blog through a friend. Oh the tales they told. And we can't wait to spill all the dirty details about our humble house's past. Let's just say there we plenty of new discoveries. And speaking of discoveries, here's an old post about how we found some pretty amazing things under our old cabinets when we redid our kitchen (the bottom one is a childhood drawing by the woman who contacted us from back when she was five years old!):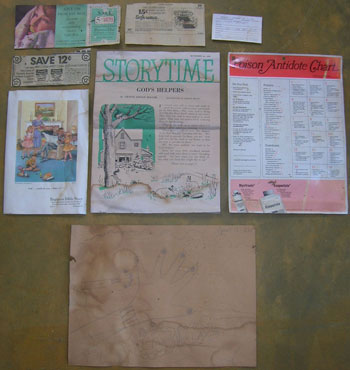 #4. The Usual Suspects: Of course we have more Reader Redesigns, Burning Questions, House Crashing adventures, Design Dilemmas, before & afters, DIY projects, follow-up posts (how do we like our new bed a month later? how's our edible garden doing?), Fab Freebies, and a slew of tutorials (hanging art, painting paneling) on our list. So keep an eye out for that stuff coming down the pipeline to a computer screen near you.
#5. Another Katie Bower Play Date: Ever since we visited Katie and her husband Jeremy over at All Bower Power to crash their house and make a fun little video, the people (you, our dear readers) have clamored for more. And we like to give the people what they want. So we already have a meet-up on our schedule…
#6. Some Bathroom & Basement Action: So many of you were hoping that our big announcement was a total basement or bathroom makeover that it got us even more excited to take on both of those major projects. We can't promise a finished product anytime soon, but we're formulating a plan and hope to kick things into gear in the near future (we're just saving our pennies for a little while). And we know you're all about instant gratification but time flies when you're busy enjoying items 1-5 on this list, right? Until we "break ground" (literally) on both of those projects, we'll leave you with a picture of our dank, dark, and oh-no-you-di'int basement. We can't wait to get to work.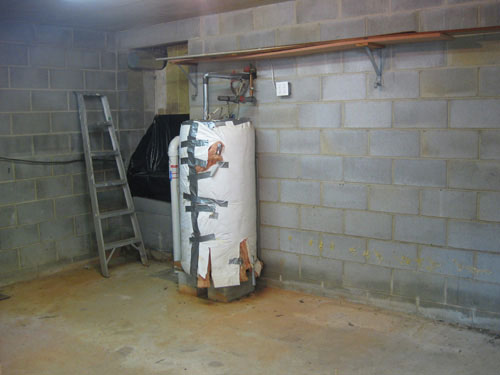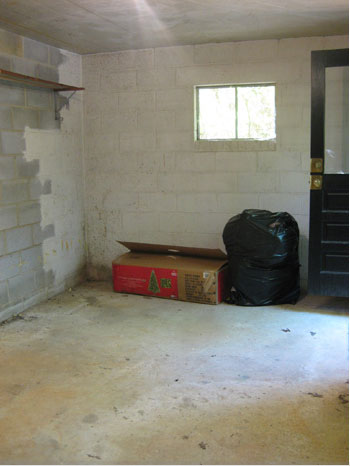 So that's what's cookin' here at Young House Love. Who's hungry? Anything else you'd like to see in the coming weeks or months? Consider this a suggestion box of sorts.
p.s. psst, have you updated your bookmarks / reader / blogroll / outgoing links / Twitter/ Facebook yet? If you're still heading our way using old TYH methods, they won't last for long so don't forget to make the switch! We'd hate to lose a single one of you lovely people.