Yup, you read the title right. This Young House is going the way of the dodo and the dinosaur. And although it certainly wasn't our idea (let's just say lawyers were involved) it sure has added some excitement to our lives.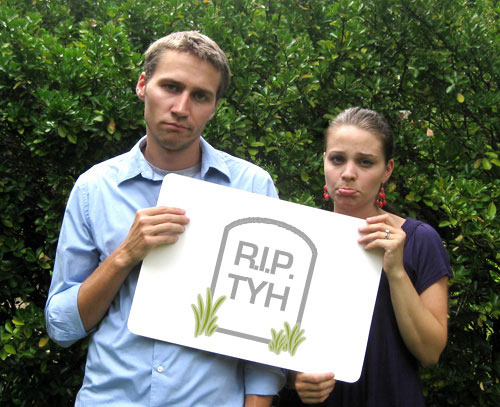 The good news is that we're already whipping up lemonade from the sour lemons hurled in our general direction. We've got a brand-spanking-new name and URL, but the site remains exactly the same otherwise. So remember to visit younghouselove.com from this day forth (and to update you reader, bookmarks and even your blogroll if you link out to us).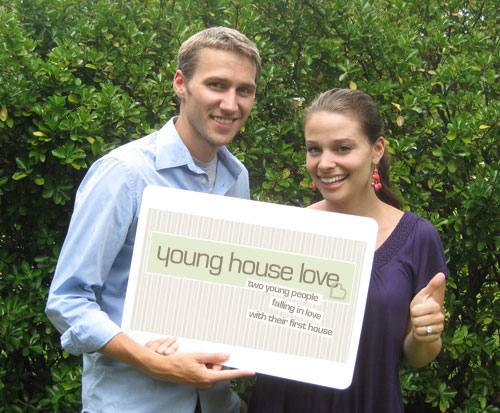 Ok, so here's the full scoop. On July 7th, as many of you know, we were busy celebrating our two year wedding anniversary. But on July 8th we got a nice little present in the form of a cease and desist letter from a prominent home improvement magazine/TV show which bears a few similarities to our old site's name (you guys can figure it out, right?). Don't they know the two year anniversary present is cotton, not paper? Anyway, they basically ordered that we immediately surrender the use of our old name and URL because they believed consumers were getting confused and may think that Young House Love was in some way related to their brand. Picture us scratching our heads. In almost two years of blogging under that moniker not one person has ever asked if we were related to that company.
That started a rollercoaster ride of emotions. First came fear and sadness – were we really going to get sued or be forced to hand over nearly two years of hard work? Then came confusion and anger – why was the same pub that contacted us last year to compliment our work and offer us a free magazine subscription suddenly sending lawyers after us? Not to mention the fact that our site and our logo looked nothing like theirs, our names were essentially opposites, our projects are on a completely different scale, and we're clearly just two young people with a personal blog (not a corporation with deep pockets and an army of lifelong experts). But we eventually unclenched our fists and faced reality. Even though we completely disagreed with every single point they made, what two-person blog wants to go up against such an industry powerhouse? Can you just imagine that? In this corner we have a million dollar company. And in this corner… John, Sherry, and a feisty chihuahua. No thanks.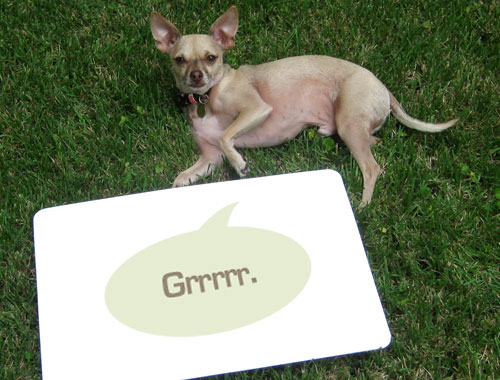 So after many hours spent huddling with an attorney, we decided the best way to move forward (and spare ourselves a potentially long and expensive legal battle) would be to turn the other cheek and change our name and URL. After all, just as the-magazine-that-shall-not-be-named doesn't want to be accidentally associated with us, we certainly share that sentiment. Now more than ever.
And a funny thing happened after we made the decision to move on to bigger and better things. We got fired up. Not throw-something-I'm-mad fired up, but this-could-be-an-amazing-opportunity fired up. Then came the search for the perfect new name. We tossed out a few odd but applicable ones first (involving our infamous love of white paint, ceramic animals and charming chihuahuas) but we still felt like Youngsters at heart. So we decided to bridge the gap between our old name and the thing that our last URL had always been missing: the can't-deny-it crush we have on our home. We secured our new website addy on Bluehost for $4 with a coupon (you know we like to sniff out a good deal) and our new blog baby: Young House Love was born. It instantly felt like a place we could call home, and we really like referencing the idea of falling in "house love" (that unmistakable puppy love that we all feel for the casa we're tenderly fixing up).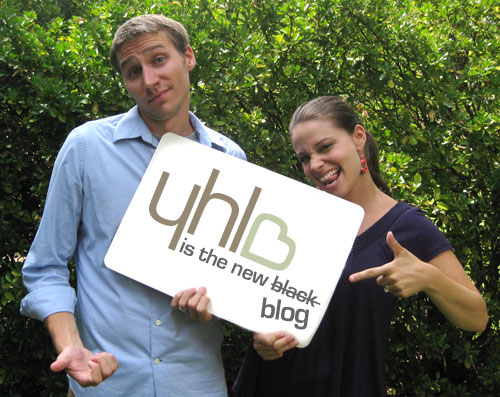 And here we are less than a week later, welcoming you to our new virtual abode. We're still unpacking a bit, so bear with us as we transition everything. We know it may take some time for you guys to get comfortable with our new name and URL, but just as our old blog was once our baby, this one is our "youngest child" which means we're gonna coddle it and spoil our lovely readers even more than we did before. Weekly giveaways (starting back up tomorrow!), before & afters, step by step tutorials- we'll serve it all up on a white lacquered platter.
In the order of housekeeping, we would also love to remind you to change your bookmarks, Google Reader (click that link or add "www.younghouselove.com/feed" to find the right feed), and even your blogroll and the outgoing links (old and new) on your blog if you've linked over to us (links to specific posts can easily be redirected to the right place by replacing "thisyounghouse" with "younghouselove" in the URL and leaving the rest of the address as-is). Now that we're legally bound to go by Young House Love from this day forward, replacing those old links and switching any old copy that says "This Young House" to "Young House Love" will really help our new blog grow and prosper (and make our day to boot).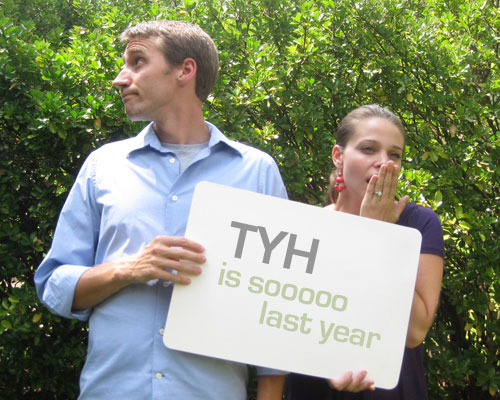 Plus, if you've been following us on Twitter or Facebook (btw, we had lots of fun reading everyone's guesses about our big news all weekend) please take a moment to switch over to our new Young House Love Twitter and Young House Love Facebook pages. They're a little bare at the moment, but rest assured they'll be the only place for bonus content and what-we're-doing details from this point forward. Our old accounts will just turn into periodic annoying reminders to make the move so it's best to abandon ship and jump aboard our new ones asap (note: please unfollow or unfan the old YHL pages after your switch to help us clean 'em out).
Oh and of course, we'd be forever grateful it you'd tell your friends / family / blog readers / coworkers / dog / gourd lamp about our new address. We would hate to lose a single one of you in the switch. We even made a handy little 120 x 120 button for any fellow bloggers out there who wouldn't mind adding it to their sidebar with a link back to younghouselove.com (click HERE to grab it), which will really make us feel all warm and fuzzy inside. Thanks so much for your support. You guys put the love in Young House Love, so smooches all around.