You know how a bunch of designers have been saying things like "every room should have something old in it"? Or have I been the only one noticing that lately? Sort of like how they say "every room should have something black in it" (but other than oil rubbed bronze curtain rods or dark mocha wood, virtually nothing in any of our rooms is black – although 95% of my shirts are black, so maybe that counts?). Either way, it's official. I'm on the "something old" train.
It all happened when I was browsing craigslist (searching the words "dresser" and "sideboard" and "buffet" every week or so, if you're wondering about my craigslist technique) since we want to convert a big piece of wood furniture like a dresser/buffet/cabinet to be a TV stand in the living room and also want a big buffet-ish piece for the entryway next to the front door. Then bam, out of nowhere, this happened: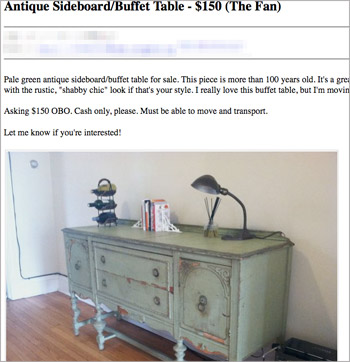 I went crazy with sideboard lust. I immediately emailed the seller (it had just been posted that morning) and said "I love your sideboard, is it still available?" People ask us for craigslist tips so here ya go. Tip number one: don't inundate the seller with a bunch of questions. I've found one of the most successful ways to get a good response is just to tell someone you like what they're selling and ask if it's still available. No complicated questions about size, finish, defects, delivery methods, price-negotiating, etc. That all makes you sound high maintenance off the bat. Just see if the thing is still for sale first.
Thankfully I heard back from the seller about five agonizing hours later and her response was very friendly. She indicated that she had a number of people interested and she was just going to sell it to the first full price bidder to come get it. This info was no surprise to me (aka: I knew she wasn't bluffing) since about 99% of the dressers/buffets/sideboards on craigslist here in Richmond are listed for more money and aren't half as easy on the eyes. We're talking particle board dressers from Walmart listed for $180! Crazytown. Most other solid wood sideboards usually run around 400 beans like this one: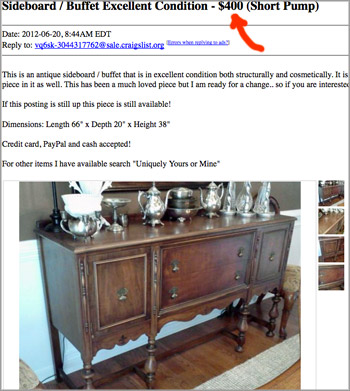 Tip number two: I like to use the "we'll come get it and pay you cash right now!" approach when I'm trying to talk someone down on the price of something. But that only works when you're one of the only people interested (when lots of people are vying for the same piece the seller will usually just wait for the highest bid since their fears of no one wanting what they're selling are gone). So as soon as I heard that others wanted my buffet I knew it could come down to how badly I fought for it. And we wanted that sucker. Bad. John included. As in, he was totally crossing all appendages with me as an act of sideboard solidarity.
We probably would have paid $200 for it, especially after doing some googling around for something similar and coming up with other solid wood sideboards of about the same size on sites like antiques.com and craigslist alike for around $400 and $500! And when I looked for similar painted sideboards (in that pretty antique blue-green finish like the craigslist one) the prices got even higher. Like 695+ bucks.
So we probably could have purchased a wood sideboard and painted it to look distressed, but I wasn't finding any other similar solid wood sideboards with the same chunky curved legs and perfect hefty size as the one that already came painted (and it was a few hundred less than the wood ones!). So we went all in. I emailed her back and said "Oh please oh please let me buy it! I'll pay $155 so you'll pick me over the others! I love it. If you're available, we can come get it tonight and pay you in cash. Just say the word. I really am in love with it and promise to give it a nice home!"
Tip number three: if you want something on cragislist, especially something you think is worth more than the seller is asking, definitely give them at least full asking price or it'll end up going to someone else. Often folks will buy things that are priced too low on craigslist just to resell them for more themselves (and I knew this buffet could go for more if someone linked to a similar one for $700 and made a good case about why it should be $400). So five bucks over asking price was my way of telling her "please pick me!!" – it was certainly worth five bucks to get the advantage and stand out from the pack.
Tip number four: if possible, offer to get the item right away (that way they won't get an email from someone else offering them $50 over your offer in the day or two that it takes you to collect said item). So I shot off that "please pick me" email and then I waited. And about half an hour later I heard back. Sold! We just had to go grab it that night and bring the cash. So we switched cars with John's dad (he has a Honda Pilot that has room in the back for pieces like this) and made haste over to the seller's house with cash in hand while Clara hung with the grandparents. Tip number five: when you know you'll be carrying a giant piece of furniture down three flights of stairs, it's always nice to leave children in someone else's care whenever possible – just so it's one less thing to worry about while you're cursing the day you ever laid eyes on that heavy-a$$ solid wood buffet.
About a half an hour later, this guy was in our entryway. And we were totally staring at it in that love-at-first-sight-in-a-cheesy-romantic-comedy way.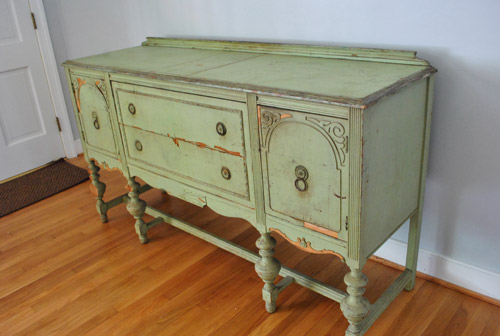 Tip number six: if a piece is old and painted, it always makes sense to test it for lead. Just to be safe. I used one of those lead paint test strips from Home Depot (they sell them in a set of four) and it tested out clean (many antique pieces were kept au naturale for decades and only painted in more recent years after lead paint was phased out, so I had pretty high expectations that this wasn't lead paint but was very happy to have it confirmed). Whew. I do plan to use some sort of clear sealer on it, just to keep it from chipping any further, but I don't mind the chips at all – I think it totally looks like something Anthropologie or Restoration Hardware would sell for 1K after sanding the heck out of a new piece to make it look old like this.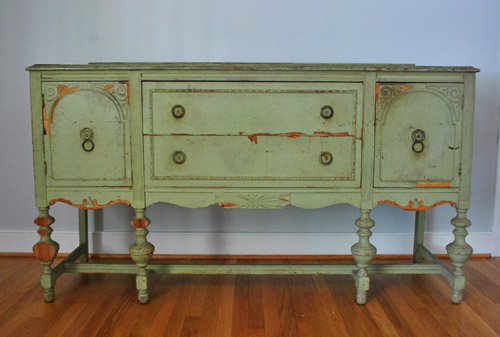 Once I saw it in the dining room I realized it was totally worth the price and those three long sets of stairs that John and I dragged it down. Doesn't it look awesome with the green tones in the dining room curtains? This is the view from the kitchen peninsula. Can't wait to add lamps and stacks of books and art behind it. Wahooo.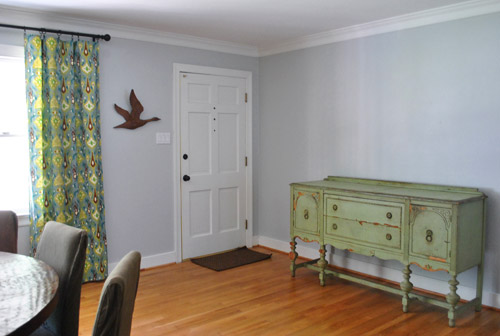 It's pretty much my favorite thing in the whole house. There's so much storage space and I love those curved baluster legs of hers. And every time I get a little pang about spending $155 for it, I just remember that we only paid $20 for Clara's dresser that we refinished back in 2010…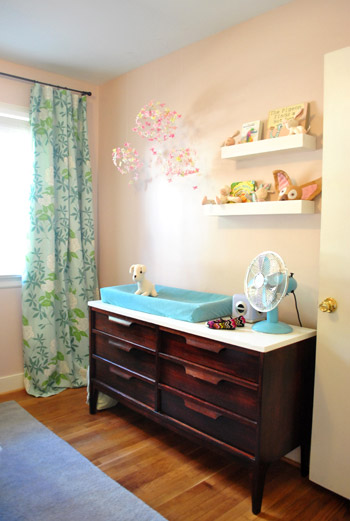 …which we've now seen selling for $200+ every single time it pops up locally. So I guess scoring one big six drawer dresser and one giant leggy sideboard for $175 total brings the average price per piece down to $87. I can totally live with that. That's basically the price of a three drawer dresser made of laminate from Ikea. And we actually got the old wood dresser in our bedroom as a hand-me-down from John's parents (aka: free) so if you add that into the mix, we have three old wood pieces in our house for an average of $58 each.
So as much as we love clean and modern, we have to agree that an old piece in every room is beginning to sound like an awesome idea (we already have that old dresser in our bedroom along with an old chair & dresser in Clara's room and a pair of old secondhand chairs in our office). And I guess we shouldn't be surprised about the old furniture thing – I mean we like older homes packed with character, so it makes sense that an old piece of furniture with charm to spare is right up there with a box of Oreos and a Don't Be Tardy For The Wedding marathon. For me. John wants me to clarify that that's his idea of a nightmare.