Remember when we shared how shiny and polished our kitchen started to look after we finished grouting?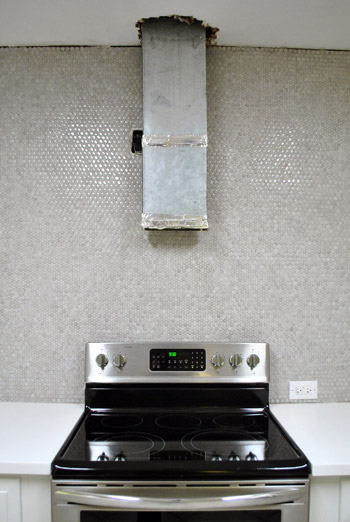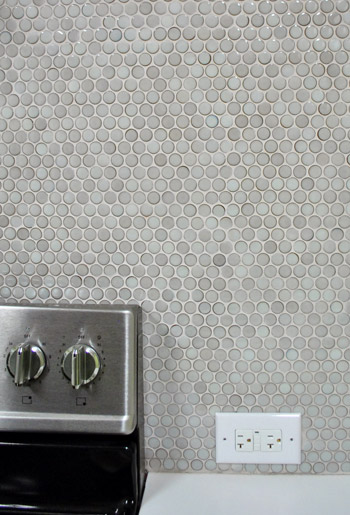 And then revealed the chaos that ensued a hot minute later?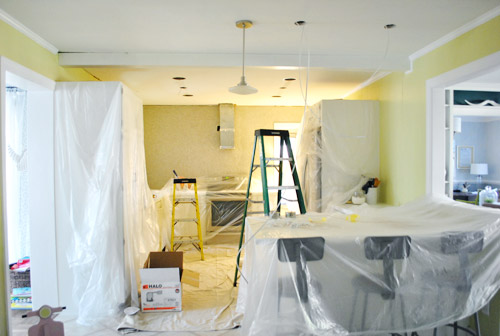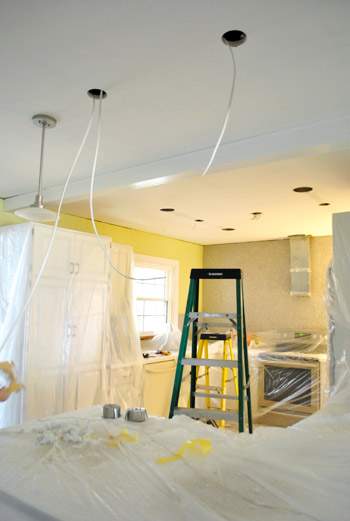 Well, the room is all put back together and we made a whole lotta lighting cha-cha-changes.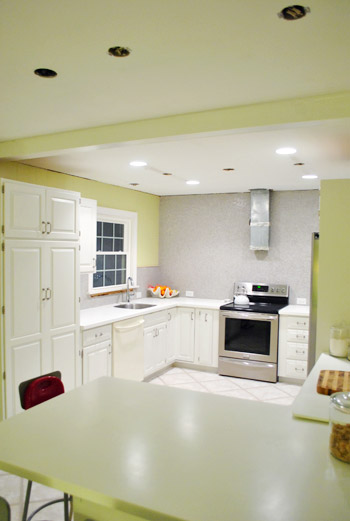 Sure our ceiling looks like swiss cheese. But it's all for a good cause. Inching towards a more luminescent kitchen.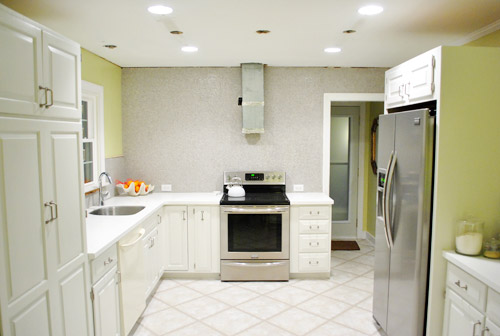 Everyone says that lighting can make the room, but I'm here to refute that. Just kidding, it totally makes the room. If you have a gorgeous space but it looks dark or yellowed or all angry and fluorescent, well, it kinda ruins the whole effect. So we knew something had to be done since even after getting new white counters and painting our cabinets it was still totally lacking in functional lighting. Specifically, the peninsula was really dark and the area near the sink kind of made me feel like I was standing under a bug zapper. And that never-used-in-13-months fan had to go. It sort of felt like a low flying helicopter monitoring dinner preparation. So down they came. And holes they did leave.
Oh but here's a money saving tip for ya: do as much pre-work for the electricians as possible since you pay them by the hour for their time. We always remove old fixtures (like the fan, the fluorescents, etc). After turning off the power to them of course (Captain Safety would have my head if I didn't mention that little detail…).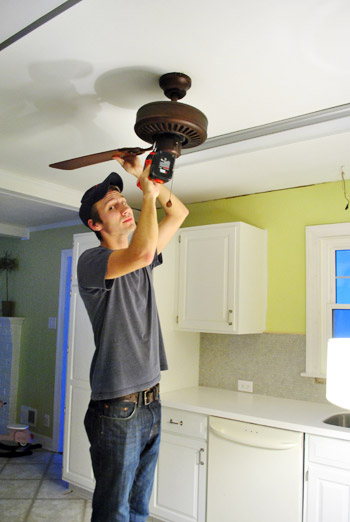 Even marking the ceiling for where you want things can end up taking an hour of discussion while the electrician is there (and when you pay them by the hour, you're paying them to watch you have that discussion), so hammering that out before they come is great. For example, John stood on a stool and held the glass lids to our cereal jars in the air to guess where we wanted the placement of the two pendant lights that will someday hang over the peninsula.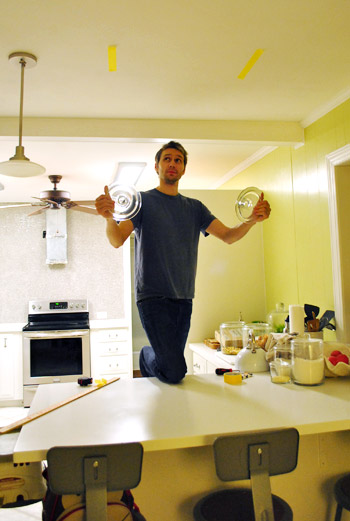 That weird little exercise helped us figure out where we wanted those fixture boxes pretty quickly. We didn't have to figure out the height of the pendants yet or anything, which is nice since we don't have them to hang yet (we'll install those on our own and make that decision later). So we just used small pieces of painters tape to make an X in the desired location.
Then it was my turn to dance on the dining table to make another mark up there.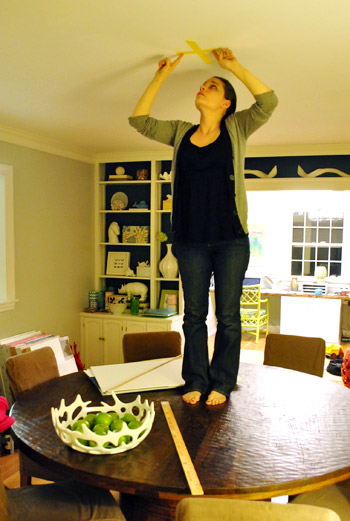 We actually have three rooms in our house without any overhead lights: the living room, the sunroom, and the dining room. And the only one we really use at night (without tons of lamps that happen to live on a super long console table and nearby desk) is the dining room. As in, dinners are pretty dark in there. Or we bring in mismatched floor lamps and it looks like a lighting convention. We have visions of a giant chandelier hanging over that big daddy table of ours someday. So you know what they say about "when in Rome…" – well, I have the same philosophy about squeezing as much work in when the electricians are already here working on a job (saves you the money/time of having them out again to work on a nearby room).
We had also chatted with the electricians the last time they were out and they said four can lights should do the trick on the cooking side of the kitchen, so we even marked their placement with little Xs drawn in the middle of more painters tape, just outside of the fluourescents on either side.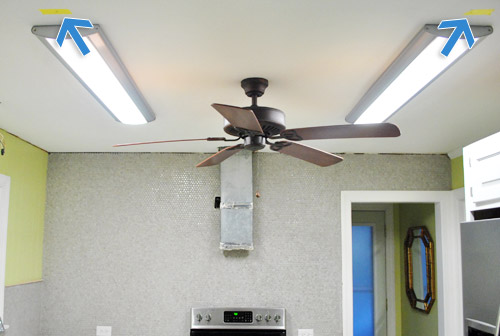 We also had them add an outlet on the counter to the right of the fridge (we have one next to the peninsula for laptops, but we thought an above-counter one would come in handy for plugging in mixers to make cookies on that side of the peninsula, etc)…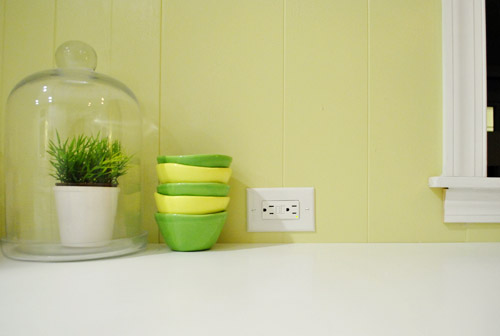 … and here are those four can lights they put in, in lieu of the previous two fluorescents that sandwiched the fan, which we had them ceremoniously kill (aka: they terminated the power to those poor guys).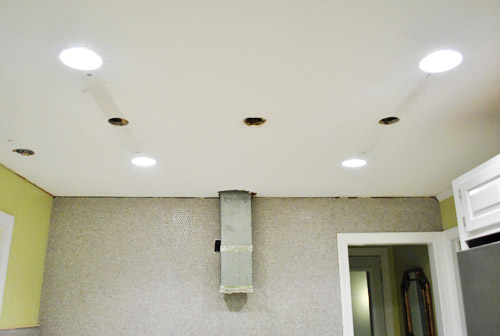 Oh and for any interested locals, we use S.J. Ryan Electric. Good guys, fair prices, all that good stuff (they don't even know we're bloggers, we just love to shout out people who do good work). We really like them because as an experienced two-man team they can knock out a lot of stuff in not too much time. For example, in 5 hours they:
Added four recessed lights
Terminated the two old fixture boxes that fed the fluorescents
Terminated the fan fixture box
Added an outlet above the counter next to the fridge
Added two fixture boxes over the peninsula
Terminated the fixture box for the poorly placed pendant a foot to the left of our new pendant fixture boxes
Added a fixture box above the table in our dining room (and a light switch for it)
Centered a fixture box over the sink (the previous over-sink-light was about 6 inches too far to the left)
Note: Ick, don't mind all the photos where the tile/paneling meet the ceiling that are still waiting for crown molding to go up. Soon we hope!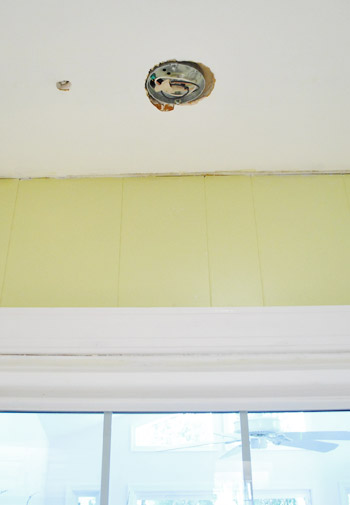 So at around $75 an hour for those two guys, it added up to $375 for all of that stuff (plus around $80 for the materials). Total room changer. Four recessed lights! Two new pendant spots! A centered fixture box for a nice pendant over the sink! A new outlet on a wall that had none! And a spot for a big ol' chandelier in the dining room! Plus they safely terminated all sorts of things we didn't need anymore!
Ack, please don't report me to the Exclamation Point Police for overuse. I just get excited about this stuff. I like sharing those prices because I think people generally think electrical work is more expensive than it is. And it certainly can get up there. But things like marking your placement and removing old fixtures beforehand can really speed things up along with hiring a two-man team. And having a ranch doesn't hurt since it's so easy for them to run around in the attic and wire stuff (we hear two story houses can be trickier since there's not exactly an attic above the first floor to creep around in with wires).
So that's the electrical bid-ness that went on. Things definitely have come a long way since the last time they came…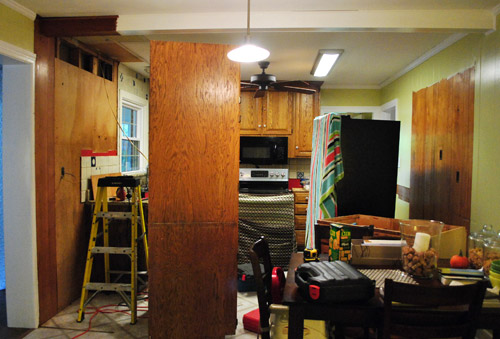 Now we just have some pendants to grab and some holes to fill- and you know we'll share all the details as we inch along. Update: we found pendants and have hood info to share! Tomorrow morning for sure!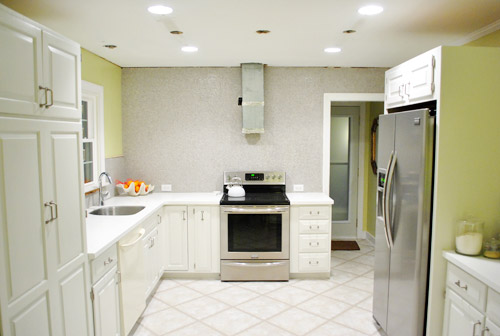 What did you guys do this weekend? We got a giant box delivered by FedEx on Saturday and it was our final book manuscript. All 375 pages of it (it's one-sided and double spaced, which explains why it's waaay longer than the book will be, even after we add tons of pics and illustrations).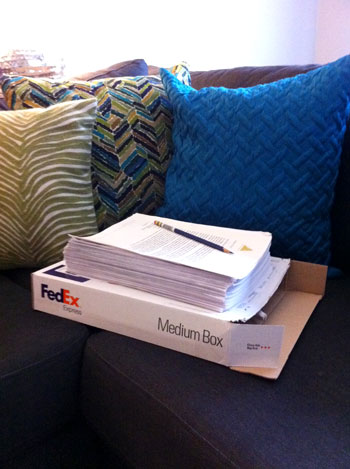 Ahhhhhh! Sitting on the sofa with that hunk o' paper was more than a little surreal.
Psst- This is one of those things that just makes your heart swell up into your throat. One of the five finalists for the Ikea Life Improvement Project was a reader of ours named Melissa Matthews who found out about it back when we randomly mentioned it during an Ikea giveaway, and entered… never thinking she'd end up in the finals (we were so excited to get an elated email from her all about it)! Well, guess what? She won, guys! She wrote an amazing makes-you-cry email to tell us all about it. As the mother of a child with Down syndrome, Melissa is planning to expand the work being done at the Frankie Lemmon School in Raleigh, NC, a school for children with intellectual disabilities. They use technology and cutting-edge therapy to help these children with special needs and Melissa plans to use the new resources and her teaching background to infuse more technology deeper into these classrooms and to create a website to share these methods with other teachers across the country. We're just so happy for her!