***This giveaway is no longer accepting entries – see who won below!***
Random.org has selected the two random folks who are about to get $100 to IKEA. And they are… Jennifer (who improves lives by teaching and will also be adopting a child from Ethiopia) and Ashley (who says needs some improvement for herself). Congrats!
If you take one thing away from this post, it should be this: two people are winning $100 gift cards to IKEA this week. Woot! But if you have room for a second thing, know that it's because Ikea is hosting their second annual Life Improvement Project that, among other things (like hilariously helpful "instructions" for living a better life) includes another $100,000 Life Improvement Sabbatical Contest. So if you've got a great idea about how to help others, IKEA will give you one year and one hundred grand to make it happen. Last year's winner (whose video can be seen here) was actually from right here in Virginia. Double woot!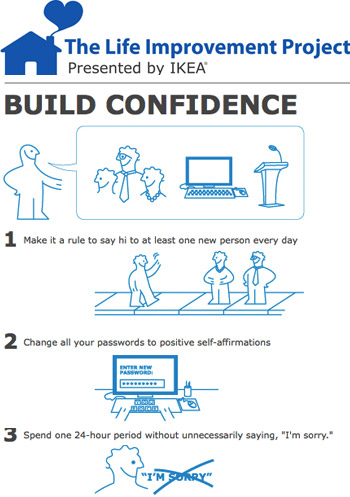 PRIZE: An $100 gift card to IKEA, courtesy of the IKEA Life Improvement Project
TO ENTER: Comment on this post with the words "IMPROVE ME!" and tell us…
BONUS QUESTION: …how you'd like to improve the lives of others. Do you have a special skill or talent that you could leverage? Or is there a specific cause or area of need that you'd like to dedicate yourself too?
GIVEAWAY CLOSES: Wednesday, October 12 at 8pm EST (or at 10,000 entries)
NUMBER OF WINNERS: Two
PRIZE SHIPS: The continental 48 United States (although we do try to wrangle as many international giveaways as possible)
USUAL STUFF: One entry per e-mail address is permitted. The winners will be selected using random.org and announced on Thursday as an update to this post. That's right, come right back here on Thursday for the announcement of our winner. Good luck…
Note: We weren't paid or perked for hosting this giveaway, we just do 'em to thank you awesome folks for stopping in. See our Giveaway FAQ page for more info. Pics courtesy of IKEA Life Improvement Project