Updated 2018, Originally Posted 2009
We actually get a lot of edging, cutting in, and trim-painting questions so we figured we'd share our secret… this short-handled, angled, 2-inch angled brush made by Wooster. With this brush and a little practice, you'll be painting straight lines without painter's tape in no time!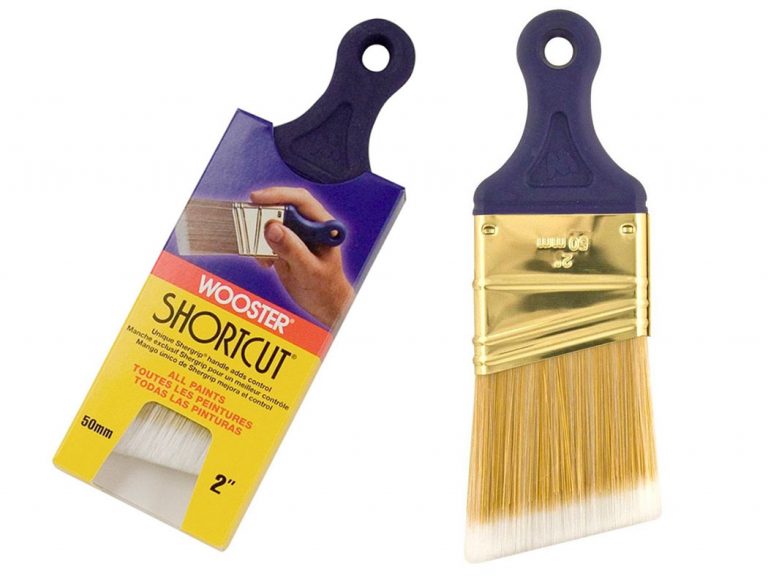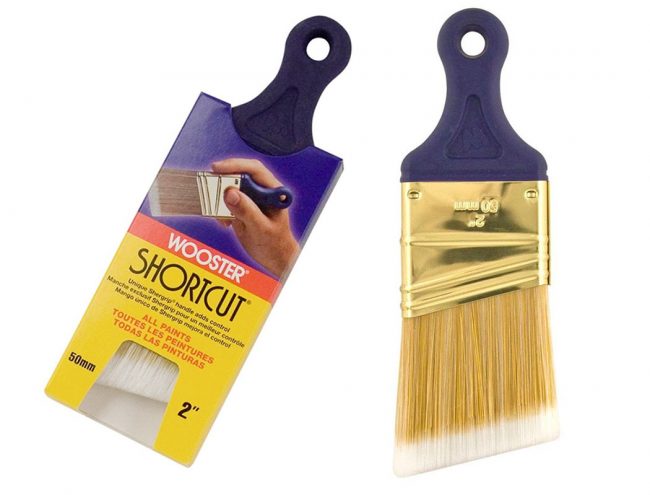 Best Cutting In Brush Buying Options
These days you can find these short-handled, angled brushes just about anywhere. The Wooster brush is our usual go-to (you'll find 2 or 3 of them around our house at any time) but lots of stores sell them these days! Whatever the brand, it's the 2-inch handle and angled bristles that make them the best paint brushes for a professional paint job.
– Wooster Shortcut ($6, available at Home Depot)
– Valspar Wall & Trim Brush ($7, available Lowe's)
– Purdy XL Cub Sash Brush ($12, available at Lowe's and Amazon)
Why An Angled Sash Brush Is The Perfect Cutting In Tool
The short handle on these types of brushes (sometimes called a "sash brush") makes it easy to grip – almost like a big pencil! – and that makes it worlds easier to stay in the lines, whether you're edging around door or window trim, or trying to cut in around a ceiling. And the angled tip keeps your paint from globbing up into drippy puddles as you drag your brush along your edge.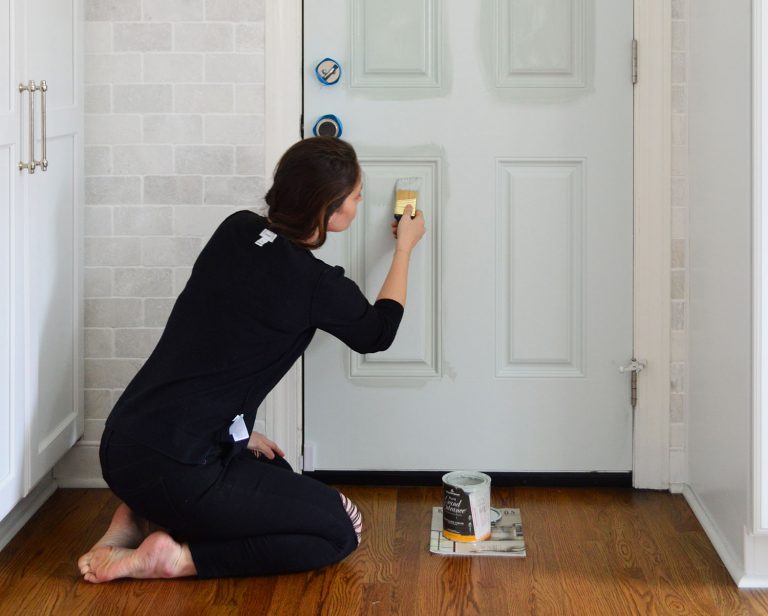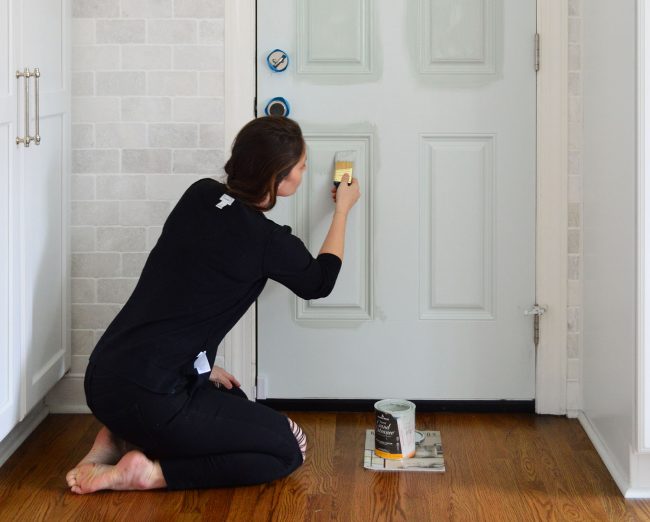 All this means you can paint any room like a pro without having to bust out the painter's tape (which is a time consuming and not-always-successful process anyway). We actually love the easy control of the short-handled brush that we use it for almost any painting project: even painting the trim itself!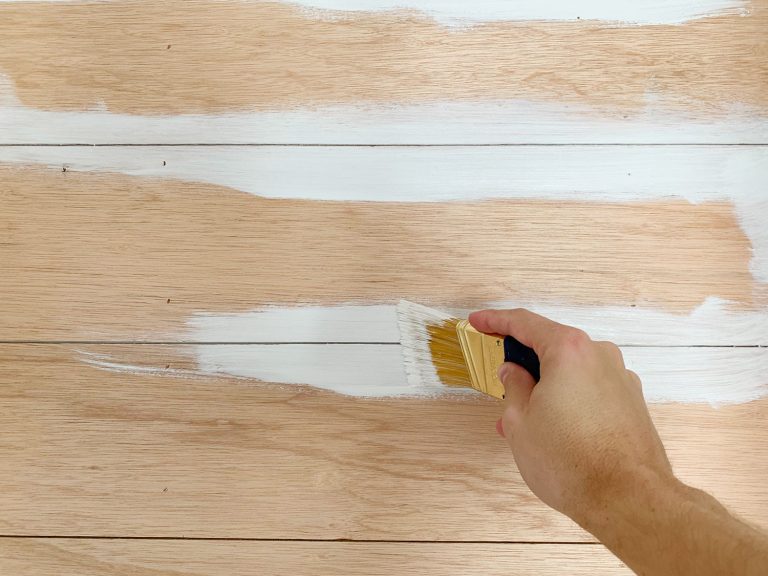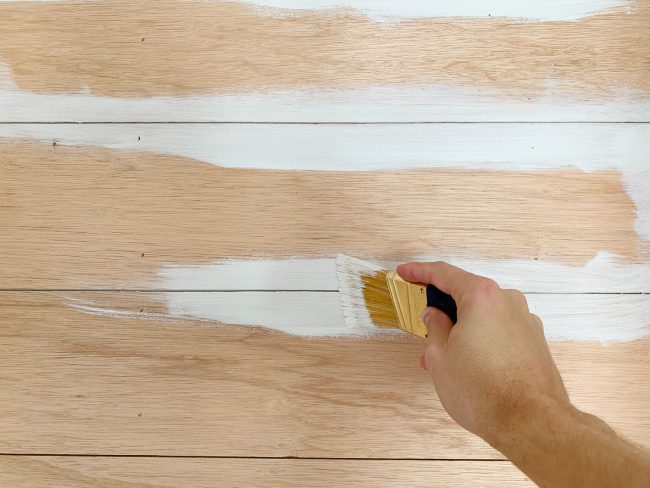 How To Edge A Room With A Short Angled Brush
And if you want to see the brush in action, here's how Sherry used it to get a clean edge in our guest bedroom – both on horizontal edges (like a baseboard) and vertical edges (like a door frame). You can watch the video below or see it here on YouTube.
The Big Mistake To Avoid When Cutting In
The main thing that can wrong when using this type of brush is to put too much paint on your paintbrush. That will lead to globs, drips, or a build-up of paint as you drag your brush along your edge. That's why we always like to wipe the excess paint off in the can AND brush a little extra off elsewhere on the wall or trim before pressing our brush to our edge. This helps make sure you have the right amount of paint on your brush when you begin cutting in. It make mean you don't get full coverage in one coat, but that's better than having lots of drips or globs.
Storing Your Paint Brush
The polyester bristles on these brushes are easy to clean with water, but you'll probably find yourself wanting to keep it fresh between coats. Luckily these short little brushes fit nicely in a snack-sized Ziploc bag. The tight seal keeps your brush from drying out – even days at a time!
More Painting Resources & How-Tos
If you're looking for more help getting your painting project off the ground, here are a few other posts you might find helpful:
*** This post contains affiliate links***