***This giveaway is now closed – see who won below!***
Okay, mobsters – here are this week's two lucky (and randomly-selected) winners: Charly W (whose most recent local purchase was Vermont maple syrup from the Woodstock Farmers Market) and Megan C. Congrats!
Lovers of local, connoisseurs of craftsman, and followers of all things fun, get ready to do some serious browsing. Scoutmob is a lot of things (flash deals, events calendar, online flea market…) but through it all there's a charming emphasis on local. This week they're inviting two of you to spend $200 in their Shoppe, a curated collection of independent artisans and makers who often weave hometown pride into their work. There's tons of cheery, clever, and skillful stuff to discover, and you can browse by category or even by city. You know, if you wanna see just what your neighbors are making these days.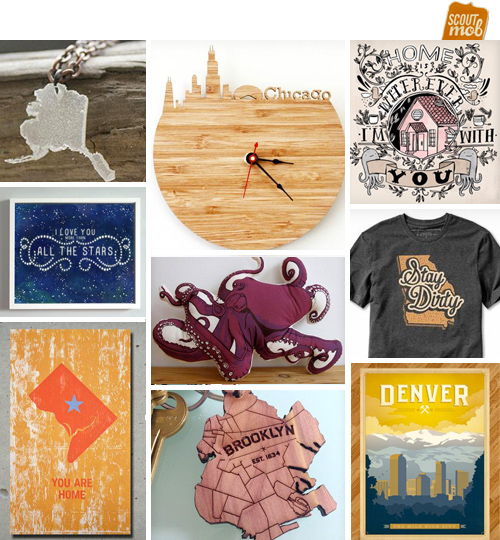 PRIZE: A $200 gift card to Scoutmob's Shoppe
TO ENTER: Comment on this post with the words "MOB ME" and tell us…
BONUS QUESTION: … what's something you've purchased locally lately that you love? Did you chow down on an awesome cupcake at a bakery down the street? Did you pick up some cool art at a recent craft fair? Or maybe you supported your local Girl Scouts by picking up a box of Samoas… or two…
NUMBER OF WINNERS: Two
PRIZE SHIPS: We always beg every vendor to ship internationally but some companies are not legally able to vend things beyond specific areas (more on that here). This giveaway is open to the United States.
USUAL STUFF: One entry per e-mail address is permitted. The winners will be selected using random.org and announced on Thursday as an update to this post. That's right, come right back here on Thursday for the announcement of our winners. Good luck…
***COMMENT ISSUES? If you're trying to enter but keep getting a "duplicate comment" warning, click here to see how to solve it!
Note: We aren't paid or perked for hosting these giveaways, we just do 'em to thank you awesome folks for stopping in. See our Giveaway FAQ page for more info. Pics courtesy of Scoutmob.