Big news, guys! We finished our makeover at the Children's Hospital, and we can't wait to share all the photos – hopefully on Monday! So today we thought we'd Friday things up with one giant gift guide for everyone who has been asking for it (last year we shared our picks for lads, ladies, and kiddos across three different posts, but this time we thought we'd just smash them all into one big gifty rundown). And in the interest of thriftiness, there are lots of under-$15 things along with a ton of $30-or-less finds.
Here are a bunch of things that we're digging for kiddos – along with a few baby items now that we have one on the way.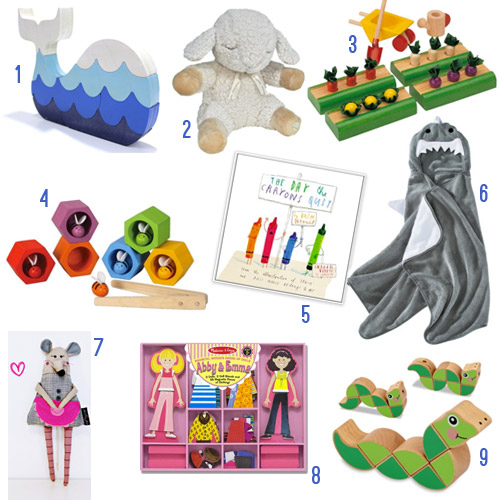 1. I love cruising around on Etsy (shopping there makes me more confident that it's not something one of our nieces or nephews might already have) – like this $25 whale puzzle that's homemade and super charming.
2. This harkens back to Clara's baby days, but a relative got us this sleep sheep as a gift, and it was so convenient to snap to her carry-along car seat for keeping her snoozing when we popped into restaurants or other people's homes.
3. Clara would go nuts for this awesome $15 wooden vegetable garden for her dollhouse. She loves little interactive items like this, where you can actually "plant" things like carrots and then pull them out to harvest them.
4. This $23 eco friendly beehive toy is another one that we're tempted to grab for Clara (kids can work on their fine motor skills while they pinch each bee and place them into the honeycombs). And you know we like bees…
5. This $9 book never fails to make us laugh when we read it (crayons have feelings too!).
6. Clara and pretty much every kid she knows are into sharks, so I think they'd get a kick out of this shark bath towel.
7. This $35 mouse doll is handmade and crazy cute. Is it weird that I want one?
8. Clara got this $15 magnetic dress-up set as a gift from her cousin Elsa for her birthday and is IN LOVE with it. They're little wooden dolls with magnetic clothes that you can easily change (sort of like paper dolls, but with magnets instead of tabs).
9. This $7 wiggling worm toy looks cute for a certain bun on the way, but I can't tell if it's too early to get him a Christmas present? Someone say "no way!" so I can click "add to cart."
***********************************
Here are some things I thought would be fun for moms, sisters, friends, or any other ladies out there.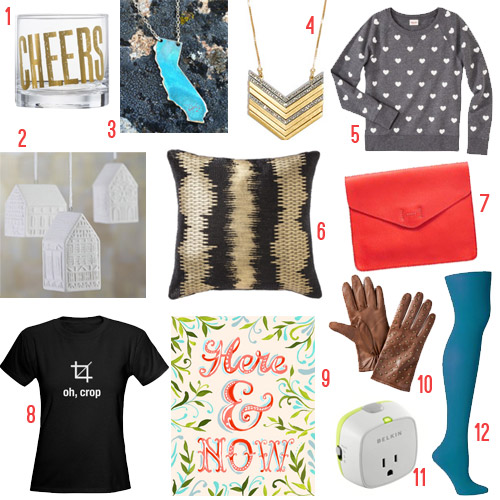 1. These festive cheers glasses would be sweet filled with anything from candy to a bag of hot cocoa mix – and a few of them with a bottle of wine would work too.
2. Ceramic house ornaments. I love them. In fact I wouldn't be mad at Santa if these guys showed up in my stocking this year – especially since they're on clearance.
3. I love poking around on Etsy for my sisters-in-law or my best friends, and this little customized necklace (she'll make any state or animal) is pretty amazing indeed.
4. This clean-lined necklace is on my wink-at-John-and-send-him-the-link list this year. I love the long-ish chain and the mixed metals.
5. This little heart sweatshirt is on sale for $15, and I think everyone from my niece to my mom could rock it.
6. A gleamed out little pillow (on clearance for $17) could fit the bill for your home-loving (or Nate-Berkus-loving) friend.
7. I love a little colorful clutch like this for corralling everything from makeup to other odds and ends in my purse that would otherwise be floating around and falling out.
8. Photoshop humor wins every time. I'd totally buy one of these crop-tastic shirts for myself and one for my art director friend.
9. I'm a huge fan of Katie Daisy's Etsy shop, and I think this $18 Here & Now print is one of the sweetest reminders to stay in the moment.
10. Brown leather studded gloves (under $30) are a chic little gift for someone who's into fashion or warm hands.
11. This is my favorite tech gadget that I've seen in a while, and it's only $9. It plugs into your outlet and cuts the power to any charger/device/appliance that's connected to it at a certain interval (ex: after two hours, when it's fully charged). So the laptops and phones will get juiced up, but won't keep sucking power from those outlets all night long once they're full.
12. These blue tights would be such a fun stocking stuffer (pun intended) – and they're on sale for $8.50.
***********************************
Last but certainly not least, John got in on the fun and put together this "Dude Guide O' Gifts" – so I'm handing him the mic for the last third of this post: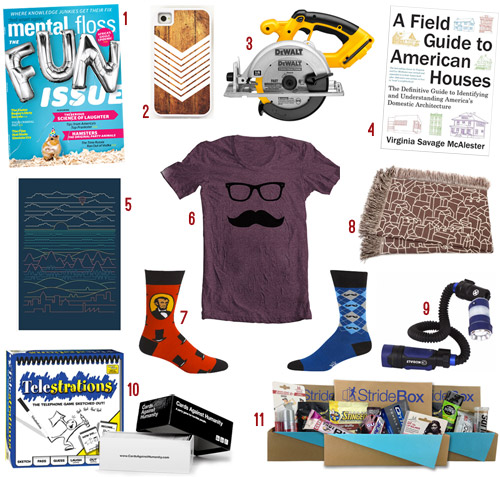 1. I'm two issues into a $24 Mental Floss subscription that I got for my birthday this year and I'm already hooked. Any trivia geek or factoid cowboy will have a field day with this magazine.
2. Since I'm not fancy enough to give someone an actual phone (or ask for one either), a new case is a nice middle ground. This wood-ish iPhone case on ScoutMob is marked down to just $16.
3. I've kinda been jonesing for a cordless circular saw. A friend let me use theirs recently and I loved not messing with extension cords. But maybe that's just the saw addict in me talking.
4. Our showhouse builder loaned us his old ear-marked copy of this book and it sucked us right in.
5. Threadless has tons of cool stuff, and I love that you can get it on shirts, hoodies, mugs, or the ol' classic poster. This cool-ly colorful Linear Landscape print starts at just $8.
6. Thick glasses + mustache + Etsy shop = congratulations, you're now the owner of the ultimate hipster shirt.
7. Not to go all Rob Kardashian on you, but I think we can all stand to own some not-so-serious socks.
8. This $19 "Old Town" throw is a good guy-friendly blanket for sending some warm wishes. The brown is pretty neutral, but the geometric city print is a nice upgrade from the generic.
9. Our garage is currently lacking in the light department, so every time I see the sign for this $20 work light at Lowe's, I realize it'd be a great gift – especially for the tool guy in your life. You can always use more light. And clamps. Someone put that on a t-shirt or something.
10. In preparation for my annual "watch less TV" resolution, I love the idea of stocking up on family friendly games like this Telestrations one that I keep hearing so much about. And if you're feeling less than-family-friendly, we hear that Cards Against Humanity can be pretty fun too.
11. Subscription boxes are the gifts that keep on giving. I have my eye on StrideBox, which comes stocked with goodies for runners. But there's also one for bike enthusiasts and a bunch of others on this review site.
Did you guys see any favorites among the mood boards above? Do you have any especially tricky-to-shop-for relatives? And are you breaking out all the saved-from-last-year gift bags and ribbons to get everything wrapped up? You know Sherry is.
Update: You can check out all of our favorite holiday decor finds here – many of which are under $15!
*This post contains affiliate links*