If this magazine cover looks familiar, then you've probably already noticed that the second appearance of our "He Said, She Said" column in Do It Yourself Magazine is out on newsstands.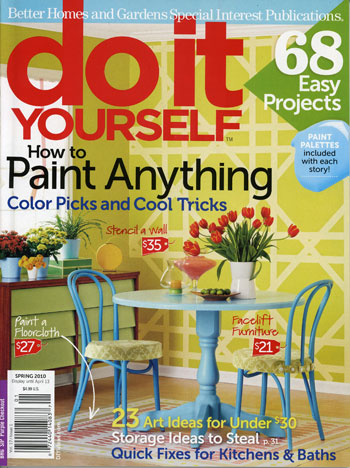 Seeing it again was no less exciting than the first time we tackled decorating disputes from both sides of the gender line, especially since we got to cover even more reader questions (hooray for two-page spreads!). Plus we got the help of a professional illustrator to bring one of our floor plan suggestions to life. It felt like what we imagine providing descriptions to a police sketch artist must be like – though much less "make his eyes more sinister" and more "let's make the coffee table slightly larger." Catch a peek at it below (just click each image to enlarge it) or hit up your local Barnes & Noble or home improvement store (yup, they sell magazines) to see the whole she-bang.
Plus, if you want your guy vs. girl dilemma answered in the next issue – submit your question as a comment right here on this post for a chance to be picked by our editor for our next column (linking to a "before" pic on a site like flickr is welcome but not required). Heck, your space might even be the room we get to go all pro-illustration on again. Fun, fun, fun.