Remember when I admitted that I was glad this was over? I'm even more glad that the following project has come to an end. Let's just say standing on a stepladder leaning back and up to paint three sides of five beams plus crown molding and quarter round around a mammoth 25 x 15′ room isn't exactly a picnic according to this girl. I'd point to myself with my thumbs as I said that but I'm too sore. That's right, my thumbs are sore. Along with my neck, back, chin (yes, chin) and various other body parts (calves, glutes, even my obliques for some odd reason). So to those of you who guessed that beam painting might burn more calories than rolling (see this post) I can assure you that it's moderately to severely more uncomfortable, so I'm betting there were some calories that were burned (along with some muscles that were pulled and a few chins that were strained- all of which were mine).
But it's worth it. Oh so worth it! The beams went from a reddish tone that we tried to love, but just couldn't (to us they just looked like they stuck out like a sore thumb)…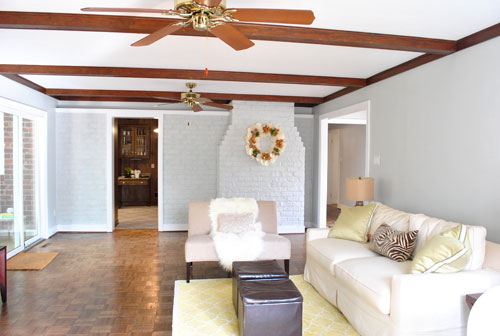 … to a warm rustic gray tone with enough of the brown wood color still peeking through.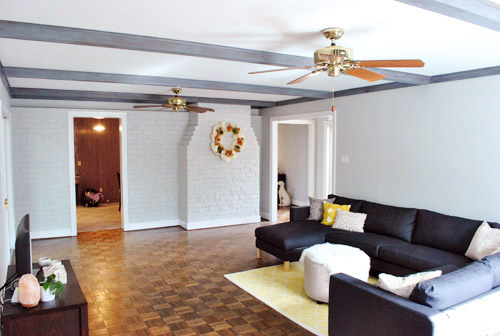 We definitely still have to deal with the ceiling and those fans among a few other things, so this is just the beginning of the top 5% of the room's transformation. We have no idea what color we'll paint the ceiling but we'll share all the details when we reach a final decision. Promise.
And the soft gray color washed over the beams seems to be a really good start when it comes to making the living room feel more like us. We think it's kinda charming and dramatic without feeling nearly as heavy as the old dark reddy-brown beams felt. See how the thin wash of paint sort of diffused those sharp red undertones?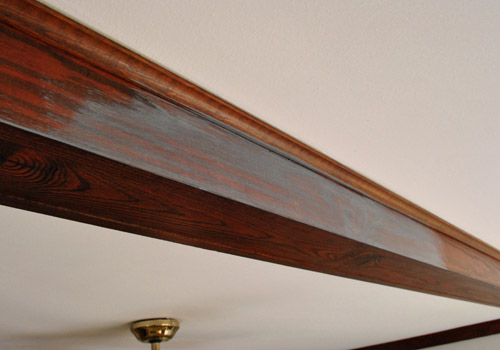 Here's another detail shot of the beams more thoroughly painted so you can appreciate the dimension and the wood grain that shows through: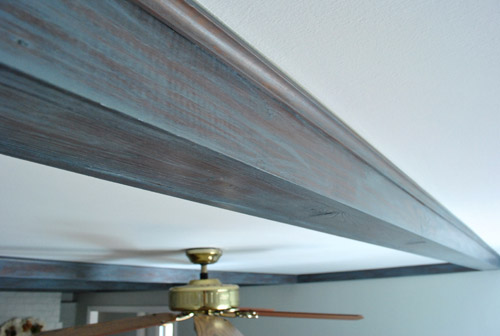 Ah, victory. It doesn't feel any less good, even when you're slowly shuffling around like an achey old grandma. I know some people love the look of untouched wood beams but they just weren't right for us. And as the light changes the freshly gray-ified beams go from soft and rustic to deeper and more dramatic. Which is definitely fun since the room seems to get a bit swankier and more moody as the sun sets. See how the beams look deeper later in the day? We love it.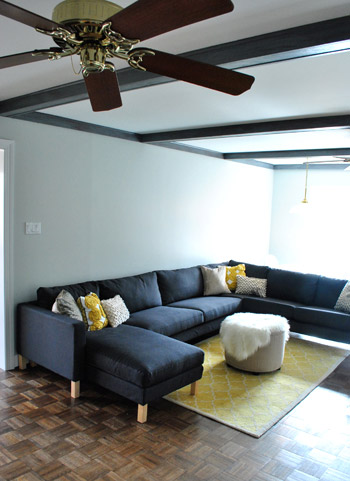 And for those who aren't quite convinced, just remember that the room is about 8% done. We have a too-small rug and media center, huge honking fans on either side of the room (centered over nothing) that will be coming down, giant naked windows and sliders crying out for some curtains, nothing on the walls at all, etc. Heck, just adding in a bright 8 x 10 rug (instead of our current 5 x 8 one) and hanging some bold floor length curtains panels high and wide on those windows and glass doors will make this space feel 500 times more finished (and help the beams fit right in with the other textures and saturated colors that we'll be adding in).
Can't forget art either. Right now the walls are bare, but along with a bold rug and some punchy curtain panels we really want to add in some large scale brightly colored art which will also keep the room from feeling like a cold gray box and balance out the boldness of the beams with a bit more going on (so they're not the only thing you see, they're layered and lovely among a room full of color, contrast, shapes, fabrics, etc). Of course you'll have to bear with us since this isn't HGTV, so we definitely can't snap our fingers and finish the room in 30 minutes. Instead you'll get to watch it slowly evolve one project at a time along with the rest of our house – in real-time, on a real budget. And we think the beams will fit right in with our vision for the space as we slowly add in more color, art, fabrics, etc.
But anyway, on to how I did it. Yes, that's the word I. John gets no credit for helping. Well except for Clara-sitting (and blog-sitting) while it all went down. Which was supremely helpful, but let's just say that his neck and back didn't revolt for three consecutive days like mine did. But again- it was so (so so so so) worth it. I walk into the room and smile now (we even catch Clara gazing up and grinning at our "new" beams). I might have even been smiling as I painted – although I think that face could probably best be described as a grimace. Hence this back-only progress shot.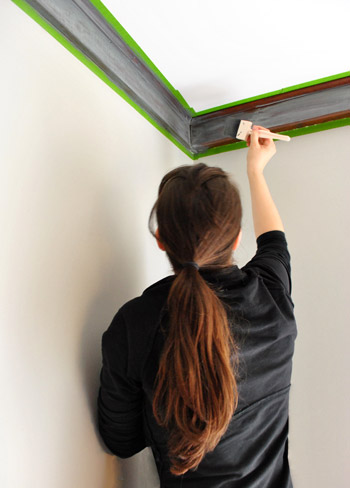 Yes that picture alone spurred me to get a haircut the very next day (the first one I got since Clara was born 9 months ago). Insanity. Just a $14 trim at Haircuttery though. Nothing too crazy.
But on with the beam painting project. I'd actually use the term "painting" very loosely when it comes to this process. What I did to the beams could best be described as a combination between whitewashing graywashing, sponging, and drybrushing. But let's start at the beginning. First we taped a few different swatch cards up on the beams and picked the three gray tones we liked best (which ended up being the last three swatches on the middle card from Benjamin Moore: Shaker Gray 1594, Rocky Coast 1595, and Nightfall 1596).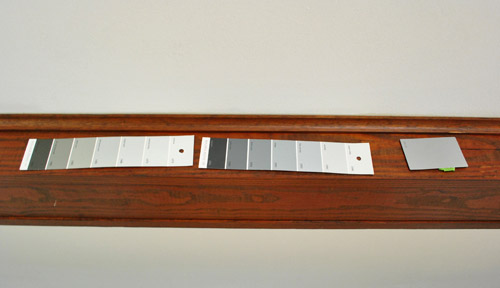 Then we went to Lowe's and had them color match those three colors (they had them in the computer so they didn't even have to scan our swatch card) to three small test pots of satin Olympic Premium No-VOC paint. We returned home with those three test pots and did a series of applications on the beams to see what we liked best. We picked an out of the way back edge of a beam that you can only really see when you're standing in the corner (where the desk currently is) in the back corner of the room – just in case anything we didn't like stuck around. But luckily everything we did was easily wiped down after each test was conducted. Especially the first attempt. We tried watering down a drop of paint on a ceramic plate and applying it with a foam brush.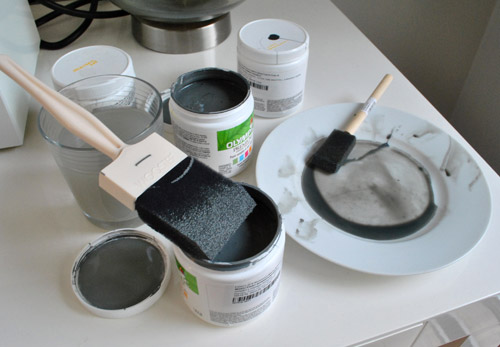 That was a disaster. Ok, disaster is probably a bit too dramatic, but it was so watery it ran right off the beam I was test painting and onto the floor. It was gross and drippy and just not working. Then I tried using a dry foam brush to lightly brush on some paint directly from the tester. No watering down (or brush wetting) at all. As soon as I feathered it out, it started to look pretty cool. So we picked the test pot color that we liked best with the dry brush method (which happened to be the lightest of the grays that we brought home- Shaker Gray 1594 by Benjamin Moore) and used a wet rag to wipe down the other two test applications on the beam. Amazingly the unchosen paint applications came right off since they were so freshly applied and we left the winning one up there as a starting point. Here's what it looked like at that stage in the game: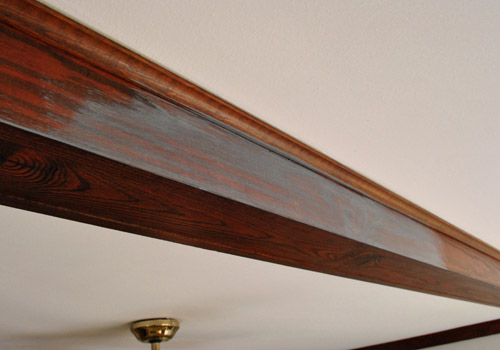 Next John helped me tape off the area around the beams and crown (since the 2″ foam brush wasn't nearly as easy to control as my usual short handled brush). Then it was as easy as as simple as as mindnumbingly repetitive as using the 2″ foam brush to softly dry brush the medium gray paint all over the bottom and sides of each beam, piece of trim, and piece of quarter round for an imperfect but soft and charming weathered gray wood effect. We went with only one coat (which was very thinly applied, I'd stretch the paint as long as possible, dragging the foam brush so it would spread it out for a nice thin and translucent effect). In fact, although the project took me three days to fully complete (parts of Friday, Saturday, and Sunday – mostly because I couldn't stay up on the stepladder for more than a few hours at a time since my neck got so cramped and my extended arm got so shaky) it probably only took about 6 hours total.
So sorry to sound so complainey- it was just an honest to goodness hard a$$ job. And you know we vowed to keep it real, so it just wouldn't make sense to say things like "it was as easy as pie" when it wasn't particularly difficult with regard to skill level, but a bit tough when it came to things like strength and endurance. Especially when you're height-challenged like my 5'2″ self. Hah.
Oh and here's a good demonstration of how much I stretched that paint. The entire project didn't even exhaust the small amount of paint that we originally picked up to use just as a tester. This is a pic of our Shaker Gray test paint pot when we were completely done painting the beams with it. And there's still about 10% left on the bottom! Who knew the paint used for this project would cost us just $2.80? Amazing.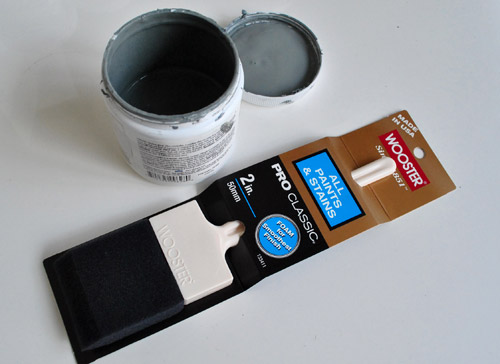 Oh and see the foam brush in the photo above? That's an extra one I grabbed just in case my first one got beat up (I'm pleased to report that it made it through) so I stuck the extra guy in the picture above for anyone wondering exactly what foam brush I used (it's from Lowe's btw).
Anyway, back to the paint job. We love how the paint grabs the knots in the wood so it looks stained instead of painted for a subtle diffused look: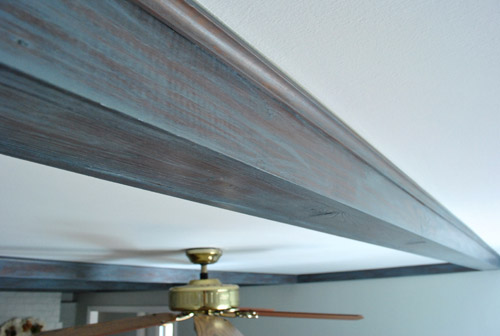 It's almost as if we turned down the red and upped the weathered gray tones for a soft aged effect that fits right in thanks to the deep charcoal sectional on the ground (which definitely does its part to balance out the dark beams). And again, once we bring in a larger rug and media cabinet, remove the fans, add some art, hang lots of textured and bold curtains, etc – this room should really start to come together and warm up (since it's pretty much a gray sandwich right now).
In the end, we both love that we took a risk and went waaaaay outside of our paint-it-white comfort zone and did something that looks weathered and stately and polished yet surprisingly soft. We definitely think it's a risk that'll pay off as the room starts to come together over the next few months. And we think it'll look even more finished once we figure out what color we'll add to the ceiling (a soft metallic champagne color? a light blue or green or yellow tone? wallpaper? more details on that as soon as we're 100% sure about our direction).
And now we'll end this beam-altering diatribe with a fun little journey back in time to this shot of the room as it looked when we moved in less than two months ago: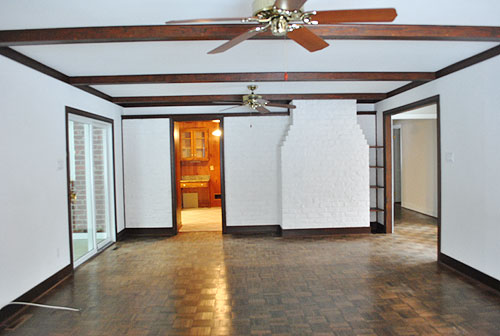 So crazy. You've come a long way baby living room. Can't wait to start in on a few more projects…