I just read in an old Health magazine (thanks to the waiting room at the dentist) that "rolling on a new coat of paint burns 204 calories an hour."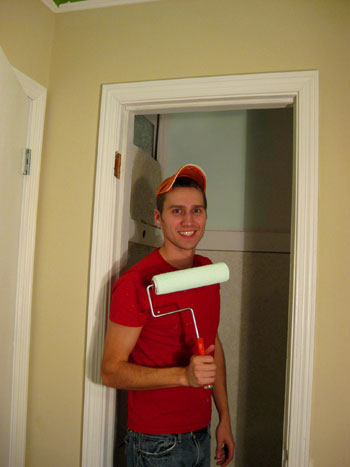 This may explain why my hubby (the designated roller – I'm usually the trim painter/cutter-inner) is tall and skinny even though he eats ice cream nearly every night while I sip tea. Because by Health magazine's math, a 3-4 hour paint job can burn 600-800 calories for him. That's a lot, right? I've never been a gym goer, but I have distinct memories of clinging to the treadmill on the highest incline at a pretty brisk pace and hoping desperately to get to 250 calories before hitting the showers (or the jacuzzi – I'm just not cut out for those machines). My experiences in the gym were few and far between – I went a few times when a friend who had a gym membership in college would take me with her for "fun") so I'm admittedly not a calorie/workout expert. And I'm sure cutting in is somehow a bit less of a full body workout than rolling (although when I'm up on my step ladder to paint the top of the room, my calves are always sore the next day). I know painting is hardly a Biggest Loser worthy workout. But I'll take it.
And speaking of painting, I'm doing it. I've started a project that can only be described as long. So it might be a few days before I have afters for ya. In the interest of not teasing you guys, I'll just spill what it is. It's the beams in the living room (see a brief mention of our plans for them here). I'm trying a few things (a graywashed look, a stain-ish look, a more opaque/matte look) and we'll see what we like and take it from there. Actually I'll probably take it from there while John Clara-sits and blog-sits. So that's what's on the agenda on this fine Friday morning (and afternoon, and evening, and all of Saturday, and all of Sunday).I'll probably be so skinny by the end of this that you won't even recognize me. Har har. Anyway here are some preliminary pics for ya. I'll explain more soon, you know, when I get a bit further along in the process: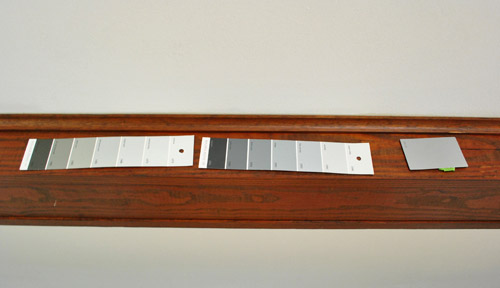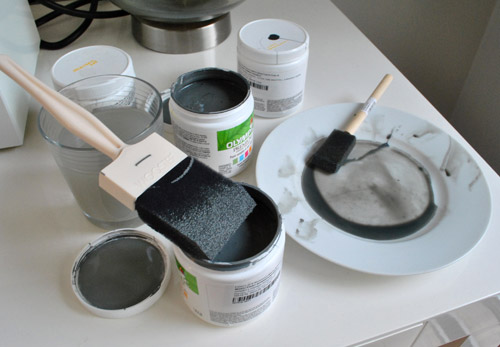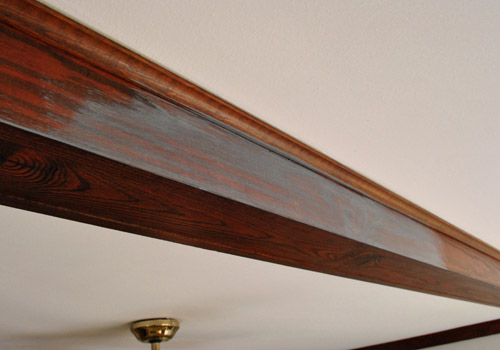 But since I'm probably not burning that many calories with the ol' paint brush, what about my other favorite job: demo. I wonder how may cals a good session with a sledgehammer or crowbar burns (obviously not done in flip flops- there was a shoe switcheroo before I helped demolished this medallian in our old backyard a few years back)?
I'm thinking it's a lot more than painting. Now that would be a gym class I would totally take every week: Sledghammer Aerobics. Who's in?