Remember that grid of eight Ribba frames above our sectional (that we got right the second time around)?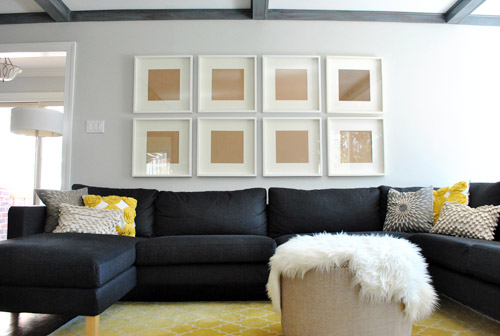 Well, we figured out some in-the-meantime "art" for them (so we don't have to stare at those brown squares every night). You know, until we come up with something better. And it only cost us five bucks. Okay, $5.17 if you're being picky. So worth it.
We're still not 100% sure what we want there in the long run, but we're leaning towards something graphic and colorful. And since the brown frame back is the opposite of that, we wanted to at least put something in there temporarily that wouldn't cost much or take any time to toss together. Enter one of our favorite solutions: 12 x 12″ craft paper from Michael's.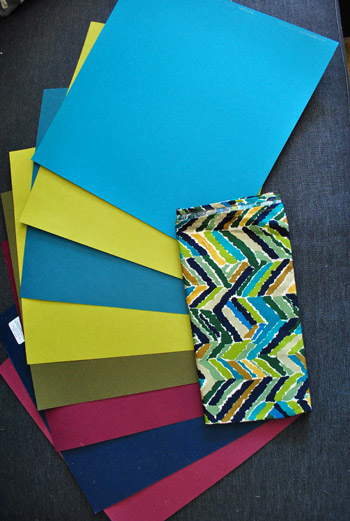 We picked out eight sheets that complement Sue (aka: our inspiration napkin). They were the perfect size to slip in our 12 x 12 Ribba frames and at about 60 cents a pop it was kind of a no-brainer.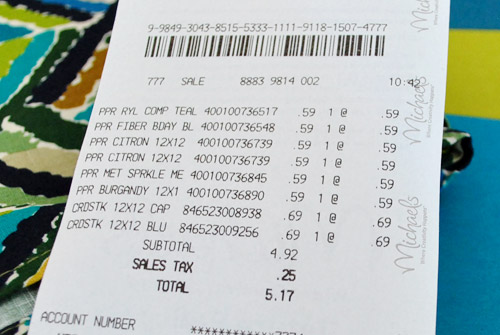 We tried a few different arrangements on the floor before putting anything in frames. Since we had picked a couple of duplicate colors, we wanted to keep them far enough away from one another, so we ended up with this grouping: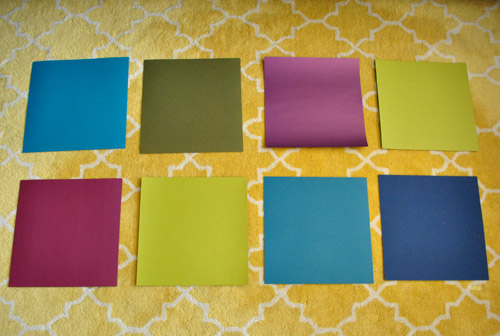 The frames definitely helped them feel less like sixty-cent craft paper and more like something worthy of being displayed behind glass (seriously, what can't you slap in a frame for a more polished look?). It definitely added that temporary injection of color we were looking for, and it was kind of reminiscent of the cool art that we saw – and loved – in this House Crashing adventure from back in the day (aka: a month ago).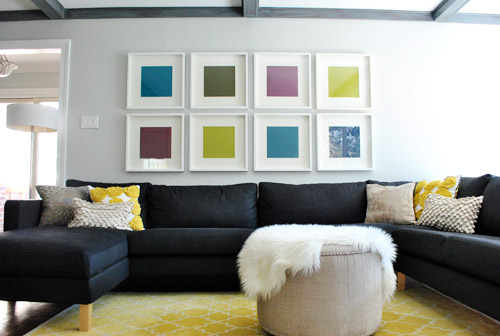 It's kind of like a simplified version of Sue the napkin now lives on our walls, eh?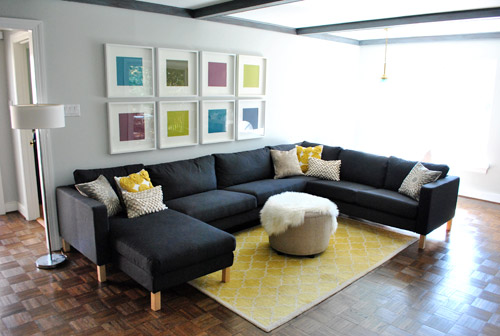 We've been living with them for the last 24 hours and might be in danger of falling in love with them as a not-so-temporary solution. Uh oh.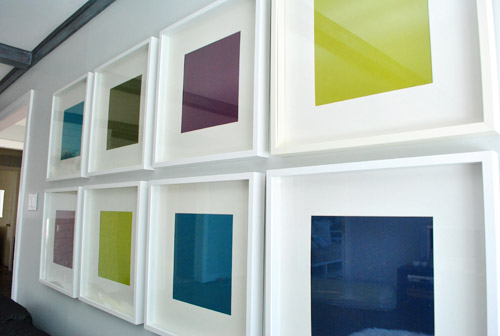 They just look so much nicer than the brown frame backs they covered. Actually, what we're thinking that we might do is try to build on the concept somehow, like adding some modern white doilies, stencils, or layering some other pattern in front of them so we still can enjoy the color scheme that "shows through" while creating something a little more graphic. Almost like a custom version of those Classical Symmetry prints from Crate & Barrel (this set of six retails for $369, btw).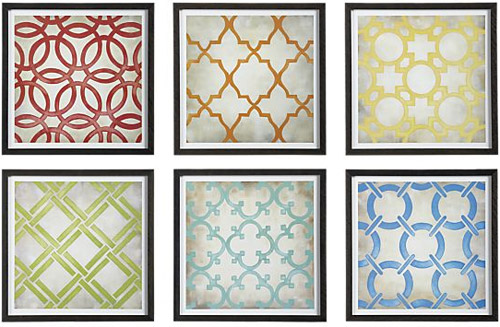 Or we might still consider doing the personal photo thing by using the colorful paper as large mats around small square black & white pictures. Sherry even mentioned sticking tiny fortune cookie fortunes in the center of each colored sheet of paper. So you have to get really close to read them. 'Til we decide on anything, we're kinda loving the cost-of-a-Subway-footlong solution for these eight frames. And of course we'll keep you posted when we finally get around to updating them for the long haul.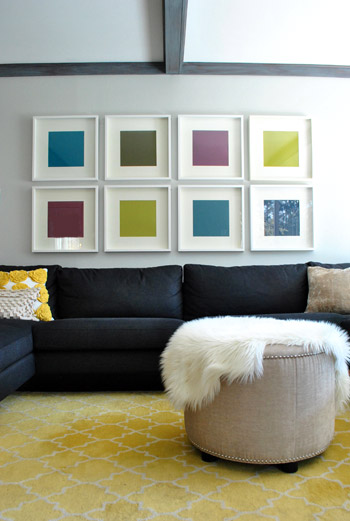 Do you guys have any colorful art that you're loving? Or affordable sets of images that you've spotted? Oh and how cool is this solution to empty Ribba frames that Krissy posted on our Facebook page? As Sherry says (way too much) "um yeah, love it."
Psst- We announced the winner of this week's giveaway. Click here to see if it's you.