Hi my name is Sherry Petersik, and I have a white ceramic animal problem. Well, this one's actually made of white resin. Guess which creature stole my heart this time? Here's a hint.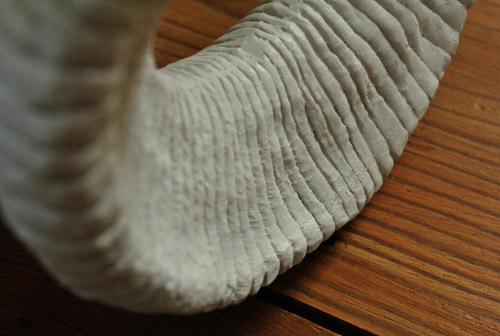 Now I'm just putting words here so you don't see the picture below before you venture a guess. Assuming you want to play along. Come on, what animal is it?
More words.
More words.
More words.
More words.
Ok, now I'll explain how it all went down. I couldn't resist requesting demanding that John drive me over to TJ Maxx after I received this email from a reader named Nina:
I thought of you guys when I saw this white resin ram's (?) head at the Broad Street TJ Maxx today. I took a quick pic in the TJX dressing room, which is attached. I bought one but there was still another one there as of an hour ago. It was $30. No other similar animals, but they did have some nice looking white faux coral. – Nina
Oh and this picture was attached: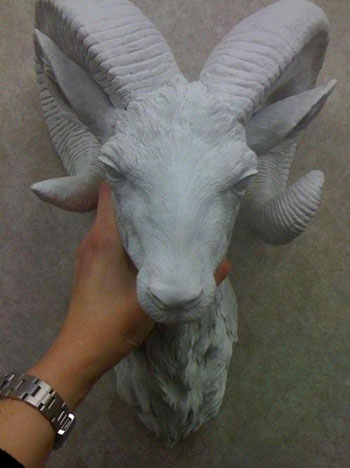 Let me tell you, it's totally dangerous to have shopping spies sending ceramic animal details your way. You guys know they're my kryptonite. Sometimes I can weakly walk away, but this time I just couldn't resist. We were at TJ Maxx less than five hours later (we made it in right before they closed up shop around 7:30). And miracle of all miracles, no one else had snatched up that remaining ram.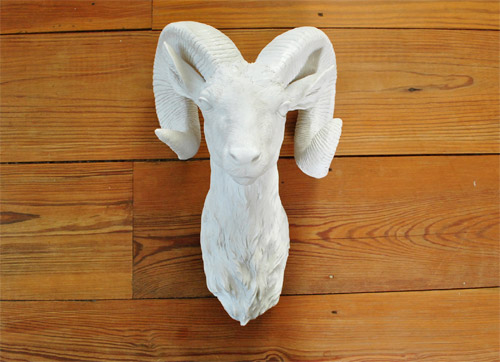 It's miiiiiiine. All miiiiiiiiine. I couldn't be more excited. I know it's weird, but I'm ok with weird. Actually, I love weird. Seriously, I ran out to the car with the biggest smile (Clara was sleeping so I popped in while John stayed in the car with her). Hubs knew I had "secured" Señior Ram from the moment I skipped out the door grinning like I won the lottery. And as for the price, I thought 30 bucks was great compared to this nearly identical ram from Williams Sonoma Home who rings in at a whopping $245! Holla. Oh and how funny is that picture of Rammo on the extra wide plank floors in our bedroom above? Doesn't it look like he's hanging on the wall of a cabin or something? Here's an angle that's a bit less wall-like: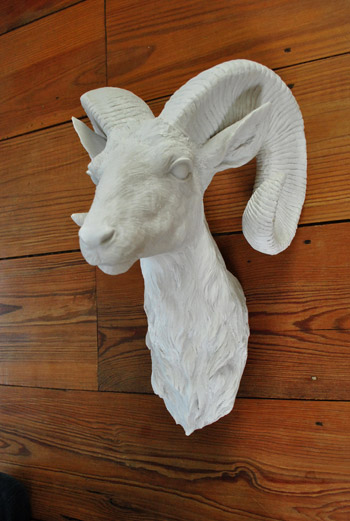 On second thought, that kinda looks like a wall too. How about this angle: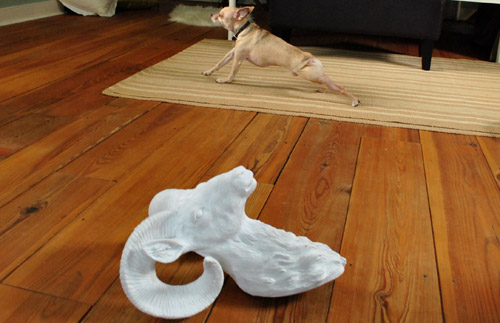 Yes, that's Burger stretching in the background. He moseyed out of bed, enjoyed a leisurely stretch, and then approached the newest member of the faux animal gang to check things out.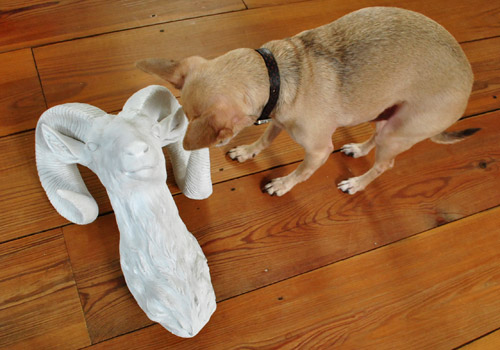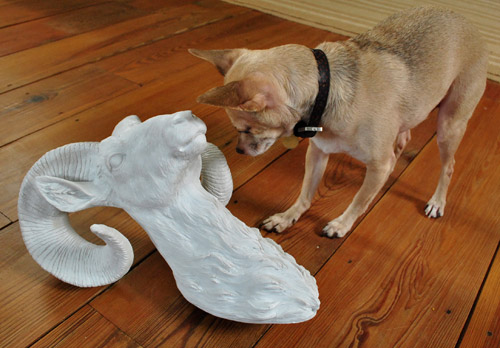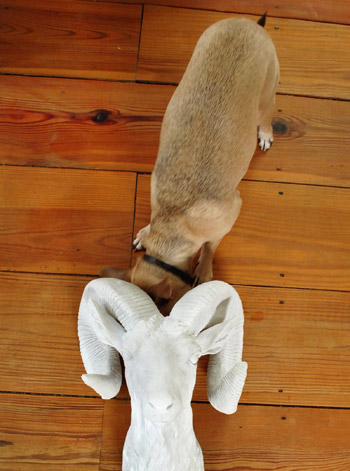 After some oddly placed sniffs Burger accepted Rammo as his long lost brother walked away to check under Clara's kitchen chair for scraps. Gotta love that warm chihuahua welcome. I wonder where Ramsy will end up living. Is it weird that I want him over our bed? He's not big enough to live there alone, but perhaps among a few other smaller white ceramic animal heads in a grouping somewhat similar to this from Ballard Designs?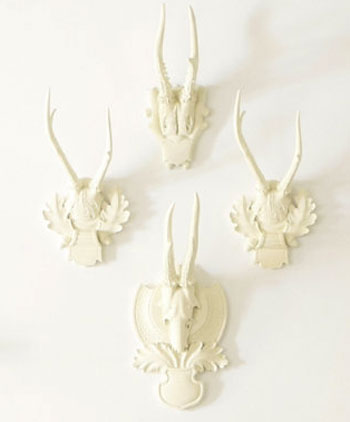 I know I'm strange, but you can't help who what you love. I'm fully aware that sleeping under a ceramic ram head might be your idea of h-e-double-hockey-sticks. But it's totally my idea of a good time.
Update: And now, due to popular demand. The photo of Burger stretching rotated 90 degrees so it looks like he's scaling the wall. Who doesn't enjoy a little zero gravity yoga?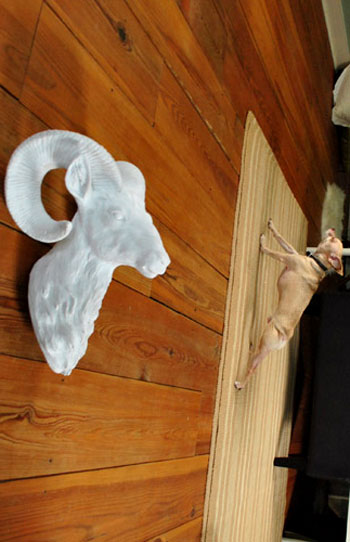 Psst- We announced this week's giveaway winners. Click here to see if you're one of them!