***This giveaway is no longer accepting entries***
We began getting into the Halloween spirit last week (and there's more where that came from) so we thought we'd use this week's freebie to give one lucky person to chance to add some serious spook to their space. And we're doing it thanks to two of our favorite collaborators: Skull-A-Day and Cardboard Safari.
Skull-A-Day is the brainchild of our good friend Noah Scalin. His yearlong project of creating skulls out of ordinary (pencils, rice) and not-so-ordinary (butterflies, vegemite) materials begat a Webby-award winning website, a book, art exhibits, an appearance on Martha Stewart and a whole bunch of other cool stuff. And now this local celeb is offering up two skull-tastic art prints for one lucky reader – the United Skull of America print (it's a skull made out of US states!) and an Ornamental Skull print (in all of its ornate glory) – which will both bring some eerie style to your home this month (and the other eleven if you're so inclined).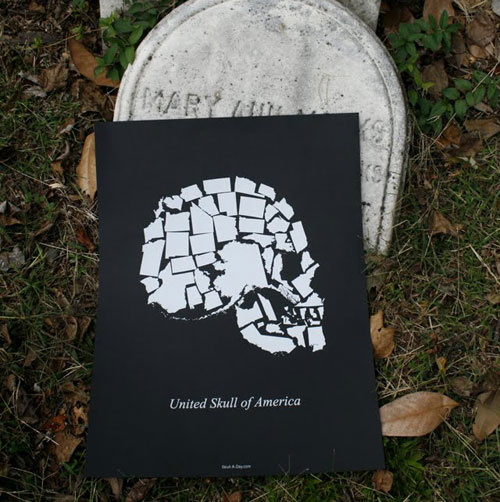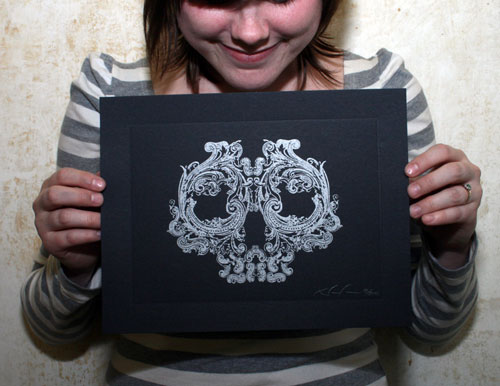 Plus, this week's winner will score two great pieces from Cardboard Safari, who you may remember from their rhino / rocket giveaway a few months ago. This time they're dishing out their Halloween designs – the spooky skull wreath and the tabletop puzzle skull (which was designed by Noah, btw). Both are made from recycled cardboard, in your choice of brown or white (which can also be painted any color you please).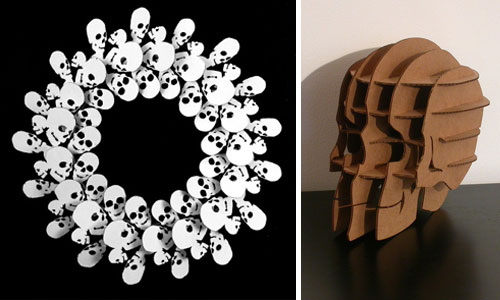 Wanna score this eerily entertaining gift pack? Here's how:
PRIZE: United Skull of America & Ornamental Skull prints from Skull-A-Day, Skull Wreath & Puzzle Skull from Cardboard Safari
TO ENTER: Comment on this post with the words "SKULL ME" and…
BONUS QUESTION: …tell us about your best / favorite / weirdest Halloween costume of all time. Links to pictures are encouraged. :)
GIVEAWAY CLOSES: Wednesday, October 14th at 8pm EST
PRIZE SHIPS: USA only
USUAL STUFF: One entry per e-mail address is permitted. The winner will be selected using random.org and announced on Thursday. Good luck!
Get more info on our freebies at our Giveaway FAQs page. Images courtesy of Cardboard Safari and Skull-A-Day.