When Teresa sent us her before and after chair makeover pics, we couldn't wait to share the goods. Here's her letter:
I just had to pass along the story of our $20 garage sale find. My husband hated the patterned Ikea curtains that I had hanging in our living room so I'm happy to share one of the panel's reincarnation. My husband and I refinished the chair by sanding it and using Kilz oil-based primer and a can of regular old white high gloss spray paint from Lowe's. We can't take credit for the reupholstering though, as we had that professionally done. But here she is in all her glory. This is definitely my new favorite nook. I unwind here after long days with my two year old and six month old. Sometimes with or without a glass of wine, but always with the latest book that I am currently reading. Hope you enjoy my special 'getaway' as much as I do. Cheers! -Teresa
Here's Teresa's chair before the big primer + paint + Ikea curtain makeover: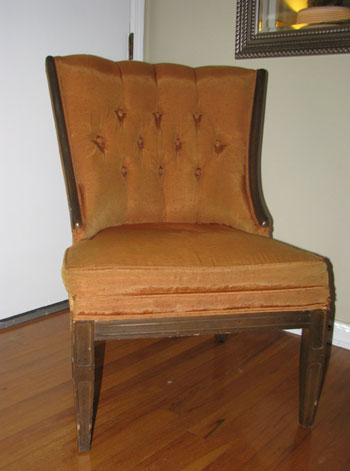 And here it is after being spruced up with some oil-based primer, some glossy spray paint and some fun patterned fabric stolen from the living room windows: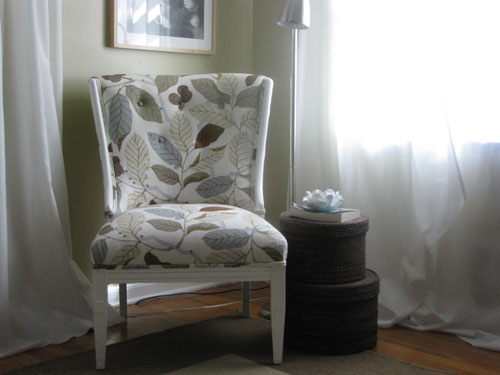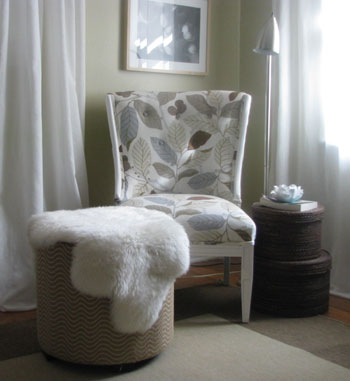 Don't you adore Teresa's creative use of the curtains that the hubby hated? We definitely love her new "getaway" chair as much as she does and we appreciate that she did all of the chair refinishing herself to save some money (while leaving the upholstering part to an expert since she recognized that it was above her skill level). Thanks so much for sending along those photos Teresa! Your "new" chair looks super cozy- and you definitely deserve some reading time after wrangling two young children all day.
So what do you guys think? Cozy? Inviting? Inventive? Who's a fan of Teresa's creative thrift store chair reinvention?