Just had to share the latest little addition to our desk. While browsing Real Simple magazine, I was struck by one of their "inspirational quotes"- so struck that I actually tore it out. Then I found an old frame leftover from John's college years in our "decor store" (a kitchen cabinet where we store lots of vases, frames, candles, and other home accents for easy rotation whenever the mood strikes- it's like shopping at home) and popped the magazine cut-out inside: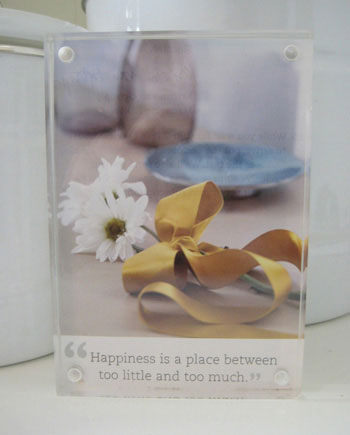 Isn't that a sweet little quote? I love the peaceful image and the simple sentiment so much. And now it'll serve as a daily reminder that life is good. We have a roof over our heads, food on the table, and (most importantly) each other. It's always nice to remember that we don't need an abundance of stuff to make us happy. You know what they say: mo money, mo problems. And best of all this little smile-inducing work of desk art was absolutely free. Further proof that money doesn't buy happiness.
UPDATE: Don't have any issues of Real Simple hanging around? You can download their free Daily Thought Wallpapers for your computer's desktop here. They've even got one for this "Happiness" quote that we love, but a heads up that the photo's different for some reason. Enjoy!