Q: My dilemma is closets! I have two very small closets in my bedroom and I can't seem to get a handle on keeping them organized and easy to use since they feel like they're stuffed within an inch of their life! I know you guys are great at living with less, simplifying, and organizing in general- so I thought maybe you could share some encouragement when it comes to paring things down and choosing what to keep? Deep down I know there's a lot of extra stuff that I don't need that's taking up some much needed space, but I have a hard time letting things go for fear that I'll want them again once they're gone. Any tips for scaling back and keeping only what I need so I can regain control of my closets again? – Leslie
A: Wouldn't you just love one of those boutique closets? I admit it, I totally have closet envy. I look at all those magazine spreads with celebrities who have a whole wall of shelves dedicated to bags and a spare 50 square feet for an ottoman in the middle of the room and I melt. And it's not because of the primo logos on their plethora of purses or the luxe labels on their bevy of ball gowns. I'm just a freak for organization, and the idea that all of their insanely abundant items have a distinct spot to sit (or hang) gets me all hot and bothered. So without further ado, let's get into it, shall we?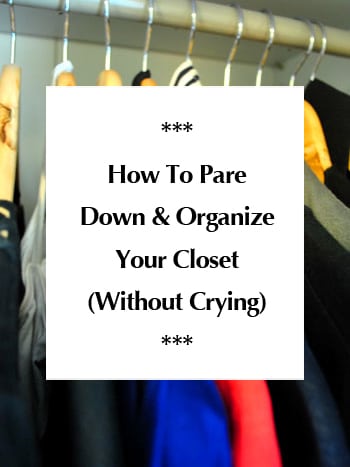 It's no secret we're big subscribers to the "a place for everything and everything in it's place" school of organization. Which is probably why I do my best to keep my closet super edited and pared down in the interest of easily being able to a) see everything that I own and b) toss on an effortless ensemble that I know and love (instead of stuffing the ol' Ikea wardrobe to the gills with crap that I never wear).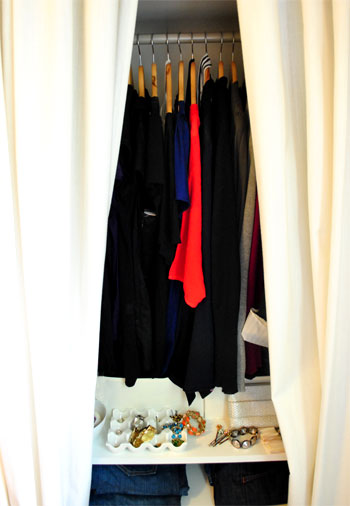 But when people write to me to ask how the heck I only have a few pairs of jeans and a small collection of clothes (read more about our closets here) it's actually really hard to explain my minimalist ways. I just don't buy a lot of stuff. And when I notice that I don't wear something anymore (because it's damaged, unflattering, or just too worn) I either repair it, consign it, or donate it so I can free up that space for something truly deserving of the square footage. Here's what the bed looks like when John and I are in the middle of a pairing down spree: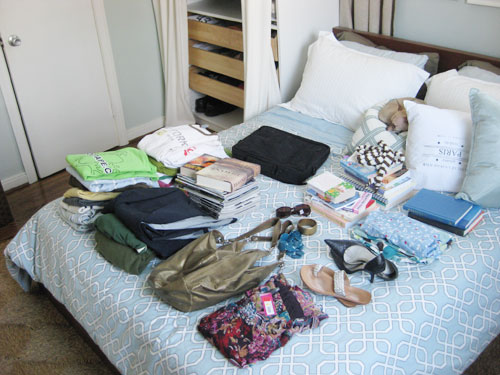 I just go through everything and remove anything that I don't love (whether it has just gotten too worn, doesn't quite fit anymore, has a stain, is something I never actually wear, etc). It's probably rooted in the fact that I lived in NYC in one of those closet-sized studios and literally didn't have any room to amass even one extraneous item of clothing. Coupled with the fact that I'm a cheap-o (and proud of it) that probably explains how I can easily walk away from things that might look nice but aren't necessary. But I can easily see how that's hard to swallow for someone who doesn't find it quite as easy to let things go (or pass up clearance clothing in the first place). So when I came across this quote in The Lucky Shopping Manual (I've had a copy for over five years and I love to flip through it) I realized it perfectly explained my philosophy in a way that I couldn't:
If a piece doesn't work, look at it this way: You paid for it once in cash, and now you're paying for it in valuable closet space. If it's not right for you, bite the bullet and let it go.
Doesn't that make perfect sense? If an item of clothing doesn't fit, is out of date, never makes it out of your closet, looks shaggy or worn, or isn't flattering just ask yourself if it's worth paying for again and again in square footage. Or if you'd rather free up the space to be able to better see the items of clothing that you love to wear (and make room for a few more things that will give you more of a return when it comes to sacrificing that closet space).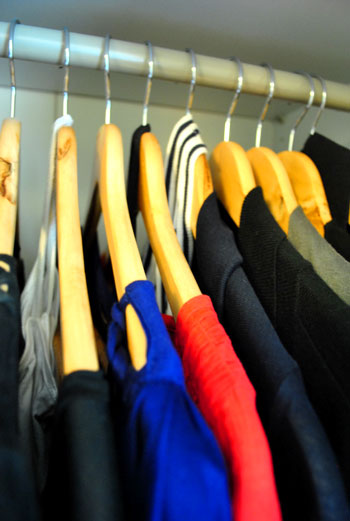 And as for a tip to keep from amassing too many items that you'll later regret (or just never wear) this quote (also from The Lucky Shopping Manual) might help:
Don't buy anything on sale that you wouldn't consider at full price.
It's easy to get caught up in how much you're saving when you find something that's marked down. But if you don't need it or it doesn't fit you well then you're not saving anything. You're spending hard earned money on something that will just sit in your closet and take up space. Inspiring right? Maybe just to me.
Anyway, here are some other gems from the book that I thought I'd pass along:
"If you're unsure about a big ticket item, put it on hold for 24 hours and think it over."

"Don't buy anything that doesn't flatter you or isn't comfortable, no matter how of-the-moment it is."

"If you have to talk yourself into a purchase in the dressing room, pass on it."

"If there's nothing in your closet to wear with it, skip it."

"Never purchase something just because it looks good on someone else."

"Don't save a pair of jeans for that anticipated five-pound weight loss. Owning them is bad for your psyche. If the time comes when you drop a size, chances are you won't hesitate to run out and buy a new pair"

"If a stain didn't come out at the cleaners or when you toiled over it in the sink it's permanent. Time to let it go."

<- or turn it into painting clothing like we've been known to do

"If we kept every item of clothing with a memory attached , we'd be buried in clothes."

"Ask yourself if each item of clothing in your closet: 1) flatters your shape, 2) fits perfectly or is fixable, 3) is the right color for you, 4) has been worn in the last two years – only things that get four yesses should stay."
I might be a sick individual but I actually love going through my clothing (and even jewelry and shoes) to see what I can skim down and consign or donate.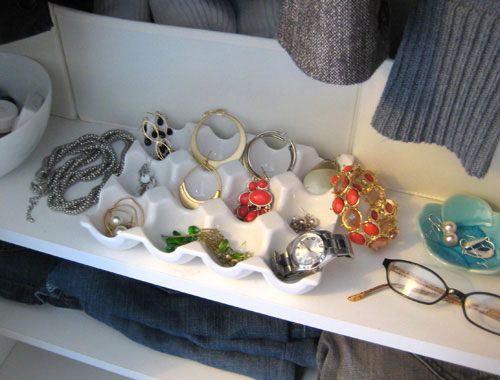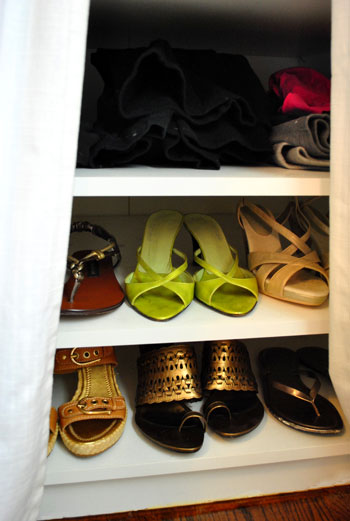 Try not to think about paring down & simplifying as actions that result in losing things. Instead, focus on everything that you're gaining! More space. A no-brainer wardrobe that's simplified, flattering, and easy to toss on. Money (for everything that you consign, eBay, or sell in a garage sale). And time (no more rooting through piles of stuff to find that elusive tank top). I seriously get a rush when I can look into my closet and proclaim "every single thing in there is something I love."
But enough about me, what do you guys do about closet upkeep? Do you pare things down once a year? Never get rid of a stitch of clothing? Ebay things and buy new stuff? Wear the same outfit every day? Feel free to share any and all tips for Leslie and anyone else who may find themselves in a similar predicament!
Psst- Looking for more info about our closets? Check out this post and this post. And here's a general post about keeping things simple. Oh and if you're looking to learn how we modified two inexpensive Ikea wardrobes to create bedside built ins, check out this post for the deets.