Which means this time last year, we woke up to a surprise snowstorm…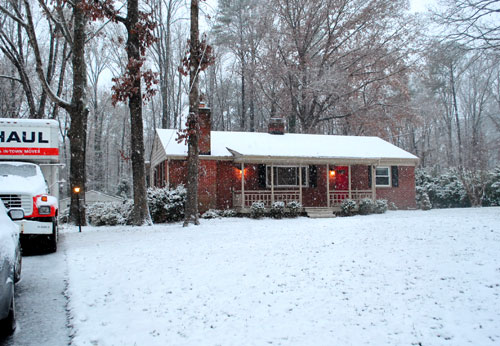 … that resulted in our UHaul slipping into the gutter of our old driveway (more on that here).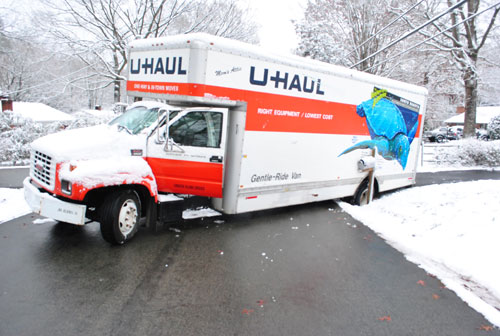 Man, it feels like that was just yesterday. John and I still remember every word of that truck-snafu conversation…
JOHN: Hey Sherry. Walk-through went fine. They're off to go close and I'm headed to the new house.
SHERRY: Okay, be very careful. It's snowy out there so drive as slow as you need, even if people are honking at you. Just take your time.
JOHN: I will. Don't worry.
SHERRY: Great. I just don't want you ending up in a ditch or anything.
[HANG UP, SHERRY GOES TO PUT HER PHONE DOWN BUT IT IMMEDIATELY RINGS AGAIN.]
JOHN: Crap, the truck is in a ditch and I think I knocked over the mailbox.
SHERRY: You're kidding right?
[END SCENE, FADE TO BLACK]
On the other hand, it kinda feels like we've lived here forever. And sometimes we forget little things about the old house (like where a certain light switch was located, or whether a door swung in or out to open). And that makes it feel like we haven't lived there in a very very long time. Then again, there are a few light switches here that are still a complete mystery to us, so this house can't be too "old" to us yet, seeing as there are probably going to be more discoveries as we renovate and decorate and spread out into a few rooms that we haven't even started to really live in yet as our family grows (like the sunroom and the playroom for example). And no, that's not a baby-on-the-way hint Mom! But back to reminiscing… it's so weird to look back a year in our archives and see what our first house looked like empty: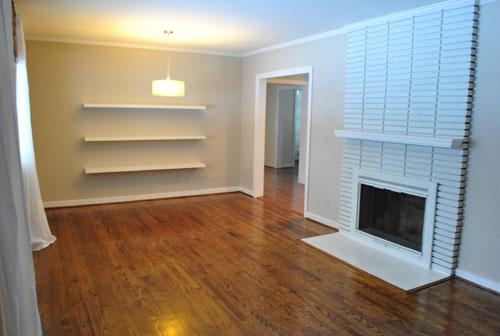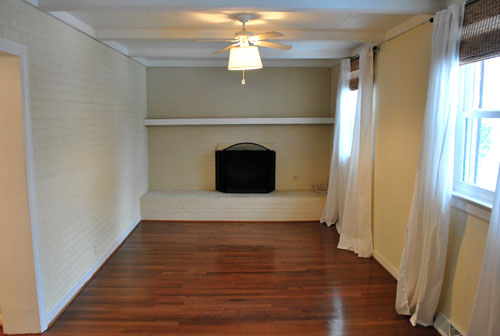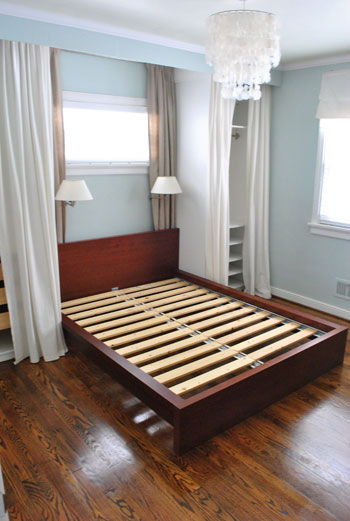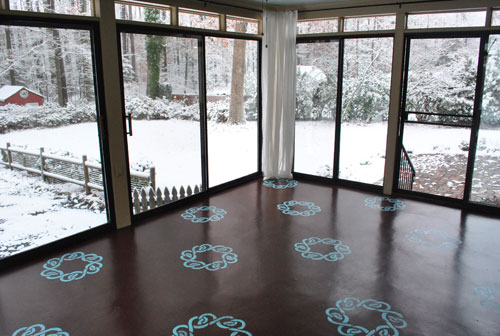 Some of the angles that we shot it without furniture were never possible with furniture, like this one (I stood where the media cabinet used to be)…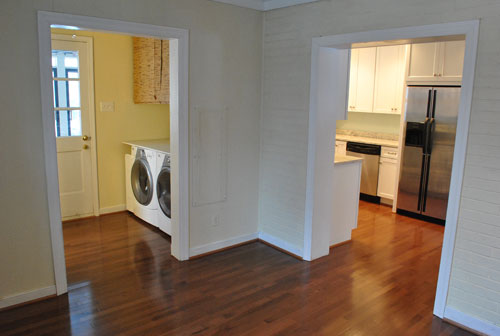 You can check out more empty first house pics here. Now let's take a look back at how our current house looked exactly a year ago on move in day (I literally ran around snapping these pics with our rented UHaul waiting to be unloaded in the driveway):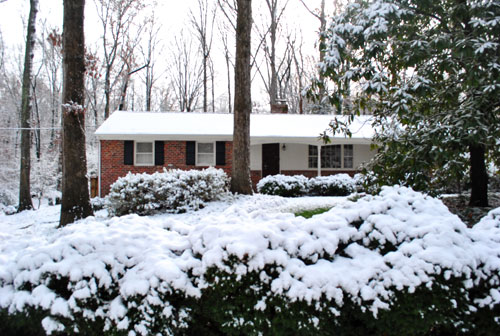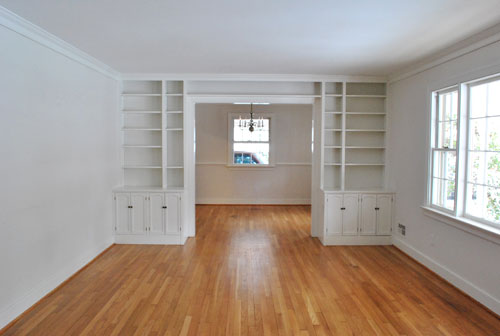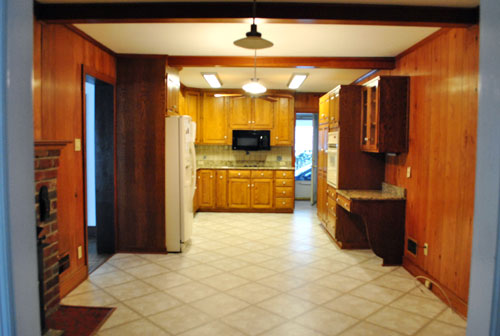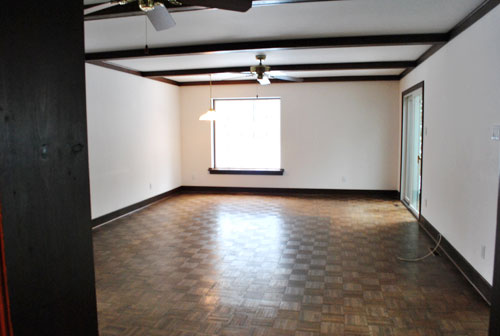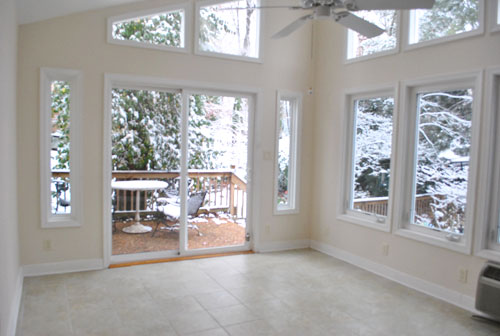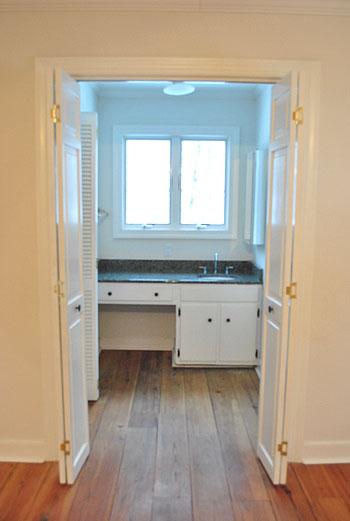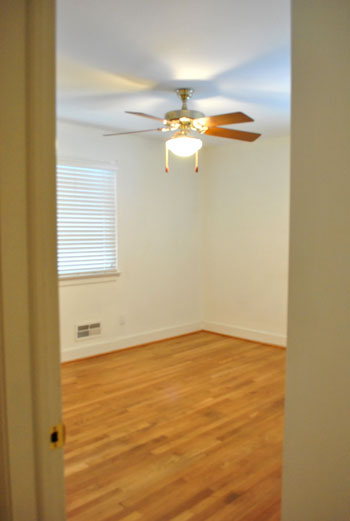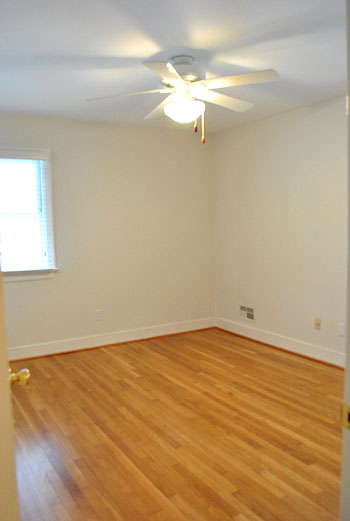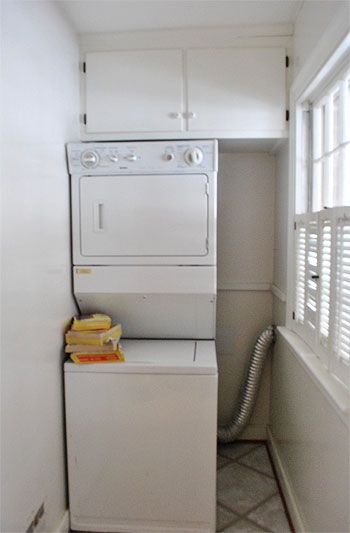 You can check out more empty house pics here. The funny thing is that a few of those spaces have come a looong way in 365 days…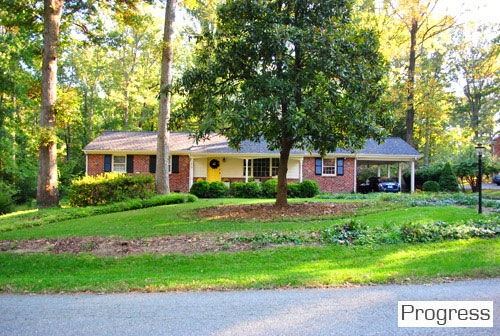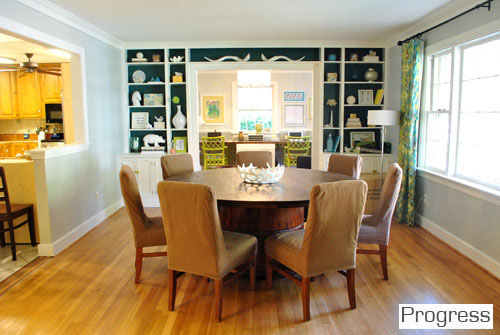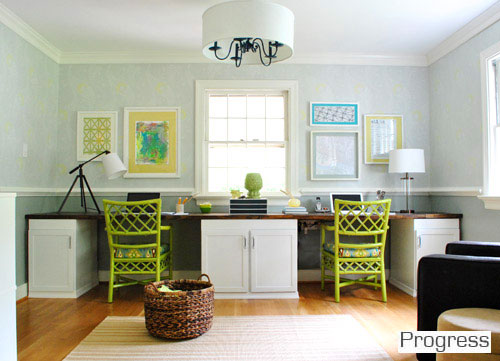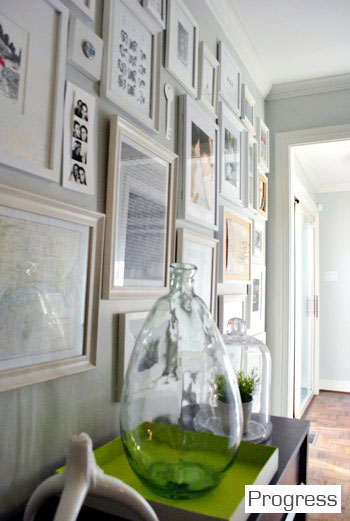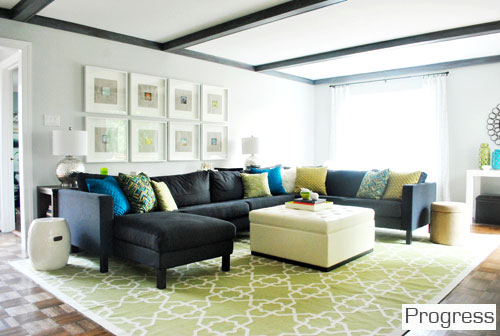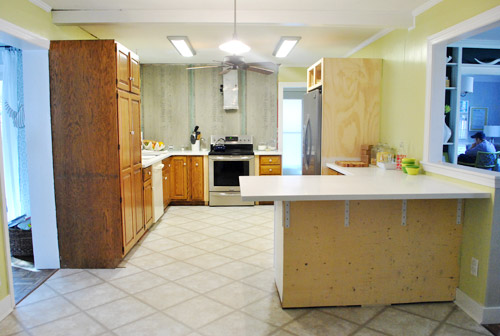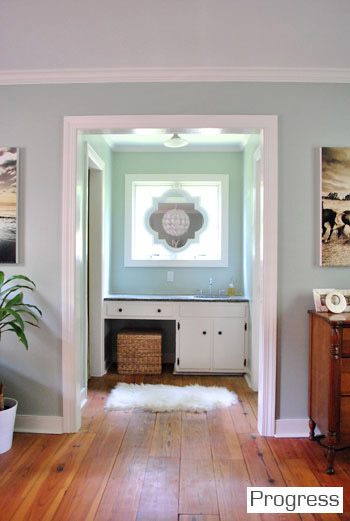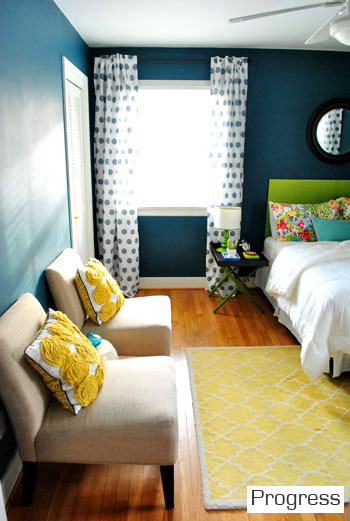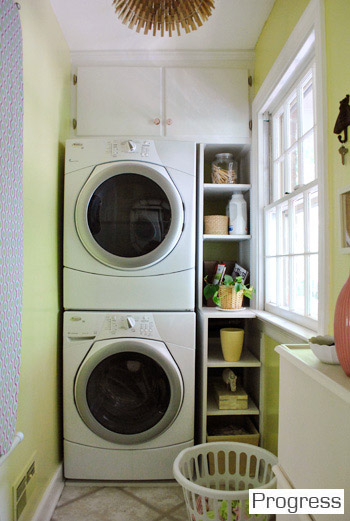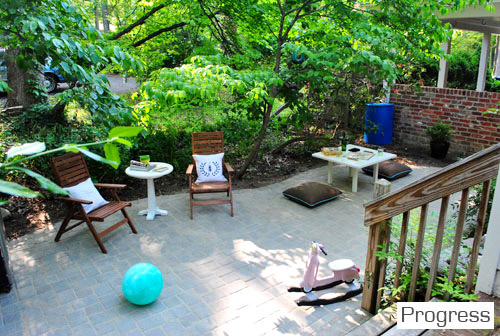 … while others are virtually untouched (like all of our bathrooms). And a few other rooms haven't been tackled at all except for plopping down furniture or using them to store a bunch of stuff that we have to garage sale/craigslist (like the sunroom and the playroom):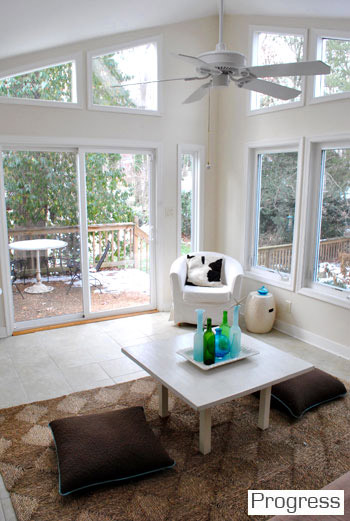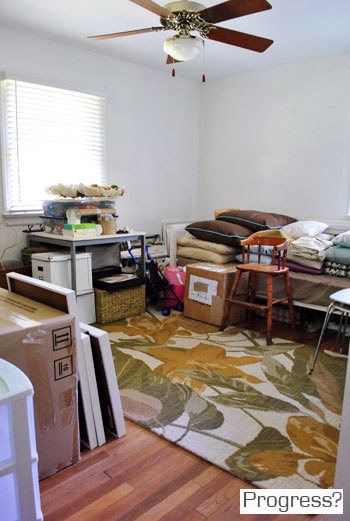 You can see a full play by play of "before" and "progress" pics here (and all the before and after pics from our first house here). But enough looking back, let's attempt to peer into the future. We thought it would be fun to list a few of the projects that we have in mind (after we wrap things up in the kitchen in a few months of course), just in broad strokes (there have been a bunch of requests for an updated Listy Mclisterson post, so we'll have to do that soon for ya in more detail with some fun red cross outs). In the meantime, here's what we have in mind for taking this still very much in progress house a little further in year two (and beyond!):
build a wooden deck for dining (beyond the glass sliding doors in the hallway right next to the kitchen)
convert the carport into a garage (that's going to be one of those big with-the-help-of-a-contractor projects)
build a trellis arch/pergola around the new garage door so it's all lush and pretty
build a big media cabinet to balance the large console table that we built on the other side of the room (and a bench for the foot of the bed and a cabinet for the inset-wall in the master bedroom?)
refinish the floors in our bedroom (along with the other wood ones in most of the house, but we can't do them all at once since we need a place to offset furniture)
add wainscoting to the hallway that leads to the nursery, playroom, and guest room
actually paint/furnish/use the sunroom
actually paint/furnish/use the playroom
redo/update/spruce up all three of the bathrooms (with varying degrees of actual renovation – some just need a little cosmetic stuff)
continue tweaking rooms like the living room, dining room, nursery, bedroom, guest room (all of which have entire walls devoid of frames and key items of furniture missing)
create a defined entryway with a large buffet, art, and a rug by the front door (among other things)
add crown molding to a bunch of spaces (like the playroom, nursery, guest room, etc)
double side the fireplace in the kitchen so we can enjoy it in the living room as well
build a backyard swingset/playset along with a pimped sandbox for the bean (and a play kitchen, and a dollhouse – so many bean plans)
paint the siding/trim/shutters on the house along with framing out the porch columns so they're chunky and square (and add another light near the door, stain the concrete, etc)
take on tons o' outdoor landscaping stuff (in the front, side, back, and beyond)
build in the master bathroom vanity so it's symmetrical (for more concealed storage since we don't sit there and use it as a vanity)
build some raised beds in the side/back for an edible garden
retrofit the daybed in the playroom so a trundle bed can be slipped under it for future bean sleepovers or overflow guests
add french doors between the dining room and the office (for privacy and added architecture)
change the roofline out front (add some peaks for dimension and to make it more cohesive with the house's shape from the back)
DIY a pool someday (John thinks this idea is insane, mind you)
Of course we'll do a lot of this stuff over the course of the next few years (our first house took us 4.5 years to finish) so there's no rush. We just like to remember to relaxxxxxx. Seriously, you can get all crazy and stressed and frustrated if you rush through things instead of taking projects one day and one small victory at a time and remembering to enjoy the ride. And we couldn't ask for more amazing people to have in the car (the house?) with us. Wait, that sounded weird. We just mean that we're so honored and excited to have you guys drop in and encourage us as we go. So thanks! You all have a huuuge part in keeping our morale and our momentum up, so we owe you at least ten holiday cookies each. With extra icing and sprinkles. Picture yourself enjoying every last crumb (remember, fantasizing about eating ten cookies = zero calories).
Oh and as for the method to our "project order," we don't really have one. We jump around from room to room to stay excited and keep things from feeling monotonous or overwhelming. After a big project (or a string of big projects) sometimes we're happy to take a breather and tackle the little stuff for a while. And other times we're psyched to keep our momentum up and start planning the next big undertaking right away. Who knows what's next. Gotta keep trucking on the kitchen for a while, so who knows what we'll be in the mood for when the renovating dust clears in there. But one thing's for sure… if year two is half as exciting and rewarding and memorable as year one in this house, we'll be over the moon. Is it weird to love a house like it's a member of the family? What do you guys hope to tackle in the coming year (and beyond!)? Every time you read "and beyond" do you think of Buzz Lightyear, or is that just me?
Psst- Clara is obsessed with big dogs and has no concept of personal space. More on that here.