Dude, stencils are no joke. But I did it! I bit the bullet and ordered the stencil that John and I have been pining after for the past month (mentioned here a few weeks back). We loved the idea of adding some subtle tone on tone detailing above the chair rail in our office (we didn't want anything with too much contrast since it'll compete with the dark teal built-ins and the fun curtains in the nearby dining room). So we settled on a softer gray tone with a tiny pop of color (leftover grellow paint from the adjoining kitchen). At 54 honking dollars it was hardly a drop in the bucket, but let me tell you, this stencil is hardcore. First of all, it's made of super durable plastic, so I don't have to worry that it will rip or crease while I'm taping it, untaping it, and bending it manhandling it to get into the corner crevices (I'm pretty sure I would have trashed a thinner stencil after one wall, just because it's kind of a more rigorous application process than I expected). And let's just talk about how big it is. It's over two feet tall and almost two feet wide, so it helps to make things go faster since you don't have to reposition it every three seconds like you would with something smaller.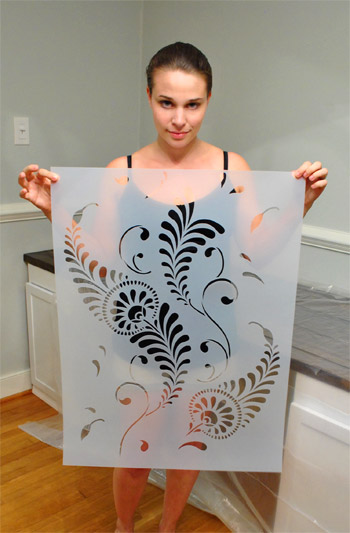 And yes, this is quite an evil face I'm making. No idea why. I remember saying something like "make sure I don't look naked" when John snapped this, but had no idea I was giving off such an I'm-the-female-Hannibal-Lecter vibe.
Another way that I'm rationalizing my purchase is that we only spent $6.30 on cabinets for the built-ins and $27 to build a 13 foot counter, so maybe it's time we splurged in the office. Haha. I also figure any type of wallpaper (even the cheap stuff at Lowe's and Home Depot) would be way more than $54 for the entire room above the chair rail, so there ya go.
I've actually never done a giant repeating stencil like this on a wall (we did stencil the floor of our first house's sunroom) so here's where I'll get to the keeping it real part: stenciling is haaard. I'm not gonna lie, my arms were cramping after about an hour and it took four and a half solid hours (from 8pm to twelve thirty in the morning) just to almost finish one wall (out of the four that I want to do). But in the spirit of sharing things real-time as we go, I couldn't wait to share the in-progress madness. Here's a close up: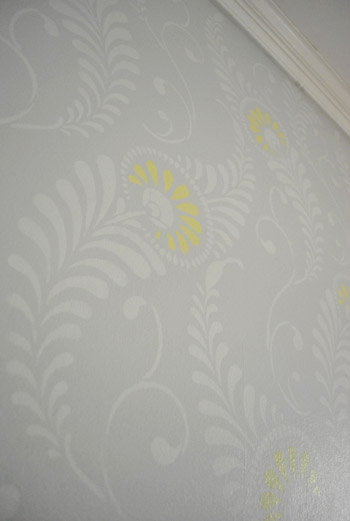 And here's one side of the wall that I almost completed (I still have to do those last 6″ above the chair rail). Oh but ignore the weird dark and light vertical shadows on the wall (couldn't wait for the lighting to be better – too impatient and excited to share, haha).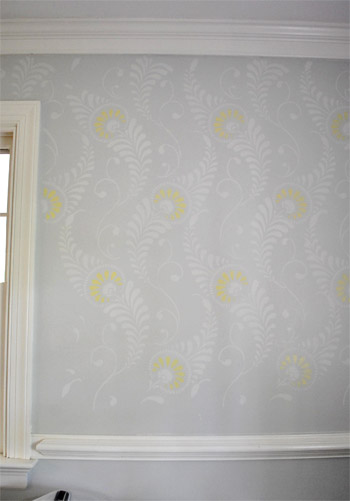 As for my method, here's a little breakdown of what seemed to work for me:
1. I prepped the room by clearing it and tossing a drop cloth over the desk so we wouldn't get paint splatters on it.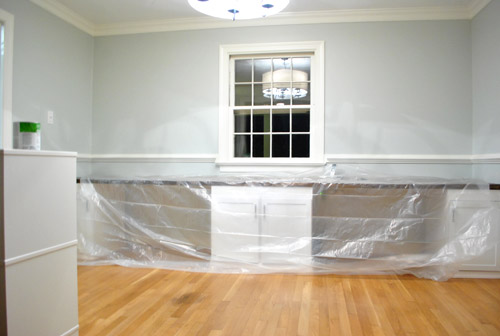 2. I used Martha Stewart Craft Stencil Adhesive Spray from Michael's (purchased with a 40% coupon of course) to spray the back of the stencil before taping it up on the wall with painters tape. This helped the middle parts of the stencil stay close to the wall and not bend out for a nice crisp line. I probably repositioned the stencil two or three times before re-spraying it (when I noticed it holding less firmly to the wall I just took it down and sprayed it and taped it back up for the next application). Oh and you'll want to use a large piece of cardboard or drop cloth to spray the back of your stencil so you don't get stick stuff all over the floor).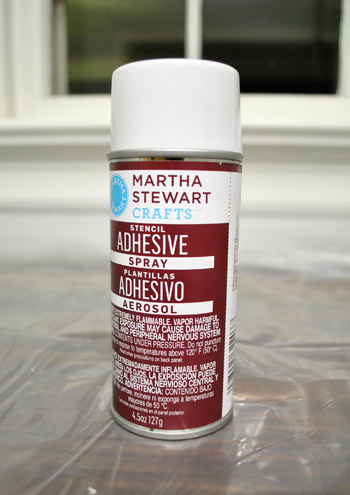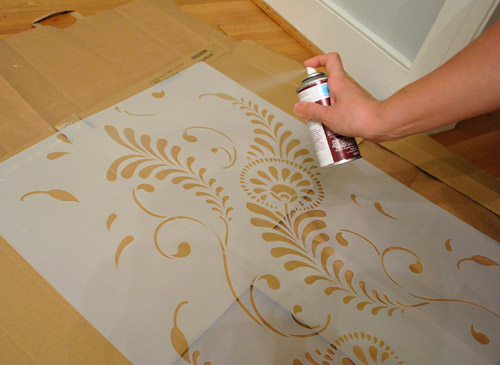 3. As for where to start, John held the stencil up in the top middle of the wall so we could center the pattern and work out from there in all directions.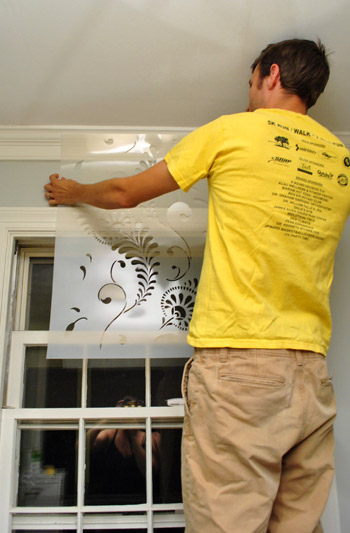 4. I also used delicate surface frog tape for holding the stencil up at the top, bottom, and sides (we already had it on hand and I didn't want to tear off fresh paint as I moved it around the room so it seemed to do the trick).
5. I used small foam craft brushes (also from Michael's). They were basically dowels with flat foam tips.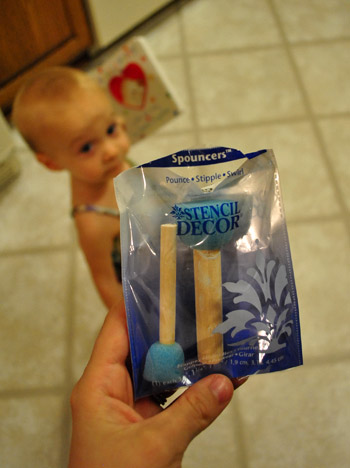 6. As for how I loaded my little foam brushes, I just dipped them in the paint (more details on the paint colors later) and dabbed the brush around the lip of the plate to remove excess before tapping it against the wall to apply the stencil.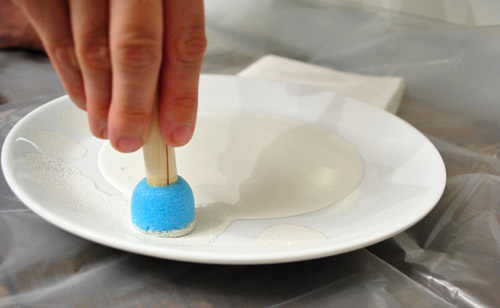 7. I always tapped the wall at a right angle with a not-to-gloppy foam brush for a nice clean edge (so the paint wouldn't slip or drip behind the stencil and smear around).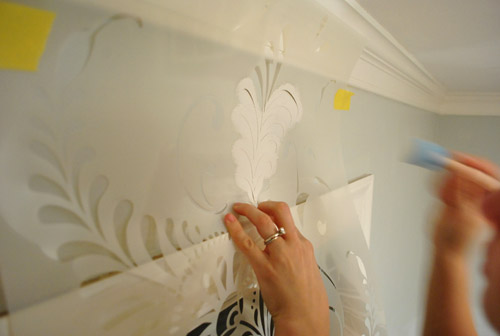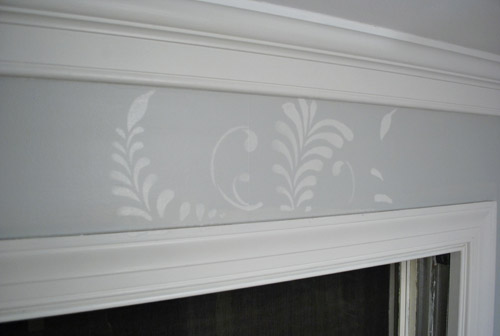 8. If I feared that a little bit of paint somehow got behind the stencil, before repositioning it on the wall for the next application I would lay it on my drop cloth on the floor (face down) and wipe the back with a dry folded paper towel to remove the excess paint. Then I would respray my stencil adhesive and stick it back on the wall for the next application.
9. The way that the stencil is applied means that there are repeats. So you position it right over the last 3″ that you previously stenciled and work your way across the wall that way. I didn't wait for the paint to dry before moving the stencil (that would have probably taken five million hours), so I just took my time applying the paint so nothing got behind the stencil and then matched up the stencil carefully for the repeat and continued on. Since there was no wet paint on the back of the stencil, it was fine to be pressed against the 3″ of wall that was already done, and it didn't look any different than the non-overlapped part. I wonder if the application of paint was so thin that it was drying really quickly so it didn't make a difference…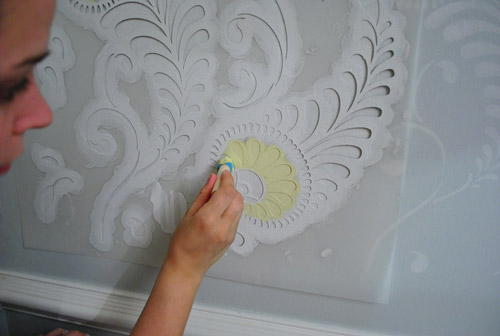 10. The corners were the hardest part. To get the stencil to lay flat against the wall in the corner so you can cram your brush into the small little stencil openings was sort of impossible to get perfect. But I did learn that this stencil is extreeeeemely forgiving (probably because it's a more organic pattern than a regularly spaced geometric one, which would probably make any inconsistencies a lot more obvious). So when I didn't quite get deep into all the corners, once it dried it was somehow not obvious at all (a stenciling miracle?). Of course I'm not exactly a corner expert because I've only attempted one of them, so as I go around the rest of the room maybe I'll have more tips.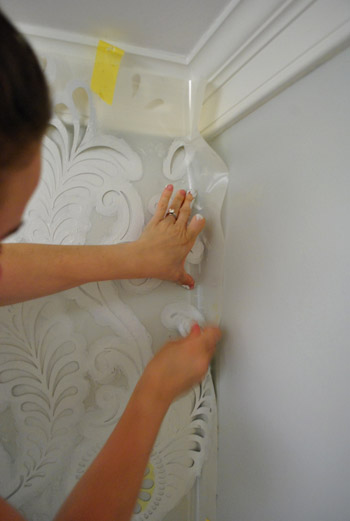 After about three hours I was here on the first wall: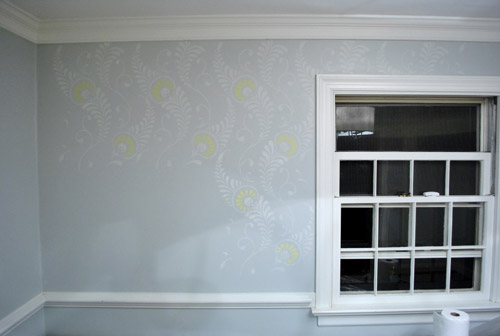 And after 4.5 hours I had one wall almost all done (sorry for the terrible picture, I was sort of losing it at this point).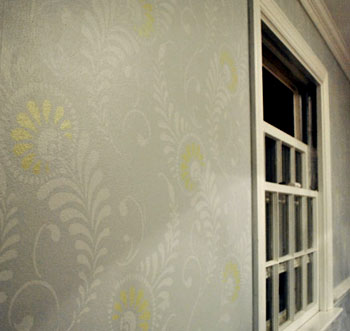 So although I wasn't completely done with that wall, I decided that 12:31 am meant it was time to put the foam brush down and throw in the towel for the night. And do some finger stretching (I seriously had cramped up hand-claws).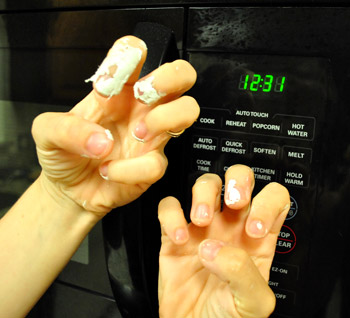 Oh and as for the colors, here you go:
Walls: Moonshine by Benjamin Moore (color matched to Olympic No-VOC paint in a satin finish)
Main stencil color: I just asked the paint guys to give me a half-tint of the wall color (also color matched to Olympic no-VOC paint in a satin finish). This means they just add half as much tint to the white base as the original formula calls for, so you end up with a half-as-intense tone-on-tone effect.
Grellow stencil flower accent color: Leftover wall paint from the kitchen, which is Sesame by Benjamin Moore (color matched to Olympic no-VOC paint in semi-gloss). You actually can't tell the difference in finish unless the light hits it just right from the side and the grellow sort of looks iridescent, which is actually awesome. Yay for happy accidents.
I also made a video to hopefully help demonstrate the foam brush prepping and actual stenciling part of the process (including a quick demo on corner stenciling):
So that's where I am with the stencil. One wall-above-the-chair-rail almost done, three more to go. I'm planning to tackle another 4+ hours tonight and hopefully can fit in one more session this week (my goal is to be done by Thursday or Friday, soreness permitting). It's definitely one of those projects that you just need to force yourself to complete as fast as possible – because as soon as you start all you want is to get to the point where you can let out a huge sigh and say "so glad that's over!"
But so far I have to admit that it's totally worth the trouble. We're loving the effect (it's sort of like subtle modern wallpaper, not too in your face but not too tame and unnoticeable either). It's sort of the perfect amount of "ooh, look at that" without being too competey and chaotic with the adjoined dining room. And John and I both have said the following sentence about ten times so far: "the pop of color totally makes the entire thing." So might I recommend a splash of grellow (or any color you love actually) to take something that's gray on gray to the next (still-kinda-subtle) level?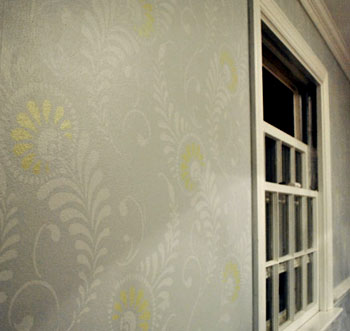 Ok, now I have to hear from you guys. Have you ever stenciled something, be it an accent wall, piece of furniture, or entire room? Do you have any secrets you'd like to share? How long did it take? Is four and a half hours for the top half of one 13 foot wall (with a big ol' window in the middle) about right? I might just be moving at a turtle-like pace. Haha. Just too nervous about getting paint all down the back of my stencil if I go any faster. Anyway, hopefully I'll be back with finished pictures (and maybe a bulging right bicept from dabbing away) by Thursday or Friday. Until then, picture me standing on a chair at 11pm wearing my inside out painting clothes and listening to shows on Hulu (I tried radio, but somehow hearing Community and Parks & Rec play in the background kept my spirits up a little more).
Psst- I'm over on BabyCenter chatting about my favorite kids clothing store and how I save money when it comes to shopping for Clara's clothes & shoes. Did I mention that I snagged 47 cent shoes on my latest mission? Excited doesn't even begin to describe it. Check it out here.