After over two weeks of doing it, sleeping on the floor is officially getting old.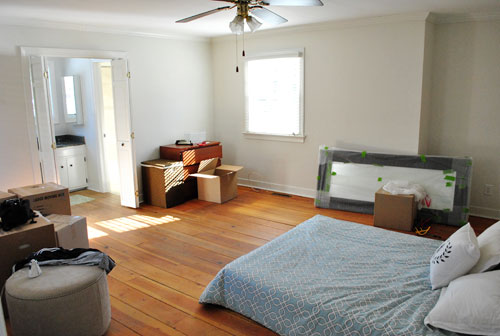 So we bought a bed frame. Oh happy day! We had big plans for possibly building one (using one of Ana White's amazing tutorials). And we debated just getting a cheapo-metal frame and laying slats of wood across it so we could rest our mattress on that (so we could DIY another upholstered headboard down the road). But in the end the four poster bed that caught our eye back when we whipped up this future bedroom mood board won out (click here for more mood board details).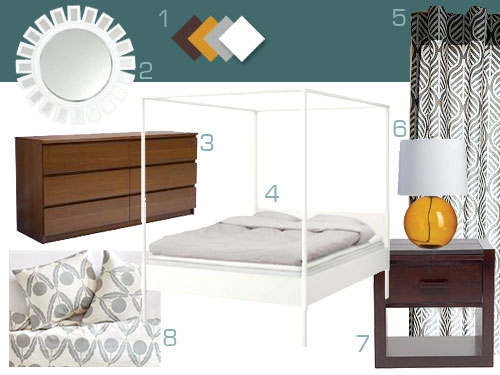 One of the issues is that our organic mattress (which you can read about here and here) is super thick and made of extra dense all natural latex rubber. So as I've weirdly described it before, it's heavier than thirty dead people. To this comment John always responds: "How would you know that? Even serial killers don't attempt to carry thirty bodies at once." So although I will specify that I haven't actually carried thirty dead people, the mattress is as heavy as I would imagine that scenario to be. Seriously, it weighs a ton. Which is why we worried that a normal metal frame meant to hold a boxspring and a regular (much lighter) mattress wouldn't exactly adapt very well to wood slats and a box-springless super heavy mattress. And the idea of buying a $600+ organic boxspring to make a cheap-o metal frame work quickly became a not-so-cheap-o solution, so we tossed out that possibility as well.
It definitely would have been fun (and kinda romantic) to build a bed frame together like our Bower buddies, but our aching backs won out and we decided we were done with sleeping on the floor. Over it. Seriously spent. Imagine Ben Stiller emphatically saying "I'm finished with the checking of the bags conversation" to that flight attendant in Meet The Parents. That's how emphatically those last few sentences should be read. Warning: Ben tosses out a the word beeyotch (without all the eee's) at the end of this clip in case you're at work/with a tot.
And with the chaos of the holidays, bed-building just wasn't going to happen for another week or so. Which is how we got to the purchase of our new queen sized white Ikea four poster bed. And since his official Ikea name is Edland, we like to affectionately refer to him as Ed.
But right now he's looking like this in our house: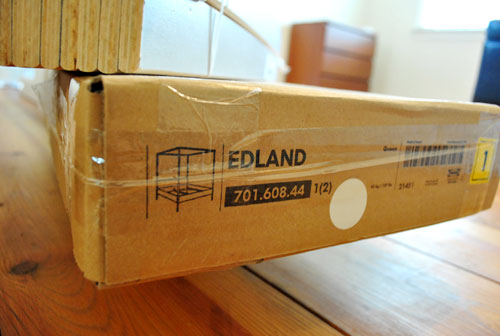 Here's hoping he's not too hard to assemble and can handle the weight of thirty dead bodies. We'll be back with pics when he's all set up after some not-floor sleeping (we're gonna give him a test run and tell you all about the comfort-factor tomorrow).