Other than this age old post about creating a little wrapping paper station/craft table in our third bedroom, we really haven't chatted much about organizing oodles of items as of yet. So here's a rundown of our tried and true approach (this is written specifically with craft room verbiage, but the method will work for any organization project in the house- from your linen closet to your tool box and even your kitchen cabinets):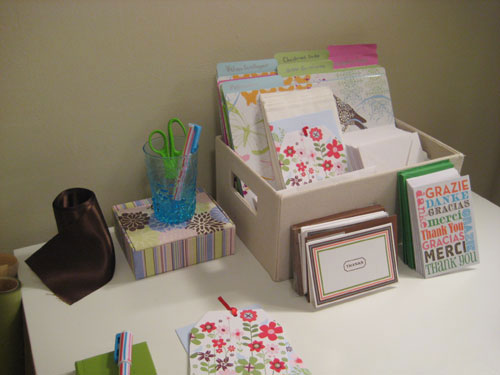 Step #1. Get Out & About- Take everything that you need to organize and lay it out on a table or bed or the floor so you can see what you're dealing with. You instinct will be to skip this step, but it's crucial to truly know what you have and find the perfect home for each item.
Step #2. Be Trashy- Select everything that you no longer want/need and toss it into a trash bag to bring to Goodwill. Don't look back. If you haven't used those stickers/ribbons/stamps/decorative papers/fabrics for two years you probably never will. Pare down to the good stuff and you'll actually use it.
Step #3. Play Matchmaker- Take the remaining items and group them like with like in clusters on the floor or the bed (ex: painting supplies together, paper together, stationery together, scissors and hole punchers together).
Step #4. Take Note- When you stand back and look at all the little piles that you've created, it will instantly be clear what type of storage containers/folders/caddies you'll need to keep everything organized. Grab a pen and paper and write down what you believe you need (big box for ribbons and bows, five folders for stationery, three clear plastic cubes that can be stacked with paint and supplies in them, etc).

Step #5. Stop And Shop- Check the rest of your house to see what type of storage containers you already have. For example, a too-big caddy under the sink could be swapped out for the bulging basket of ribbons that's no longer big enough. And these glass cereal jugs could also be used to corral ribbons or yarn: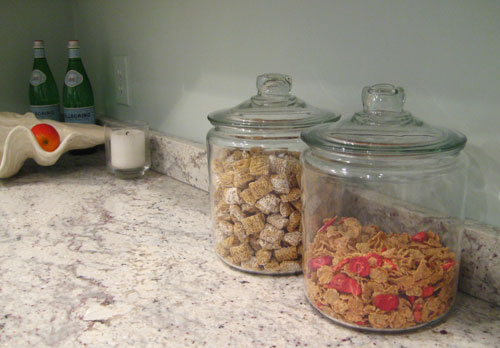 Step #6. Go Get 'Em- When you're through shopping and swapping things out in your own house, see which items still remain on your list and hit up Target, Ikea, The Container Store or even Staples to see what types of storage options they offer. Grab whatever fits the needs that you have already established on paper. Resist the urge to get anything that doesn't as you'll be creating the very clutter that you're trying to clean up at the moment.
Step #7. Keep It Common- When you're selecting containers, folders, boxes, and caddies, you might want to keep a common color or material theme in mind so everything looks cohesive when it's on display in the room. You could simply go for all white containers or all woven basket-type storage stuff or even with a color theme and pick up all green boxes, folders, caddies, tins, etc. You can even get creative with what you use as a trash can (for instance if you're going for a woven theme, a big woven basket as a garbage can would be pretty and you can slip a tin or plastic garbage can inside if you're nervous about the basket getting dirty). A wire basket might look great with lots of metal tins and wire baskets if that's the material you've selected to organize your supplies. Similarly, a large planter makes an excellent garbage can (Ikea sells 'em for around $8) or even a great wrapping paper storage container like our wedding present planter below:
Step #8. Up And At 'Em- Also remember that you can go vertical with your storage. Be creative and hang storage baskets or boxes (wire, woven, wood, bright plastic, etc) from the wall or add a big shelf (check out the Ikea's Lack ones) to corral more supplies and really take advantage of the entire space.
Step #9. Work The Room- After you place each group of items in its designated box, basket, bin or tin, try to arrange things in an appealing (and functional) way so you can see and access as much as possible. Stack a smaller box on top of a larger one, or display all of your folders in a wire organizer, basket, or fabric box (see the first picture above for an example).
Step #10. Polish It Off- And since you also wanna feel good in the space, add a few completely decorative touches to make it feel welcoming and personalized (a soft rug, a sculptural lamp, a vase of flowers, a framed picture, etc). Even the smallest (and cheapest!) details can make all the difference, so consider adding a pretty mug in your color scheme full of pencils & paint brushes or displaying your prettiest ribbons or stationery in an open box or basket for all to see.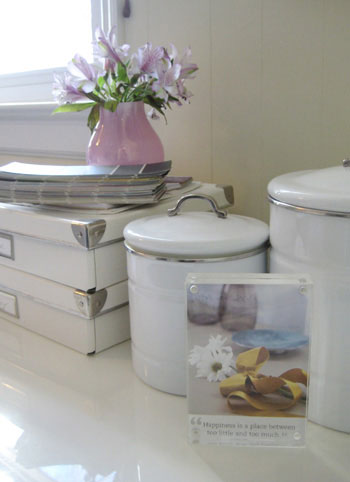 It may sound like a big project, but the whole thing can really be fun and super rewarding. You'll sleep better knowing that you've FINALLY organized items that you've been toting around for a decade, and you'll actually get a lot more use out of the things that you love (which were buried among the not-so-great things that piled up over time). There's really nothing like a clean, functional crafting space, and once you get started you'll be surprised how easy it is to get to the end of the makeover. Before you know it you'll be sipping tea and writing a sweet letter to a long lost friend at your newly organized desk… and wondering why you didn't organize your craft corner sooner!
To tour a truly amazing craft room, check out Nicole's studio from Making It Lovely