We're leaving the mainland and heading for the islands for this week's freebie giveaway. Well, I guess I don't mean that literally (unfortunately) but we're leaving it up to So'mace Lifestyle, a new design boutique in Honolulu, to bring the Hawaiian experience to all of us.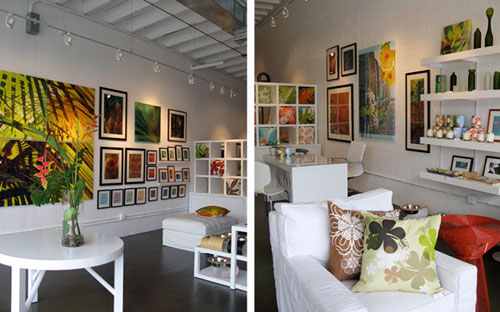 So'mace Lifestyle is a new gallery & shop spawned from a design service that started in 2004 by former New Yorkers Kaypee Soh and Edward Macey. The new boutique, which has a focus on sustainable and green design, is chock full of great art for your walls (wallpaper), for your floor (rugs), for your dreams (bedding) and- here's where the prize comes in – for your sofa (pillows).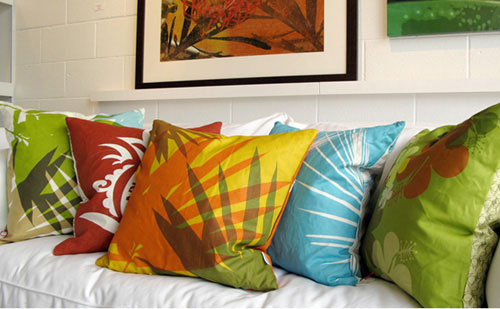 Kaypee Soh's line of original pillows (view full collection here and here) is a mix of nature-inspired florals and graphic retro designs, all hand-printed in Washington state and hand-sewn in Hawaii. They feature 100% linen covers with a 20″ x 20″ feather/down and hypoallergenic insert. Plus, with two different, coordinated designs on each side, you can give your couch a fresh look just by flipping the pillow over. And one lucky reader will have the chance to do just that…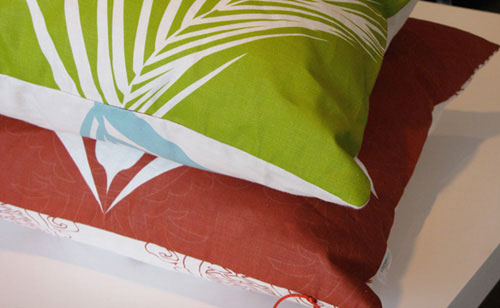 To win your choice of any one of the six pillows shown below, just comment on this post with the words "ALOHA" by Wednesday, February 18th at 8pm EST. And since Hawaii is such a popular honeymoon spot, we'd also love to hear where you went (or are hoping/planning to go) on your honeymoon. As you probably know, we actually left the lower 48 and headed the other direction for an Alaskan honeymoon. Not quite as warm, but it managed to be just as romantic.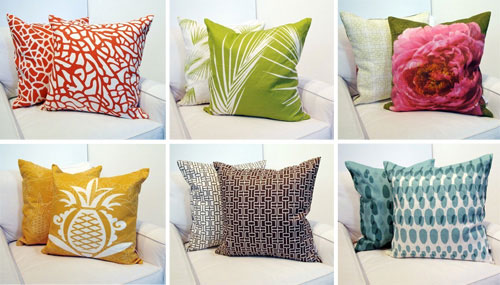 So'mace Lifestyle will ship this great prize anywhere, so don't hold back all you international pillow lovers! We'll be picking one winner using random.org and announcing it later in the week as usual. Now, what's Hawaiian for "good luck"?
If you're curious, you can get more details about our giveaways here. All images courtesy of So'mace Lifestyle and Kaypee Soh