Thanks so much for all the sweet and excited comments over on IG & FB about our needs-lots-of-love beach house project (for anyone who's like whaaaa??, here's that post to get you up to speed). As promised, we're back with the rundown on the floor plan, and what we're currently thinking we're going to do with it. Warning: we've been known to change our minds – so this is just the plan thus far. This house is like a giant iceberg that floated into our lives, and we are just at the tippy top of the thing, waddling around like excited penguins.
But before we throw a bunch of floor plans your way, how about we walk around the house together in the form of a little video tour? We recorded this on our first visit after we officially closed on it, so you'll see all of the lovely leftovers that "conveyed" with the house. It's pretty rough looking, but strangely enough, that just added to our excitement (and we made a few fun "discoveries" during our archeological dumpster-filling digs).
Also, Sherry is making me acknowledge the Invisalign elephant in the room, er, video, which is that you can hear her slighltly altered voice since she has two hunks of plastic encapsulating her teeth. There's more on that in a few podcast episodes if it leaves you wanting to know more about her mouth (Episodes 20 + 21).
NOTE: If you can't see this beach house video tour (due to being in a reader), click through to our blog post & it'll be right here. So annoying that it hides like that.
So now that we've walked around, let's do some aerial exploring. Below is an approximated floor plan of the house that we made in photoshop (so it's not perfectly to scale or anything, but you get the idea). It's around 1,800 square feet and currently has two official bedrooms, although we were feeling generous and labeled a third below because it's essentially just missing a closet. We were also generous in labeling the extremely rough enclosed porch spaces as "bonus rooms" (these are spaces with hand and even head-sized openings in the siding to the outside world). So yeah… they're not exactly "countable square footage" in their current condition. Maybe none of the house is, come to think of it, since it's not currently heated/cooled and is also without plumbing and workable wiring…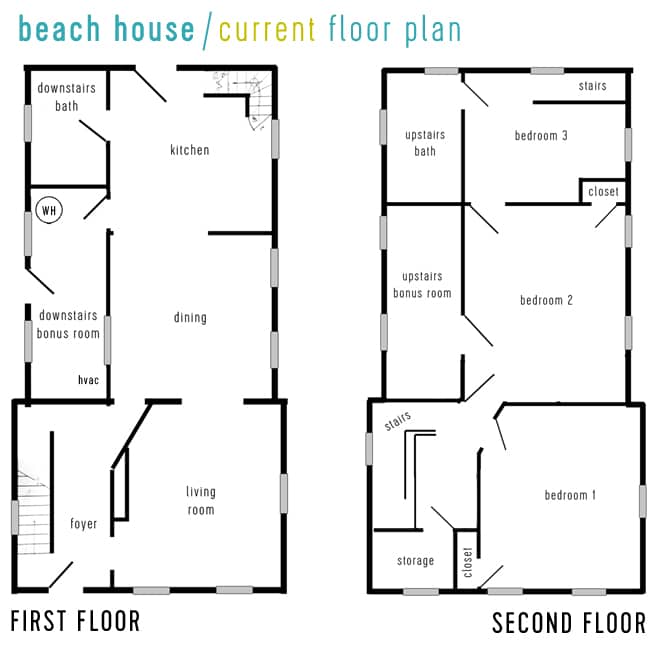 The floor plan is pretty good to start with, but mostly could use a better kitchen and more sleeping space. Ideally, we'd love to carve out enough space for two families to stay (like ours plus a guest family), assuming kids can bunk together and use sleeping bags/air mattresses like we do when we're at my parents beach house. That's all part of the fun.
Luckily, before we put in our offer, we were able to tour a nearly identical house next door that had already been renovated. Based on what they had done, this was one of our first ideas for updating our floor plan: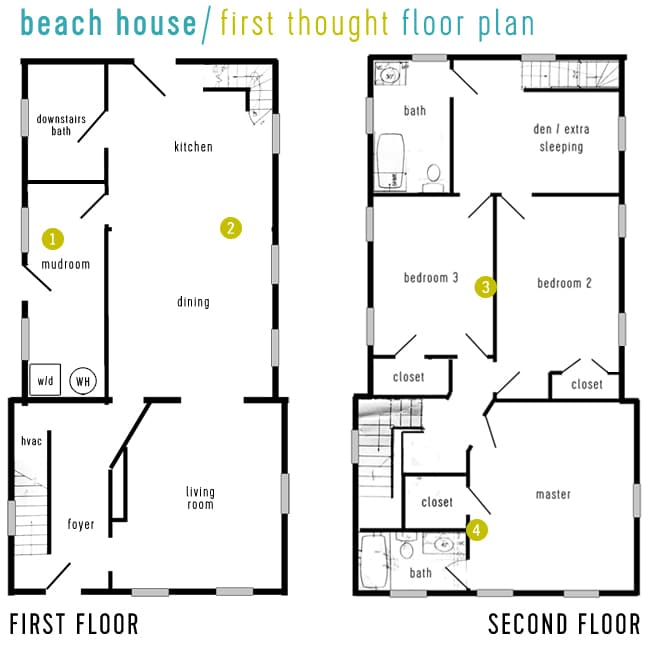 We numbered some of the key changes:
Mudroom. Whereas the neighbors had reverted their enclosed side porch back into an open side porch, we thought it would serve as a great mudroom to catch sand and beach gear with lots of towel hooks and shoe baskets. It would also give us a spot for a small utility closet to house a stacked laundry unit and a water heater (most likely behind bifold doors).
Open Floor Plan. Since the wall between our kitchen and dining room is already half gone, we figured we'd take down the rest of it, which is also what all of the other neighboring houses we toured chose to do (good news: it's not load bearing).
New Wall Upstairs. By shifting this long load-bearing wall a few feet to the right, the neighbors were able to finish the upstairs bonus room into an additional bedroom.
Main Bedroom With Attached Bath. The neighbors also converted the front storage room to an en suite bath for the front bedroom. We also liked the idea of a larger closet.
That floor plan actually felt pretty spot on initially, but little by little we realized some shortcomings:
Kitchen Walls. For one, we were struggling with the kitchen layout because we had very little wall space in the rear of the house, mostly thanks to the back door (the neighbors just have a window there), the back staircase (some neighbors have removed theirs, we'd like to keep ours), plus a low window and bathroom door in the way too.
Plumbing Costs. A plumber estimated that it would be around $4-5K more to put that bathroom in the front of the house since there's no plumbing on that half of the house so there would be a lot more materials/labor involved. We were unwavering about needing two full bathrooms upstairs, so he advised us to try to carve one out much closer to the existing upstairs bathroom (ideally behind it or next to it).
Pass-Through Bedroom. Lastly, we didn't love the lack of hallway upstairs, meaning there would be a lot of walking through others' bedrooms to get around (anyone in bedroom #2 or 3 would have to walk into someone else's bedroom to access a bathroom). But on the flip side, we worried that adding a hallway would just waste space and make everything darker/more cramped. So much second guessing!
BUT THEN (plot twist!) a neighbor in one of the other near-identical houses invited us over to check out her place (remember there are three others that look almost exactly like ours). And that changed everything for us. It had an upstairs hallway!! Exactly where we were thinking about adding one! And it didn't feel dark and closed off – it felt great! That A-HA was enough for the rest of the lightbulb to go on in our heads – and we arrived at this floor plan, which we're currently working off of: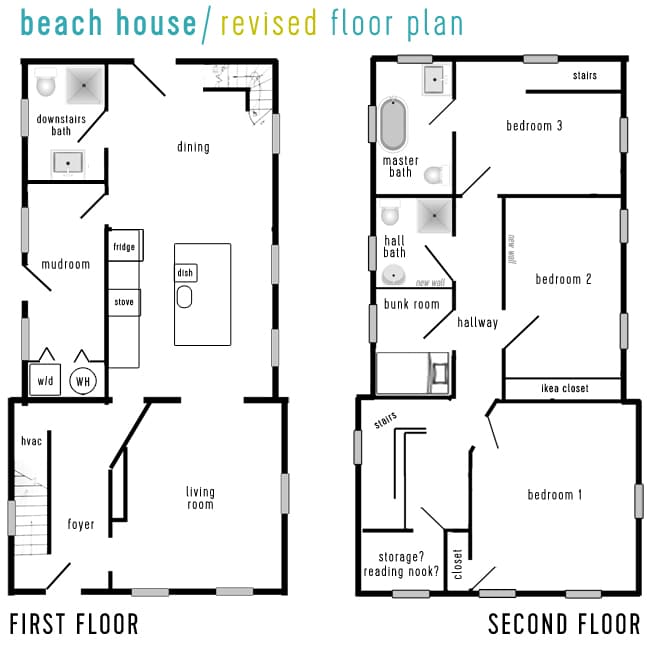 There's a lot going on there, so let me break it down for you one floor at a time. Let's start upstairs, since the hallway revelation is what got us here in the first place. Existing floor plan on the left, new plan on the right!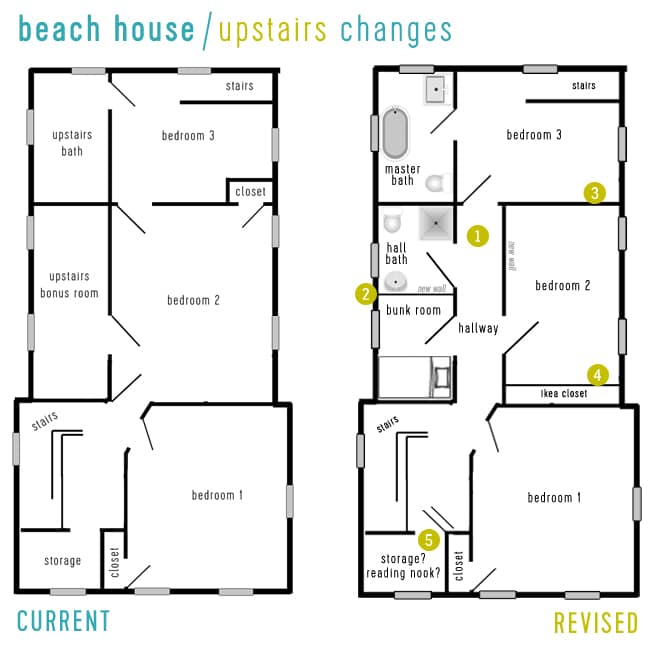 So here are the most noticable changes:
Hallway. By adding one new wall through the old Bedroom 2 (based on our neighbor's measurements) we can create a comfortably sized hallway and still leave enough space in the remaining bedroom.
Hall Bath & Bunk Room. We'll split the upstairs bonus room into two "cozy" but functional rooms. The hall bath will be right behind the existing bathroom's plumbing (jackpot!) and can be accessed by everyone upstairs without trapsing through someone else's room in the middle of the night. The bunk room isn't an official 4th bedroom, but we can fit two built-in twin beds in there – we're envisioning something like this – making it a great, fun space for kids to sleep in. We can already picture our two fighting over the top bunk.
No Closet. Bedroom 3 is essentially becoming the main bedroom with an attached bathroom (and it's own private staircase!), but in order to create a flat wall for the bed, Bedroom 2's closet had to go. We have a nice solution for replacing that closet, but we still have to figure out the Bedroom 3 closet situation. It may be a wardrobe somewhere. TBD.
Closet Wall. Since Bedroom 2 is pretty long, we'll install a wall of closets on one side (likely an Ikea system) to more than make up for shortchanging Bedroom 3.
Storage? Reading Nook? We'll still be left with this small room on the front of the house. The neighbor (with the hallway) uses it as a storage space, which we may find we need. But if not, we'd love to do something fun like this down the line.
And now we'll turn our attention downstairs (again, current on the right – revised on the left):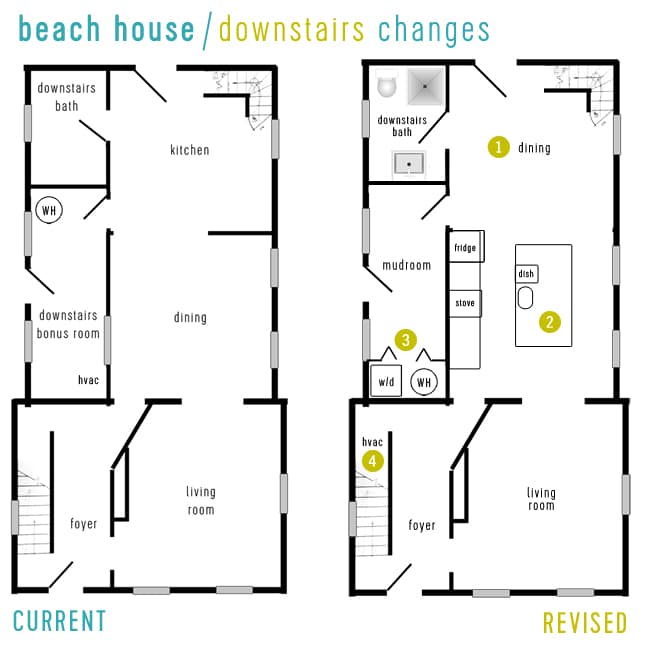 Kitchen / Dining Swap: The main difference down here is moving the kitchen to the middle of the home. There's a nice big wall to put cabinets on, plus it'll give us a spot for a big island. Then we can float a dining table in the back of the house, sort of like a cozy breakfast room that's often located behind a kitchen (we might even add a bookcase full of games and books back there, which could also be played/read around the table).
Kitchen Design: We haven't actually designed the kitchen layout yet, but this shows some general placement ideas. The sink in the island will allow the person at the sink to look out those two big windows on the right side of the room, rather than facing a wall.
Utility Closet: As mentioned before, we're planning to add a stacked washer & dryer plus a water heater in the mudroom. Preferably behind some bi-fold doors to keep them concealed.
HVAC: There's currently just storage under the stairs, but an HVAC professional actually suggested putting our first floor unit in there – which we love because it gets it out of the way (and doesn't eat into our mudroom area).
Hmmm, I'm not sure "hidden HVAC unit" was the high note I wanted to end this post on – but here we are. Actually, where we really are is at trying to get all of these changes priced out since things like "foundation repairs" and "new roof" aren't exactly in our wheelhouse. So feel free to cross your fingers that it all goes well and only costs a finger and a toe as opposed to a whole arm and a leg. There we go. Ending on a dad joke. It feels so right.
P.S. Seems like shopping season is upon us, so for anyone looking for holiday gift ideas, we've got you covered right here – and for anyone who'd like to see the home decor, furnishings, and accessories that we're digging, we collected all of our favorite rugs, chandeliers, bedding, kids stuff, and more right here.