Slowly but surely we're making headway on the beach house. In fact, in the next few weeks we're going to see BIG progress as the house gets all new electrical, plumbing, and a fully functioning HVAC system (just in time for those sweltering beach days). We're so excited to be able to shout from the rooftops that there's no more sketchy knob & tube wiring, the furnace will no longer be "accessorized" with cardboard and bedsheets (not sure what those were for), and there's actually going to be running water in the house again, which hasn't happened for who knows how long (the old sewer line got busted up by tree roots in the back, so we have to MAKE A HOLE IN THE ROAD to get a new line out front – yoinks!).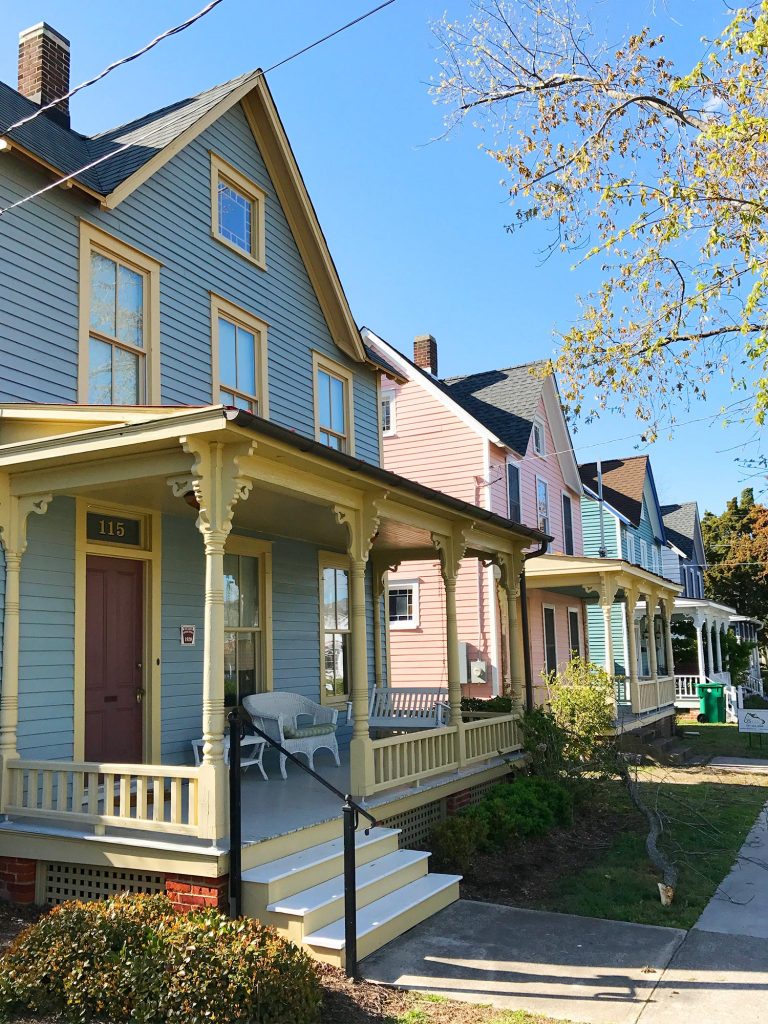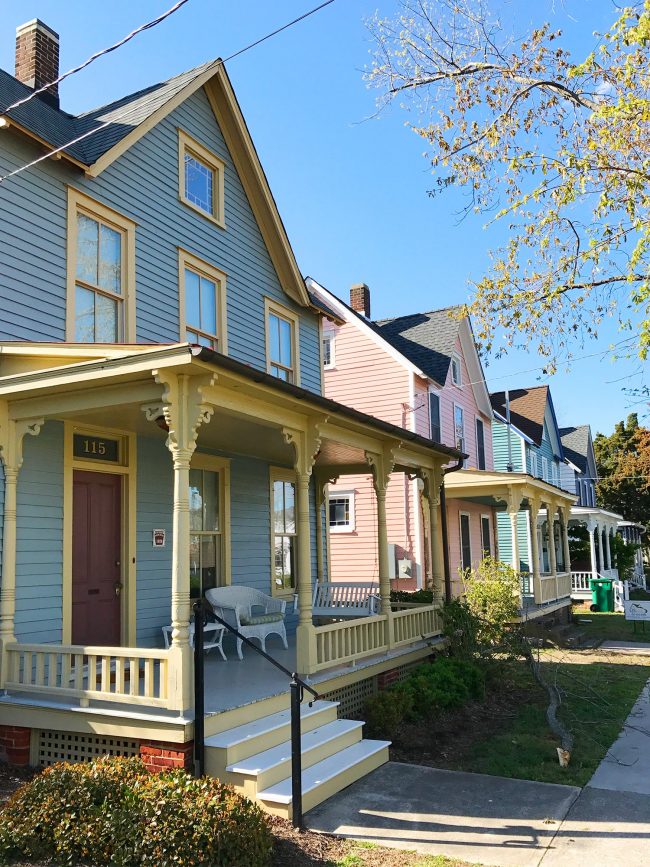 But apart from a few shots here and there on social media, it's been a while since our last big update. Since then, we've gotten a whole lot of major stuff check off outside, like a new roof (no more leaking into the house!) and new pink HardiePlank siding (more on that material and color choice here). IT'S GIVING ME ALL THE HEART EYES, and yes I'm having a full blown love affair with pink right now (even started this Instagram account to prove it). The painfully slow hanging chad dangling checklist item is that creamy yellow trim. The weather and our painter's schedule haven't been friends lately, but I'm confident that within days (GLORIOUS DAYS!) we'll no longer pull up and have to give those not-white porch columns a solid two minutes of side eye.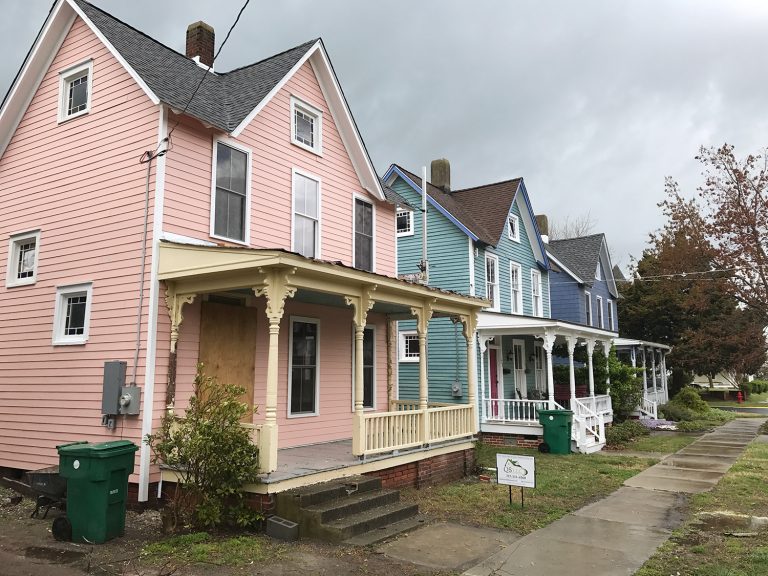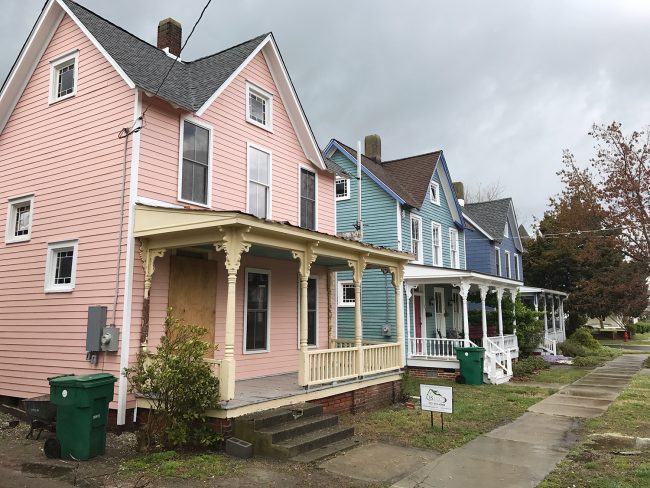 The "completed" list also includes a bunch of new windows. We were able to save all five original stained glass windows WHICH WE ARE SO RIDICULOUSLY EXCITED ABOUT (there is one on the front, one on the right side, and three on the left side – seen below). Some of them needed some new panes, many needed new sills, and all of them still need reglazing, but they're starting to look pretty good! Especially with all the white trim on that freshly rebuilt side of the house (remember that curve ball?).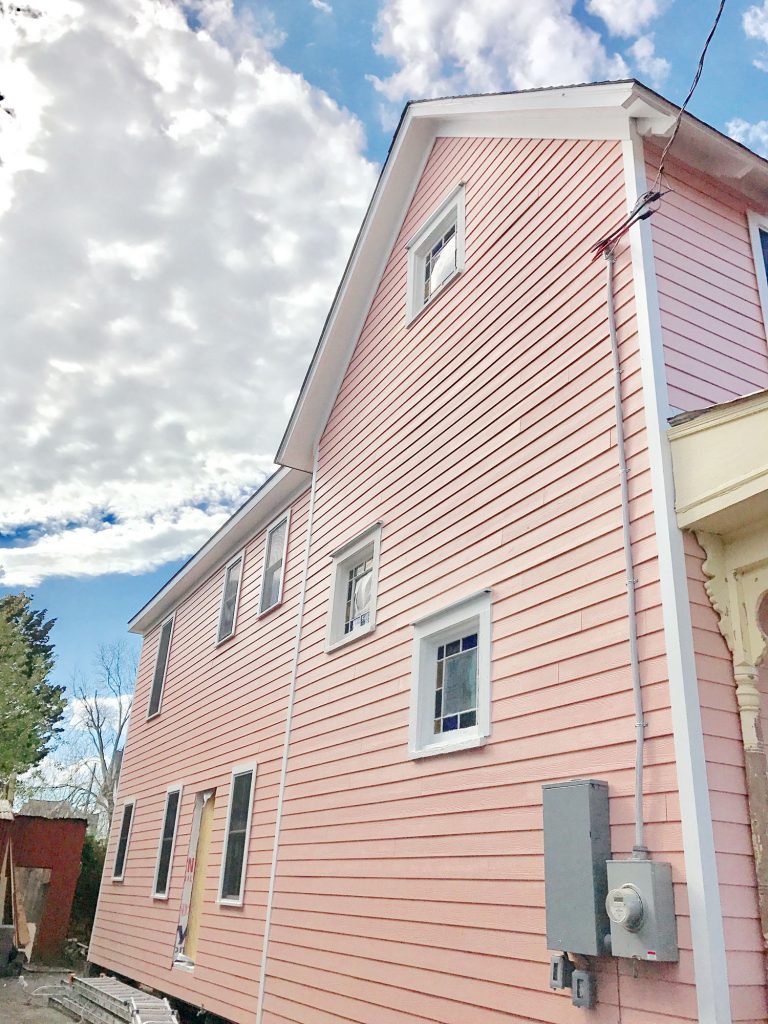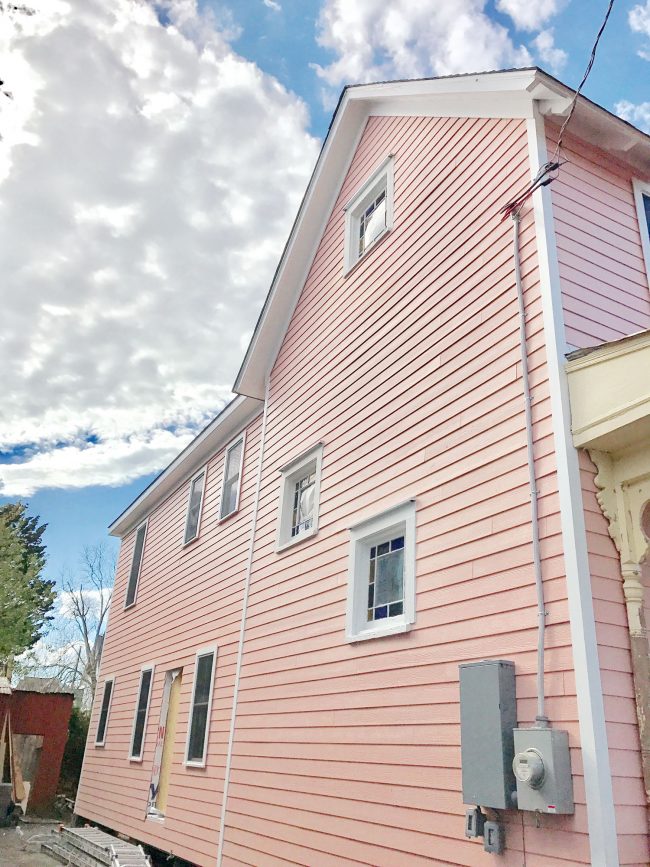 Many of the other windows were too rotten/broken to save and some of them had been replaced by bad vinyl ones that weren't doing their job, so getting consistent, high quality, and energy rated ones that all match was definitely an upgrade we were excited to check off the list.
But despite all of the progress outside, there's still plenty to be done. We still have some brick repairs around the perimeter of the house that need to be done, we're getting a new metal roof over the porch since the old one is sadly beyond saving, and we have to add stairs to all three entrances (the front concrete block ones were busted from the start, the side door never had any stairs at all, and the also-busted concrete block back stairs had to go to run the siding completely behind them). We're going to do brick steps out front which we think will be such an upgrade from concrete blocks.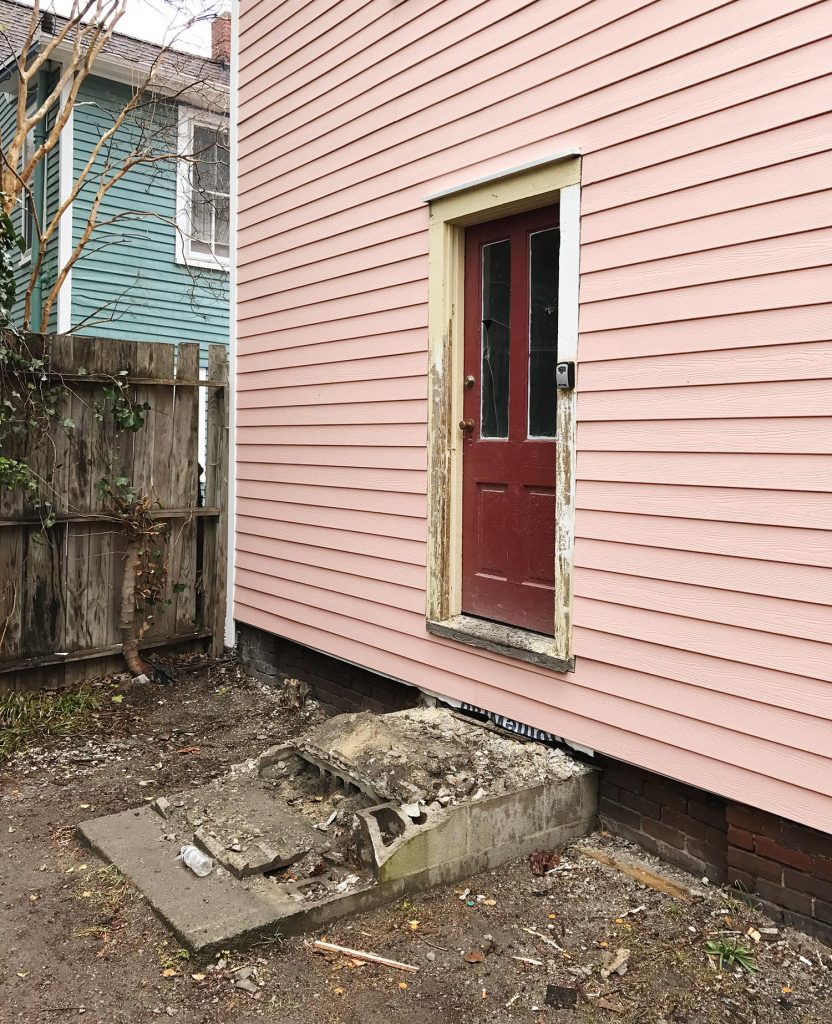 I know what you're thinking: how is Sherry, with her little baby legs, getting into that house? Don't worry, even my short stems can make the leap up. I've even done it while chewing gum. #showoff
Back up front, the porch ceiling needs some attention too. We originally thought we'd paint it white so the pink siding could be the star, but the existing color really grew on us. We figured after the pink siding went on it would be too much, but instead it seems to complement the blue houses next door – and we've always had a soft spot for blue porch ceilings.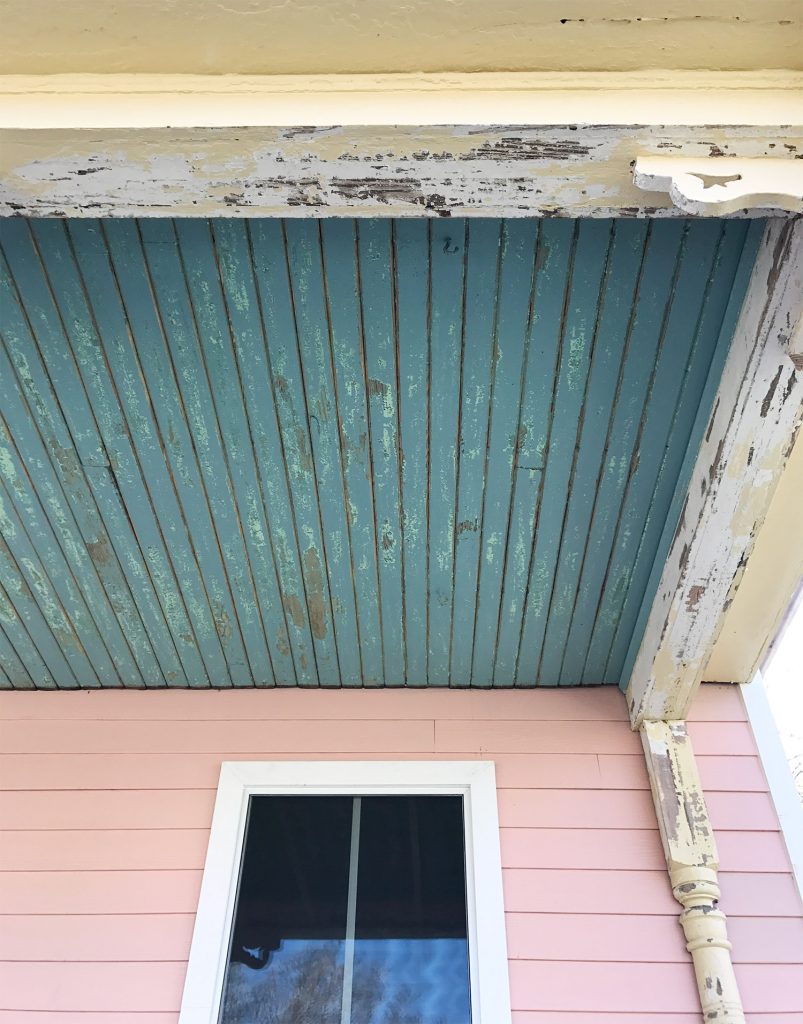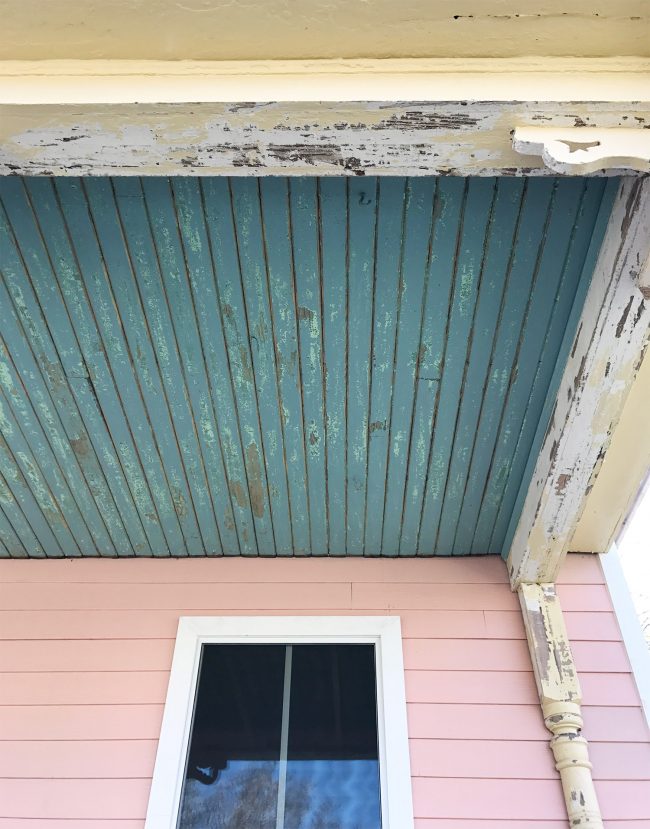 So we did what any DIYer would do when they happen to leave their paint decks back home, 2.5 hours away. We gathered up some of the fallen paint flakes in an old paper cup and brought them home to compare. We decided to go a bit lighter/less saturated, so Breaktime by Sherwin Williams won out. (Note: this isn't lead paint, it's just peeling exterior paint from the last 15 years or so – we test things like freaks, and had pros handle any and all of the lead, asbestos, and mold).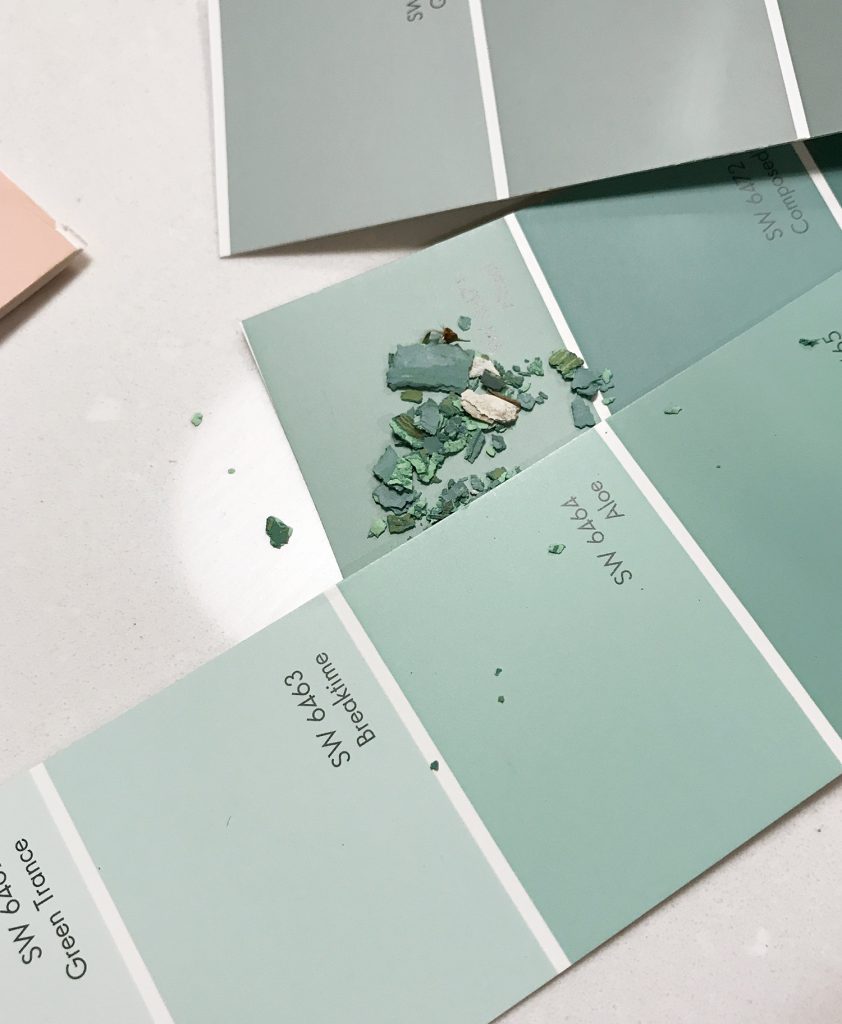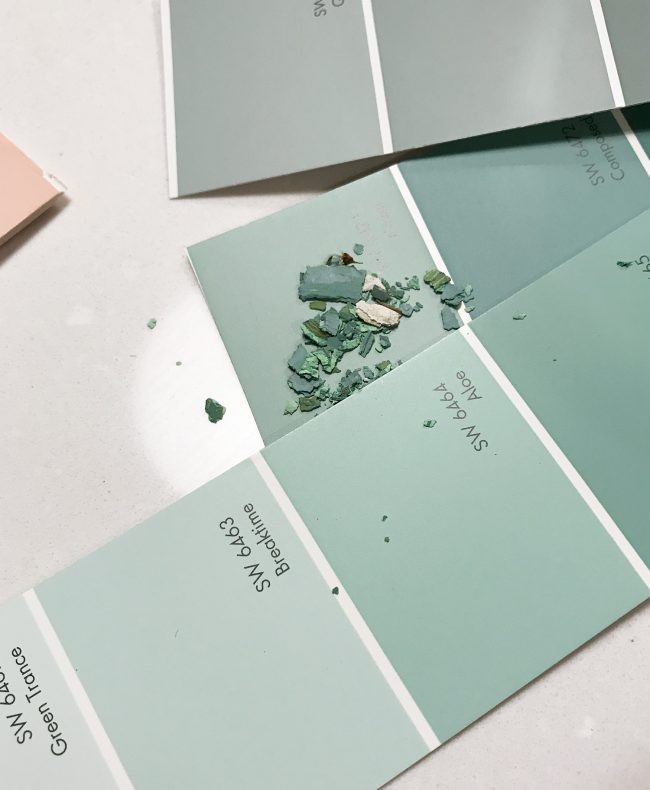 But in spite of all of the impending tasks and line items, I can't not be happy looking at the new siding. I grin like a big old nerdface every time we roll up. EVERY. FREAKING. TIME.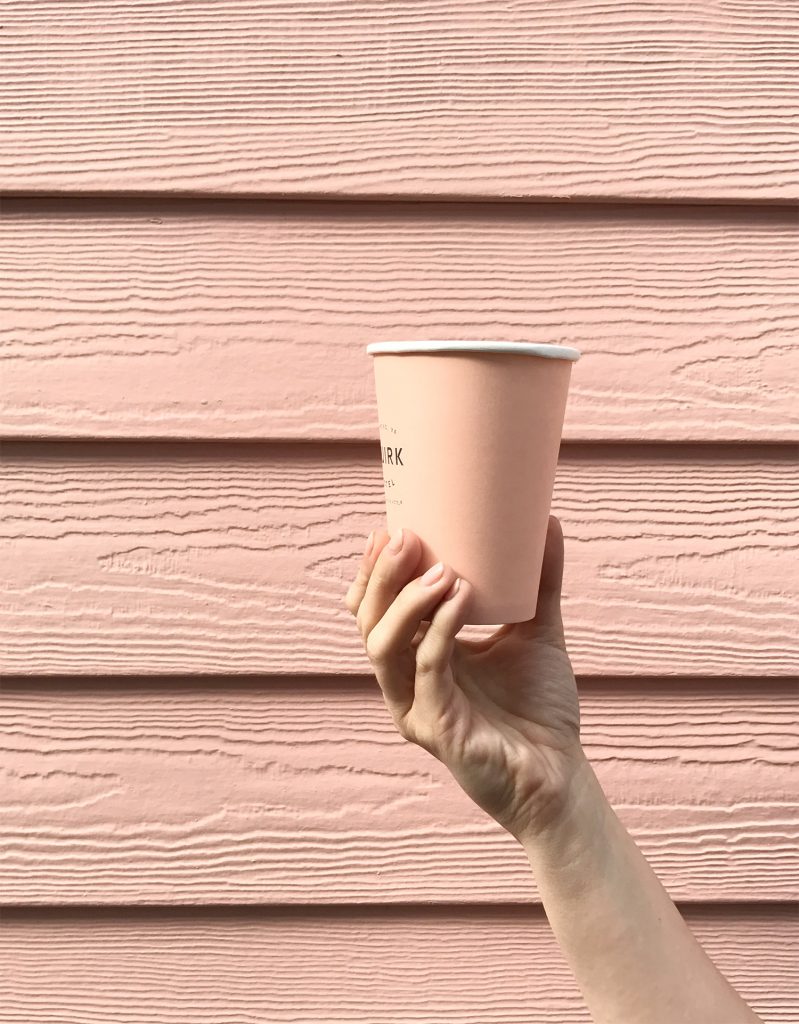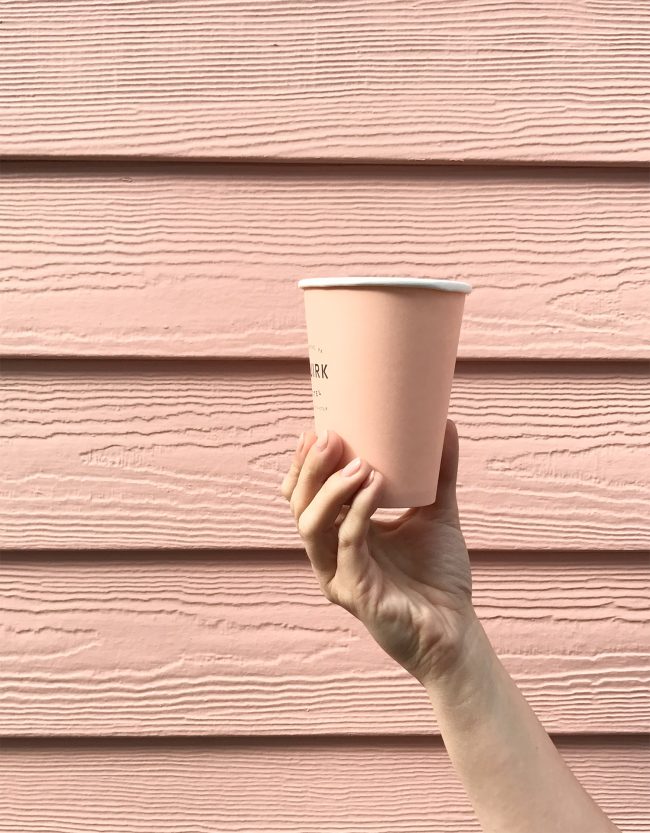 Gotta stop and take a breath. Am I too hyper about this stuff? YES. Is it warranted? I THINK SO!!!!!
All of the new framing and reinforcement framing inside is done too, so we've really loved seeing our floor plan slowly come to life in 3D. We can see bedrooms starting to take shape, and closets appear out of nowhere.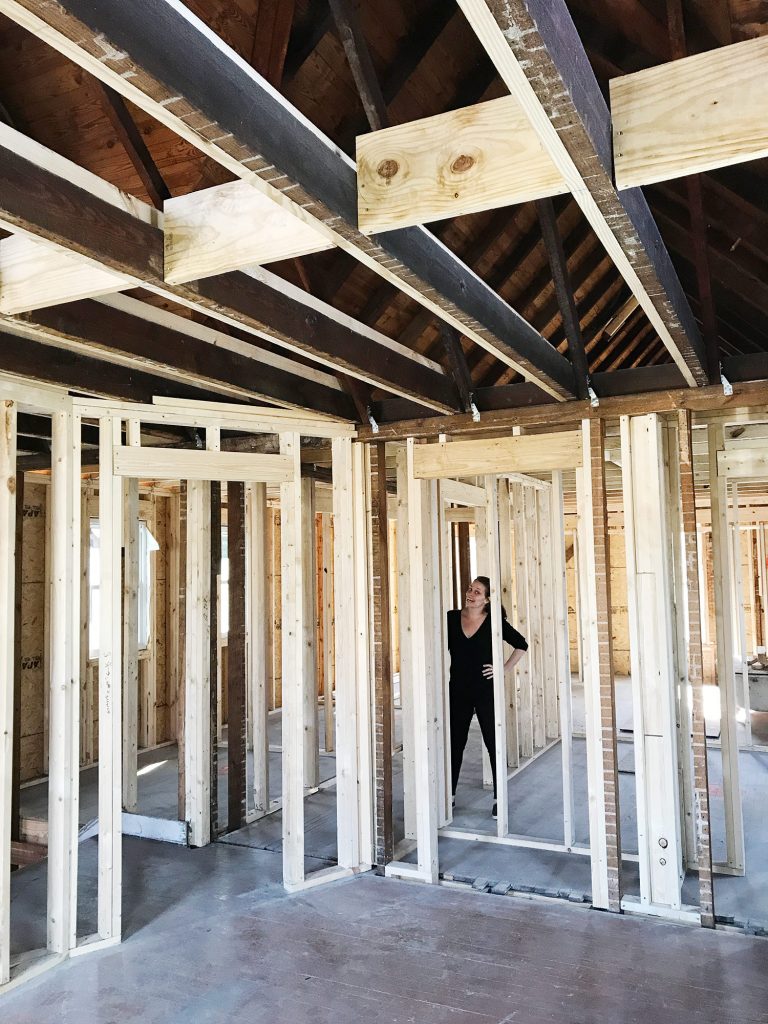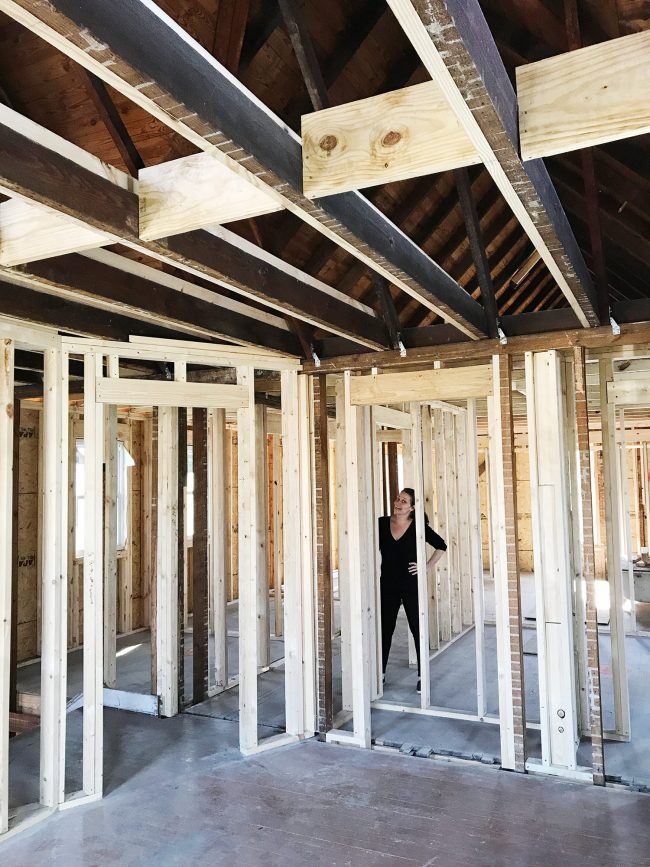 Our favorite part of the new framing was finally walking through the upstairs hallway that we added to make sure nobody will have to slink through one bedroom to get to another.
John was also hyper about this stuff, FYI: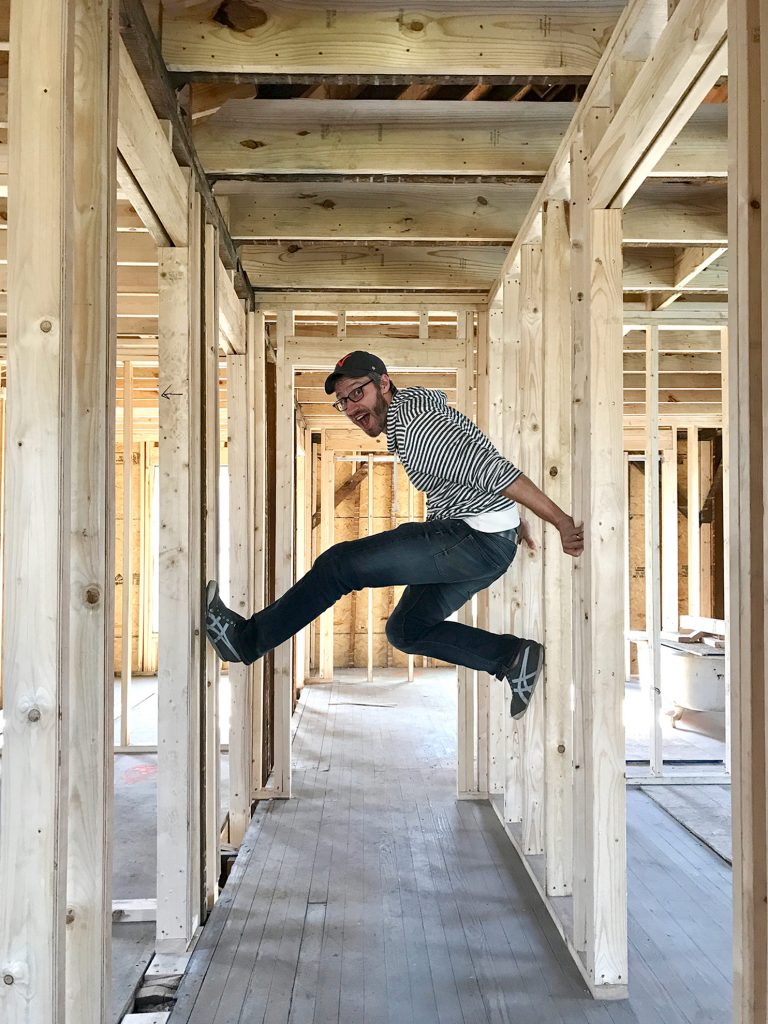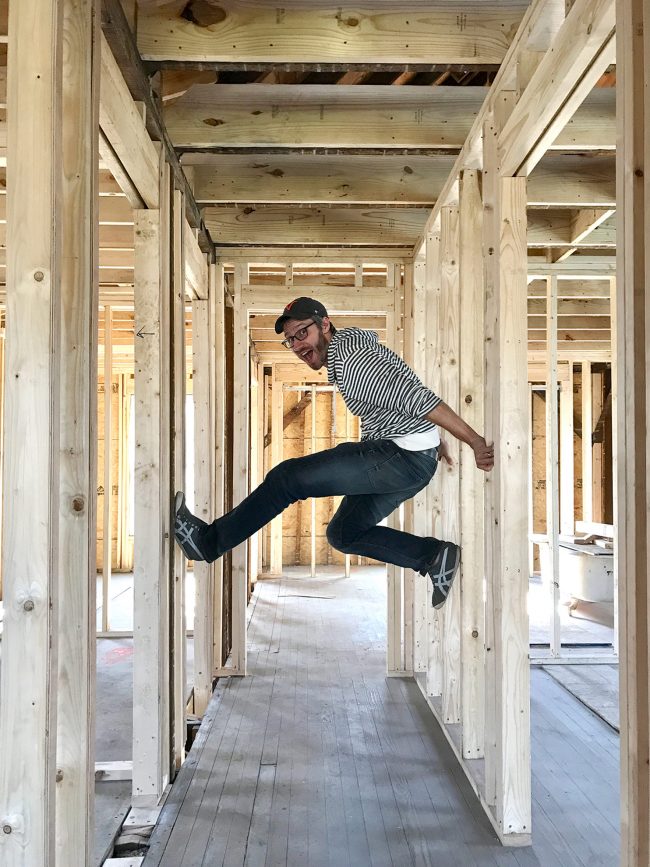 Look at me, just playing it cool. If by playing it cool you mean posing like a Deal or No Deal girl.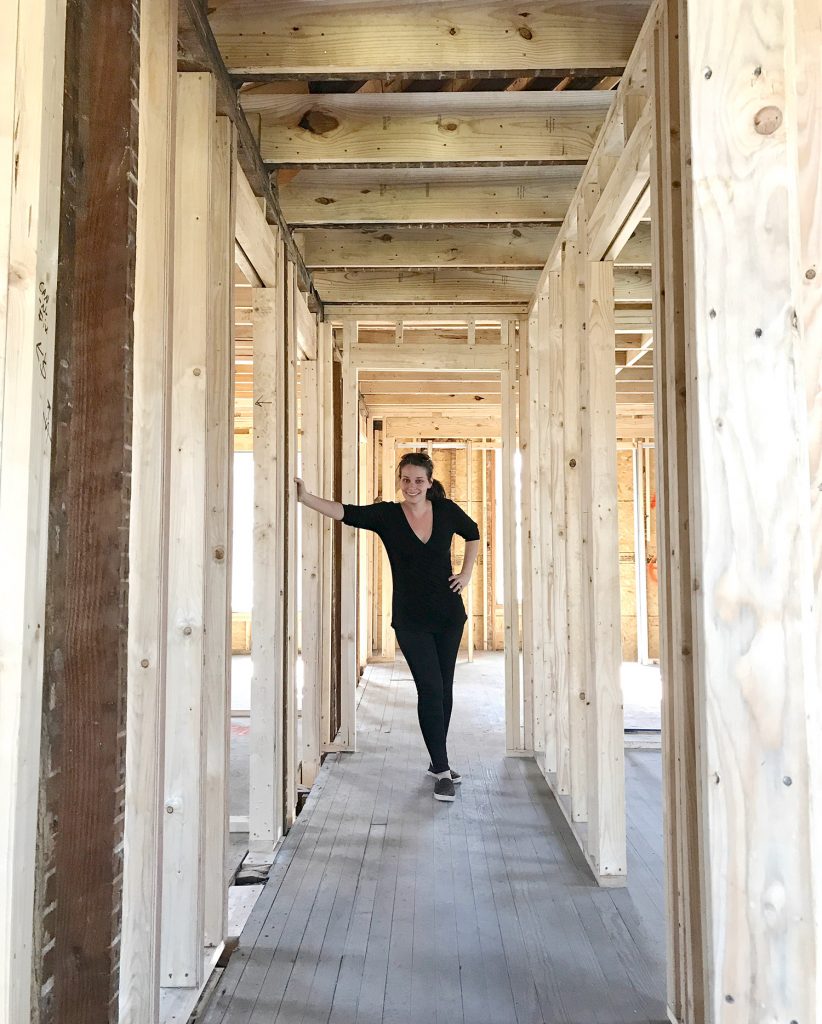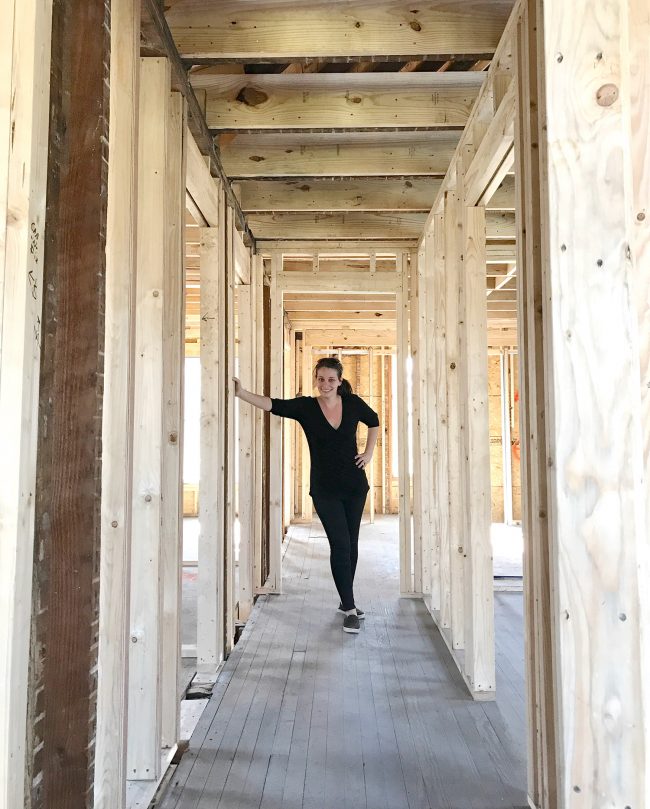 That picture of me also gives you some perspective because when I looked at the picture of John "The Wingspan" Petersik pulling his spider-monkey moves, the hall looked tiny. But a little "Sherry for scale" saved the day (you should know that's John's favorite unit of measurement).
I know pictures of framing can be kind of confusing, so I'll save the rest for another post (maybe when I can get a decent video tour). But before I go, look at this cool little detail we figured out with our contractor. He discovered that a portion of the upstairs landing was sagging near the stairs (you could practically bounce on it – and no ceiling drywall would ever work there without cracking). So after weighing a ton of options like a big ugly pillar there, we landed on the idea of using a local blacksmith to create a sturdy iron support bracket. Boom, no more bounce.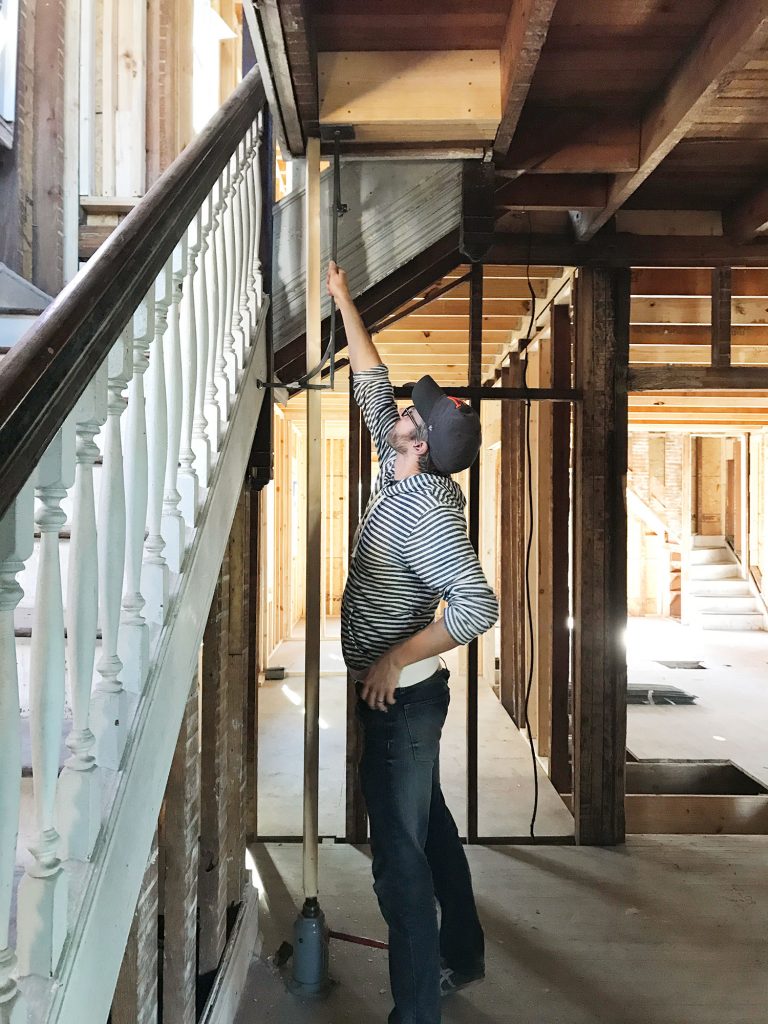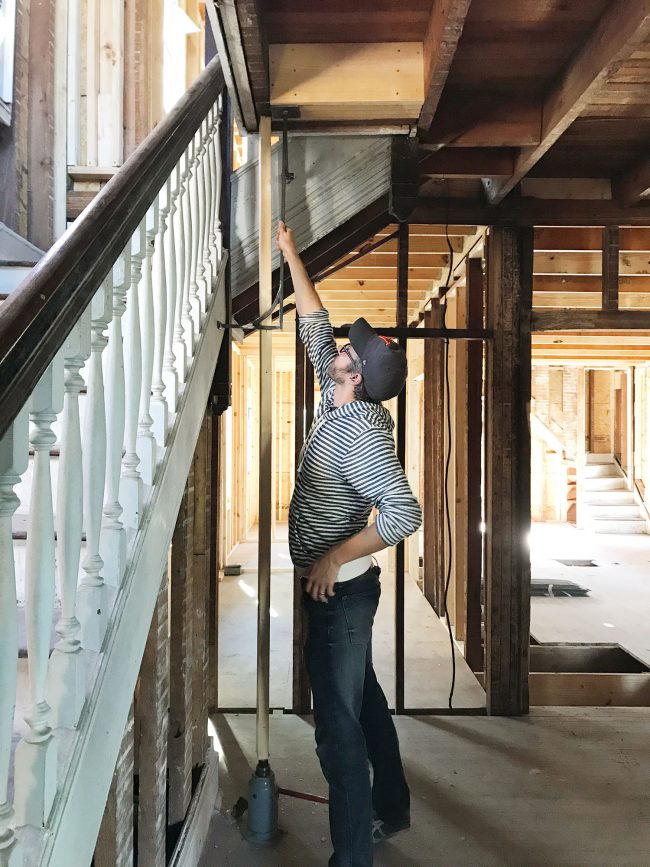 You can see how it will connect to the stairs in two places to shore up and support the sagging floor in the picture below. It was a much better solution than adding a giant post somewhere – plus it felt kinda fancy to have something custom made out of iron (and it was just $100 whereas a big ol' post would've been a lot more). If we're lucky it'll look like a cool original detail once we're all done.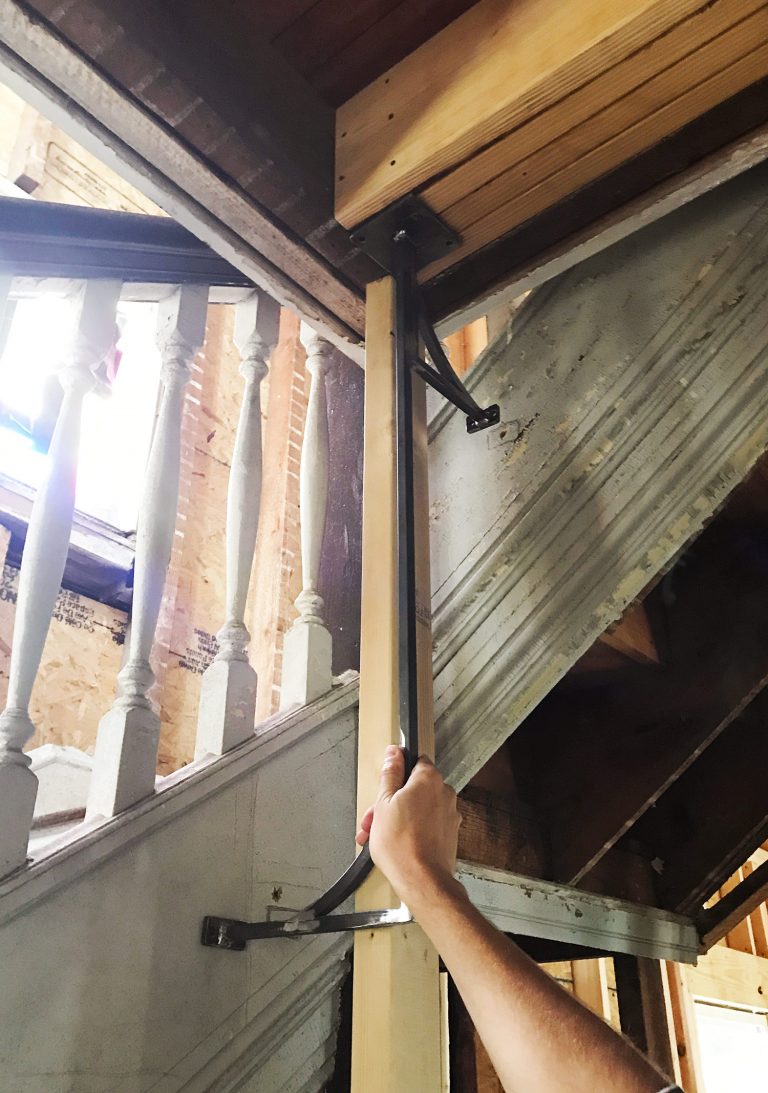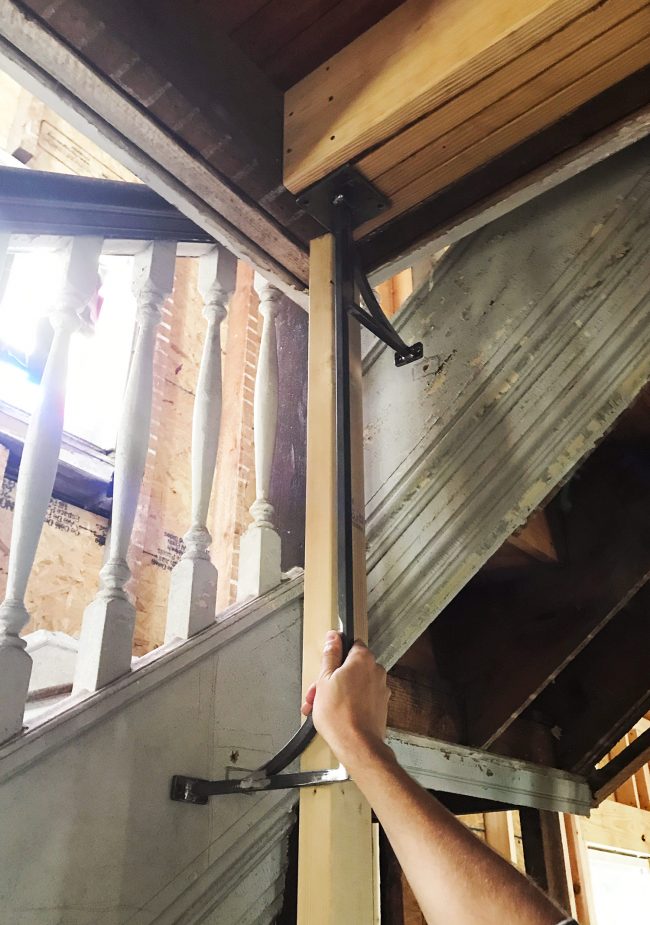 Another recent task was to select where all of our electrical stuff (fixture boxes, outlets, light switches, etc) and plumbing stuff (sinks, toilets, showers, laundry appliances, etc) and kitchen stuff (fridge, stove, sink, dishwasher) would go. It meant we basically had to walk through every inch of the house and make sure we didn't forget to mark a spot where we'd want an outlet, and agonize over every single door and how it would swing to make sure we're putting the light switches in the right spot.
Then it was on to marking where we wanted ceiling fixtures, some of which would need to be centered over something like an island (so its location needed to be mapped out first) while others might need to be centered over a dining table (so we'd need to know where we were putting that) or a fan box might need to be planned for a spot that'll be centered over the bed (again, had to figure out where that was going to determine the fan placement).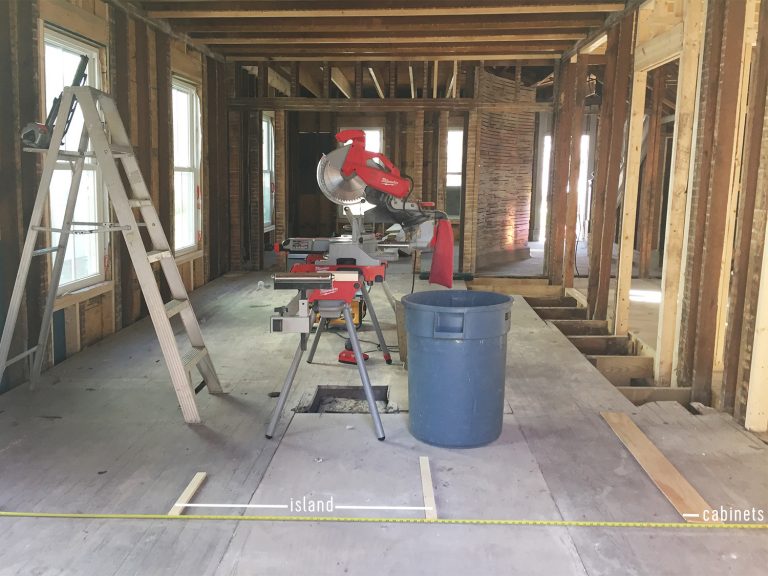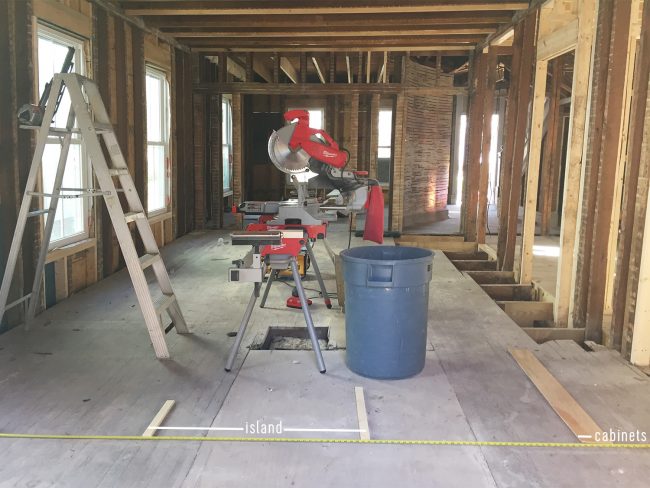 Next came planning the width of every shower so we knew what sized vanities we should get and if we needed a compact or regular toilet and how wide our showers could be and where we'd put the shower spigots so they weren't on a back wall (which isn't recommended since the pipes can freeze). If that sounds like a lot of stuff, IT WAS. It took us hours and hours onsite after days and days of planning back at home. Then we made additional to-scale renderings when we got back home just to be sure about everything. But it also felt like a huge accomplishment once we had things locked in. ONWARD!
The next step was picking out (and then purchasing) alllll of the light fixtures, faucets, vanities, tile, cabinets, and basically everything except for furniture and appliances, which can come later. But yes, it's a WHOLE LOTTA ORDERING! Which is both exhilarating and also semi-paralyzing. But we think we've made some final decisions, so we hope to be back with some bathroom/kitchen/laundry room plans when we get a second to lay those out (my color-coded binder runneth over). But if you'll excuse me, I'm off to call the credit card company who just froze our card because of all the seemingly suspect plumbing and lighting purchases. Lol. And also, oy!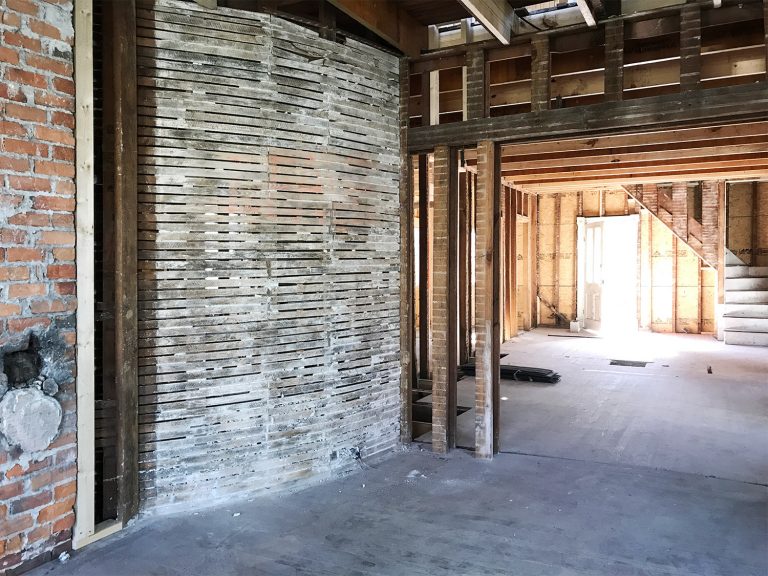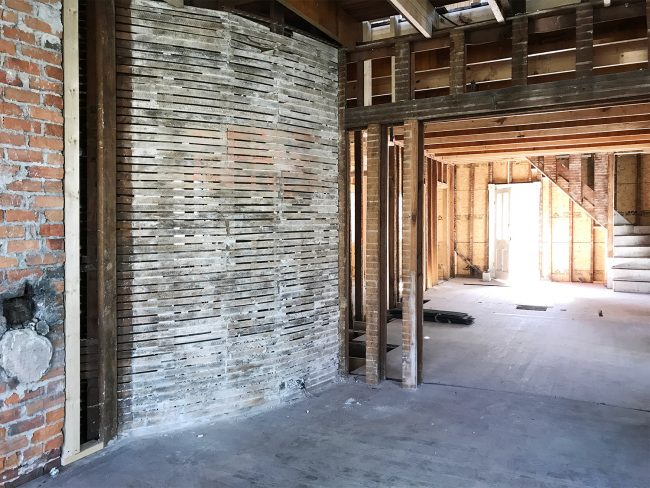 P.S. If you want to read all about the beach house from the beginning, here's the post about how we bought it, this one with our initial floor plan ideas and a video tour, this one about decor inspiration and the look/feel we're leaning towards, how we picked a color (and why we went with hardiplank), some progress with walls and a new floor plan, and (my personal favorite) how the rotting side of our house photobombed HGTV.