Remember how we had a trash compactor in our kitchen? Remember how we removed it waaaaay back in March? Well, we have officially filled the void with some slide out baskets.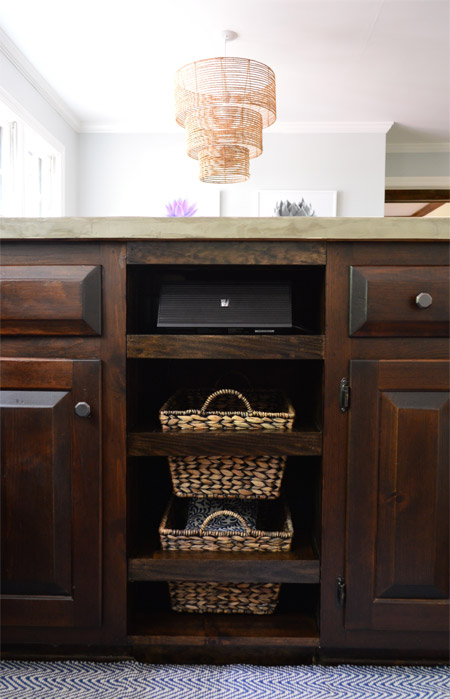 Only took us three months.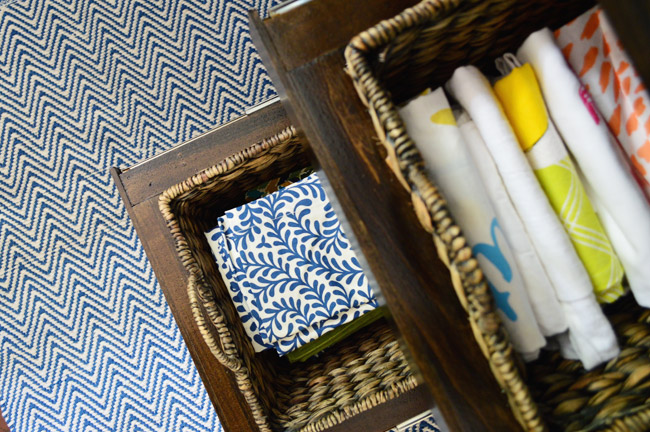 Not that the hole it left wasn't super attractive and crazy functional. I mean, if incorporating a "great Clara hiding spot" into our kitchen was the goal (and I put that in quotes because Clara's hiding spots are frequently preceded by "I'm going to go hide in the [insert one of four usual locations here]"). So yeah, it's time this hole worked a little harder.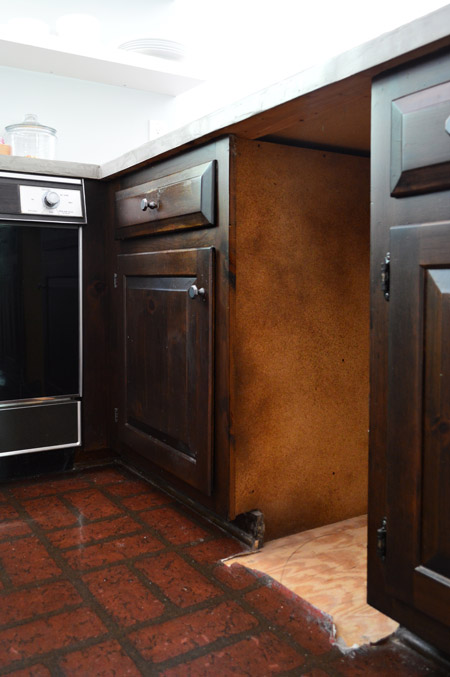 We debated a few options – like putting a trash or recycling bin there (but this cabinet hack is already working nicely for us) or adding some open shelves (like we did in our master bath). Ultimately we decided to attempt some sliding basket storage, kind of like what we've admired here and here. It would help us get our dishcloths, cloth napkins, and paper napkins out of the various spots they're housed throughout the kitchen and into one distinct spot, and it would satisfy our curiosity as to whether it's a feature we'd appreciate in our eventual kitchen remodel (you know we love to use Phase 1 projects as a do-we-even-like-this test before committing long-term).
So with a few key measurements in hand, Sherry hit up HomeGoods and found these two perfectly-sized and nicely-colored winners. And she almost left our tape measure there. Close call, guys.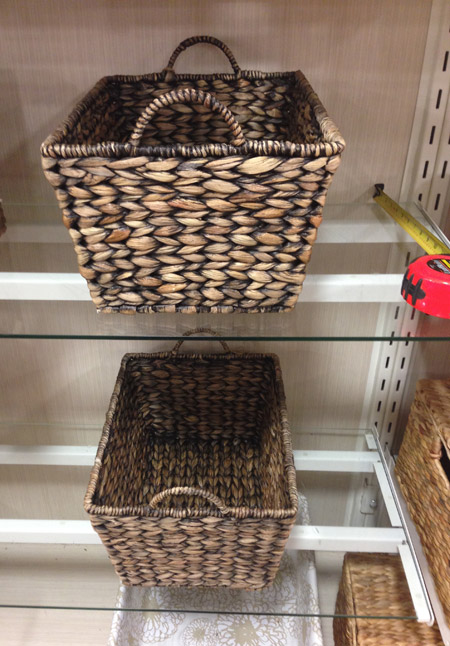 Before we could put those baskets to use, there was work to be done. I started by filling in two basic areas to make the hole look more cabinet-y thanks to a board across the top and the toe-kick. I attached both by screwing a brace piece into the back of the existing cabinet lip, then nailing the face pieces in.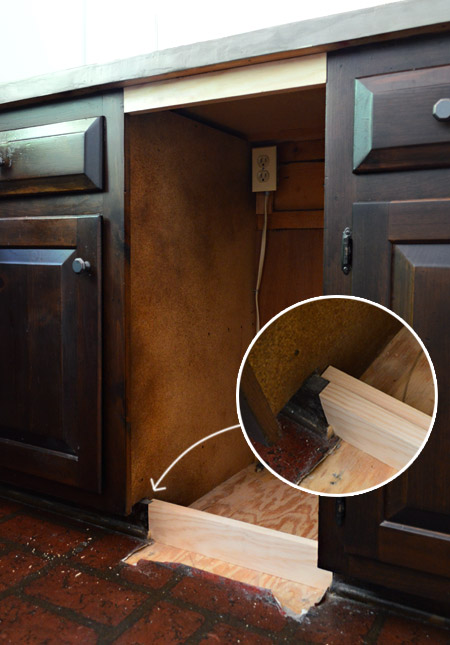 Next I had to build out the sides of the cabinet to make them flush with the outer lip, that way the drawer slides could attach inside without being obstructed when we tried to slide them out. I did this by screwing in a few pieces of scrap wood that I cut to fit. Actually, up to this point in the project I was able to pull everything from my scrap pile. Am I the only one who feels a special kind of victory when this happens?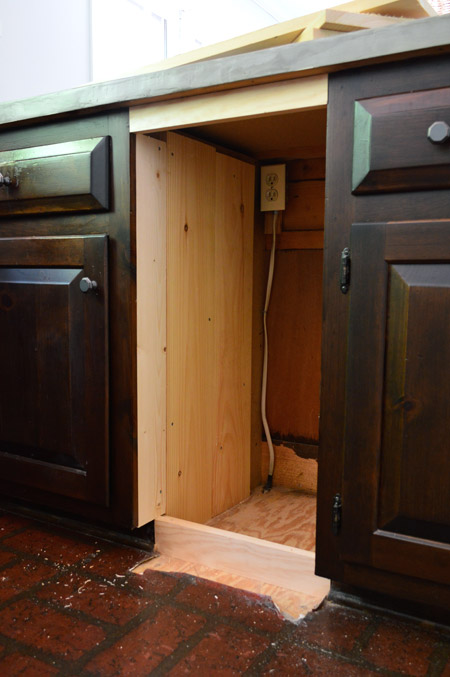 With the cabinet hole built out, it was time to create my drawers. Simply put, I used my Kreg Jig to create a frame that the tapered basket could then slide into. I built them out of 1.5″ square dowels from Lowe's. That was a pretty precise thickness that I needed, so my scrap pile couldn't help me here. Sad face emoji.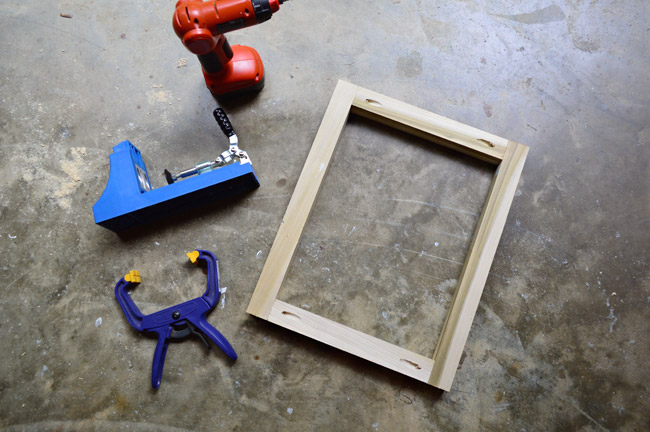 This was probably the most complicated part of the project to figure out. There was lots to take into account to make sure that the frame:
was sized so that the basket fit snugly into the opening without falling completely through
fit perfectly into the cabinet hole, while accounting for the width of the drawer slides
was thick enough for the drawer slide to attach to securely
There was lots of triple-checking myself. Since my exact measurements would only work if you have exactly the same opening and exactly the same baskets, just use the descriptors below to create your own frame that should fit whatever specifications you're working with.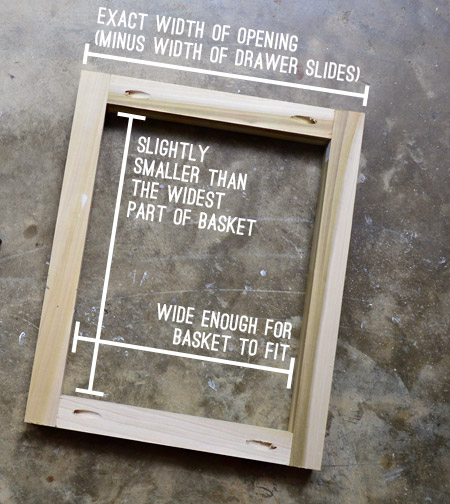 The drawer slides we selected were these ball-bearing ones from Home Depot. They're a little pricier than your basic wheeled slide ($15 vs. $5), but I thought the full-extension would come in handy – and who doesn't love a soft close?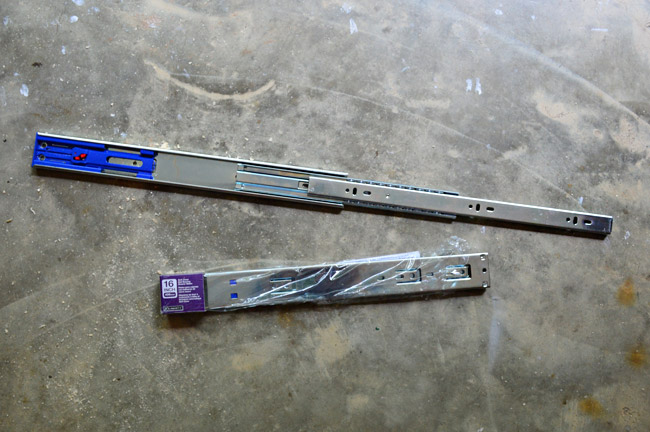 Per the instructions, I detached the drawer rail part and screwed it into each side of my two frames. I found it helpful to mark the holes with pen, drill pilot holes, and then come back with the screw to ensure careful placement.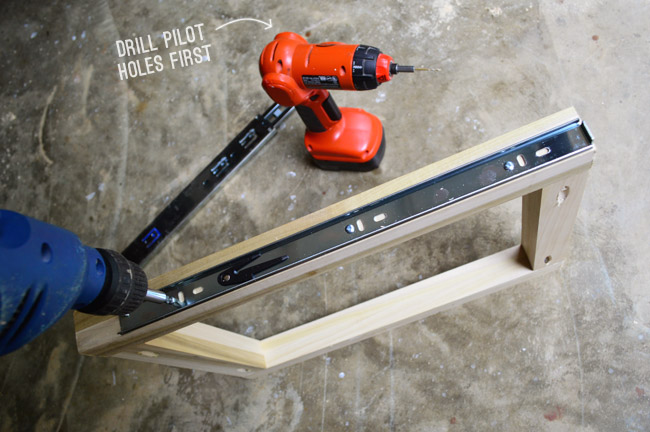 I attached them along the bottom edge of my drawer frame. It not only made keeping them straight/level easier, but also meant when we reattached the rest of the slide (which was thicker) it didn't stick up above the frame. #thinkingahead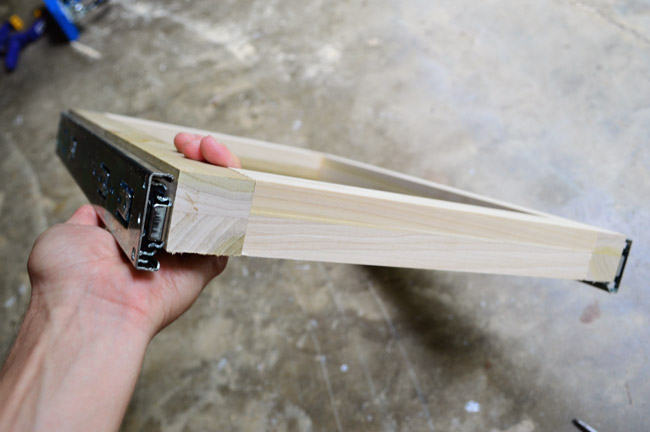 Back inside, I held up my frame in the cabinet hole to mark its placement. Then I detached the cabinet rail part of the slide, held it in place, marked my hole, drilled pilot holes, and screwed the first one in place. This was possible with two hands, but easier with four, so I recommend recruiting your lovely burp cloth sporting spouse (or a friend, neighbor, relative, but probably not your dog) if you can. You can see below that we already had the bottom drawer done and in place.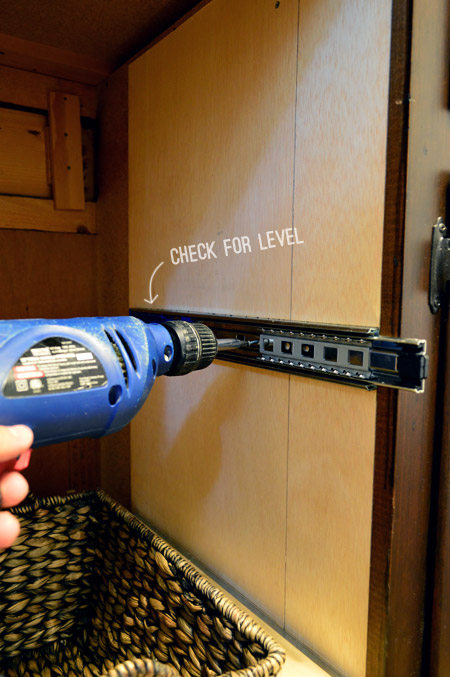 Before screwing the second one in, I temporary reassembled everything so we could check that it was level first. Not only would this ensure that it looked straight, but it helps the drawers slide more smoothly.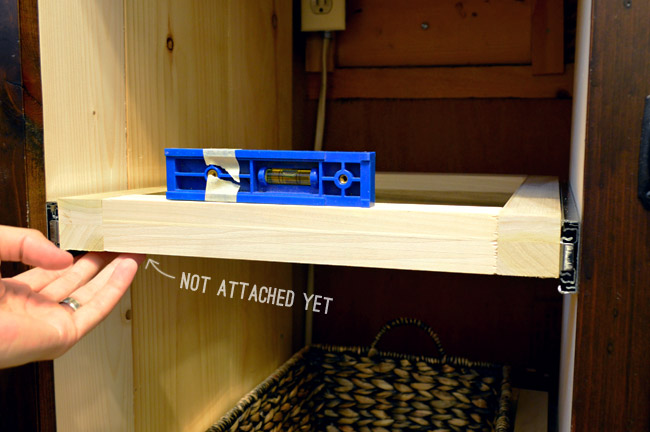 With the second side screwed in, I reattached the drawer, held my breath and checked that everything worked. Insert sigh of relief here.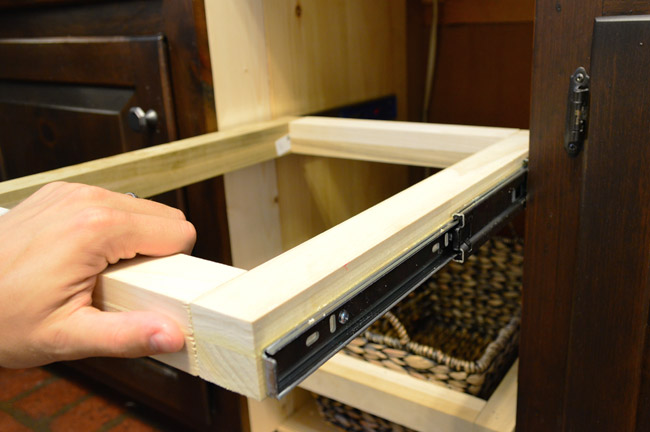 The next step was to place the basket into the frame. They sat in there nicely, but I shoved them down a bit to keep things snug.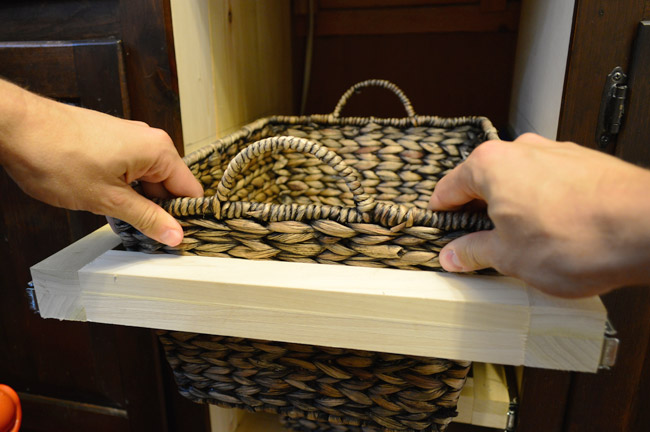 Here are the two basket drawers installed (after we decided after the fact to shift the top one down a couple of inches). We contemplated doing a third, but HomeGoods only had two baskets, and we thought we'd take advantage of the fact that there's already a working outlet back there (the trash compactor was plugged in, not hard-wired).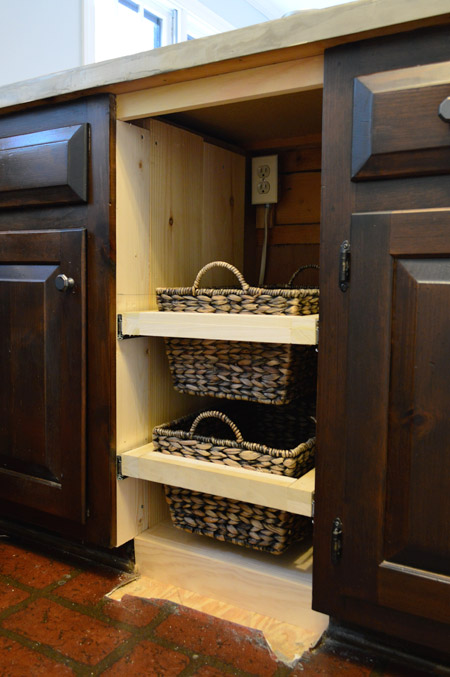 Taking advantage actually just meant adding a simple shelf (built from scrap wood!). Sherry suggested that we use it as a phone charging spot, but I saw it as an excuse to buy the Bluetooth speaker that I've been trying to justify buying for a while now. Our kitchen radio reception is really spotty at this house, and having my phone tethered to an auxiliary cable has meant that it has gone largely unused since we moved in.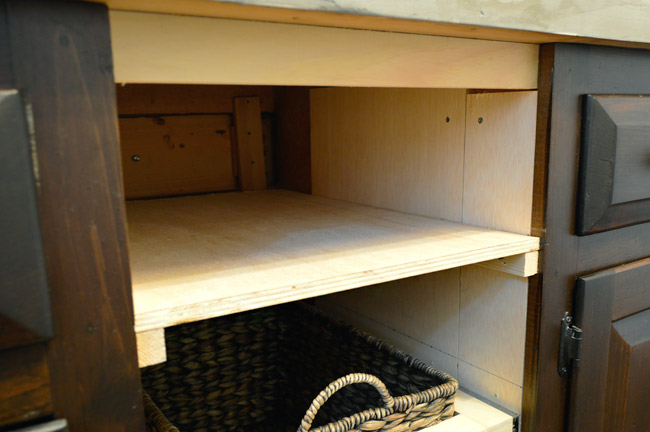 One last finishing piece was to add a few thin boards to the front of each drawer (and the shelf) to give the fronts a clean and consistent look. Plus, it hid the drawer slides even more.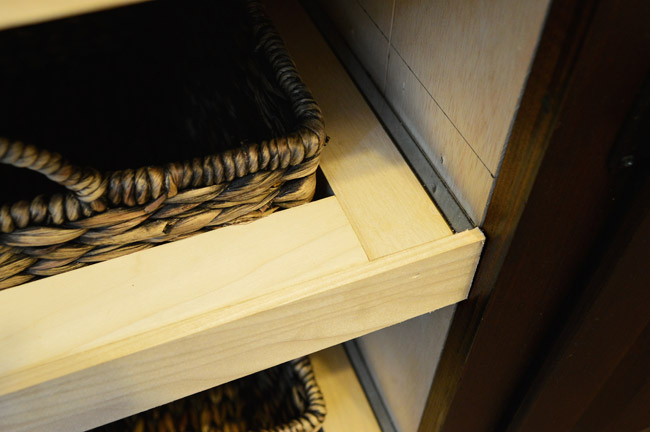 Here's everything built. Now it was just a matter of staining everything to match. Well, match-ish.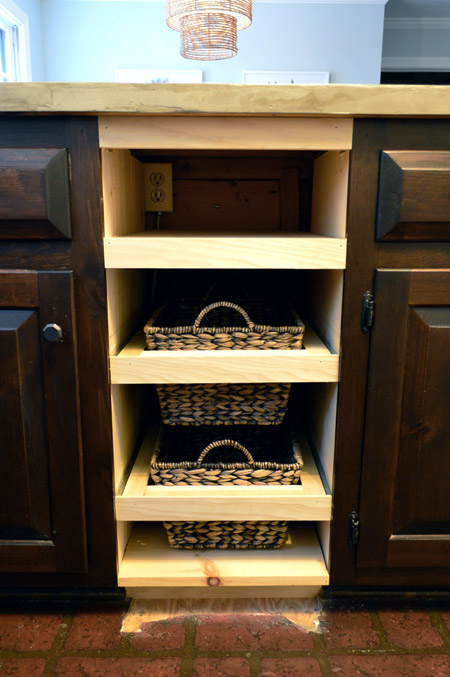 We stained our existing cabinets with PolyShades in their Tudor color, so I wish it was as simple as just repeating that process. But obviously the raw wood finish here is pretty different from the medium brown-red stain that the other cabinets already had going on. So first Sherry darkened the new pieces with a coat of Dark Walnut stain that we had on hand.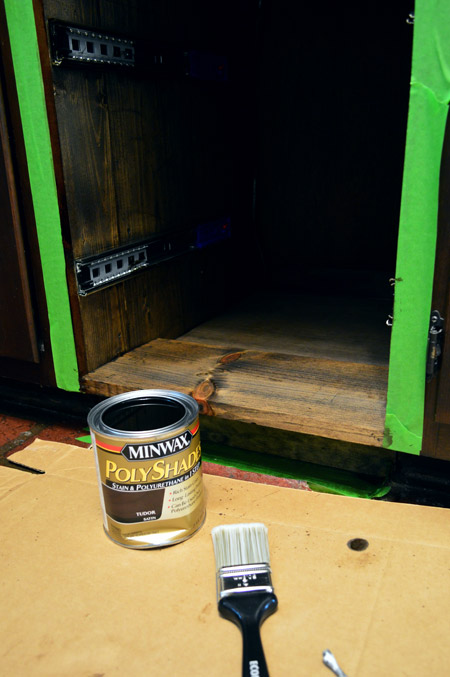 After that dried she started in with the PolyShades coats. It ended up taking three coats of it to get a similar tone to the surrounding cabinets. It's not a perfect match (the cabinets are a little redder) but its close enough for us.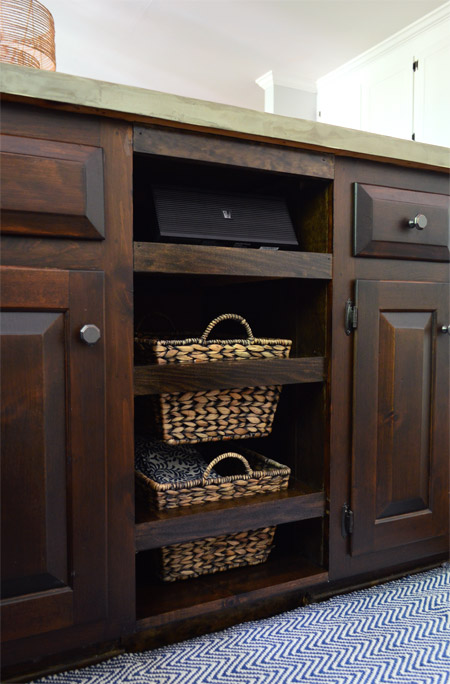 Oh, and you can see that Sherry found a $12 HomeGoods runner to help cover the fact that the laminate floor under there wasn't looking so hot. Not that the scratched up faux brick is looking very hot anywhere in here.
As planned, the baskets got filled with dishtowels & paper napkins (top basket) and cloth napkins (bottom basket).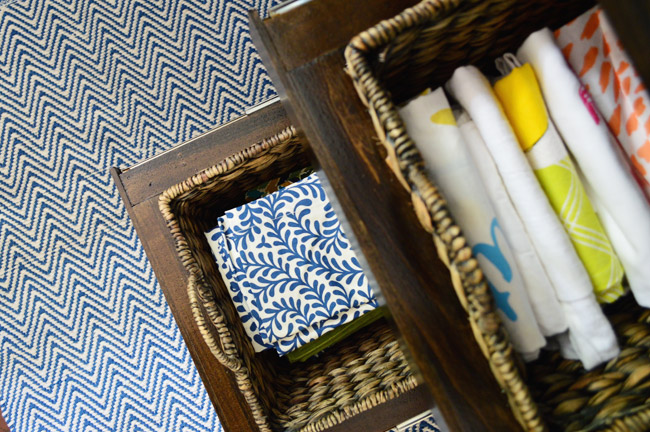 Oh, and the bluetooth speaker that we ended up buying is this one from Target. It's plugged in/charging below and can be has been easily removed for use around the house (so far mostly out back on the deck).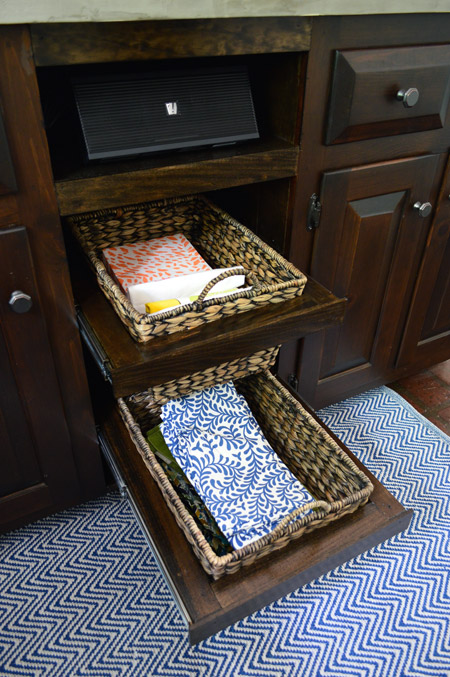 Sherry suggested I include a video of a drawer in action, specifically to demonstrate the soft-close function. Sure I could have uploaded a three second video and called it good, but I just couldn't resist some music and some slow-mo action.
It's almost as titillating as our console video from back in the day.
Not sure there's much to say after those. I'm sorry? You're welcome? But so far we're digging the sliding baskets.
What projects have you guys been tackling lately? Kitchen stuff? Building? Painting? Outdoor updates? With these done we simultaneously want to deal with the kitchen floors rightthissecond and ignore them for a few more months.